Telling your workforce development story — in fresh ways with new metrics — can capture the attention of your business leaders and make your learning program an important business priority.
Maybe your program's already a priority. You've still got a story to tell, one that reinforces the value and impact of learning, talent development, and career mobility. It's about your company's highest priorities and biggest goals and demonstrating how an investment in people can help achieve them.
For many organizations, there's an immediate urgency to consider. The U.S. Securities and Exchange Commission recently mandated human capital disclosure by all publicly traded companies in the United States. This change took effect in November and is expected to eventually affect privately-held companies as well as nonprofits, which means CFOs and CHROs will be asking for metrics that are "material to the business."
Details Make a Good Narrative Great
The right metrics — data points that take success measurements above and beyond traditional L&D methodologies — can bring your new learning story to life.
In their book, The Expertise Economy, Degreed CLO Kelly Palmer and Co-founder David Blake caution that corporate learning is often viewed as a cost center rather than a revenue-generating function. "Learning typically becomes more reactive than strategic. For example, one business leader asks for a conscious bias training program, another wants an agile development training program, and maybe a third asks for an onboarding program."
As Palmer and Blake put it, "A strong learning leader who understands business can develop a… strategy based on data from several sources and show how this learning can impact both the business and employees in meaningful ways."
Where We've Been: Metrics Important to Learning
If you're like many HR, talent, and learning professionals, you're looking to be a business enabler who's more data-driven and strategic about workforce development, so you can guide decisions and investments that deliver results.
Senior executives and CEOs want their teams to lead with advanced analytics, according to Deloitte. In that same study, organizations that reported having the strongest cultural orientation to data-driven insights and decision-making were twice as likely to have reported exceeding business goals in the prior 12 months. Findings from the new Degreed State of Skills 2021 report show that HR professionals rank advanced data analytics among the top ten in-demand skills.
However, traditional learning metrics like course completions and hours of training often aren't enough to reinforce the value of learning to your CEO, business leaders, managers, individual contributors, or anyone else. Combined with efficiency ratios like hours of learning consumed per worker, the cost of learning per hour, staff-to-worker ratios, and your modality mix, these metrics can begin to tell a basic story of how your workforce interacts with your learning initiatives, but they don't confirm that anyone actually learned anything.
An employee survey or "happy sheet" might tell you how workers felt about their latest learning experience, help you see how they used what they learned (from their perspectives), and provide some qualitative feedback on how to improve L&D. But this data doesn't stretch beyond L&D. It isn't much use to anyone else.
These learning metrics will always be important to track. But as HR and L&D efforts increasingly influence business strategies, advanced companies go further.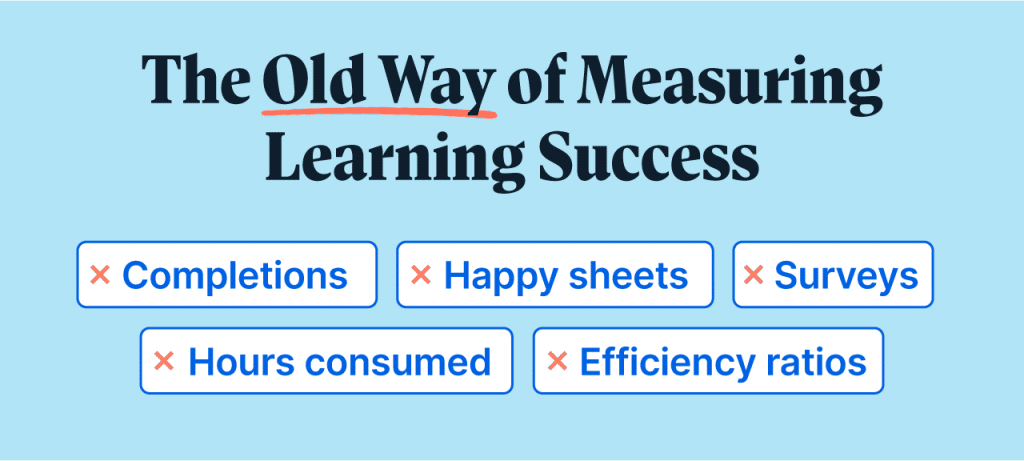 Where We're Going: Metrics Important to Business
Your business has unique needs and goals; they're the best place to start.
Perhaps retaining salespeople is a big priority. Maybe it's reducing the time it takes for engineers to upskill, so they can keep up with new technologies. It might be keeping customer support teams knowledgeable on product updates. These things matter to front-line managers and they matter to business leaders. Because these are the things that impact their ability to drive results.
The new learning metrics are less transactional. They deemphasize time spent learning and focus more on usage through a lens of workforce engagement. They look at social learning and consider content. They address the skills your people have and those they need. And they convey how all of these data points influence the results that matter to your stakeholders, not just your learning, talent, and HR teams.
In our work here at Degreed with hundreds of the world's most innovative companies, we've started to see four new stories take shape. Together, they paint a clearer picture of the changes in culture, behavior, and skills that drive performance.
Your Engagement Story
This is about understanding if your people are participating in learning and feel personally committed to their career development and advancement. With this, you can determine whether you're creating a culture of innovation and evolution that drives business results. Your engagement story focuses on:
Activations
Login frequencies
Monthly Average Users (MAUs) and whether they're returning
Assignments made and completed
Net promoter score (NPS)
Your Social Story
The goal here is understanding how people at every level of your organization are sharing their expertise, so learning isn't solely L&D driven. It's about discovering how your people are interacting to help each other via crowd-sourced, collaborative, peer-to-peer upskilling. It helps you identify who people are turning to for guidance, so you can find, engage, and retain influencers and experts. Your social story looks at:
Trending or emerging skills
Recommendations for content, people, and experiences
Takeaways, including the percentage of workers logging them
Influencers

Subject matter experts (SMEs)
Followers
Posts
Organization network analysis (ONA)
Your Content Story
This is about knowing what your organization is learning. Then you can ask how, where, and what your people want to learn. Your content story considers:
Popular searches and topics
In-demand content providers
Content consumed formally and informally, internally, and externally: courses, videos, podcasts, books, and more
Content added by employees (social sharing)
Your Skills Story
This tells you what capabilities your organization has currently and those it still needs. These metrics answer the question "Are learning programs helping?" Your skills story addresses:
Capability gaps
Emerging skills
Velocity (how quickly people are learning)
Skill shift (how quickly individual or organizational skill profiles change)
Skill value (the dollar value of in-demand skills)
Skill cost avoidance (recruitment savings from internal upskilling)
Workforce readiness
Talent identification
Trends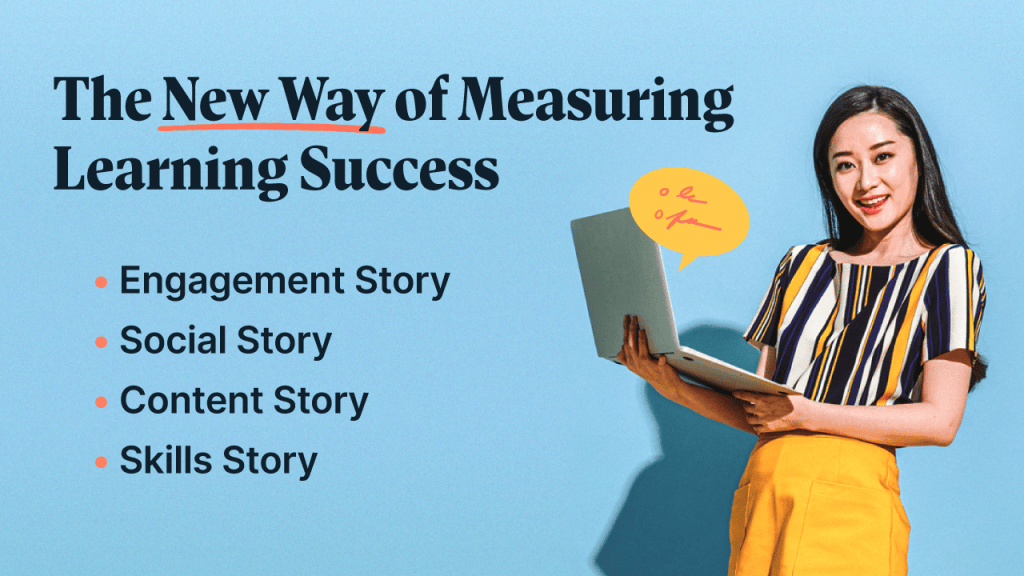 Use Learning Metrics to Stay Agile
Telling your story in new ways is the start of a journey. Your story will evolve as more and more data is collected. What you see at 30 days will be different than what you see at 60 or 90 days, or a year in.
Equally important is developing a culture and processes that use the data you gather — to make changes that continually improve the alignment, efficiency, and impact of your learning investments.
Your learning metrics story will shift as the needs and goals of your business evolve. Each new chapter provides insights in real time, so you can make better business decisions.