With constantly evolving technology, staying current with the direction and trends of the human capital industry is a full-time job — and a crucial one. With constant talk of the widening skills gap and retention as one of the largest pain points for businesses, L&D strategies are not only emerging as a clear solution, but a benefit many younger workers have come to look for when assessing a job offer.
But where do you begin when it comes to assessing a learning technology vendor? More so, how can you pinpoint a vendor that's just right for you and your company? It starts with paying attention, doing a little homework, and asking the right questions. Luckily for you, we've got a head start on all three — especially when it comes to the questions to ask and trends to follow.
In a recent study, 45% of employers said the skills gap contributed to productivity loss, and 26% of employers claimed it contributed to revenue loss. Furthermore, 87% of millennial employees (the majority of the US workforce) said they highly prioritize professional growth and development in a job.
However, creating a learning and development strategy isn't always straightforward. Fads come and go, terminology doesn't match up, vendors disagree about what users really want — it's hard to make solid decisions through all the noise. How do you know where to start?
We know a few things about this stuff and we have some thoughts. But if you don't want to hear it from us, we've gathered some insight from Dani Johnson, co-founder and principal analyst for RedThread Research. Here are three trends developing in 2019 as well as three questions to help you assess a learning technology vendor.

Three Trends in Learning and Development for 2019
Prioritizing skills over roles. For years, CEOs and HR professionals have thought of their workforces "in terms of roles when they should be thinking about them in terms of skills and teams," says Johnson. To more efficiently grow and utilize talent, leaders should instead shift to a more fluid mindset of sharing skills and learning from one another. There very likely won't be a perfect "unicorn" candidate, so don't hold out for one. Allow your workforce to grow and work together to bridge gaps.
User Experience. It's pointless to implement and finance a learning strategy that employees don't utilize, which is why it's advantageous to focus on vendors that provide a good user experience. Just as importantly, new trends in data and AI now offer more information on individual employees, which can be shared more often with the individuals instead of solely kept at higher levels. Overall, along with the more comprehensive experiential learning, we're seeing more transparency, improved user experience for employees and administrators, and better utilization of this data.
Ecosystems. Whereas learning was once thought of as linear, we now know that typically isn't accurate. Instead, companies are now beginning to recognize that learning happens within ecosystems, meaning learning is fostered through a combination of processing, socialization, experimenting, listening, interacting, and recycling materials. This offers a more comprehensive style of learning that is incremental, perpetual, and collaborative.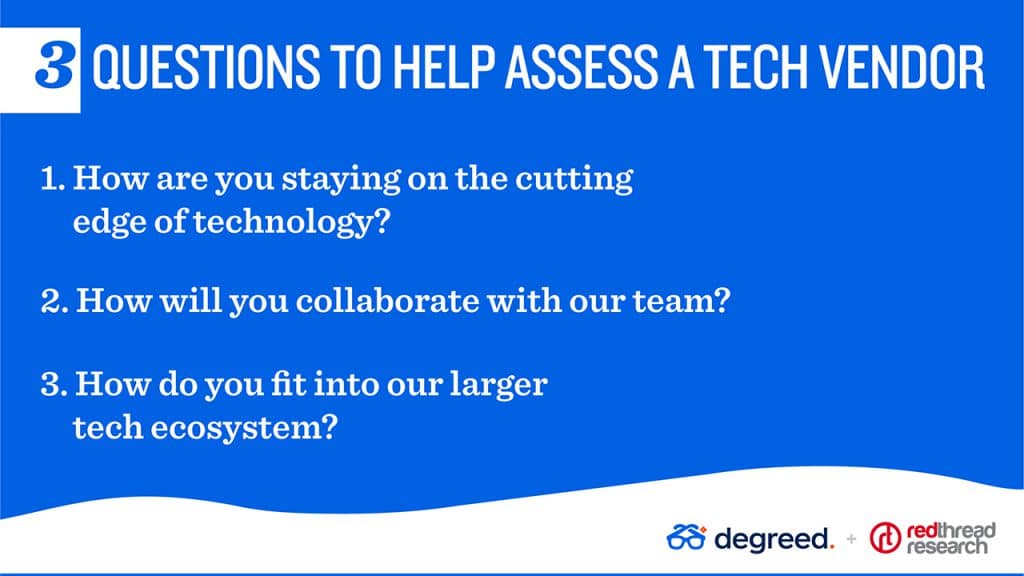 Three Questions to Help You Assess a Learning Technology Vendor
There are a lot of ways to incorporate the above ideas into a learning platform at your company. So, how can you assess which vendor is right for you and your employees? Dani Johnson boils it down to three main questions to ask the learning technology vendors you're considering.
"How are you staying on the cutting edge of technology?" One crucial indicator of whether the vendor will stay ahead of industry is an investment in their technology. You want a platform that will advance along with trends and new technological capabilities. So ask how the technology is future-proof.
"How will you collaborate with our team?" Once the technology is in place, how will that vendor's team help you capitalize on new opportunities? Collaboration shouldn't end with implementation; it should be a partnership to help guide, challenge, and contribute to your team. Ask for specifics about customer support, implementation, and user guidance.
"How do you fit into our larger tech ecosystem?" Developing skills and fostering growth in your workforce necessitates a system that can seamlessly integrate with other chosen tools. True integration means minimal disruption to your current processes– and that's key.
As our CEO, Chris McCarthy, put it, "the enterprise human capital market is now prioritizing employees above all else, which means companies no longer have to choose between being enterprise-class or consumer-grade. It is possible to offer employees an engaging experience that puts the user at the center through a platform that scales to an enterprise level." These three questions will help you find the perfect fit.