Degreed Product Insider is a monthly peek under the hood to make sure you're getting the most out of your Degreed experience. In Degreed, data is the undisputed heavyweight champion. But there's more to it than just insight and numbers, the data has to be trackable to provide true value. Like leaving breadcrumbs on a trail — looking at you, Hansel and Gretel — we need markers to know where the data originated. Trackable links make that navigating simple and provide designated markers to track, analyze, and make decisions.
Today almost every product we interact with changes its behavior based on the data it receives. Without feedback on what's working and what's not, our Roombas would always be hitting dead ends and our GPS would constantly be sending us on wild goose chases. In marketing specifically, ads won't convert unless they're effectively messaged and meeting people within their routines. So why should promoting learning at your organization be any less smart?
The challenge that many learning teams face is not a lack of resources but getting those resources in front of employees in a way that makes sense within the organization. Every company has a unique ecosystem of learning providers and content — both internal and external — with its own terminology and navigation. Using your company's terminology and goals to customize those learning materials can ultimately help that content find its way to and have an impact on employees.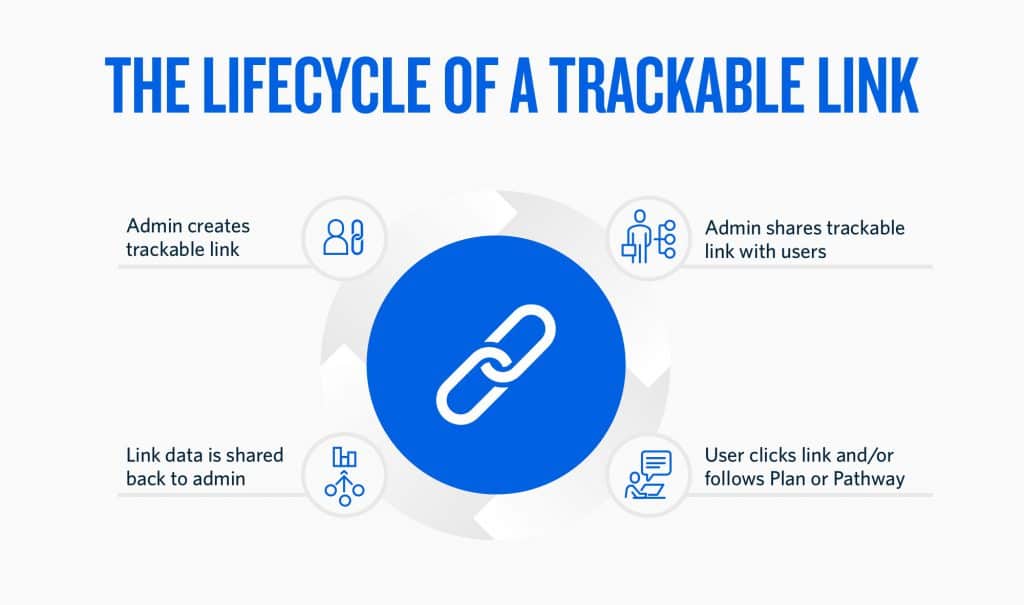 As the learning team, you're expected to be the experts on both your industry's resources and the nuances of your organization. Degreed is here to support you in curating the right content for your teams. You can create links for any of your content in Degreed and distribute them through your own platforms or means of communication. Our goal is to give you the best of both worlds — flexibility and scalability.
What are trackable links?
Trackable links are unique links with auto-follow functionality that you can use to promote Degreed Pathways and Plans to users within your organization. The unique link allows you to track when users follow and click on the link. You can generate as many unique links as you want per Pathway and Plan to align with any marketing or promotion efforts you have in place.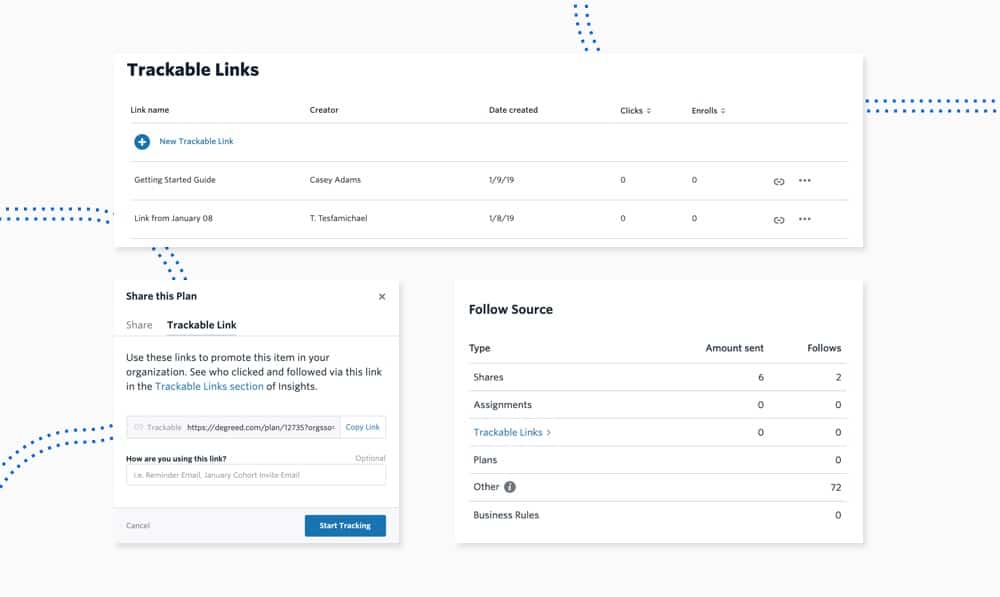 To keep things easy and accessible, you can always find the data created by these trackable links on the Plans or Pathways Insights pages. You can also customize titles for quick reference and easily create new links as you share content on Degreed or from within the Insights page.
Along with the tracking functionality, these links will also allow users to follow new plans simply by clicking on them.
How are people using trackable links?
These links can be used to run email and social media campaigns that target anyone in your organization, giving you more power and data to promote your most valuable learning experiences:
Do you have an internal intranet? You can link to curated Plans and Pathways here to measure how much traffic is driven through your internal systems.
Have you sent out custom email campaigns? You can measure the engagement on different Pathways or Plans while maintaining the ability to add your own custom copy or use your company's branding.
Are you leveraging leaders to drive programs with their teams? You can track which team is the most successful and even create some healthy competition to drive engagement.
Essentially, these trackable links can help you understand which of your efforts are the most effective and subsequently where your team should invest more time.
Do they work?
Degreed clients using trackable links regularly benefit from a new dataset to help them make ongoing tweaks and improvements to their learning programs. Additional insight means better strategic decisions with more confidence.
Interested in more Pathway and Plan engagement data? You can check out the Insights tab within each Plan or Pathway to see how many users are visiting and following your content over time.
Reach out to your client experience partner to find out more about how you can strategically utilize trackable links at your organization.