I'm a tagger and you should be too.

Tags are merely labels used to identify things.
In the simplest form, tags are things like the sticker labels your grandfather used in his garage or the DIY labels your partner now organizes with. In terms of technology, many applications and software use metadata or social tags to further enhance our browsing experiences. Meta tags (short descriptions added to each web page) are used by search engines to help improve the relevance and quality of search results.
The ability to tag your experiences is now available on most websites and applications. For example, on Facebook, you tag people in your posts, as well as the location and date. This improves the search on Facebook and allows you to sort and filter posts later. The proliferation of hashtags on Twitter have helped make the site the phenomenon it is today, and you can now see hashtags used everywhere in social media, including Facebook, LinkedIn, Instagram, Google+ and Pinterest. The use of hashtags can connect conversations across social media sites.
Here are three reasons you should start making tagging a habit:
#1 – Improved User Experience – Tagging makes the application you are using smarter, which creates a better user experience for others. This means better search results and a more personalized experience.
#2 – Increasing Eminence – Tagging content is a gift to the creator, author or owner of the content. It helps further brand the subject matter and allow others to find it easier. Creating a personal habit of tagging will also help define your areas of interest; creating eminence for you as well.
#3 – Save Time – Indexing your own content will save you time later. How many times have you looked for something that you previously consumed and just wish it was easier to find? Tagging shortcuts your search by having content indexed with more keywords to find it again later.
It takes only seconds to tag content. Depending on the application, it might be called metadata, keywords, tags, categories, labels, topics, social tags, hashtags, or something similar. Take the extra 20 seconds and make it a habit. There are no right or wrong tags. Use synonyms and similar words that could lead someone to the right content.
Don't forget to follow the keywords and tags when applications provide this option. Tagging and following will quickly hook you into others that are giving back in this way and the quality of your findings will be immediately enhanced.
Takeaways
In case you are new to tagging, here are three easy ways to get started:
Tag your photos and posts in Facebook with people, dates, and locations.
Hashtag your posts everywhere in social media: Twitter, Facebook, Instagram, Linkedin, Instagram, Google+, and Pinterest.
Tag all of your learning in Degreed.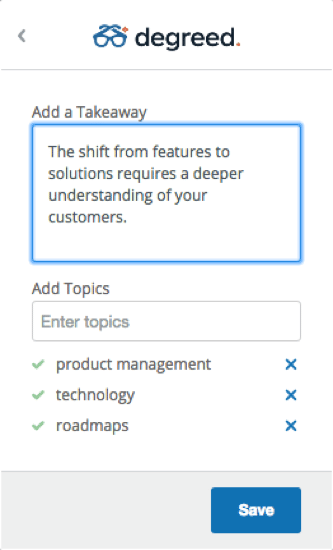 To learn more about tagging and personalization in Degreed visit get.degreed.com.
Authored by: Mike Makis and Sonja Schurig of Degreed