Tuition reimbursement and equitable learning — it's like wearing your dress shoes for an important zoom meeting. Lots of companies use tuition reimbursements and support equitable learning, but what lots of HR leaders don't realize is doing both is counterproductive. That's because the very education benefit you think is helping your DEIB strategy is actually hurting it.
Like the neck ties and formal attire worn to the office when tuition reimbursement programs were created, it's time to leave this benefit in the 1970s where it belongs. It's time to embrace modern benefits more aligned with your business initiatives AND employee wants and needs.

Show-and-tell: How Tuition Reimbursement Isn't Equitable
Meet Amy. Amy is an individual contributor who performs at a very high level, is trusted to exceed expectations, and is interested in leadership.
Meet Max. Max, like Amy, is a successful individual contributor, well respected throughout the organization, and also interested in developing into a leadership role.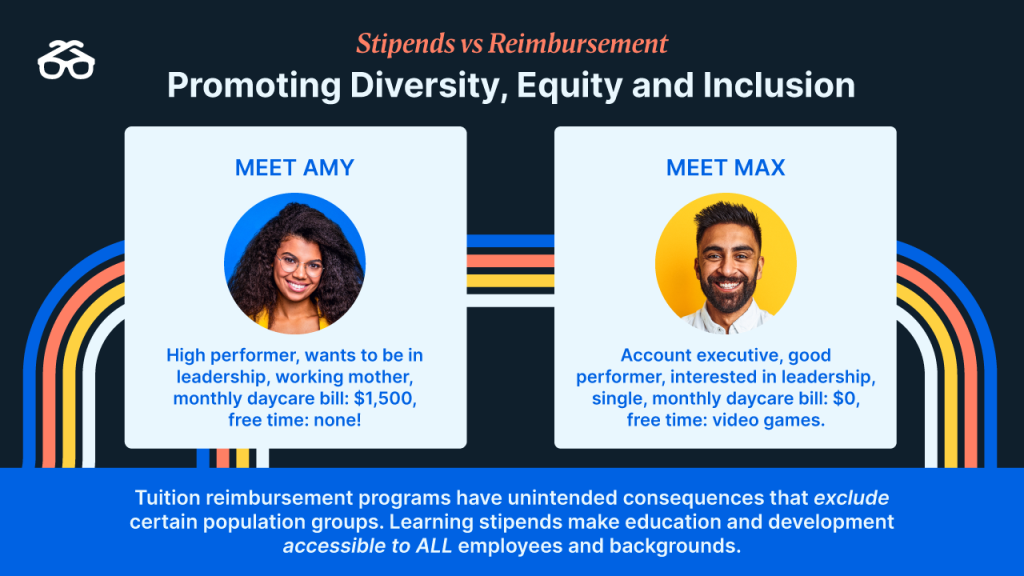 The perception throughout the organization is that these two candidates have a fair and equitable opportunity to be promoted. However, Amy is a working mother with childcare expenses who spends every moment away from work caring for a family. Meanwhile, Max is single with free time and a disposable income.
As it turns out, Max is using his time and resources to pursue an Executive MBA certification to develop his leadership acumen — and he'll be reimbursed through the company's tuition reimbursement benefit.
Upon completion of his certification, Max is promoted to leadership ahead of Amy.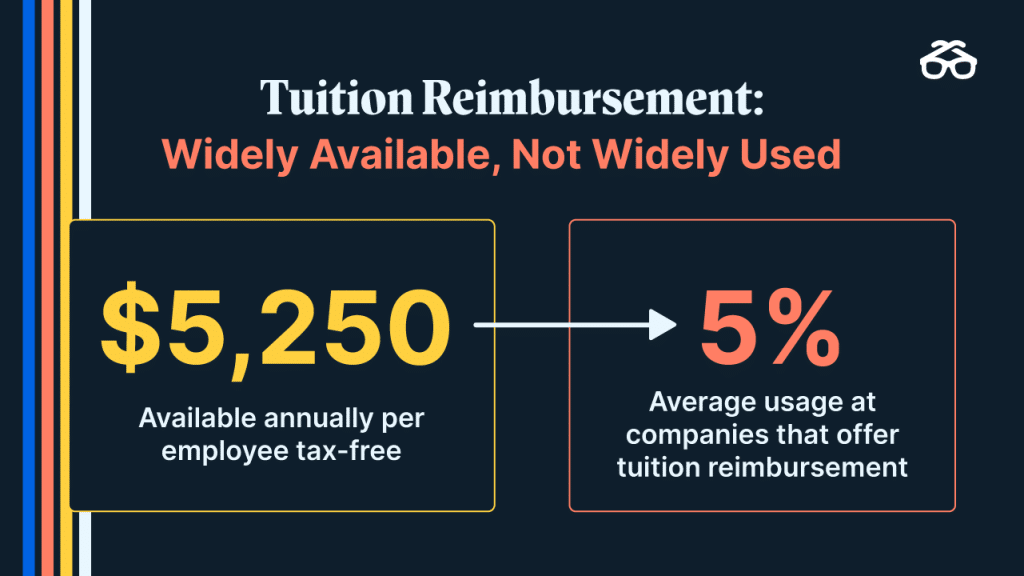 Why Tuition Reimbursement Isn't Equitable
To make education and upskilling more accessible, in 1978 the IRS began allowing up to $5,250 per employee to be tax deductible through TAPs. When used by employees, these programs can deliver as much as a 129% ROI that leads to deeper upskilling and retention. 
But if an estimated 47% of companies provide this benefit to their employees, and it realizes a 129% ROI for the business, why do only 5 to10% of employees use the benefit? Because tuition reimbursement isn't accessible, equitable or inclusive.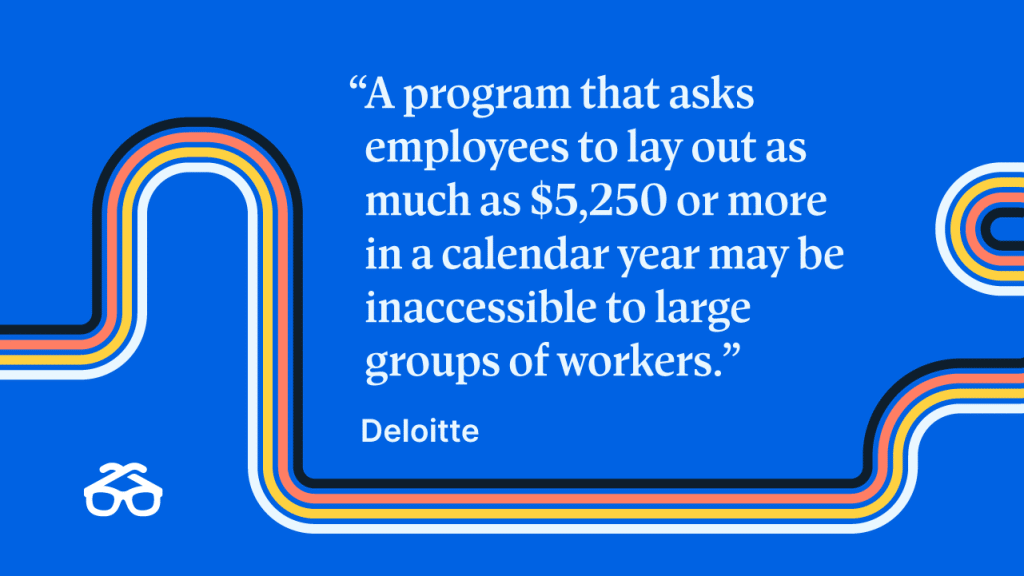 Barrier No. 1: The Up-front Expense
The biggest barrier to utilization is the up-front expense. With tuition reimbursement, employees pay the initial cost and often must prove completion of the program. This means they often wait months — if not years — before receiving any reimbursement.
Consider that almost 4 in 10 Americans (37%) don't have the savings to cover an unexpected $400 expense. Then consider that the college courses and bootcamps that employees use tuition reimbursement for are expensive. According to the Fed's 2022 Economic Well-Being report, it's likely many of your employees don't have a discretionary educational savings account to pay up front for these upskilling experiences. Surely this financial requirement contributes a lot to the fact that only 5-10% of employees use the benefit.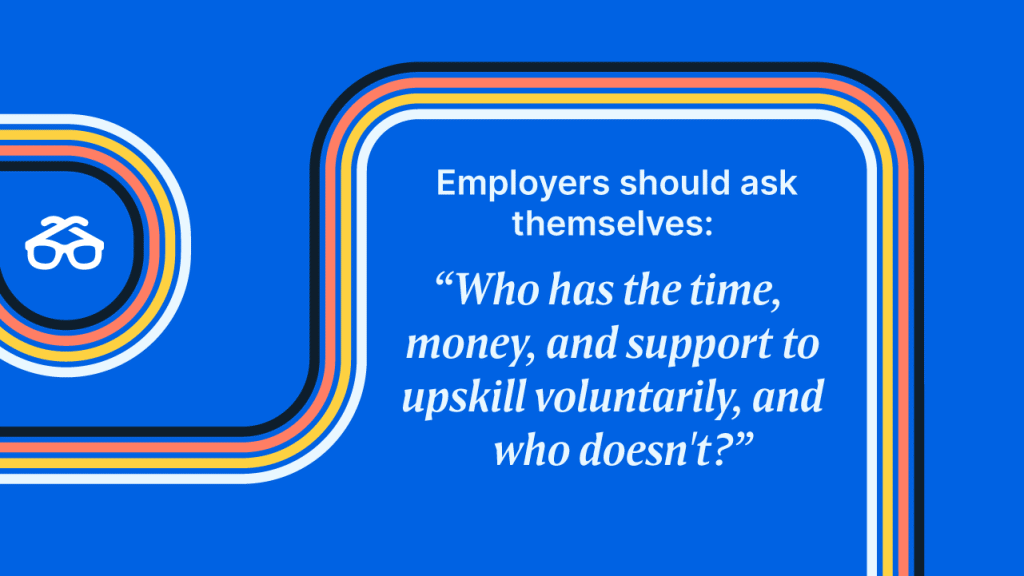 Barrier No. 2: Time Constraints
As much as they might need help with tuition, employees also need the time it takes to learn something new. In fact, employees say time is the greatest obstacle to job-related learning they face. This makes sense considering that, in 2018, the U.S. The Bureau of Labor Statistics reported that companies with fewer than 100 employees provided only 12 minutes of training every six months. Organizations with 100 to 500 employees provided just 6 minutes.
Think of your employees with commutes, dependents (like Amy with her children), or second jobs. They can't make extra time. The solution is to give employees time to learn. If you don't, you're excluding many of them. Ask yourself: "Who has the time, money, and support to upskill voluntarily, and who doesn't?"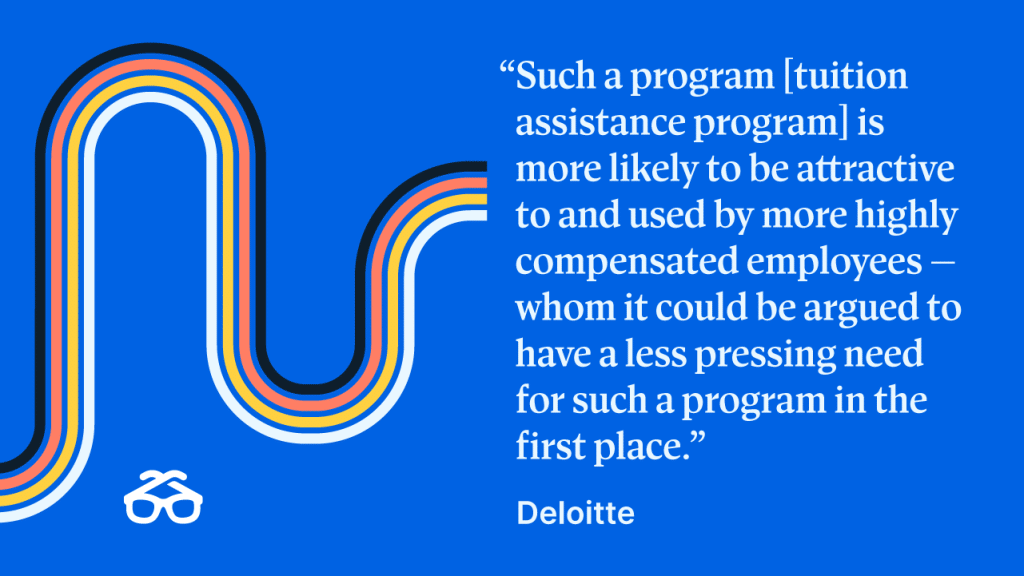 A great way to do that is by providing your people with learning stipends — especially prepaid learning stipends.
Learning Stipends: A Modern & Business-Aligned Education Benefit
Technology has a great potential to expand diversity and inclusion, and the modernization of learning stipends is a great example of that. Since 2017, learning stipend benefits have become the second-fastest growing benefit in the workplace. Among the 475 companies named in Inc's Best Workplaces for 2022, almost three fourths (72%) offer learning stipends.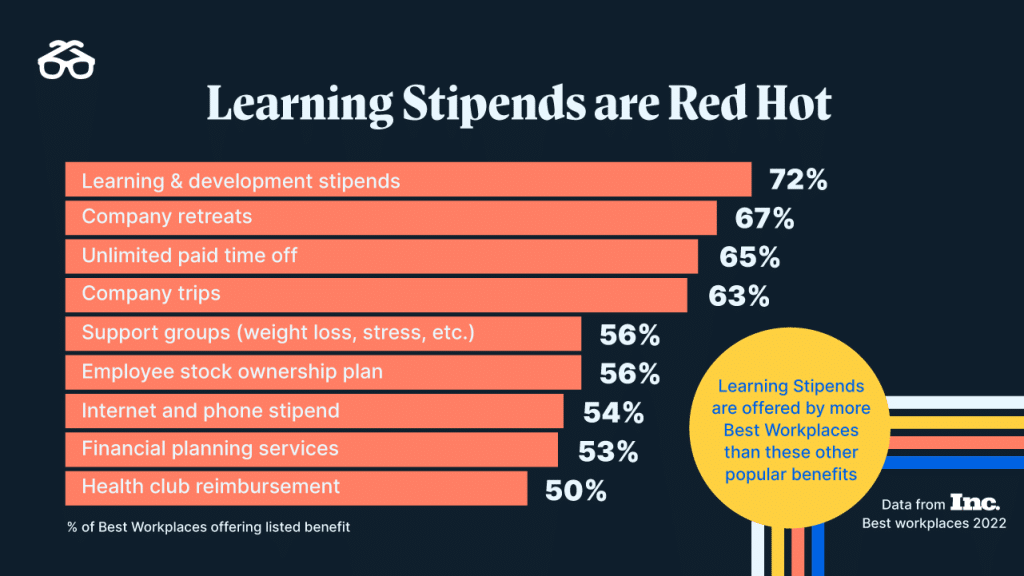 Why are learning stipends becoming more popular? Because learning stipend programs that exist today can make requests and approvals so quick and easy. So easy that reimbursements frequently happen within days — if not hours — of approvals, which removes the financial stress on your employees. And prepaid learning stipends entirely remove the financial barrier that keeps so many employees from upskilling via tuition reimbursement. With stipends, even small companies can cultivate a diverse and empowered workforce.
Show your employees you're truly invested in their skill development by providing them with up-front funding they can spend on degree programs, courses, and certifications.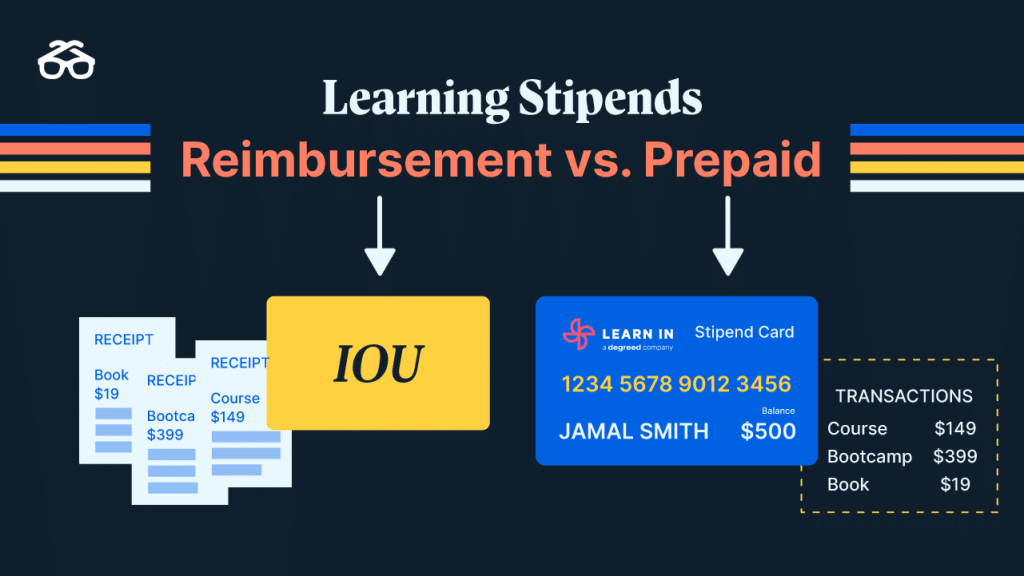 Support DEIB initiatives with learning stipends.
If DEIB is a key initiative for your organization, or if you strive to make all company resources accessible, equitable and inclusive, shifting your tuition reimbursement program to a learning stipend model is critical. Doing so sends a message to your employees that everyone has the ability to advance their careers internally at your organization. And for added benefit, the shift lets you track spending, gain insights into the skills being developed, and align your L&D efforts to real business objectives.
If you're interested in learning how to make this shift, we'd love to discuss Degreed Education Benefits with you. When you're ready to build a more equitable learning culture, Degreed Education Benefits can be implemented in just a couple weeks with minimal lift.

Explore other ways, beyond DEIB, that your tuition reimbursement is letting you down by reading "HR Myth: Your Tuition Assistance Program is a Benefit"