Should any of us be surprised that the learning and development industry is, well, learning and developing? Advancements in modern technologies like AI are great. Adopting a skills-first mindset is wonderful. But even when you make a living advocating for learning, it doesn't suddenly make change simple or easy.
Big shifts like these call for an industry collab of Texas-size proportions. That's why Degreed LENS, our annual flagship event, will head to Houston on March 5 and 6, 2024. We'll be hosting L&D pros from around the world—and hope you're there too—for in-depth discussions about everything from learning culture and skills strategy to AI and our Degreed product roadmap.
Most importantly, we'll feature real-world stories from your industry peers and workshops on trending topics like learning tech ecosystem mapping, learning experience data analytics, and the ever-growing skills tech landscape.
Join us! You'll leave with actionable insights into four emerging, business-critical L&D strategies that'll help keep you and your organization highly skilled and ready for the future of work: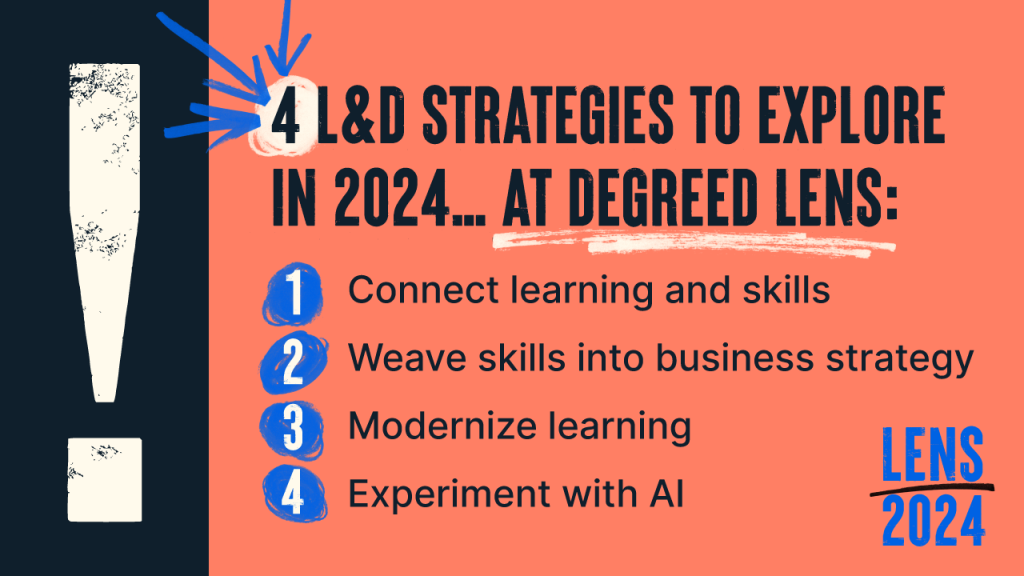 1. Draw the connection between learning and skills.
Skills are built through learning, yet many business leaders feel more comfortable in a mindset that prioritizes learning but doesn't expand into skills. Before making that jump from learning to skills, it's important to see the connection between them. At LENS, we'll zero in on skills-first learning, an emerging and critical concept for business-driven L&D decisions.
Skills-first learning intentionally and purposefully builds skills. It's more than a yearly training course or a few minutes of daily reading, it's the kind of learning that can help your workforce acquire targeted skills to further business goals. And it's not as daunting of a mindset shift as it seems. Think about it like moving from random, anything-is-better-than-nothing learning to intentional, better-your-business learning. It's a logical step as you continue to grow and perfect your L&D program.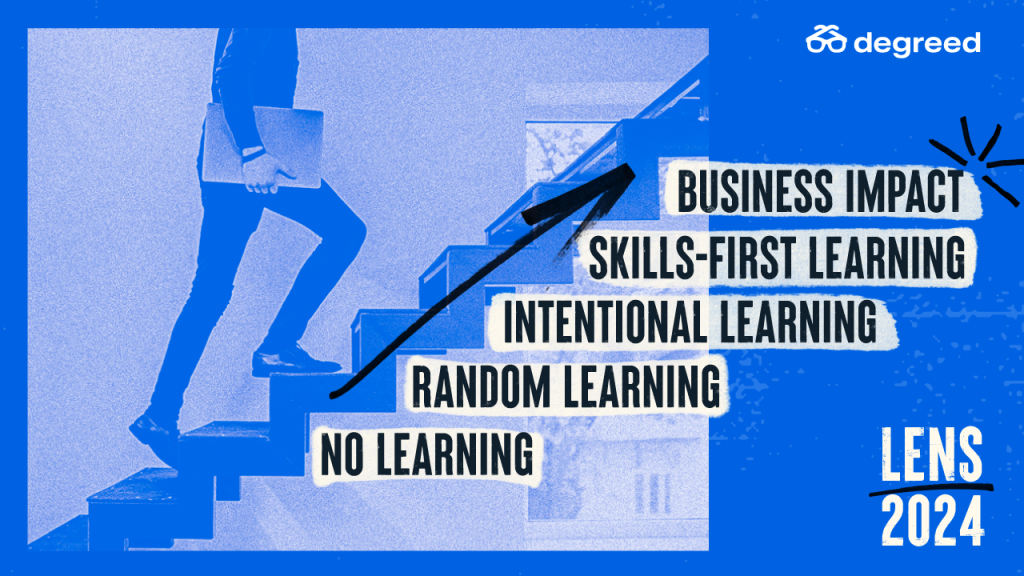 At LENS you'll take a deep dive into:
The connection between learning and skills
Simple strategies for capitalizing on that connection
Best practices for targeted learning and skill building
To effectively capitalize on skills-first learning, business leaders must weave skills into business strategy, which leads us to our next big concept:
2. Supersize the role of skills in your business strategy.
Not to be dramatic, but the right skills pay the bills. Businesses are built on the skills they have and the services they can subsequently offer.
Yet in many organizations, skills are confused with competencies, seen as unquantifiable, or even avoided due to a lack of time to focus on them. In 2024, that's going to change—and, in fact, that change is already being planned for. In a recent poll we conducted on LinkedIn, 43% of respondents said becoming a skills-based organization (SBO) is already one of their guiding principles.
Spurred forward by the integration of AI into the workplace, skills are becoming a pillar of business strategy. The end goal? A world of SBOs in which the capabilities of an entire workforce are measurable and actionable for maximum impact.
If that version of reality still sounds like unsubstantiated hype, look at the numbers. According to Deloitte, skills-based organizations are 107% more likely to place talent effectively, 98% more likely to retain high-performers, and 52% more likely to innovate, among many other benefits.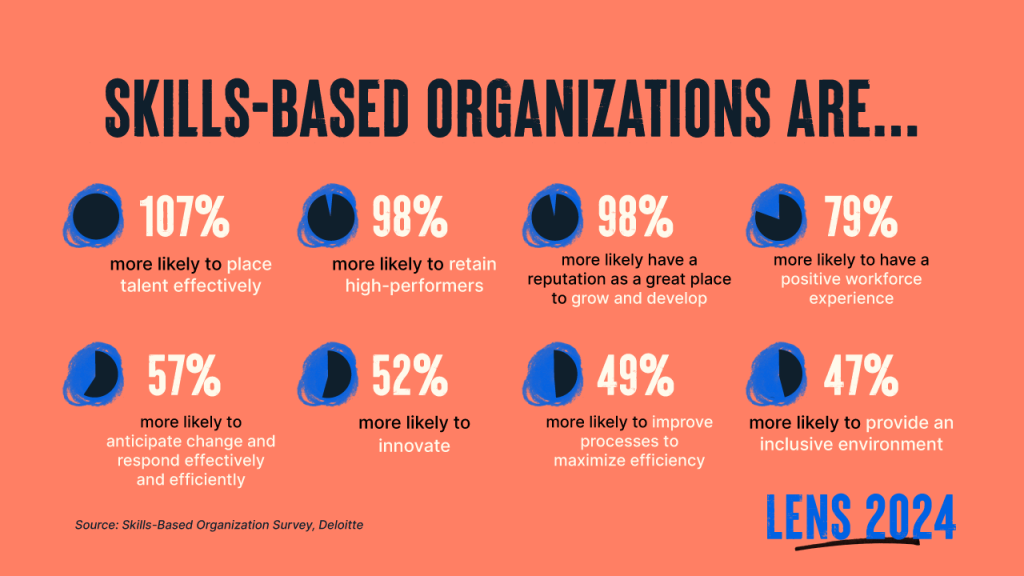 Many companies have already started the journey, so we're bringing them to LENS so you can learn from their mistakes as you help pioneer a massive positive transformation of the modern workplace.
At LENS, we'll offer you:
Research on the proven impact skills-based strategies can have on business
Real-world journeys that put skills at the center of business strategy
The steps you can take right now to start becoming a skills-based organization
Resources and collaborative spaces designed for industry leaders who are embracing skills
Sessions will be led by industry researchers (RedThread and Deloitte), Degreed clients (Colgate-Palmolive, Ericsson, Ford, and more), and our own in-house experts including Janice Burns, David Blake, Todd Tauber, and Steve Boucher.
3. Modernize learning for your workers.
Learning and skill-building are getting more customizable, automated, and trackable each day. If you're not taking advantage of that, you're missing out on the potential for relevant new skills, enhanced workforce efficiency, and the ability to make data-driven business decisions. Furthermore, if your employees view their corporate learning experience as archaic or even just a little bit behind the times, they might feel their development isn't a priority, which diminishes the effectiveness of your company's learning culture.
That's why several LENS sessions will cover how to modernize your L&D initiatives. For example, we plan to explore how emerging solutions like academies and content marketplaces are being used by global industry leaders. 
Today's trends also include a hybrid, targeted approach to learning that makes it so employees can acquire the knowledge from anywhere—their mobile devices, peer-to-peer interactions, team project work—and ensure it's recorded. It's trackable learning that extends beyond a desk and a computer. This diversified approach ensures well-rounded skill development, even when looking at traditional learning models like the 70:20:10 method. 
4. Experiment responsibly with AI.
Arguably one of the biggest shifts to disrupt L&D recently has been the rise of artificial intelligence (AI). It's left a lot of learning professionals wondering how they can effectively (and safely) harness it—whether for learning recommendations, content development, data analysis, or something else entirely.
Interestingly, AI might not be the best choice for content development—at least not yet. In fact, Wiley's Workplace Intelligence report from August of 2023 found 87% of professionals want content developed by experts while only 13% want it from AI.
There are, however, uses for AI when it comes to learning automation, skills data analysis, skills taxonomy creation, and more. At LENS, you'll hear all about it from AI experts, thought leaders, and experimenters, including Noelle Russell, Chief AI Officer at the AI Leadership Institute.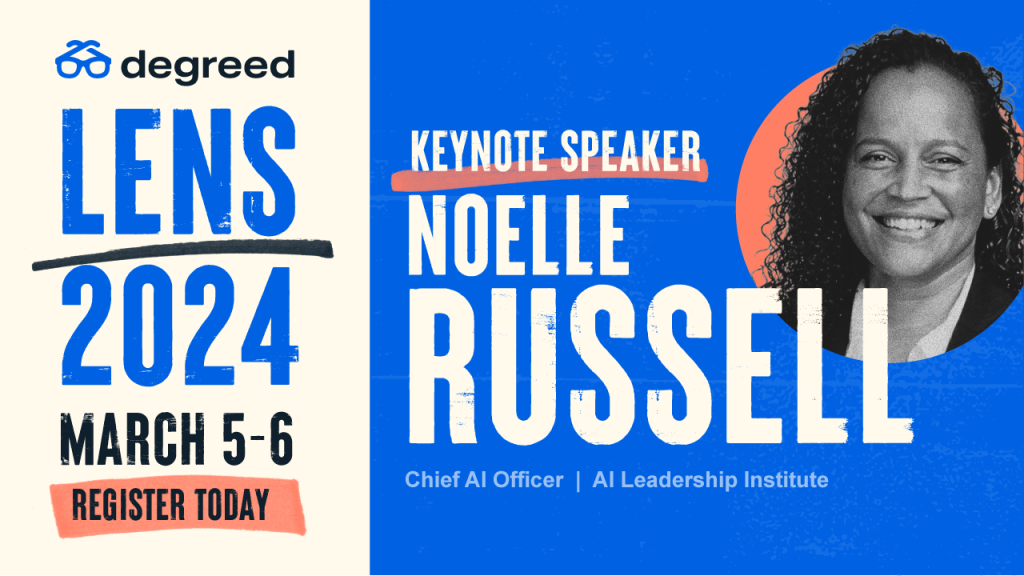 You'll explore the inner workings of AI, real-world L&D tests and trials, and common pitfalls. Understanding AI is tricky, but that's precisely why we want to discuss it. Being an early adopter isn't "playing it safe," and the AI wave is already on its way. If you don't catch it, you'll be left playing catch up.
Plan your next move.
With 2023 coming to a close, it's time to formulate your big moves for 2024. If you want to incorporate any (or all) of these emerging initiatives, LENS is the place to find out how. And if you register before December 15, you can secure our early bird ticket deal prices and leverage our limited-time Perfect Pair ticket to get two tickets for the price of one.
In addition to ample learning and networking opportunities, this year we're focusing on a more collaborative approach that includes more hands-on workshops and hyper-focused breakout sessions.
It's going to be bigger, better, and bolder than ever before—just like your L&D ideas will be when you leave. 😉