What makes a learning experience great? It starts with content that meets people's needs and presents clear, practical benefits that help keep them motivated.
To help you give your people the content they need, Degreed includes three key curation tools: Pathways, Plans, and Directories.
But even the best content isn't enough. That's why 62% of workers turn to people in their professional networks for help when they need to learn something job or career-related, according to How the Workforce Learns, a report by Degreed and Harvard Business Publishing Corporate Learning.
In Degreed, Groups keep people connected and support social learning. They boost engagement and help you and your people share and discuss new career opportunities across your organization.
And now we're making the learning experience even better with a new Customizable Browse page. You can now provide personalized learning without forfeiting guided, structured development.

The Advantages of Customization
With Customizable Browse, you no longer need to choose between providing your people with automated, personalized learning recommendations and content that's designed to directly support your organization's business goals. Here's how:
The Home page in Degreed will continue to surface and offer personalized recommendations tailored to each user.
The Browse function in Degreed becomes the place you can promote your organization-wide initiatives.
The Search page in Degreed provides a unified search across all content providers, mediums, and formats, enabling users to discover content on any topic.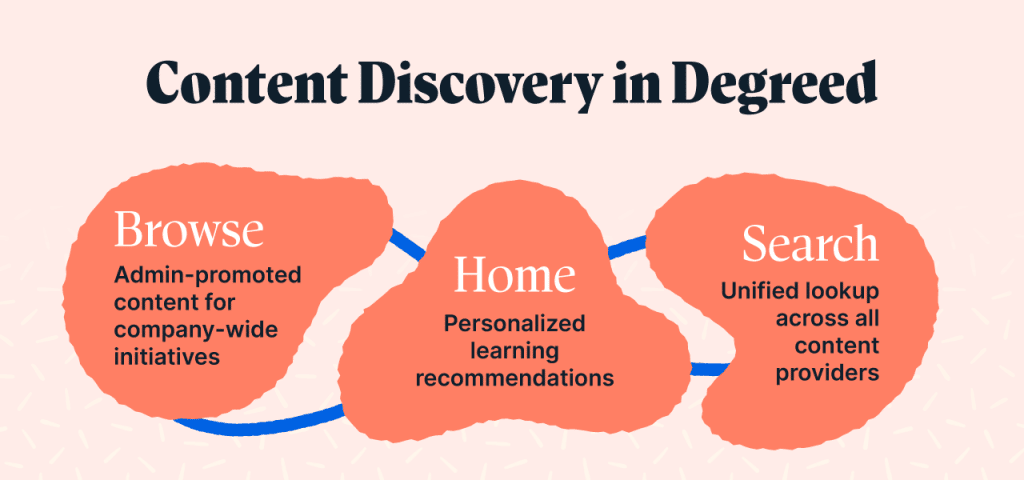 With Customizable Browse, you can:
Add, reorder, or remove sections in Browse, including: text areas with hyperlinks, content, Pathways, Plans, Directories, Groups, People, Skills, Opportunities, and providers — to align learning opportunities with the needs and goals of your business.
Edit the section title and description for any section in Browse (including the ability to add markdown to descriptions for each section) — to match Degreed to your internal learning vernacular.
Easily select which providers are featured in Browse and in what order they appear — so you can more prominently promote your premium providers.
Add images and hyperlinks to text areas in Browse — to provide a more engaging and interactive experience.
Add a Combined Resource section to Browse based on an initiative or program that you're launching — to display helpful content, Plans, and Pathways in the same section.
5 Ways You Can Shape Learning Using Degreed
Pathways — to build a linear learning experience.
Plans — to build a browsable experience on a topic or skill.
Directories —- to create a map to other Pathways and Plans.
Groups —- to build a social learning experience in Degreed.
Customizable Browse — to bring your content, Pathways, Plans, Groups, people, and opportunities together under one unified strategy tailored to your organization.
Ready to Try It?
For early access to Customizable Browse, contact your Degreed representative. We'd love to chat more with you about your learning needs, and how we can help.