Today, learning content is everywhere. Degreed counts nearly 1,400 providers of live and online courses, videos, books, articles, blogs, podcasts, and more. Finding, curating, and personalizing the absolute best content from any source, in any format, has become a core responsibility for today's L&D professional.
Degreed curates learning in 5 ways:  
L&D and subject expert led curation (push learning)
Machine curation (automated learning recommendations)
Social curation (peer-to-peer collaboration)
Personal curation (pull learning)
Curation services (curation-as-a-service)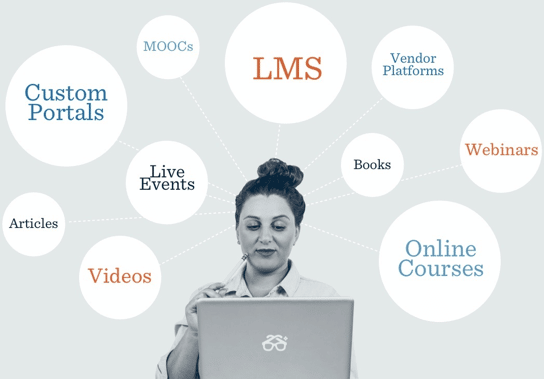 L&D-led and SME-led curation
There is a lot of great content out there from a variety of sources. L&D no longer needs to build all learning content from scratch. With the rapid pace our industries are moving, it's nearly impossible to keep up on every topic. Degreed's Pathways give your L&D professionals and subject-experts a simple, yet powerful toolkit to search, structure and share existing learning resources (in any format, from any system, inside or outside your organization). Anyone with authoring rights can curate, collaborate and publish high-quality, blended learning experiences on any topic or skill – all in just minutes or hours, not days or weeks.
A Pathway is a collection of learning content that can be used for sharing knowledge on any topic. A pathway can include a combination of content from any source, including your organization's proprietary content, (like courses from your LMS, content from Sharepoint sites, or internal wikis), eLearning courses from partners, online videos, articles, podcasts, events, books, or more.
A basic informal pathway can be built in as little as 20 minutes. Pathways on advanced competencies take an average of 8-12 hours for a learning strategist to design, develop, and polish, which is a huge time saving when compared to the days and weeks it takes to build a custom course from scratch.
Any user with the pathway authoring permission can create and share pathways with the rest of the organization, and add subject matter experts as collaborators. Building a pathway doesn't require any special expertise or training. It's done in Degreed with a simple drag and drop interface. Users can leverage the Degreed Button browser integration to add content to a pathway, without even visiting the Degreed site.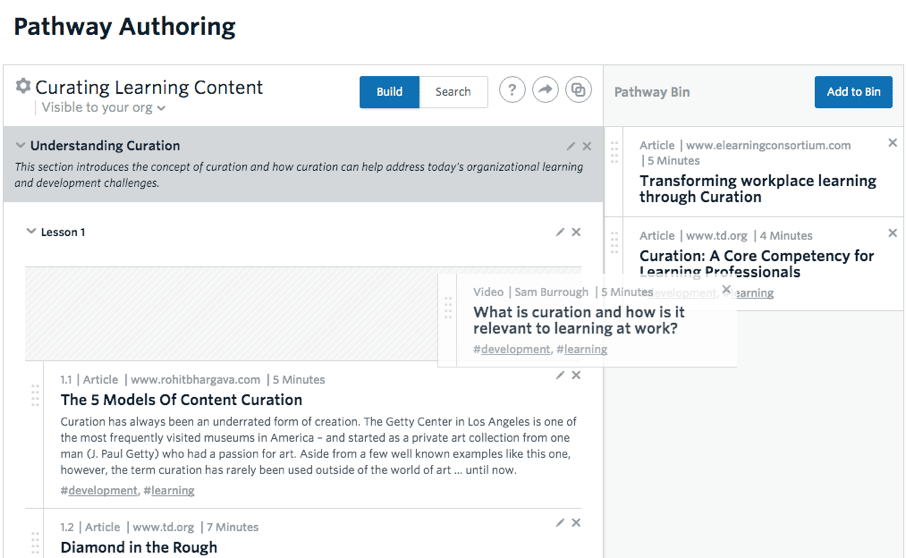 To learn more about pathway authoring, visit: pathway authoring.
Machine Curation Personalized for Each User
Bersin by Deloitte reported that 88 percent of learning professionals believe employees don't have or make time to engage with corporate learning. But our data suggests that people will invest time in learning if they get credit or if it leads to professional growth (Degreed). Degreed offers system generated recommendations, personalized for each employee, giving employees the learning they need for career growth, but don't have time to search for on their own.
Personalized Dashboard – The first thing a user sees when they log into Degreed or launch the mobile app are personalized recommendations, called Today's Learning. Five items of personalized learning, delivered each day. The engine pulls from a variety of sources including, recommended items, popular items in the user's network, experts the user is following, pathways the user is enrolled in, items the user has saved for later.
Personalized Browse – When searching for content, the user is first given default options similar to the Netflix browse experience, based on the user's specific interests. Helping users find the content they wouldn't normally find on their own.
Personalized Search – Search results are personalized for each user based on the groups they are a member of.
Organizations can influence the personalization engine by auto enrolling individuals in groups and pathways, and add learning categories to a user's profile based on role, responsibilities, or skills required. The user can further personalize their experience in Degreed by joining groups with like minded learners, enrolling in pathways that interest them, and adding interests and career aspirations to their profile.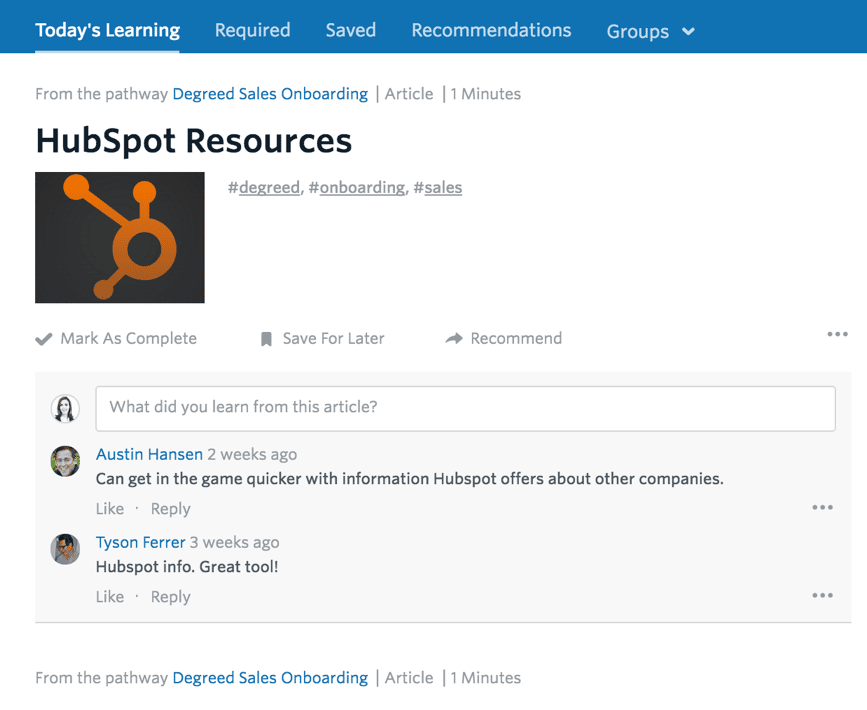 To learn more about how Degreed platform creates a personalized experience for each user see: Why Personalization is the Best Way to Re-Engage the Corporate Learner
Social Curation
Formal classroom training is still an important part of how people learn, but these types of formal learning experiences happen on average once every 3-4 months. Informal, self-serve, and peer learning connect the dots in-between. 70% of people we surveyed learn from peers or by reading articles and blogs every week (Degreed).
Social collaboration is one of the best ways to engage corporate learners, and help employees stay on top of industry trends. Degreed gives you a complete set of intuitive tools to crowd-source and amplify all the learning and development already happening across (and beyond) your organization. Everyone – L&D professionals, line managers and individual employees – can easily add ratings, takeaways and comments to any content; share, recommend and discuss resources with individuals or their teams; and find, follow and collaborate with experts or groups. Users can see popular items in the groups they have joined, and across the organization.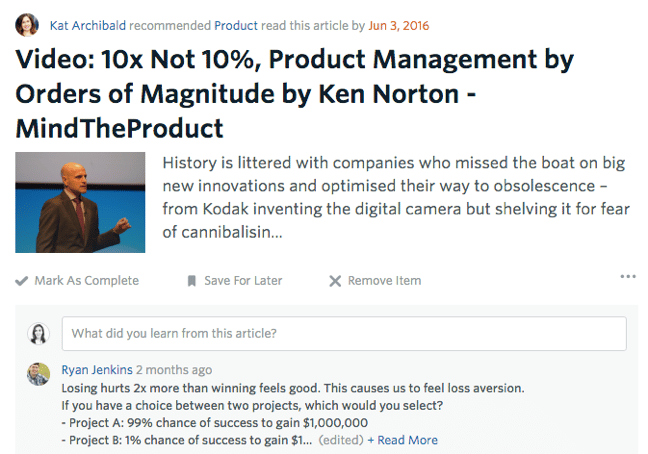 Personal Curation
Degreed empowers every user to curate their own, unique learning experience by building personal Pathways. Everyone with a Degreed account can easily discover, mix and match their own collections of their favorite learning and development content on-the-fly. This empowers the learner to drive their own learning and professional development on any topic they choose to learn. Degreed empowers learners to solve their own problems – browsing and searching to find relevant content to find quick answers. Once learners find what they need, they can save it for later or add it to a personal Pathway (even when they're not on Degreed) using the Degreed Button browser integration or the Degreed mobile app.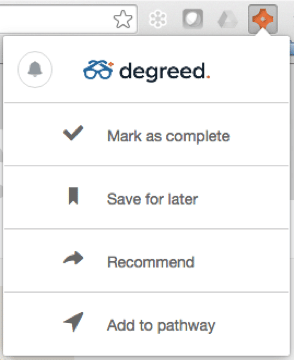 Content Services
And with Degreed, you never have to build a pathway from scratch. Degreed provides a large library of predefined pathways covering today's hottest topics and competencies, and allows users to easily clone and customize these pathways. Degreed also provides a team of curation experts that specialize in analyzing and assisting with your content needs.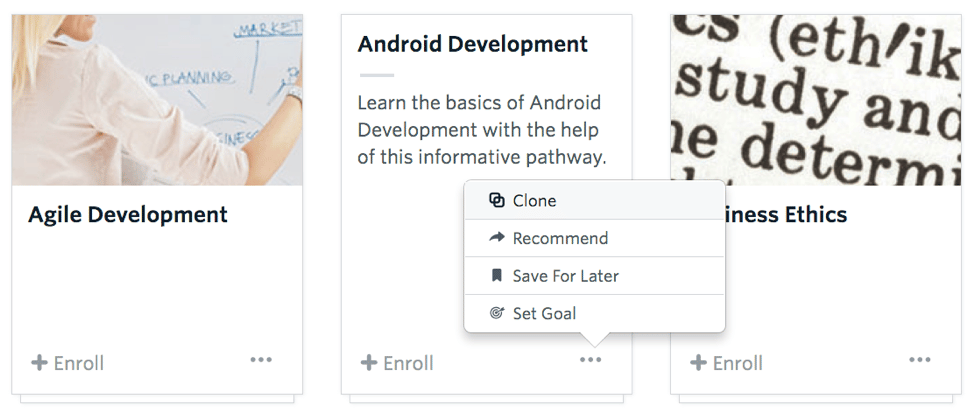 Ready to get curating? Visit get.degreed.com