As a 140-year-old company, Prudential is a financial services giant, constantly working to reinvent itself — especially now as advances in automation lead to business efficiencies. And yet Vice Chairman Robert Falzon, in a recent podcast interview with Joe Fuller of Harvard Business School, described the company's commitment to cultivating the capabilities of its 50,000 employees as a strategy underpinned by skills and internal mobility.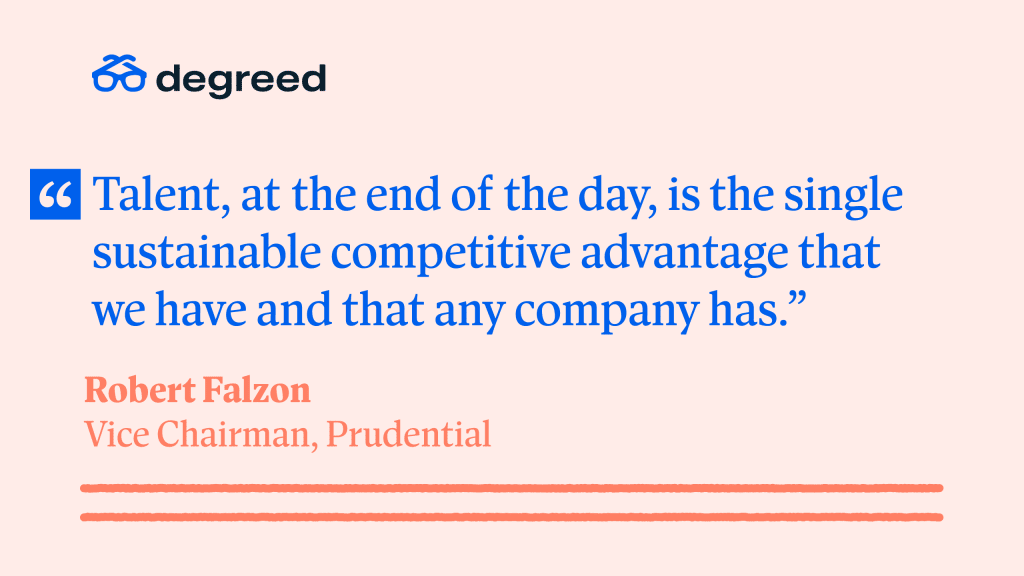 The Opportunity at Prudential
That strategy is supported by data, specifically from Prudential's survey of the American worker. The survey asked who has responsibility for skills and skill development; respondents said themselves primarily, and then their employers and managers.
So what's holding individuals back from developing their skills? Anxiety over the cost (e.g. traditional university education or expensive credentialing programs), followed by anxiety over what to study, and who can be a trusted partner. Or put more simply: what skills do I actually need and who can help get me there?
According to the same Prudential survey, 80% of respondents agreed that the deployment of technology helped companies grow and helped them to be more efficient. Survey respondents are not threatened by technology as a staggering 95% don't believe the majority of their jobs will be replaced by technology. However, due to these technological developments, 30% of respondents also don't believe they have the skills to do their job today, and that grows to 50% when looking forward a decade.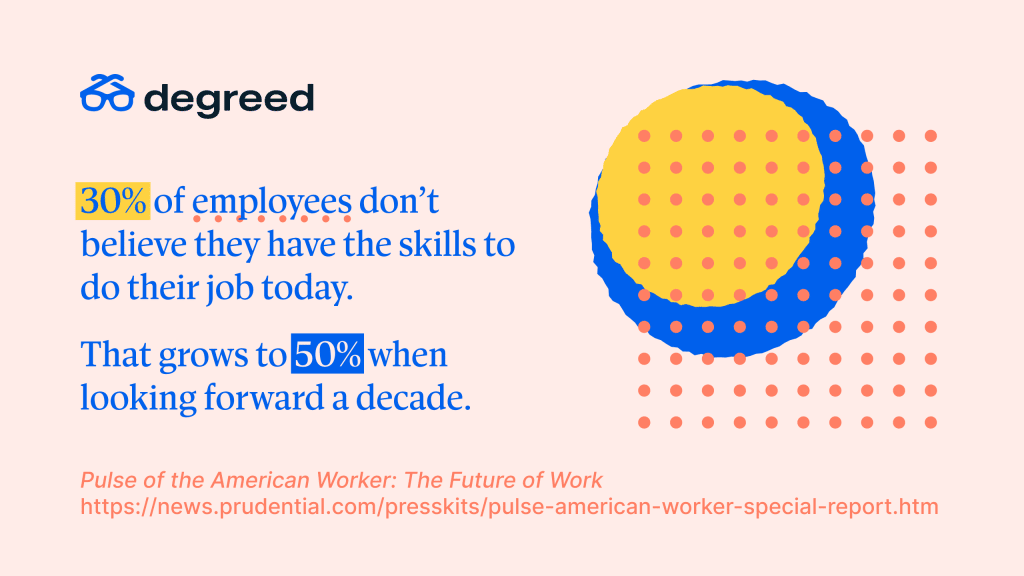 The Skills Strategy Solution
Falzon says he wants to see Prudential "double the size of our U.S. businesses with the existing investment that we're making in talent today." That happens through efficiency and automation.
In order to meet that need, Prudential is creating an inventory of skills. It starts with a visioning exercise to capture what the business or function will need to look like in the next three to five years. From there comes the hard work of identifying the skills — not resumes, not experience — needed to meet that vision.
Falzon acknowledges that it's not an easy task and to support it, they have turned to technology. Using a large database paired with artificial intelligence (AI), they scan thousands of job descriptions and individuals' resumes to translate jobs into skills. Individuals have the ability to edit the output, and as they do so, the machine learns.
The magic really happens, though, as the job's skill requirements start to match with their people's skills to present the opportunities for which they are most qualified. Falzon says, "There's a whole list of jobs that they never would have thought of that they're actually qualified for. Or jobs that with some incremental training, they could be qualified for based on the skill sets."
That's pretty powerful. You can create that power too, even if you don't have the ability to create the database and AI technology solution that Prudential uses. In fact, that's exactly where Degreed can help — it's our sweet spot.
Our process starts with mapping skills to roles, which is a crucial capability of Degreed's learning experience platform (LXP). It's a process that combines our technology and our teams to help create new skill strategies for customers. As we've recently added the capabilities of Adepto to Degreed, we're able to create the full cycle of skills, candidates, roles, and projects to enable a functioning structure of internal mobility and a data-driven approach to learning and upskilling.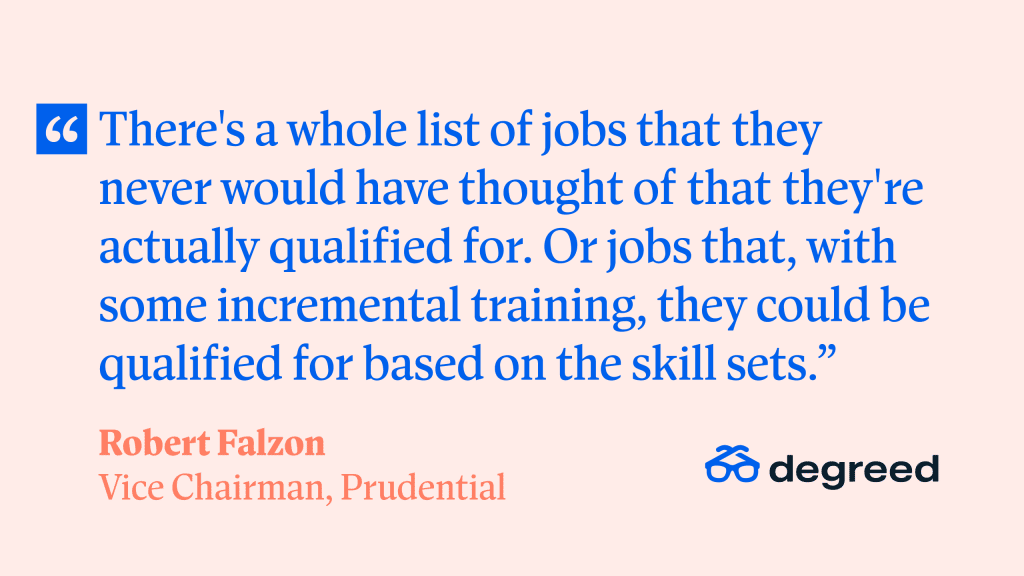 Achieving Success
Regardless of the technology at hand, Falzon shares three underlying keys to success for a skilling strategy:
Consider talent as an asset, not a commodity. Commit to and invest in your talent and it will pay dividends.
Don't get too far ahead. Three or five years is far enough or it becomes overwhelming. Talk to customers, see where you are not meeting expectations, look outside your industry, read timely research, then develop a plan.
Focus on mobility. Prudential does this through an apprenticeship that provides opportunities for individuals to practice learning in a real setting to develop skills. It removes the risk of hiring someone new who might not work out. While the apprenticeship program is new, Falzon observes, "the energy in the organization is off the charts."
Prudential's same survey showed that contrary to the popular myth that today's generation is comprised of job hoppers, workers really do want to stay and grow their careers with their current employers. That provides a great opportunity aligned with the first key to success above: investing in talent. When you do this, you solve for the organization's objectives as you reduce cost and time associated with turnover. You simultaneously tend to your people's personal and professional goals as they can grow their careers and utilize new skills without leaving the organization.
Having been Prudential's CFO, Falzon has seen the compelling value proposition of reinvesting with talent. But the value doesn't end there; when you send a message to employees that you care about them and understand their roles in the organization's success, engagement rises exponentially. Engagement leads to customer satisfaction, which leads to increased profitability, which makes shareholders very happy.
For more on how you can benchmark existing skills, identify emerging skills, and build a similar talent marketplace, download our Guide to Emerging Skills below!