In the dark ages, libraries existed to safeguard the few valuable pieces of content available. If you wanted to learn a subject, there were few options. Contrast that with today, when searching "How to learn data science" gives us 3.3 billion results in seconds.
There is a wealth of excellent learning materials lost amidst the mess of spam, clickbait, and sponsored content — the opportunity is also the problem. The web and its search engines aren't built for learning. Google isn't ranking based on pedagogy, but privileges, ad revenue and popularity. When we actually have time to learn, we need a really good and personal answer to the question: "How do I learn x?" Most good answers to this question will include public learning content.
This is why Degreed is building a lighthouse in the overwhelming sea of content by curating the world's best professional learning content into a single learning index. This index will span a wide range of public sources to reference everything from large course catalogs and micro-credentials to niche blogs and podcasts. Combining human curation with machine learning, we want to help learners find the best content for every skill.
Why a Learning Index?
There are many examples of content platforms in which the platform operator is also the primary content source, requiring partners to unfairly compete. To ensure we stay fully invested in our content partners, Degreed intentionally does not have its own original paid content catalog. Instead, we want to highlight and index the amazing work that others are doing. We are committed to creating the best possible experience for Degreed end-users, clients, and partners. This is only possible by building a neutral platform.
While a lot of attention is devoted to the creation or purchase of professional training courses, the data shows that public content takes the majority share of all learning activity. Although these resources are the primary point of engagement, they are often not prioritized within a company's learning environment. During the work day, in the evenings, on the weekend, we are all learning and most of that learning is not created or paid for by our employer. The goal of the Learning Index is to encourage and support the full range of self-directed, daily, personalized resources that people want and expect. If our learning platforms and learning cultures don't prioritize public content, we're missing the majority of the most engaging resources.
Organizing the Sea of Content
As we start curating the entire internet with a lens for learning, we've thought a lot about the kinds of sources that are valuable for a professional learning index. Looking outside of the box of usual "corporate training" can be overwhelming. But truly engaging people requires a very different approach to content and an expanded list of content partners. To ensure relevance and quality, a central component of our strategy is to curate content as close to the nexus of expertise as possible.
In addition to our many integrations with excellent enterprise learning platforms, we also want to make public content easy to access even if it wasn't built for the enterprise. To do this, here are some key content categories that we're focused on indexing in Degreed:
Learning Media: These short- and long-form videos, articles, and podcasts are highly engaging and blur the lines between learning and entertainment. Think MasterClass, the Planet Money podcast, or TED.
Learning Apps: Interactive experiences or games provide focused education and ongoing progress in a specific skill area. e.g. Calm, Babbel, or Codecademy.
Industry Content: Increasingly companies are sharing their collective expertise and investing in content to educate their audiences and the broader market. Some of the world's best learning resources on product design, business, software, and engineering come directly from the experts inside the world's best companies. e.g. Invision's Design Better, Inside Intercom, or Increment by Stripe.
Product Education: This content provides education on how to use products that are essential to certain job roles and, often, education about the role itself beyond the tools. e.g. Microsoft Learn, AWS Training, or Hubspot Academy.
Experts: When possible, go directly to the experts themselves with sources like individual posts, podcasts, or sometimes books and courses from creators and thought leaders. E.g. John Resig on GraphQL, Seth Godin on Marketing et. al., Jean-Martin Fortier on Market Gardening, etc.
Skill-specific Providers and Associations: Workshops, Bootcamps, "alt" or "mini" learning options, micro-credentials, and skill-specific certifications provide experiences that are often small, flexible, and laser-focused on specific career goals. e.g. IDEO U, Project Management Institute, SHRM, etc.
Building the Learning Index
We believe most of the content you need to grow your mind and grow your career already exists. But curation is difficult; making public content safe for large enterprises and teams is difficult. Sources need to be trustworthy, high-quality, secure, documented, and fully configurable. The collection and curation of resources needs to work consistently and at scale. Our goal is to unlock the wealth of public content, with no corporate disclaimers required.
Here's what we're doing to make public content easy for the enterprise:
Curation: A learning-focused, rubric-based human review of all sources combined with an auto-curation engine that connects content to skills ensures the relevance and quality of new items.
Transparency: We provide complete documentation and insights for all sources, including details around cost, engagement, language(s), topics, skills, and examples.
Safety: A best-in-class content moderation filter uses machine learning to proactively exclude all items that might be considered not-safe-for-work, and it does so across all our supported languages.
Security: The preventative removal of all undesired or malicious URLs acts as an additional layer of curation and cybersecurity.
Scale: The new infrastructure allows providers to be easily added and includes more tools for public content providers to manage, gain insight on, and curate their contributions to the index.
Unification: A unified content experience for learners means public content can be appropriately surfaced by default in searches, while being clearly marked and not hidden behind disclaimers.
Native Support: Empower partners to build Native Providers on Degreed to improve the learner experience through more frequent content updates, automated collection, native video players, and Degreed Pathways and Plans. This new toolset will be especially valuable for smaller providers that could not otherwise easily distribute their content to the enterprise.
Configuration: Perhaps most importantly, we're building a fully-featured administrative dashboard that empowers clients to customize based on the unique needs of their company. Build a content experience with the providers, languages, and skills that are most relevant for your teams.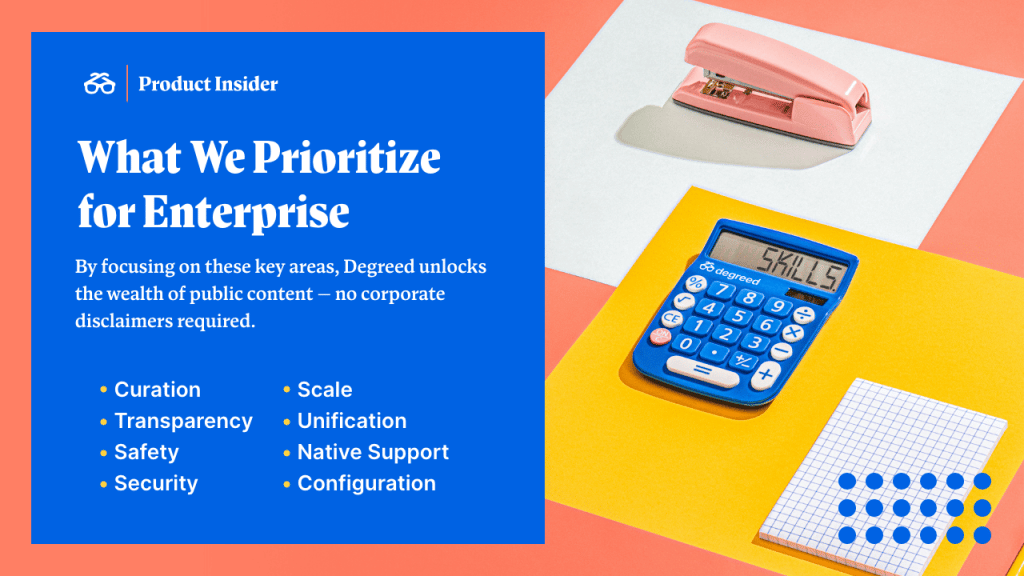 We Can't Do This Without You
One of the best parts of our new approach is that it is easier than ever to collaborate with our clients on achieving their content goals. Here's how you can help us build the Learning Index you want:
Recommend new providers: What skills or niche topics are most important for your business? Connect us to new public content sources and we'll get them set up for easy one-click configuration.
Tell us about your ideal content experience: In addition to the above projects, what do you need to make public content easy and valuable for your audience? If you could build the perfect content experience, what would it look like? While you'll often hear "Content is King", we recognize it's actually just one piece of the learning experience. How can we better connect content to the other key components of your learning culture?
Become a provider yourself: Our expanded lens for great learning content includes Experts and Industry Content as two essential sources! It's likely you have both of those within your company. We'll help you share your company's expertise with the world just like we've done with Invision and others.