The online ecommerce giant Alibaba has used natural language processing to generate product descriptions for years while Alphabet, the parent company of Google, started developing self-driving cars using artificial intelligence (AI) as far back as 2009. More recently, and with the widespread adoption of ChatGPT, Coca-Cola and SnapChat announced they're incorporating AI into their business practices.
Love it or hate it, AI isn't going away — it's spreading. As a business or L&D leader, the time is ripe for you to start understanding how you can use AI to enhance your talent development initiatives. 
Will AI be the next technology to turn work and life on its head, much like the iPhone did in 2007? All signs point to yes. In just a couple years (or even months!), there's a good chance you'll be using generative AI to write training programs or create accurate and thorough skills taxonomies.
"Today, we face another Sputnik moment. The fourth industrial revolution — the introduction of technologies such as AI, robotics, cloud technologies and IoT — is leaving thousands of companies and millions of workers ill-equipped to compete in a reinvented world," according to Annee Bayeux, Chief Learning Strategist at Degreed.
If used correctly, AI can make L&D programs and initiatives more effective, learning professionals more productive, and entire talent development departments more efficient. In this blog post — the first in a series on how you can use AI in L&D — we'll explore using AI to develop a winning skills strategy.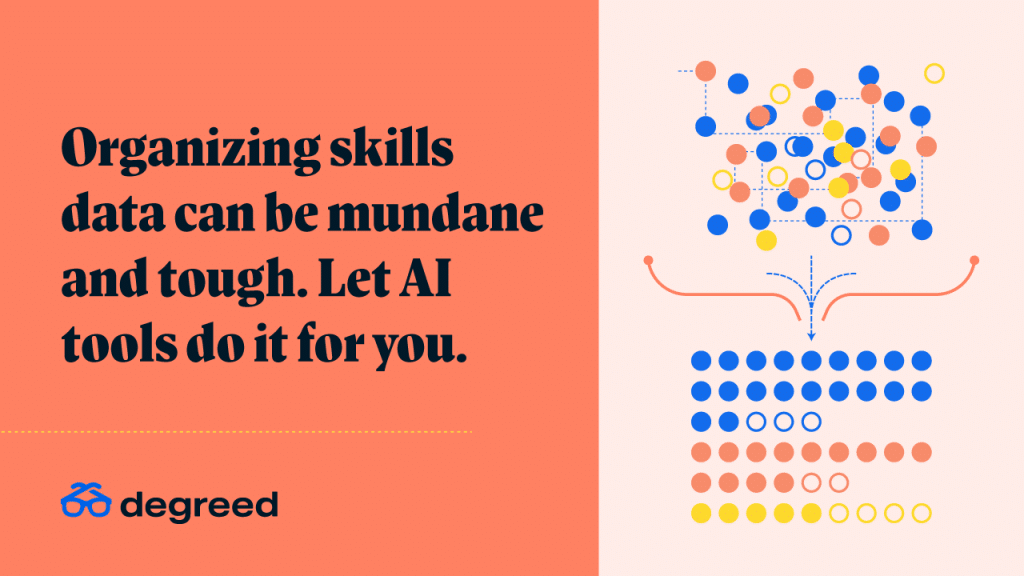 Four Ways AI Can Enhance Your Skills Strategy
While it may not be the most provocative sounding aspect of L&D, organizing skills data is a critical component of any learning platform and strategy. With the increasing demand for continuous learning and skill development, it's important to provide employees with a comprehensive and up-to-date view of their skills, knowledge and experience.
Here are four key ways we think you'll be able to use AI models to organize and manage skill data in the near future:
1. Generate a Skills Taxonomy
AI models like hierarchical clustering, Latent Dirichlet Allocation (LDA), Word2Vec and transformer models can be used to generate a comprehensive and hierarchical skills taxonomy. These models can normalize and categorize skills into a structured taxonomy, providing you with a clear and coherent overview of your workforce's capabilities.
Having this overview makes it easier for you to identify skills gaps, prioritize training, and align your employee development efforts with your business goals. The taxonomy can be also used to categorize and organize learning content and resources, making it easier for your people to find and access the information they need.
2. Map Skills and Analyze Skill Gaps
In addition to producing skill taxonomies, AI models like Convolutional Neural Networks, Graph Neural Network and transformer models can also analyze coding activities, learning histories, project documentations and other relevant information to create a detailed skills profile for each employee. This information can be used to help employees plan their career development to meet your organization's skills needs. Degreed partners like Eightfold.AI and Phenom help automate the process of matching people's skills to roles.
3. Forecast Skill Trends
AI models such as Topic modeling, time series analysis, link analysis, Graph Neural Network and transformer models can be used to analyze skill trends and forecast future skill needs. The models can analyze job postings, training programs, learner skill profiles and other sources to identify the most in-demand skills and expertise through a learning analytics platform like Watershed.
The information provided by AI models can help you create a workplace learning strategy and future-proof your workforce. By identifying those in-demand skills for the future and then upskilling or reskilling employees in those skills, you can help ensure your workforce, and therefore your entire organization, is prepared with skills relevant to the future of work.
4. Recommend Skills-Based Learning Resources
We currently offer an AI-enabled recommendation tool within the Degreed platform. AI models are used to provide employees with skill-based resource recommendations. The models analyze an employee's skills profile and learning history and suggest new skill areas to explore that align with personal development needs. The models can also be used to suggest resources people can use to learn the new skills — for example, online courses, talent academies, books and podcasts.
At Degreed, we continually explore new ways to use AI to assist in providing insightful and comprehensive solutions that improve the learning experience. Our latest endeavors include exploring OpenAI GPT models combined with other AI algorithms to consolidate skill taxonomies, refine skill ratings, and extract relevant insights based on people's skills — all with the goal of helping them meet their learning objectives.
AI models offer a powerful solution for organizing skills data and creating a personalized and engaging learning experience. By leveraging the power of AI, you can help employees develop their skills, plan their career development and stay on the cutting edge in a rapidly changing world of work.
Ready to learn more?
Let's talk about how upskilling rooted in a winning skills strategy can help your L&D team create real business value.
Got questions? Contact a Degreed representative today.
Fei Sha is the Director of Data Science & Machine Learning at Degreed.