What's the difference between skills and competencies? How do they fit together? And why does it matter?
Depending on who you ask, you might get complicated answers.
We're making it simple.
Many organizations have relied on competency models for measuring performance since they entered the business conversation. Competencies date to the early 1950s. In 1973, David McClelland, Professor of Psychology at Harvard University, questioned the use of intelligence tests to predict job performance. Instead, he championed measuring competencies (the underlying traits that lead to superior performance). A framework was born, a model unique to an organization that lists expectations required to perform well for a particular role or function.
Now, some organizations are looking at an alternative: skill-based talent strategies. With 58% of respondents in a McKinsey survey stating that closing the skill gap at their company has become a priority, a majority (69%) from the same survey also said skill-building at their organizations has increased in an effort to close the gap.
Competency model or skill model? Learning and talent leaders have strong opinions about which is best. Here's a key point: they both address the same thing, which is how we get work done.
To understand how they're different, let's look at how "competency" and "skill" are defined:
Competency: Knowledge, behaviors, attitudes and even skills that lead to the ability to do something successfully or efficiently. The ability to make business decisions would be a competency.
Skill: Learned and applied abilities that use one's knowledge effectively in execution or performance. Using the same example of making business decisions, in order to do so, you would have to maintain certain skills to perform well: budgeting, market research and competitive strategy.
Whether your organization is using skills or competencies to measure development, the goals are the same: assessing your people, identifying areas for growth and offering the right opportunities to learn and stay engaged.
"The corporate learning landscape is evolving very, very fast," Peter Fox, Global Head of Digital Learning and Talent Technology at Citi, said at the recent Degreed LENS conference. You can navigate this evolution by fully understanding the differences (and similarities) between a competency and skills model, how they work together, and which might be best for your organization.
Breaking it Down
While these concepts might seem complicated, they're ideas you can often blend when you're planning goals and strategies for your organization and people. Understanding how they work can help you determine when and how each model or a combination is best for your team.
Competencies: Powerful, with Limits
A competency entails more than just knowledge and ability. It's a mix of behaviors and attitudes. And it can include skills, too. But managing such a large and complex model can be challenging. As Annee Bayeux, Chief Learning Strategist at Degreed, said at LENS: "Competencies tend to be big-picture and aspirational."
Competencies are value-based. They're specific to an organization or project. Since they're tied to values and culture, they aren't easily measured or standardized. For example, expectations for competency in analytical ability can differ heavily depending on context.
Competencies are rigid. They aren't agile in practice. It can take months or even years for someone to reach a specific competency. You could become skilled in data analytics software in a few hours, but you can't become fully competent in data analytics in that time. In our fast-paced and ever-changing world, adaptability and agility are vital for success.
Competencies are non-transferrable. They're mostly mapped to individual functions or behaviors, making it hard to transfer them across an organization. Because of this, it's difficult to imagine how one competency can perform in another role.
Despite limitations, many learning teams create competency models for their organizations. Because competencies are specific, rigid and non-transferrable, the act of creating a competency model takes a ton of time and effort. Your model can become outdated before it's even put into action.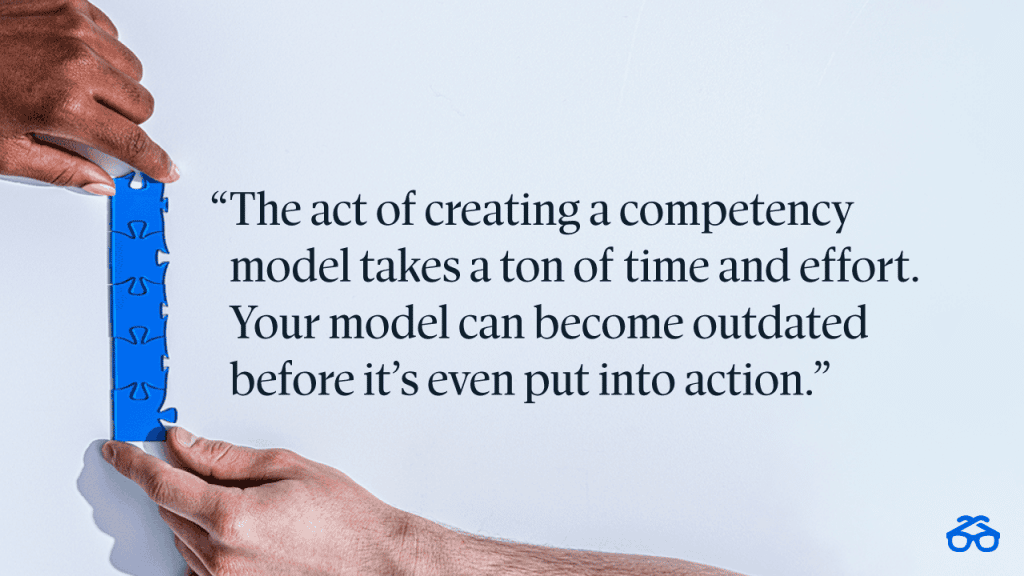 Skills: Agile and Efficient
When we talk about skills, we're using the language that people use to describe their own development. Skills are smaller and more manageable than competencies, making them easier to track. Because of that, skills are the unit of measurement in Degreed. As Laura Jones, Executive Director of Global Talent at General Motors, said at Degreed LENS: "Learning is nothing unless you do something with it."
Skills can be developed. Think of skills such as computer programming, project management, knowledge of specific platforms or even soft or human skills such as active listening and communication. These can be learned in a matter of days, weeks or months and improved in practice over time.
Skills can be measured. As opposed to being outcome-based or value-based, skills can be measured and standardized. Degreed uses a rating system designed by The Lumina Foundation. By using a standard rating system with skills as a unit, we can measure growth, track progress and match your people to on-the-job learning opportunities. You can, for example, know exactly at what level someone is skilled in Java.
Skills are applicable. Work can be deconstructed into three components: tasks, projects and roles. Skills are used to perform tasks. Tasks are the things required to complete projects. And projects are how roles are organized. This means skills are how work gets done. You can't complete the task of making a sale by solely being competent in customer service, but you can when you are skilled in communication, active listening, project management and negotiation.
Skills are transferable. Skills — like programming and project management — are transferable between companies, roles, projects and tasks. Competencies are loaded with factors related to roles, like performance expectations, attitudes and behaviors, making them non-transferable between jobs or collaborative projects.
To achieve agility and efficiency and increase retention, many learning teams are shifting to a skills model. How are they doing this? By mapping people's skills to roles. This helps people improve in their current roles and prepare for future endeavors. How can you do this? Identify key skills needed for roles, empower your people to upskill and reskill in these areas and watch them and your organization grow with the shifts.

Speaking the Language of Work
Competencies are the language of behavior. Skills are the language of work. And as we all know, leaders most of the time are more concerned with the language of work. "Business leaders very rarely think of work to be done in terms of attributes, behaviors or competencies. Instead, they often think of work as tasks to get done — specific and objective tasks or areas of expertise," according to Janice Burns, Chief People Officer at Degreed.
Cisco relied on a competency model but the organization found it difficult to explain, maintain and measure. The software maker has since shifted to a skills-centered strategy, finding it easier to define.
"We were able to define roles by skills rather than competencies," said Josh Clark, Director of Learning & Careers at Cisco. L&D mapped 4,000 job titles to around 200 roles, creating a much simpler and maintainable system.
Expecting your learning team to identify and match every worker's skills with internal opportunities is unreasonable, especially if it's done manually. But a purpose-built, user-friendly platform can do that work. And when it engages people by offering them learning opportunities you can use that data to help address growth and business needs.
"How we're using the data is extremely interesting," Clark said. "We loaded all the skills that are relevant to each employee's role within Cisco. For instance, someone in a PM position will automatically have the set of PM skills loaded onto their profile. When someone logs into their profile for the first time, it is already populated with the skills they have and those they need to build." This provides both Cisco and individual workers transparency into their abilities and the areas in which they need to grow.
When they first work with skill data, many organizations are reactive, using the data to validate specific ideas. But with more data and reporting abilities, those companies start proactively making decisions. And advanced organizations are predictive, identifying patterns in its people data that point to potential disruptors.
Should You Use Competencies or Skills?
Because only slight differences exist between the two models, Degreed is able to support whatever one you choose for your organization. That said, we may have thoughts to share about which would be the most effective approach for your specific organization. Contact a Degreed representative to chat more about skills and competencies.
If you're not yet ready to scrap the competency system your company has used for years, you're not alone. You can still increase standardization, organizational agility and experiential learning based on skills. You can keep your current model in place and simultaneously map skills to job roles to gain a lot of the same benefits as using a skill model.
In the end, whichever method you choose should be the right fit for your organization and people. Make sure that your model can successfully and efficiently assess your people, identify areas for growth and offer the right opportunities to learn.
Want to Learn More?
We have a range of videos covering topics like this and more from our annual conference, Degreed LENS available on-demand now. Sign up for access today.
Be sure to download our latest research report, How the Workforce Learns for actions you can take to improve your learning culture today.