With rapid technological development and eight out of ten CEOs actively worried about skill gaps, it's clear that today's workforce is changing. While this brings opportunity, it brings growing pains as well. The labor market is tight, employee capabilities are outdated, and traditional learning strategies and L&D efforts aren't helping them evolve.
But some of the most innovative companies have examined the needs of today's workforce and successfully adapted to meet them. One of the clear leaders of this movement is Cisco, an organization consistently ranked as a Fortune 500 company as well as one of Fortune's 100 best companies to work for. It's apparent they're ahead of the curve.
So Degreed sat down with Josh Clark, Director of Learning & Careers at Cisco, to discuss how they're being proactive about their learning strategy, measuring success, and preparing for the future.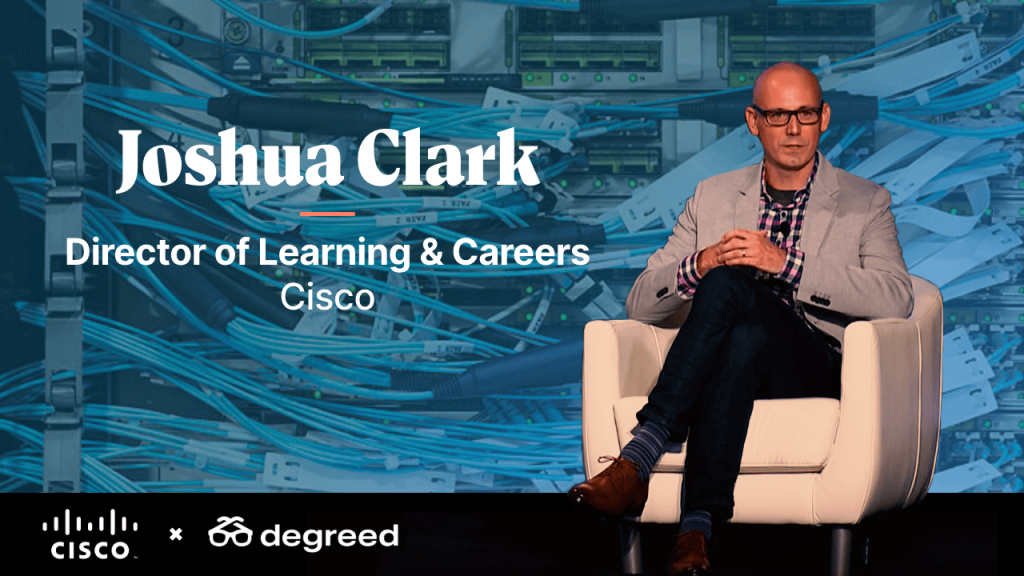 Current Landscape and Challenges
Due to automation, we're expecting to start seeing job-loss at a nearly unprecedented rate. In fact, we expect to see 1.4 million workers lose their jobs by 2026, which will disproportionately affect women. But in the midst of this evolution, there will also be job creation.
This is where a good learning and skilling strategy comes into play. Right now, leaders have limited visibility into their teams' skills (and lack thereof). With more data on their employees' abilities, they will be able to provide more directly applicable upskilling options to close identified gaps more efficiently.
Another element of today's workforce is the expectation of guidance from employees, particularly younger employees. Many workers expect to be at Cisco for a long time, and they are looking for direction and guidance as they begin their careers.
For these reasons, Cisco developed a new L&D strategy around skills, which involved rethinking their approach to learning and a major overhaul of their L&D platforms.
Cisco's Solution
Cisco's new L&D strategy consists of three main factors: technology, content curation, and an emphasis on skills. They also had to develop a new way to measure its success after implementation.

Technology
It became extremely important to their organization that learning was self-directed and user-centered. This paired with "Cisco-directed learning," giving both employees the autonomy and guidance they were looking for.
In October of 2018, Cisco decided to explore new ways for their employees to track skills and use various learning platforms, such as O'Reilly, Pluralsight, Linkedin Learning, and Udemy for Business, in the same place. Previously, employees had 15-20 different platforms to track, log into, and explore—Cisco wanted to simplify by making them all centralized. Other offerings included personally curated and machine-curated content recommendations, using the employees' interests to provide relevant learning opportunities.
Once the platform was tailored to fit their user-centered needs, Cisco also implemented the "Cisco-directed learning" aspect to offer guidance on what content would be most useful for consumption based on key roles and skill areas.
By implementing a new integrated platform, they were able to gain visibility into which platforms were being utilized, where people were developing skills, and other data sets to help them make better strategic decisions.

Content Curation
"We don't create content anymore," says Clark. "We leverage third parties, fremiums, and curate a lot of content." In this way, Cisco saves time and is able to provide the best content from experts in every field.
One challenge with curation is that there is an oversaturation of content available. Ensuring that Cisco is only providing the best quality content is something they had to plan for.
"At Cisco, we've created curator roles to build pathways — such as leadership or professional skills — to help enable the ecosystem." This required transitioning over roles that had traditionally focused on content creation, an ongoing process that Clark notes has been challenging at times. But it has been an undeniable benefit to the company and visibly increased efficiency.

Skills Strategy
Cisco had once relied on a competency model, which the organization found difficult to explain, maintain, and measure. They've since shifted to a skills-centered strategy to provide visibility and direction in career mobility.
"We were able to define roles by skills rather than competencies," says Clark. In this process, Cisco was able to map 4,000 job titles to around 200 roles, creating a much simpler system that proved easier to maintain.
"How we're using the data is extremely interesting. We loaded all the skills that are relevant to each employee's role within Cisco. For instance, someone in a PM position will automatically have the set of PM skills loaded onto their profile. When someone logs into their profile for the first time, it is already populated with the skills they have and those they need to build." This gives both the organization and the individual employees transparency into their abilities and the areas in which they need to grow.


Measuring Success
"It's common to want to ask about ROI, but tying that directly to an L&D strategy is extremely difficult. I prefer to examine engagement."
Engagement is simple to track, using the right platform. And this factor is directly tied to a lot of meaningful outcomes, such as employee retention, performance, and more. If teams are engaged in their work, actively building skills, and see a clear path in their company for internal mobility, they're going to be much less likely to leave the company. They'll also be motivated to improve their performance.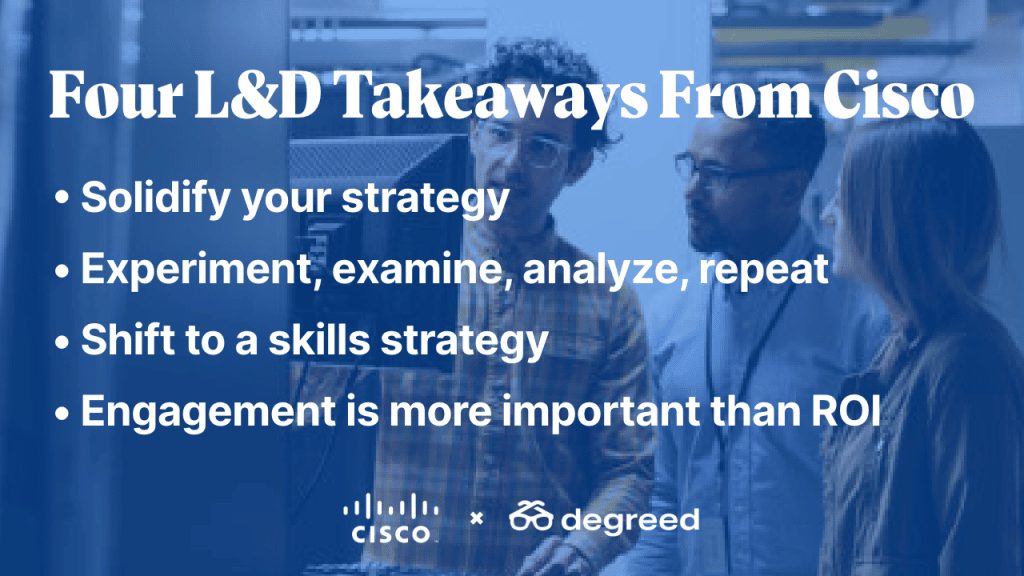 Four L&D Takeaways From Cisco
Solidify your strategy and revisit early and often. Is it still working? Does it continue to align with business goals? Do not set it and forget it.
Learning professionals tend to be hesitant around experimentation. But with a rapid transformation of the workforce, this is a time for examination, analysis, and trial and error. What's working for your teams– and more importantly, what isn't?
Shift to a skills strategy. Cisco shifted away from its competency model because there was nothing measurable built into that structure. Shifting over to skills does just that: it's the new, updated, and useful way of discussing abilities and roles.
Engagement is more important than ROI. While there are a number of ways to tie an L&D strategy to ROI, these can vary greatly. And according to Clark, engagement is the metric that really matters. Set your parameters around how you're going to measure engagement and track those metrics closely.
The way we work is constantly changing, we first need to know what our people need. Download our How the Workforce Learns report or contact a Degreed representative to learn more today.