Mankind has fixated on the mysteries of the sun, moon, and stars since the dawn of time. Early Mesopotamians characterized the world as a flat, floating disk. Other ancient traditions imagined a mountain or layered temple ascending heavenward before new calculations helped the astute perceive the earth as spherical, which space exploration eventually confirmed.
New methodologies can change the way we view the world. They can embolden us to move forward and do better. John F. Kennedy's call to the moon did that for the scientific community in the 1960s and later inspired our co-founder, David Blake, to approach education with a new lens. As a nod to his ethos, Degreed used JFK's iconic sunglasses as inspiration for our logo.
"We choose to go to the moon in this decade and do the other things, not because they are easy, but because they are hard, because that goal will serve to organize and measure the best of our energies and skills." –President John F. Kennedy at Rice University, Sept. 12, 1962
In the same way, the Skills Lifecycle brings HR leaders to the light with a new approach to upskilling the workforce. The Skills Lifecycle includes four steps:
Align
Benchmark
Curate
Develop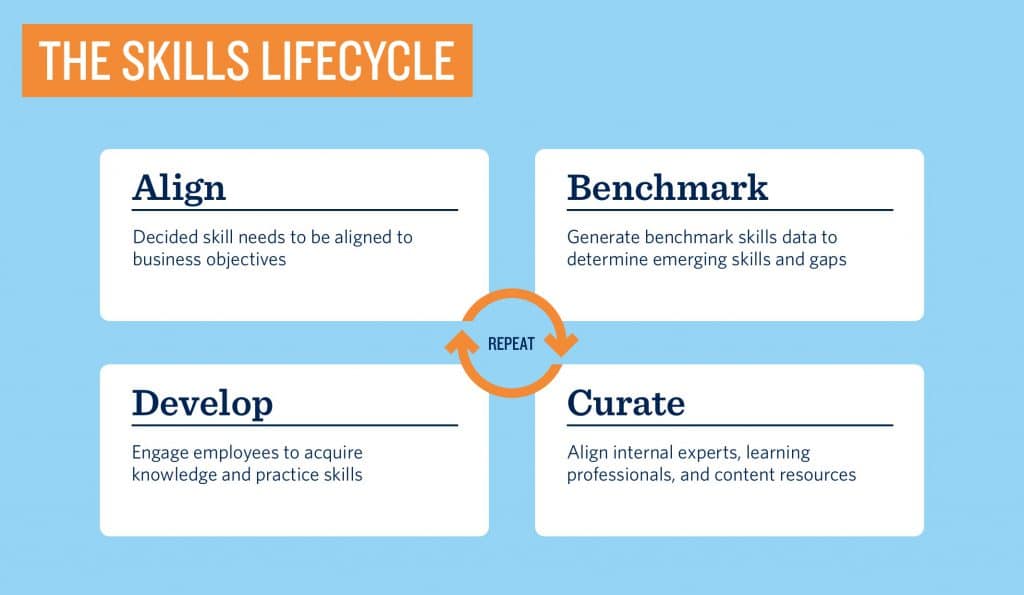 During alignment, HR uncovers the priorities of the C-Suite and line of business leaders, so that Learning & Development can be in lockstep to deploy training plans. Next, HR arms employees with the tools to benchmark and profile their skills, giving employees a way to signal their expertise.
After these two first phases, the company leadership and employees have spoken. They've shared their objectives and measured their skills. Armed with strategy and data, it's time for HR to respond. Enter curation, the third phase of the Skill Lifecycle.
Curation is Queen
In 1996, Bill Gates published an essay entitled "Content is King." Like JFK, Gates envisioned a new future: a world in which the Internet serves as the primary marketplace for information, available in a range of mediums and generating revenue for creators.
"Over time, the breadth of information on the Internet will be enormous, which will make it compelling." -Bill Gates, "Content is King" 1996
As the consumer internet has gained popularity, the content has become ubiquitous. Blogs on Medium, videos on YouTube, photographs on Flickr, tweets, memes, podcasts, top ten lists – the stream is continuous. By 2020, it's estimated that for every person on the planet, 1.7MB of data will be generated per second. This galaxy of data comes with a challenge for creators and marketers: to rise above the noise.
HR faced the same conundrum. How can a team with the scope and resources of a single company compete with the wide web of the Internet? Findings from the High-Impact Learning Organization study by Bersin show employee learning is hampered by too much content, not a lack of it.
Left unfiltered, the utopia of Gates' Internet becomes more overwhelming than compelling. This problem has shifted L&D professionals from a creation to a curation mindset.

Why Curate?
More than a buzzword or fad, curation will be a key tactic to help HR teams avoid an untimely end, Gravity style.
According to PwC's 22nd Annual Global CEO Survey, company executives are feeling the strain of economic and geopolitical uncertainty. Most (77%) plan on turning to "operational efficiencies" to drive revenue growth. Translation: budget cuts, layoffs, and doing more with less.
Deloitte's 2019 Global Human Capital Trends warns of similar patterns. HR professionals must brace for digital transformation — for the employees they support, and in their own departments. On average, developing one hour of e-learning content costs $30,000. By curating existing content, learning and development teams will be able to use diminishing resources more effectively. They can transition from the time-consuming and expensive work of content generation to the efficient practice of curation. The curation, too, will increasingly be accelerated by technology.
Curation also enables scale. The Digital Learning Consortium (DLC) represents a collection of thought leaders in the Learning & Development space. The group's 2018 Voice of the Learner Survey Report found learners have an assortment of ways they prefer to learn. Around 20% prefer videos for just-in-time learning. While 70% agree that peer interaction in groups improves learning, 58% don't want as much interaction and still prefer self-guided online courses. The list of variables continues to include the time of day, location, and the task at hand. Curating over creating means you don't have to staff a production company to meet the range of preferences for learning.
Degreed has been talking about curation, too. If you're just beginning your transition to a curation culture, learn more about what curation is, why it's important, how to start and how your internal experts can help.
Curation 2.0: Career-Centered Curation
For companies that are more evolved in their curation culture, we introduce a new kind of curation that goes beyond content. Curation 2.0 extends the curation mindset beyond L&D to that of recruiting, talent management, and development. Remember, in the New HR, all of these functions are increasingly aligned and operating in stride with the business needs.
Curation 2.0 focused on career-centered curation. Companies must curate opportunities for employees. The DLC report also found employees are most motivated to learn new skills when there is a clear link to their current or future role. Consider adopting technology that makes career-related goal-setting an explicit part of the employee experience. Use your own employee skills benchmarking data or an up-to-date competency framework to articulate the skills relevant to various positions.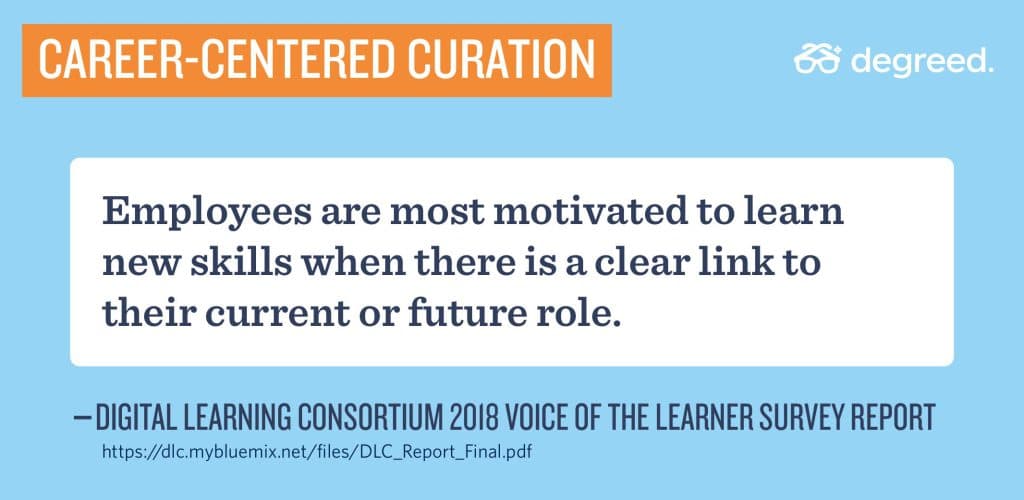 When an opportunity is curated for employees, the company gets a collection of expertise. The majority of global executives believe they will need to retrain a quarter of their workforce within the next five years. L&D and Talent Management, if properly aligned, can optimize retraining at scale by broadcasting the skills needed to the organization and providing a curated learning ecosystem to skill up for the future.