Spending a lot of time with organizations, at conferences, and reading industry research and blogs, I see the phrases "out of sync" and "learning revolution" being thrown around a lot in reference to the current state of corporate learning. There might be some truth to those words — only 18% told Degreed they would recommend their employers' training and development opportunities.
But a more accurate statement is that there is a massive shift happening in the way people are learning in their jobs.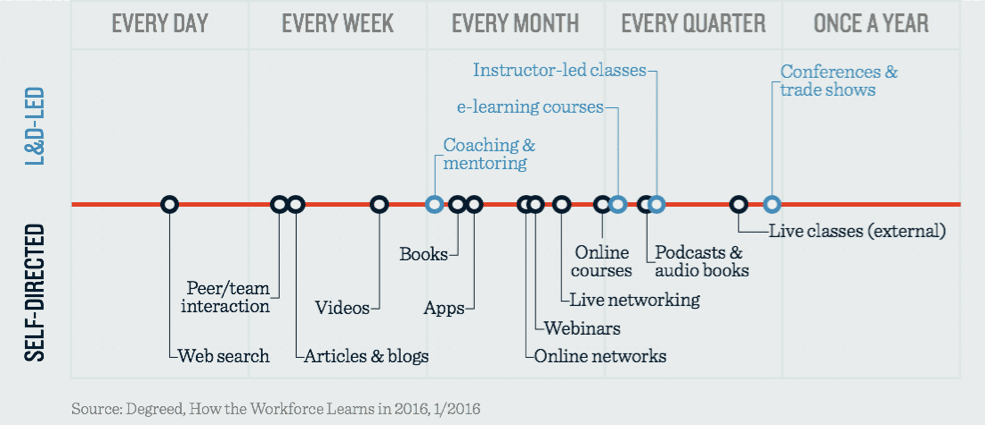 The fact is, most workers do spend time learning every week, and they progress every day, in all kinds of ways – not just sometimes, in courses or classrooms. This means that the L&D environment should enable self-directed development as well as formal training – and it should do that through both micro and macro-learning. Equally as important, we as L&D leaders, have to make the vast array of learning content and experiences more meaningful by curating the right resources and tools, providing context, and by engineering useful connections and interactions.
We call this a learning ecosystem. We are in an exciting time where technology, the gig economy, the vast demographics of our workforce have given us the opportunity to rethink our approach and the possibilities! So what does a culture of continuous learning that includes formal and informal, job training and career development, L&D and self-service, look like?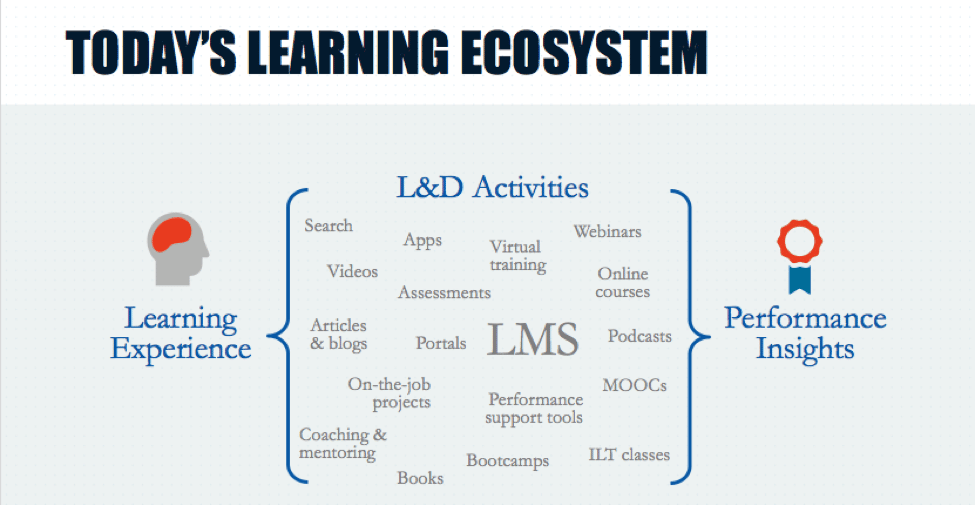 You need a comprehensive ecosystem of systems and tools that include the following capabilities:
curate many different types of content
Allow learners to explore indefinitely
Aggregate data from all over the organization without manual work into one tool
Dashboards to monitor activity deeper than completions
Analysis without spreadsheets or data scientist
Perhaps most importantly, embrace APIs, and standards compliance using Tin Can/Experience to ensure that all of your tools will plug in together.
There is also no one-size-fits-all for tools, but platforms like Degreed and Bridge help facilitate L&D's expanding requirements through their support of required, recommended and self-directed talent development, allowing organizations to meet the needs of a changing workforce.
Learning and development opportunities are a critical factor in making employee engagement (and more importantly, performance) happen. Today, people expect utility, relevance, and personalization, and you create that through a comprehensive learning ecosystem.
Want to know more about the Degreed and Bridge ecosystem? Check out the PR on their new integration.
Co-authors: Sarah Danzl – Communications & Content Marketing, Degreed & Katie Bradford – Director of Platform & Partner Marketing, Instructure