There are few things more natural than learning. We learn every day, and the process of learning happens everywhere, especially on screens, apps, and at work— not just in classrooms or L&D platforms. For example, I listen to podcasts, read articles, catch up on my Audible list, and watch YouTube videos on a daily basis, but I don't always have time to go into a platform like Degreed to mark those items complete.
When I build Pathways and share applicable content with my team through Degreed, I'm often aggregating that material from all across the internet, because that's how both work and learning happen. In an effort to embed Degreed into the flow of work and life, we've released an updated Degreed Button that brings Degreed to wherever you're learning.
What is the Degreed Button?
The Degreed Button is how we refer to the Degreed browser bookmarklet and extension. Sometimes people refer to it as the Degreed plug-in. Whatever you call it, it's our way of embedding Degreed into your browser so you can access the functionality wherever your browser takes you.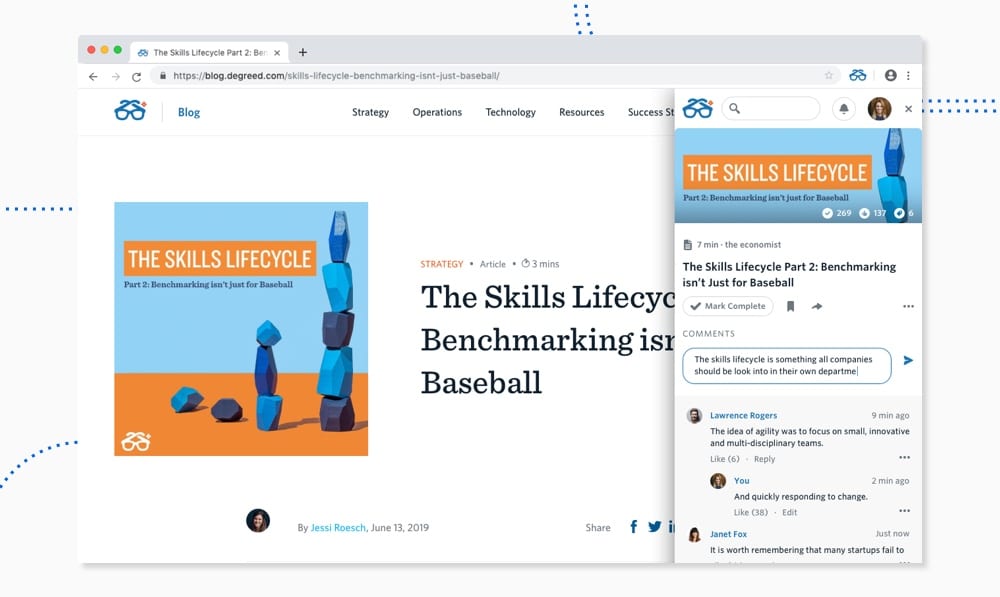 What's in it For You?
The Degreed Button is a super simple way to track and share what you're learning in one place, seamlessly infusing learning in the flow of work. Additionally, with the Degreed Button, you can also:
Track your learning: I work in technology, where if you're standing still, you're falling behind. So I'm constantly reading and watching videos to stay current. But tracking it all in Degreed isn't always top of mind. With the Degreed Button, I can track everything I learn directly from my browser without leaving the page I'm reading. I can even include a note about what I learned and tag the skills I'm working on. Degreed also makes it easier to show off my progress; I have about 12,500 points in Degreed and I like to go back and see what books or articles I read on product management, which ones I liked, and what I learned. Sometimes my team is discussing a topic I've recently read about. With the Degreed Button, I can go back, find the article, and share it with my team.
Share with others: When I really love an article or video, I like to share the wealth by recommending it to a friend or one of my groups. The group I share with will see a notification through their own Degreed Buttons, and won't need to log into the platform to view it. This continuous sharing helps me stay on top of industry trends and aligned with my team.
Save for later: If I find something I like, but don't have time to read it right away, I add it to my "saved for later" list. If I forget about it, Degreed will resurface it in my feed.
Add to Pathway or Plan: When I'm building a Pathway or Plan, I can add to either one directly from the Degreed Button without leaving the browser page. Pretty neat, huh? Through the extension, Degreed will auto-populate the title, description, and image for me so I don't have to manually edit anything.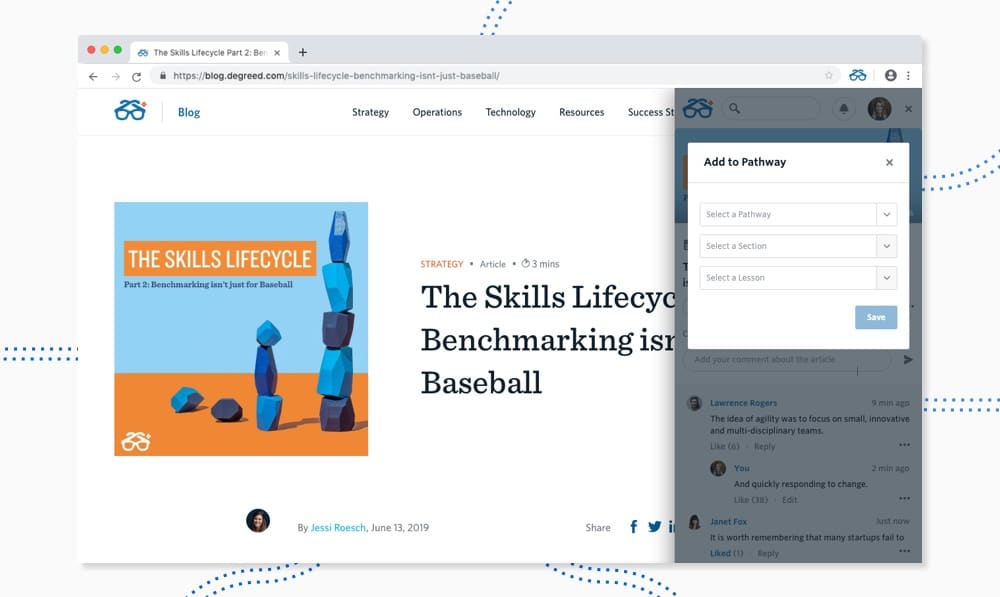 Stay in touch with notifications: My team shares a lot of content. The Degreed Button allows me to access these recommendations directly while keeping me privy to alerts without having to log into the platform.

Add to catalog: With this new feature, users with the "Manage Pathway" permission can add directly to the catalog using the Degreed Button. The content title, description, and image will all be imported if available, so you won't have to waste your time manually adding information. The user can then edit those fields (if desired) before adding them to the catalog.
Find new learning resources with the search function: Sometimes I run across a topic I want to learn more about, but I'm not sure where to look. To bring learning into the flow of work, I can now search for a topic through the Degreed Button to find what's available to me. For instance, I was recently reading an article on data science and finished with a quick search in the Degreed Button for similar content. I found an 'Introduction to Data Science' Pathway, which had been started by a colleague. The Pathway was the perfect crash course, and now I get relevant and helpful data science recommendations.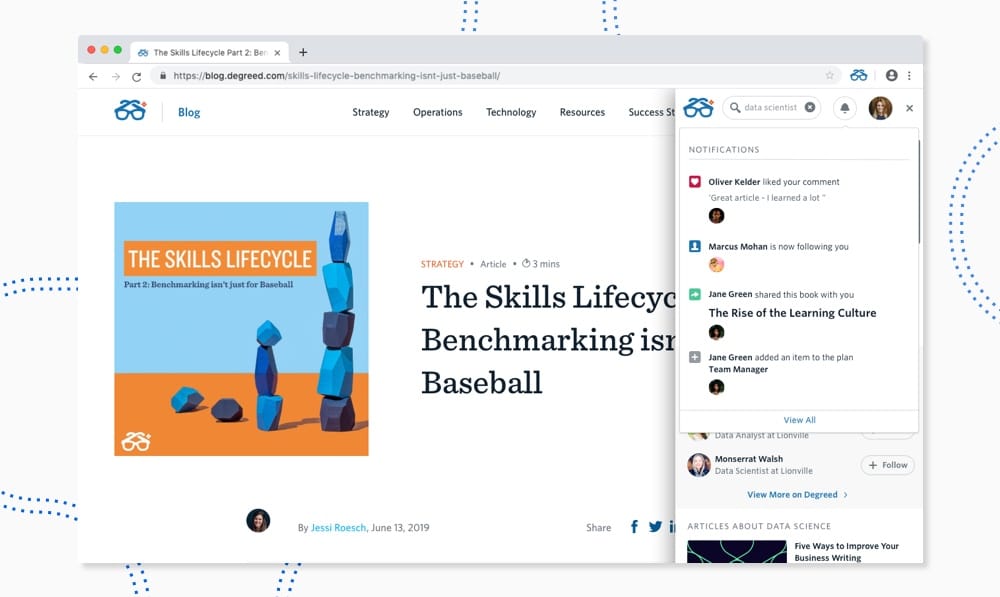 How the Degreed Button Works
Depending on the browser you're using, you can download the Degreed Button as either an extension or a bookmarklet. Once added to your browser, you'll have the ability to interact with any web page you're exploring. Functionality between the Degreed bookmarklet and the extension is nearly identical — though the extension provides a more embedded experience and is less likely to be blocked by a web page.
The Degreed Button supports:
Chrome Extension
Chrome Bookmarklet
Edge Extension
IE 11 Bookmarklet
Safari Bookmarklet
Firefox Bookmarklet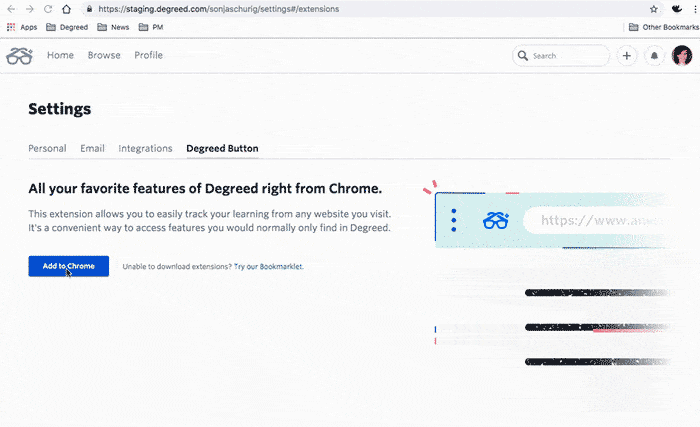 To install either the browser extension or the bookmarklet, navigate to the Degreed Button page in your profile settings. This page will automatically detect what browser you are using, and provide the appropriate option for that browser. If you're using Chrome, you'll see the option to install the Chrome extension.
Remember, if you're installing the bookmarklet, you will need to first make your favorites bar visible, then you can drag and drop the bookmarklet to your favorites bar.
Some of our larger clients have already completed an enterprise-wide deployment of either the Degreed bookmarklet or the extension. If this is something you're interested in, your internal IT department can help launch this feature for your organization. It's important to note that the Degreed Bookmarklet URL is JavaScript as opposed to a simple hyperlink. Your IT department should be able to follow its own processes of mass deployment of browser bookmarks.
Button Up How You Learn at Work
If we're breathing, we're learning. So it makes sense that we should be learning in the place where we spend 40 hours a week, right? The workplace is ever-evolving, and staying ready for what's next is critical. We have to ensure that we can learn in the flow of work rather than making it a shift in gears. That's where we step in. The Degreed Button is the seamless way to learn wherever you are, especially the office. Fill in skill gaps, stay current on the latest, and boost your efficiency — all at the touch of a button.
You can use the Degreed Button in your browser, the Degreed mobile app, or embed the Degreed Button on an internal web page.