We take learning pretty seriously at Degreed. So seriously, in fact, each employee is given a stipend to spend on learning whatever we want, however we want. We learn about our roles at work and in-demand skills as well as winemaking, baseball, surfing, cooking, churning our own butter — you name it, we've learned it.
And we use Degreed to capture, curate, share, and save all of that learning in one place. For that reason, we like to think of ourselves as experts on our platform, though we sometimes disagree on our favorite features (there's just too much to love). So we asked some of our team members to name their favorite Degreed features and how they help us learn.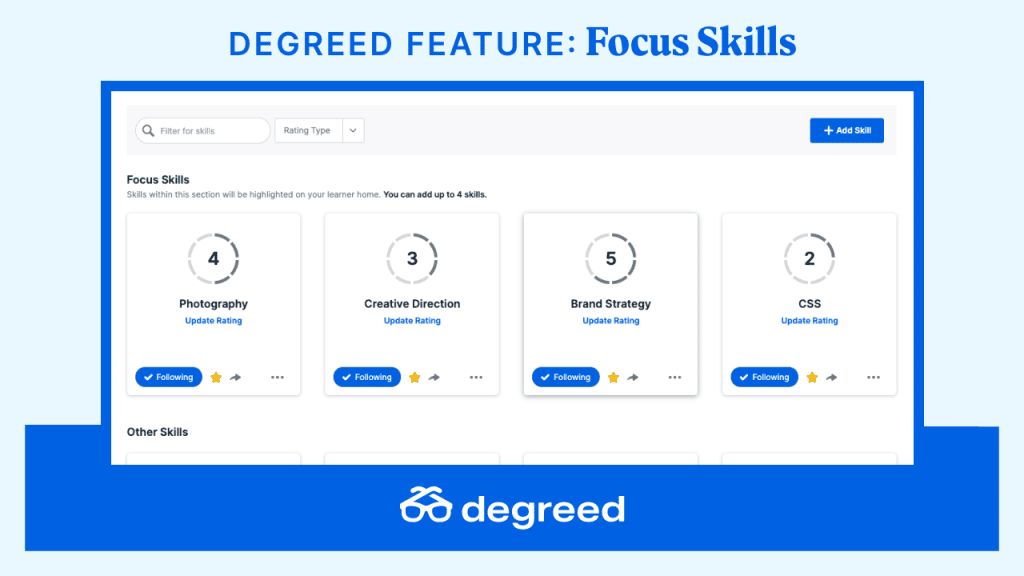 Focus Skills- As a total learning nerd, I sort through loads of content daily, and our Focus Skills feature is one of my most treasured. While I love a good hunt for content (occasionally), the guidance that Focus Skills provides me is much more effective; it allows me to quickly search for related content from my homepage. Differentiating and prioritizing my skill development motivates me to spend more time in Degreed, as I'm uncovering the content that helps me achieve my development goals, including the quick point-of-need searches! -Sarah Petsis, Strategic Accounts
Skill Review- Skill Review is a great tool for me to consider and assert my skill capabilities. In 15 minutes, through guided questions, I choose and then describe what I've learned, demonstrated, and shared with others related to the skill. Different from a knowledge check or assessment, Skill Review challenges me to describe real situations in which I've demonstrated a specific ability. In cases where the skill is a strength, Skill Review is an affirmation of my capabilities. In cases where I am developing, it identifies the areas where I should focus and then provides suggestions to improve. Following the process, I display my data so it can be used by my manager and the organization to match me to business needs, or to help me grow my capabilities. – Kristi Broom, Director of Product Operations
Skill Insights- When I'm working on a project and I hit a roadblock, I love that I can quickly and easily pop into Degreed to find out if someone on my team is an expert on the subject. Being able to chat with someone internally is great because they understand the business and can help fill in expertise gaps to keep my work moving along. – Kelsey Kamp, Product Marketing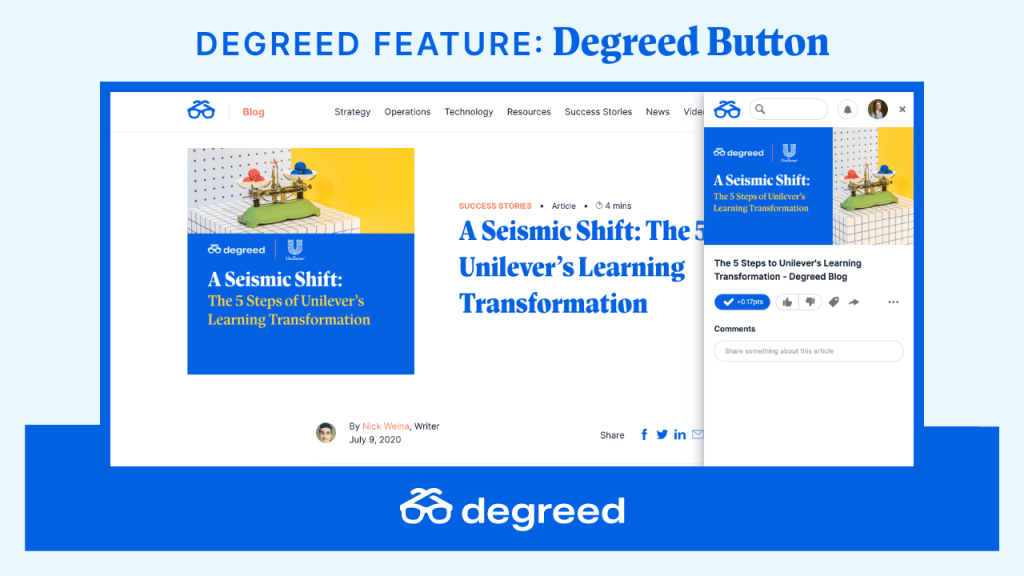 Degreed Button- The Degreed Button is without a doubt my favourite Degreed feature. It had a real "wow factor" for me when I first saw it, and I believe it really does serve our clients' users by removing barriers from learning. It quickly and easily allows a Degreed user to document his or her completed learning and then share useful content with colleagues. When curating content, the button makes it easy to create Pathways or Plans without any friction. For me, this is learning in the flow of work, because I can save something I might unexpectedly discover and it also offers notifications, so I don't have to be in Degreed to see the content shared with me. – Carolyn Freeman, Director of Sales for UK and Ireland
FlexED- FlexED is the number one feature that has removed barriers to my personal learning. Removing awkward budget requests for a few books or seeking special permission to keep up my Certified Fraud Examiners license (which is not related to my current job), I'm free to learn my way. I attend an annual global leadership conference, keep up my CPE, listen to dozens of books on Audible, and receive targeted learning on Udemy for skills I need to develop. – Casey Adams, Global Business Solutions Director
Ability to record video (User-generated content)- I think this functionality is wonderful! It's a quick and interactive way to promote content, especially for recordings that involve a "step-by-step" process or a lesson that involves the participation of other people. It's intuitive and incredibly easy to do within the platform itself; then you can share the content internally with colleagues. – Katya Ribeiro, Sales Director, Brazil
Pathways- Pathways continue to be my favorite feature in Degreed because it's so easy to organize my personal learning. For example, every year I create a Pathway of the books I plan to read that year. Organizing it in a Pathway makes it easy for me to stay on track with my booklist, and makes it amazingly simple to share when someone asks for my annual book list. – Jeff Okita, Product Manager for Enterprise Tools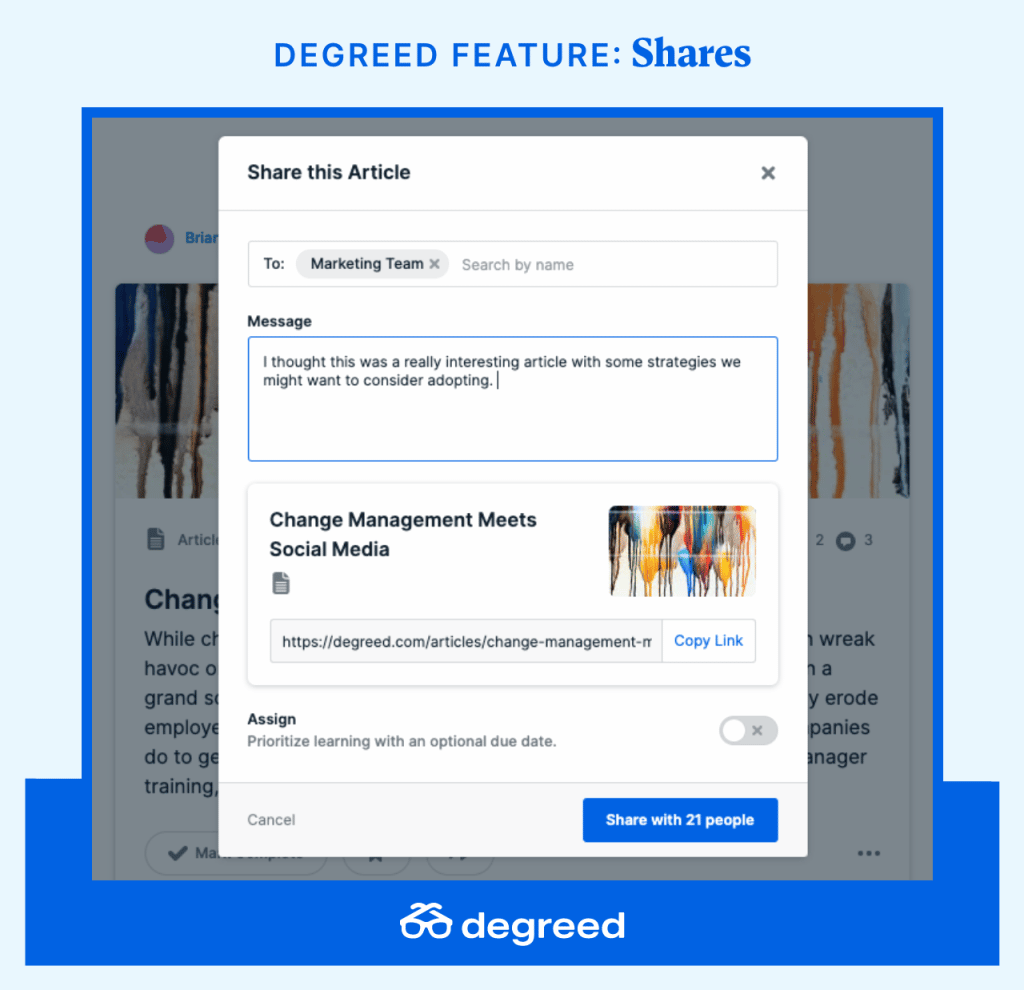 Shares- As a product marketer, a huge part of my job is having a deep knowledge of the industry and staying on top of the latest trends and conversations. The best way to keep up with the firehose of information is as a team. We have a "Product Marketing" group in Degreed that makes it easy to share articles with each other along with any commentary we want to share informally with the group. Since the Degreed Browser Extension includes the share feature, I don't even have to leave the tab in my browser to share the article with my team. They'll get an email notification with my commentary and a link to the article which can spark conversations that inform our strategy. It's great for breaking through the noise and honing in on the most valuable resources as a team. – Meredith Keller, Product Marketing
Got an opinion on this subject? (We know you do.) Head to our Twitter page between now and August 11th to vote on your favorite Degreed feature. We're curious to know what's accelerating your learning.