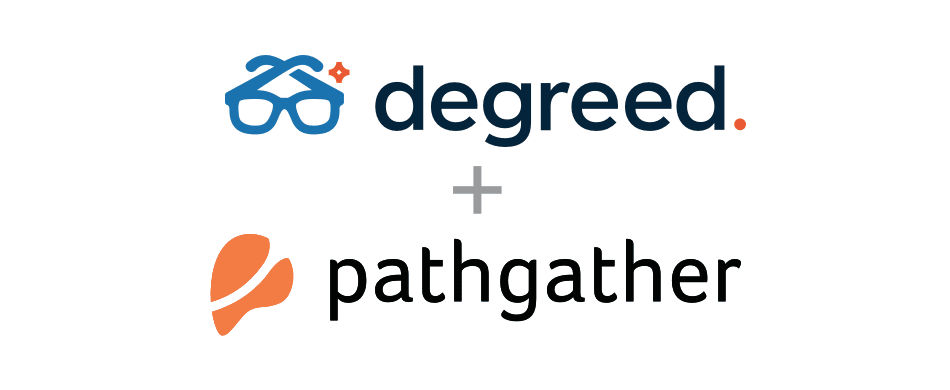 We chose the mission of creating a better way to develop and communicate skills not because it was easy but because we believe everyone deserves earning and career potential, regardless of their formal credentials.
We're pleased with our progress, but there's clearly more to do. Which is why today, we are excited to announce we have combined forces with Pathgather.
The acquisition immediately increases our ability to deliver our industry-leading learning experience in technology and services, and more importantly, to help you build and measure the skills of both your employees and your organization.
A force to be reckoned with
Founded in 2012, Pathgather is a fast-growing and highly-respected innovator in learning experience platforms. The company, which is based in New York City, brings another 30 smart, creative and dedicated people onto our team starting today. That means we've now got the largest team in the industry – more than 230 people – dedicated exclusively to improving people's learning experiences, and linking career growth to business priorities.
Together, we're a force to be reckoned with. This acquisition brings together the two real innovators in learning experience platforms – our two organizations literally created this market. It also solidifies Degreed's lead in the fast-growing learning experience platforms market, with a combined client base of more than 200 organizations, over 4 million licensed users, and nearly $100 million in funding.
"Pathgather has always been dedicated to our customers' success, and this merger ensures that our users and clients will now enjoy an even better product and experience, with the same level of continued dedication," said Eric Duffy, CEO of Pathgather. "Joining forces with Degreed plugs us into the biggest and most vibrant community of innovative learning and HR executives in the world. We're excited to tap into Degreed's experience, insights and resources."
The future
This is an exciting time for Degreed; it's been just four months since we raised $42 million in our Series C, and appointed our new CEO. More importantly, though, this is exciting news for our clients, partners, and users. Degreed has always been committed to innovation, ever since our start in 2012, and our creativity and drive have been a key attraction for many clients.
"This combination makes us the unequivocal leader in learning experience platforms," said Chris McCarthy, CEO of Degreed. "Corporate learning budgets are shifting fast, and LXPs have emerged as the new operating system for employees' training and development. Pathgather and Degreed defined this market. Now, together, we have the products, expertise, relationships and war chest we need to accelerate innovation, and dramatically accelerate our growth."
With our expanded set of resources and capabilities, we are now planning to expand our functionality to further enhance both our clients' and users' experiences. To start, that will include:
Sustaining our lead with the best-in-class learner experience
Expanding access to more and better learning content
Improving administration, content management, and reporting capabilities
Accelerating our use of data science and machine learning
Continued investment in our proprietary skill rating and certification technologies
Obviously, we're really excited about this. But we'd love to hear your feedback and ideas. So if you have any questions or thoughts to share, we've got a variety of ways. Read our press release, get in touch with your Degreed or Pathgather contact person, visit the Pathgather blog, or email me directly at chris@degreed.com.
The future is certain. It's volatile and ever-changing. It will require all of us, working together to solve these challenges head-on. Degreed and Pathgather are, together, reinforcing our commitment to making skill development accessible for everyone and we're looking forward to the future with you.