Ten out of ten they'd do it again.
That's the sentiment shared by the most excited and satisfied Degreed clients. Yes, they've purchased a technology platform. But they also get so much more . . .
There's no mistaking the selling power of our award-winning LXP. It's an open ecosystem designed to grow with your organization — providing a single, easily searchable front door to an AI-powered personalized and social learning experience that's available to your people anytime, anywhere — all while flexibly integrating with your existing IT at the top of your learning tech stack.
But when you buy Degreed, you get more than an intuitive solution.
You get a partner. A whole team of partners, actually.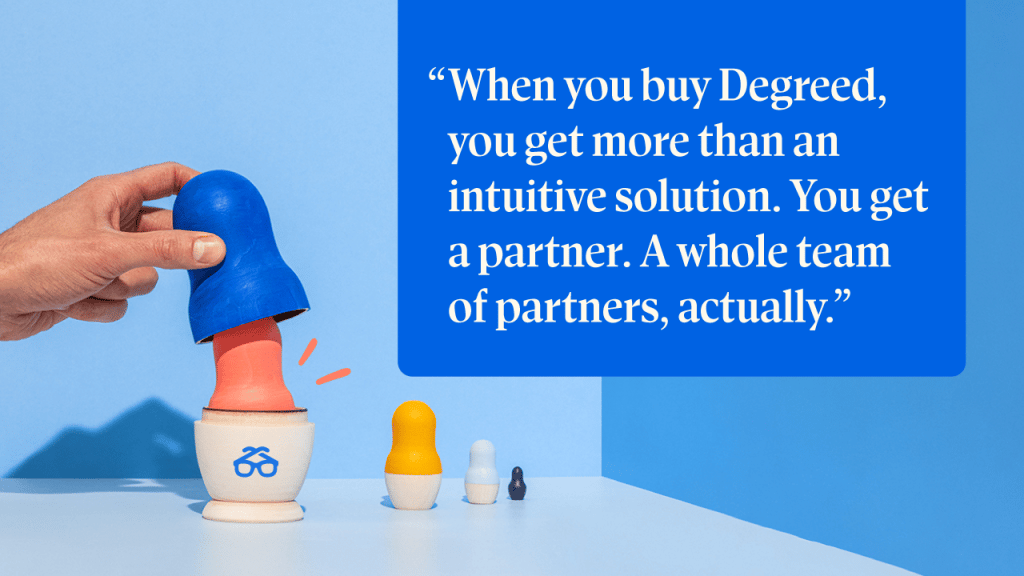 Decades of industry knowledge. Patient, go-live support. Genuine care and active participation in the ongoing, long-term success of your deployment.
These are just a few data points from the volumes of feedback we've received from discerning clients explaining why they chose the Degreed team over the competition. It's a culture of care backed by serious, venture-backed financial firepower that's enabling us to continue innovating across the learning technology marketplace.
Degreed has more than 600 employees in 40 U.S. states and 16 countries. More importantly, "they're all here for exactly and precisely one reason," Degreed CEO Dan Levin said. "It's the same reason I'm here: to make all of you, all of our clients, into heroes. To make you successful. To enable your learning journey and your learning transformation."
For customers like Ibotta, that means creating an experience in which people can learn skills relevant to their current roles as well as roles they aspire to, said Ryan Arpin, Senior L&D Manager. "We needed to connect people in realtime to new opportunities like mentoring — with our guidance, and by empowering people with tools that help them on their own."
On Open Ecosystem Borne by Innovation
We're particularly proud of how our platform is consistently embraced by the audience it's designed to benefit the most — end users. During the past 24 months, workers across our customer base have given Degreed an average net promoter (NPS) score of 40, exceeding NPS scores received by close competitors including EdCast and Cornerstone OnDemand.
We don't see that changing. Why? We have a clear roadmap.
"We have a simple mission and strategy," Levin said. "We will always build an open platform. We will integrate with every other piece of technology, every content provider, every piece of enabling capability in your ecosystem we possibly can. That is fundamental to our mission.
"We will never try to lock you in. We will never try to constrain your choices. Even when we offer a capability that is native to our platform, in reporting for example, we will always support your ability to choose an alternative… And we will always be focused on delivering an amazing end-user experience."
The Degreed strategy includes:
Giving you better insights into the skills your workforce has and needs.
Making it easier for people to build the skills they want and need through relevant content and on-the-job experiences.
Delivering more seamless ways to access core LMS functionality.
Reducing the time to value of new learning initiatives.
Expanding the footprint of L&D across your workforce.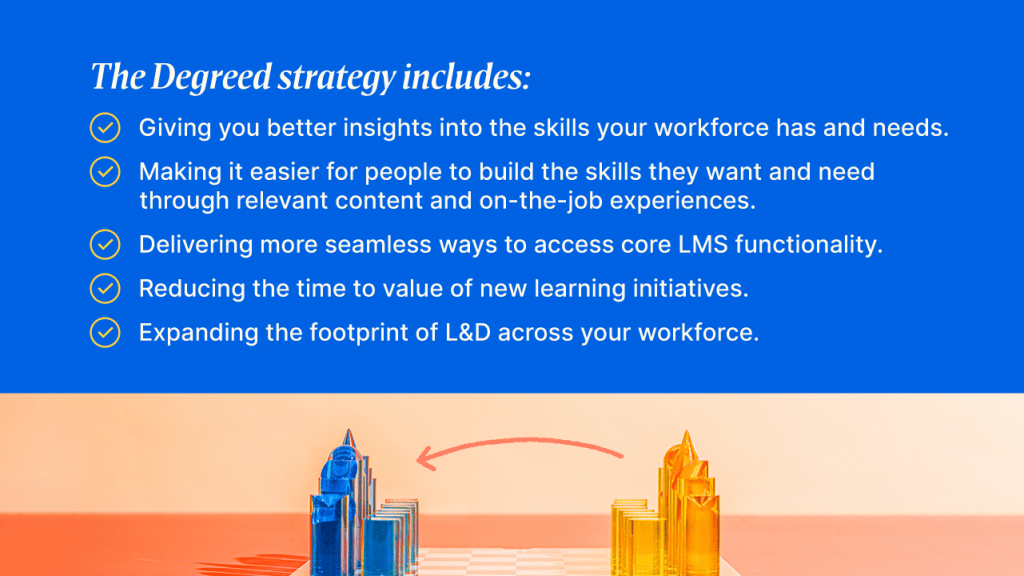 Relationships Built on Client Success
How are we fueling our clients with such innovation? We're doing it with an entire team of knowledgeable and passionate people dedicated to delivering value.
Our team creates a partnership with each and every one of our clients. It's a relationship that begins during the sales process and focuses on supporting long-term achievement as well as building community, so our clients can share success stories and insights.
We help our clients adopt our platform. We help them optimize our platform to meet their specific needs. And in doing so, we help them use our platform to take their learning programs in entirely new and wildly engaging directions.
This doesn't mean we accommodate all custom requests. And there are many! Instead, we listen and advocate for the biggest needs in response to the most painful pain points we encounter. Along the way, we give a voice to our clients that influences our product roadmap.
Our Client Experience (CX) team members collectively average more than 13 years of L&D industry experience. Moreover, the internal Degreed culture of collaboration and cross-functional partnership enables our CX team to strategically guide clients with tremendous value. And, of course, the CX team is active on Degreed. Its top developing skills are "Consulting" and "Problem Solving."
In addition to our world-class CX team, we also have a team of experts in learning experience design and skills strategy ready to accelerate your value with Degreed. Through strategic consulting and thought leadership — on challenges from creating highly-custom strategies to building out individual learning journeys — our Professional Services team challenges our clients to innovate, inspire and embed cultures of learning within their teams and organizations. We're here to help you get it done faster and better.
Our product is not always perfect, so when something goes wrong our entire team is mobilized to minimize the impact on our clients. Along with our Success and Engagement teams, our Global Technical Support team provides 24/7 support (with live support provided in eight languages). Last year, our Support customer satisfaction (CSAT) score once again exceeded 85%, reflecting our ongoing efforts to go above and beyond expectations.
Want To Learn More?
Curious about our client experience? Chat with a Degreed representative today.
Be sure to download our research report How the Workforce Learns for 15 actions you can take to transform learning at your organization.