Business leaders are always trying to find the best ways to drive results through innovation. In fact, it's become more important than ever. According to a study from the Brandon Hall Group, more than 70% of organizations consider driving innovation a crucial business priority. And from that same study, over 70% of employees consider a culture of learning a top priority. The thing is, these two priorities are aligned. Innovation and learning go hand in hand.
These same priorities are ingrained into the mission of Degreed. As co-founder David Blake said, "Learning should be a lifelong pursuit, that's why I founded Degreed." Blake, now Executive Chairman at Degreed, knew that empowering people with the motivation to learn — anytime and anywhere — would help them build meaningful career journeys.
Since our incorporation in 2012, Degreed has looked for ways to spark and fan the flames of learning. And not to toot our own horn, but we did pioneer the learning experience platform (LXP) to do just that.
Every competitor who came along has tried to pursue that purpose and our core belief, that learning is essential to a better future for all. But as they've focused on copying our product, we've focused on maintaining our core belief. Our mission has remained unchanged throughout these 10 years: to empower innovation through learning and drive business results. We can't say the same for our competitors.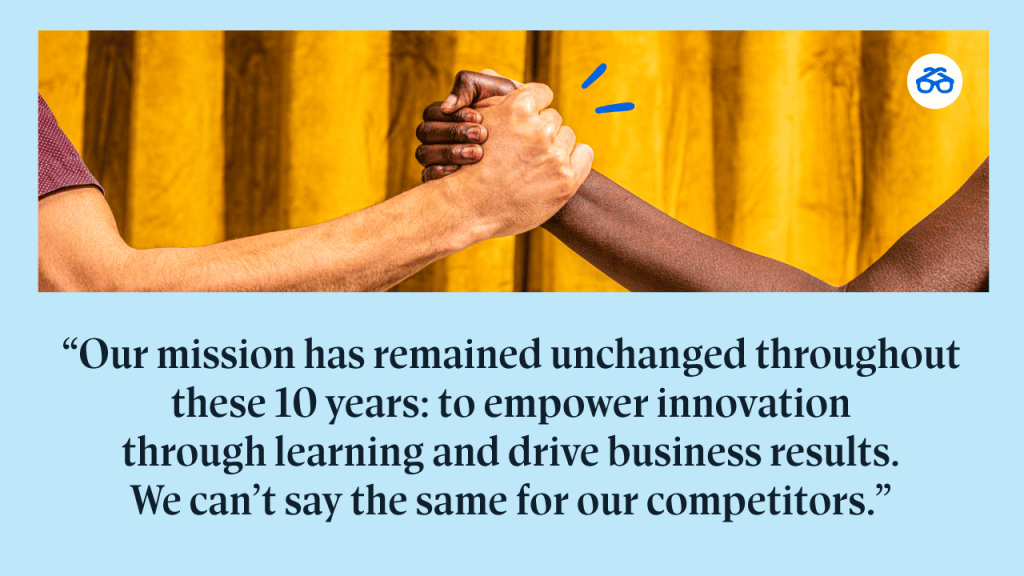 And as our mission states, Degreed helps build global changemakers and prepare the workforce for tomorrow. That's why we became a member of the World Economic Forum, to define the skills the global workforce needs to future-proof careers as technologies, such as artificial intelligence, enable greater automation. Gina Jeneroux, Chief Learning Officer at BMO Financial Group summed it up best: "Degreed is a window to the world."
Learning and development is going through a momentous shift. With remote work, deskless workers, the pandemic and the Great Resignation, the priority to prepare for tomorrow has risen to the top of CEOs' agendas.
We've learned a few things over the years about bringing learning into the flow of work. Here are four actions you can take at your company:
1. Aggregate Learning
It sounds simple but, in reality, many companies struggle with classes, courses and information being located on disparate platforms. And not all technology is created equal. For example, a learning management system (LMS) is not always the easiest platform to maneuver.

Associa, the country's largest homeowners association management company, wound up in that situation. "We needed a way to provide engaging learning and training to develop the fundamental skills required for specific roles." said Debra Warren, Vice President of Learning & Development. "Moving away from a clunky, non-user friendly system toward something that enabled both social sharing and unique learning opportunities was essential, so we knew an LMS wasn't the answer."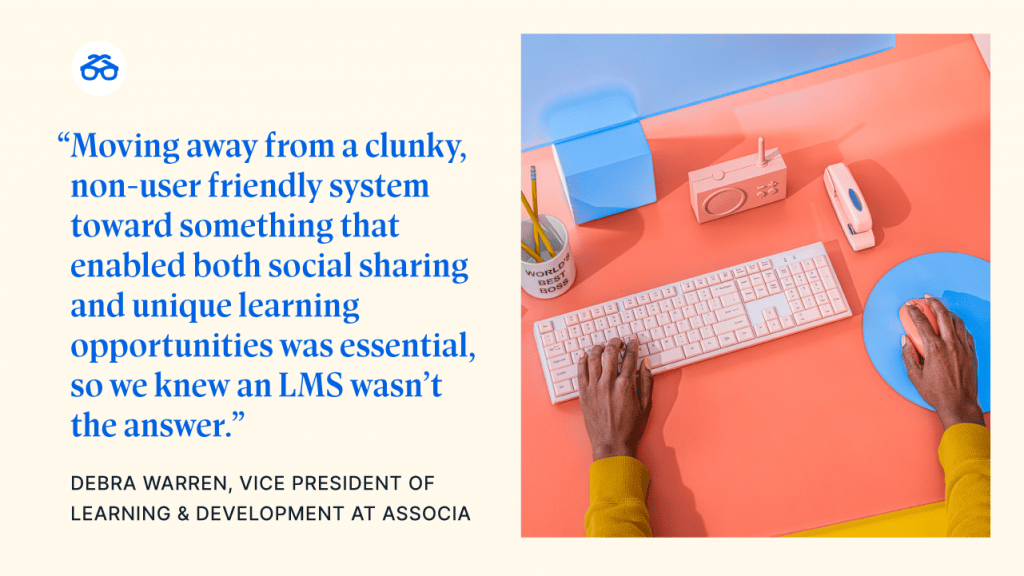 With a learning experience platform, Degreed brings all your formal and informal learning together in one fluid, user-friendly experience, giving workers one place to go to find a wide variety of content. This allows people to focus on what they need to learn for the future and inspires them to captain their own ship to learning and career development.
2. Connect Learning to Skills
With learning all in one place, the next step is to measure the skills that come out of it. Skills are the unit of measurement in Degreed. They can be measured, tracked and transferred easily unlike a more traditional unit, like competencies. Skills provide insights into what your people are learning and what they are achieving.

And with a trackable unit, you can identify where and what you are lacking. With Degreed, AstraZeneca was able to gain visibility. "90% of our employees improved existing skills or learned new skills and 84% said that they had opportunity for personal development and growth, which is considerably higher than the pharma norm of 75%," said Marc Howells, VP & Head of Global Talent & Learning.
3. Use Analytics to Plan the Future
More than half of business leaders (53%, according to Gartner) say a lack of visibility into skills is their top barrier to workforce transformation.

Through complete skill analytics, you can prioritize your people's time and spotlight deficits in business objectives to better allocate your learning budget. And when you quickly mobilize talent to seize new opportunities, you've got a better chance of outperforming your competitors. According to McKinsey & Company, companies that mobilize talent efficiently are six times more likely to report higher shareholder returns.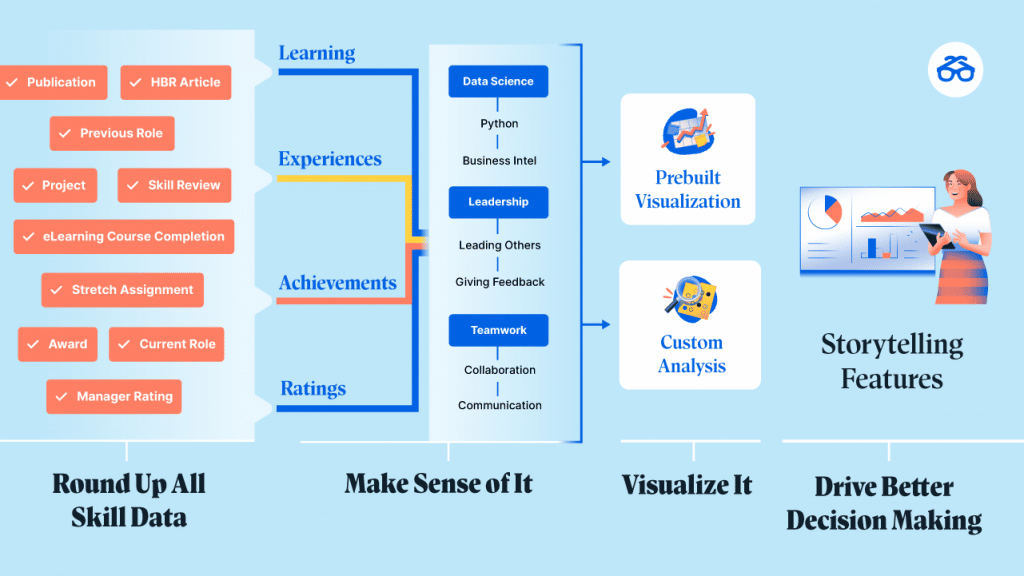 4. Encourage Experiential Learning Opportunities
As Laura Jones, Executive Director of Global Talent at General Motors, said at Degreed LENS: "Learning is nothing unless you do something with it."

How can you encourage the doing at your organization? By offering experiential learning opportunities. Your organization's culture should encourage collaboration through practice, stretch assignments and mentorships.

By building a positive learning culture that encourages doing, you can improve agility. Our research found that learning improves the agility of teams with promoters of a positive learning culture 235% more likely to move to a new team. And in this age of a talent shortage, learning is a huge contributor to retaining and growing talent, with the same research finding that promoters are nearly 200% more likely to stay and receive a promotion.
At Degreed, we have and always will have a clear mission to help you be a global changemaker in learning. And we're not the only ones that believe that. We're proud to work with one in three Fortune 50 companies. Our goal is to help you identify the skills you have and build the skills you need — through individual, collaborative and experiential modes of learning — to drive individual and business results, and build a better future for all.
Want to Learn More?
Download our new guide, 4 Ways Every Manager Can Create a Positive Learning Culture, to discover how managers can support their people like never before. Or reach out to a Degreed representative. We're happy to chat.