Driven at first by digital transformation, the astounding growth of the learning technology market is now fueled by new realities facing the workers and workplaces, the importance of connecting people to each other and, crucially, a need to link skill building to business performance.
In response, the learning technology market has expanded in size, specialization and complexity, giving L&D more options for a human-centric approach to development.
According to a study by RedThread Research, between LXP and LMS providers, more than 250 learning technology vendors are active in the marketplace today. New labels for categories have formed, and their definitions seem to depend on who defines them: LEP, LXP, LMS, skills strategy, knowledge cloud or even TXP. People are left wondering what these terms mean.
Meanwhile, many vendors are offering new functionalities that hadn't even been recognized as learning in the past — like mentoring, performance tracking and social sharing. And established HCM systems that previously didn't offer learning solutions are now selling "skills clouds" and "skills engines" or talent marketplaces alongside their payroll, time and attendance and benefits administration tools.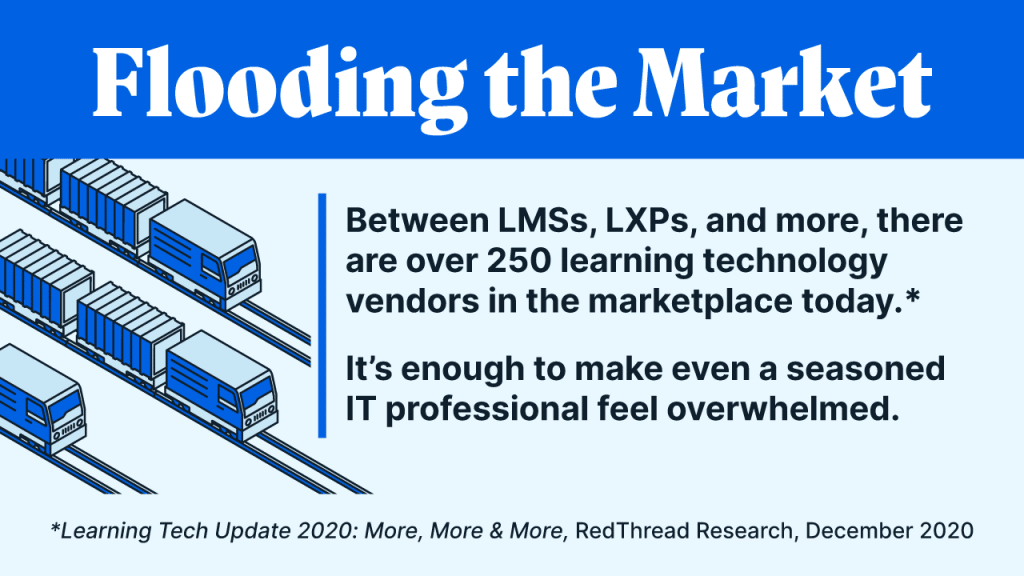 It's enough to make even a seasoned IT professional feel overwhelmed, let alone a learning pro.
One way to make sense of this alphabet soup is to think of the vast array of learning technology solutions in terms of modes of transportation. Planes, trains and automobiles will all move you from point A to point B, but they do so in very different ways. Your best option for a given trip depends entirely on your specific transportation needs. Just because one mode of transportation is technically possible for a trip doesn't mean it's the right option. We see these same distinctions among the HCM, LXP and LMS.
HCM Systems are Like Planes
Planes shuttle between national and international hub cities. They're extremely effective for moving a large group of people across a vast distance in a relatively short amount of time. They're also powerful and require specialized training to operate safely. Plus, there aren't many airports within walking distance of cities, so you'll usually still need a car or train to get to your final destination.
HCM stands for Human Capital Management. Read that last word again. An HCM is designed to manage critical administrative HR functions like payroll, benefits administration, time and attendance — and in some cases performance management and compliance training. An HCM efficiently manages these processes by delivering scalable, one-size-fits-all services to workers. In the same way air travel isn't designed to take every passenger to a final destination, an HCM isn't designed to provide personalized services to workers.
Learning and career development, when compared to HR administrative functions, are not one-size-fits-all. Effective learning and skill development require a more precise vehicle for delivery. A recent Fosway survey found nearly 70% of respondents don't believe their HR systems are fit for the modern workforce. "Higher quality employee experiences are now mostly being driven by artificial intelligence (AI), personalization and decision support for new people-success processes. These are not always available in mainstream solutions," Fosway stated.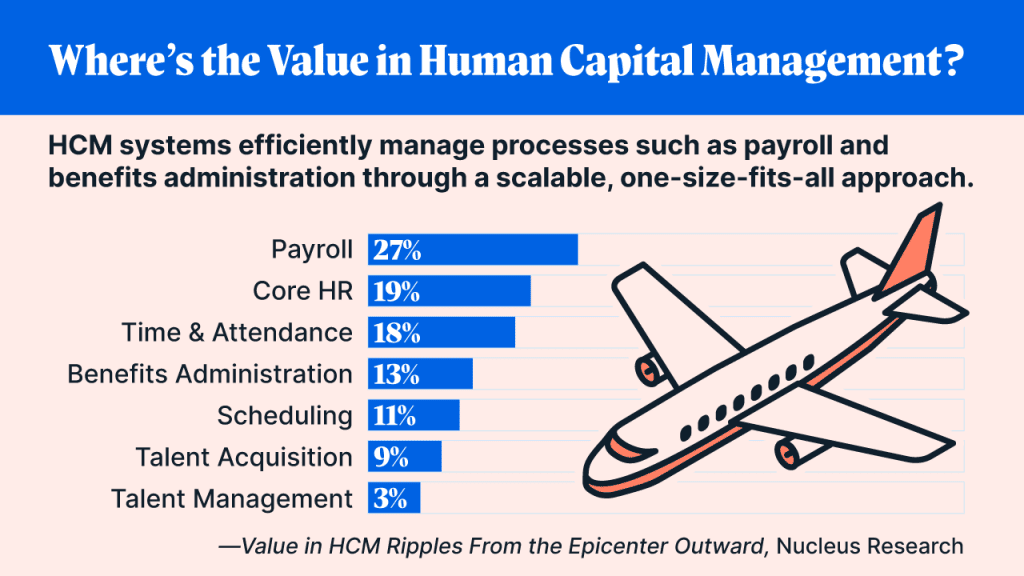 LMSs are Like Trains
Trains are also designed to provide transportation for large groups of people on specific, required routes, according to set, prescribed schedules. Trains, however, require less oversight and maintenance than planes. They can also serve minor hubs more effectively and are ideal for efficiently moving people around shorter distances — like inside cities. But trains still require certified crews to operate them.
Learning Management Systems (LMSs) are designed for learning administrators to create and deliver formal training to workforces. This includes onboarding, internal training and instructor-led training. They typically accommodate live, instructor-led training requirements, such as enrollment and classroom management as well as traditional online course formats like SCORM and xAPI, including assessments and reporting specific to learning courses. While some of this can overlap with HCM functionality, LMSs are engineered specifically for the requirements of learning management and can get more granular — managing complex certification processes, for example.
As an administrator-driven platform, the LMS is most effective for implementing top-down learning initiatives. Just like a train service chooses the routes and stops it will make for passengers, an LMS allows learning administrators to design and select the learning content available to workers.
LXPs are Like Automobiles
Cars are designed to enable individuals and families to meet their personal transportation needs. They allow people to go wherever they want, on their own schedule and at their own speed. Like a car, an LXP is designed so people can learn wherever and whenever they want.
Rather than being designed to make the administrator's job easier, LXPs are designed to make learning and skill development more engaging and productive for the end-user — employees, contingent workers, managers and business leaders. In other words, an organization manages learning with an LMS and enables learning with an LXP.
One way the LXP enables learning is by bringing formal and informal resources together into a single, trackable learning system. Informal learning content can include articles or blogs, webinars, books, podcasts or online videos. Studies including our How the Workforce Learns report show most learning in the workplace occurs in the flow of work. LXPs can enable, capture and measure all of the learning an employee does and map it to work-relevant skills. The LXPcan also suggest learning content within Pathways or Plans that can guide people to work toward specific skill sets needed for new roles inside their organizations.
Josh Bersin explains the impact the LXP brought into the learning technology marketplace: "The LXP is the learning delivery platform of the future, and the level of investment in that platform is growing exponentially."
How to Create a Cohesive Learning Tech Stack
It's not hard to see how the HCM, LXP and LMS can work together to provide a complete learning solution for enterprise companies. While the LMS delivers formalized learning, and the HCM connects learning to recruiting and performance management, the LXP connects all learning, including self-directed informal learning, with in-demand skills and career development.
Based on a study conducted by RedThread Research, L&D can enable six elements of the learner experience: planning, discovering, consuming, experimenting, connecting and performing. There are only two key administrative functions: creating and managing (which are converging as curation becomes more commonplace) and analyzing.
Underneath each activity is a list of functionalities that align with it. While the six learner experience activities should all be accounted for, the specific functionalities vary depending on needs specific to the organization. The report points out the goal isn't to have all 30 of the functionalities in this framework — but to use this as a starting point to design an ideal learning ecosystem.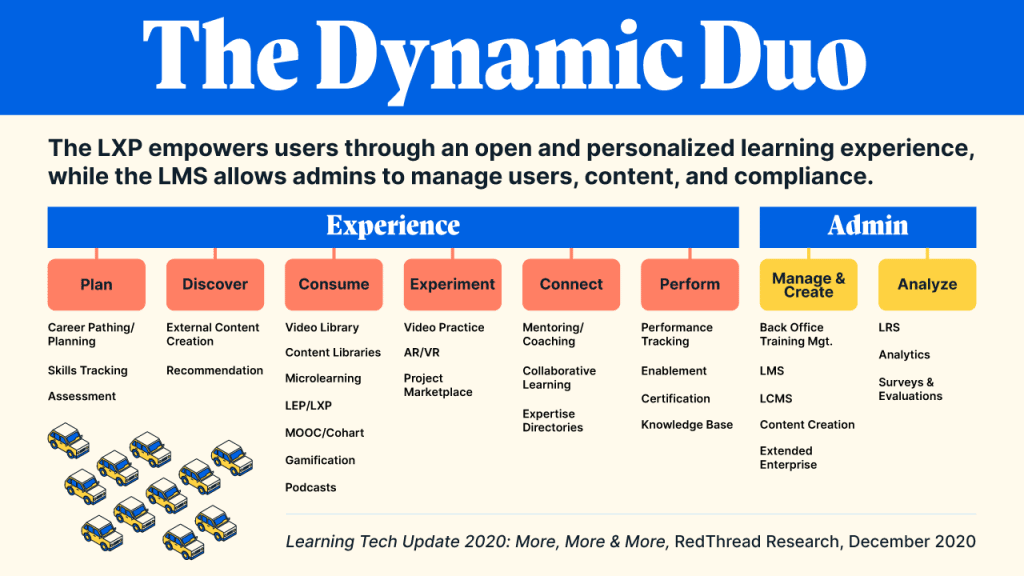 Advantages of the LXP and LMS Working Together
Your LMS is filled with great offerings that too few people know about. A good LXP fixes that by bringing together formal compliance-based resources with informal resources in a singular, centralized platform. Content from your LMS sits side-by-side with informal curated learning content from articles, videos and other user-curated learning content. Since the LXP reveals content created in the LMS in a platform designed for daily use, it exposes people to LMS content with more frequency than without the LXP. Degreed customers have seen significant increases in engagement with LMS content.
LXP and LMS Together: More Control, Strategy, Engagement
Control of learning. An LXP provides workers and managers a high level of agility, flexibility and adaptability to create their own learning paths that best match their learning styles and requirements for learning.
A holistic content strategy. Workers can know instantly the depth and breadth of learning content sources available to them
A continuous learning approach. People want to learn not only what will help them today but also what will help them over the course of their careers and professional development. The LXP can uniquely balance both needs by allowing people to set a course that meets short-, medium- and long-term goals.
Proficiency in learning. In an exclusive LMS environment, it's challenging to assess how much someone has learned and its impact on new levels of proficiency. An LXP offers the ability to make the connection between learning and proficiency by providing a unique window into people's progression t and its direct effect on their ability to enhance or improve their competencies and skillsets.
Want to Learn More?
Download How the Workforce Learns for 15 actions you can take to implement a positive learning culture at your organization and make learning a priority.
Got more questions? We've got answers, contact a Degreed representative today.