We get asked a lot: "Hey, what's the difference between Degreed and…?" Because everyone selling learning, skills or talent technology seems to say and do pretty much the same things. If it seems tedious and confusing, it's because it's intentional.
There are hundreds of learning technology vendors. And every year, hundreds more pop up to challenge the incumbents. L&D, Talent and HR teams have more options than ever. But there are never enough L&D, Talent and HR teams to buy it all.
That means you get to sort through dozens of unoriginal products with copycat features and messaging — all trying to "win" by spreading fear, uncertainty and doubt. Everyone says they can do what Degreed does. That's our problem, not yours.
So what can you do when everyone is trying so hard to look, sound and be the same? Focus on what's different.
Here are three questions to ask yourself to find some new perspective…
1. What's Your Purpose and Priorities?
What the data says:
Only 11% of HR technology leaders think their latest implementation delivered the expected improvement in employee experience, according to The Josh Bersin Company.
Why it matters:
Every HR solution promises to transform people and their experiences at work. But mostly they just standardize and automate HR processes. Are you investing in HR or your workforce?
You're investing in this technology for a reason, right? So first, zoom out beyond features and focus on your purpose and priorities. What do you really need to accomplish? How do you want to do it?
Planes, trains and cars all have engines, wheels, steering and seats, right? Features. But you wouldn't buy a plane or a train to take your kids to school every day. Because that's not what they were designed to do. That's what cars are for.
Similar features often differ in significant ways even if they look alike, because the systems they're designed and engineered for have different purposes.
Software has a purpose (the main thing it's built to do). It even has opinions (the how). That purpose and those opinions matter because different tools help users do similar things (like learn) in particular ways. And that shapes the benefits they unlock.
Lots of LXPs, LMSs, HCMs, content solutions, talent systems and collaboration tools can help people find learning content. But there are a lot of ways to learn; not just by consuming content. And different systems all have their own purpose and opinions.
Degreed is designed to help everyone, not just L&D teams, understand, build and flex the skills they need. That is the purpose of Degreed. We study how the workforce learns. In fact, we wrote the book on it (well, one of them, anyway). Those are our opinions.
Degreed makes the emerging work of L&D teams — like integrating and curating — more agile and efficient. So you can create more value for your workforce and your businesses by enabling faster onboarding, more scalable skill building and better retention.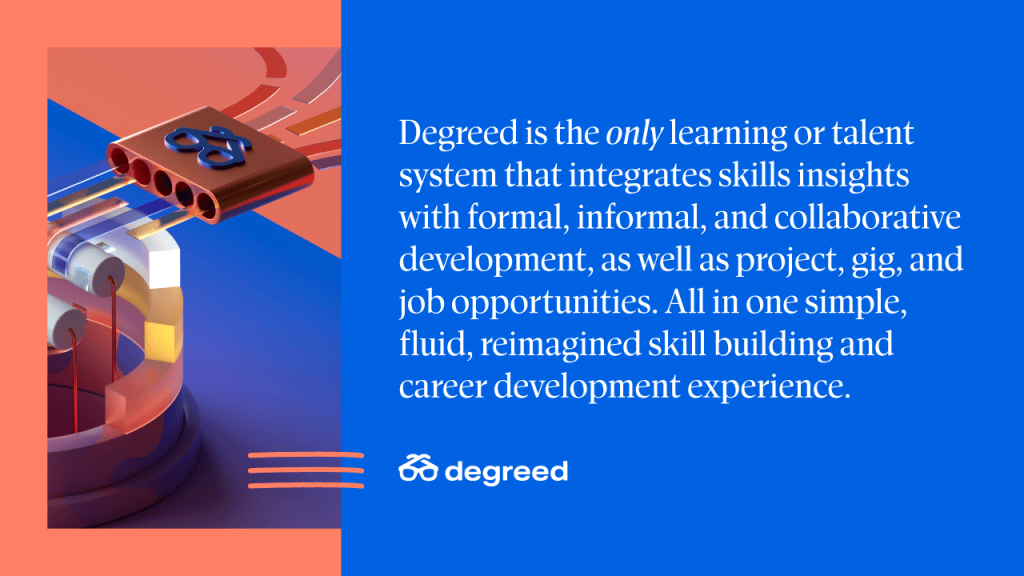 But that's us. Different kinds of software create different paths to value. And the clues are usually in the names.
HCM systems are for managing critical human capital processes and data. They generate value through cost reductions from standardizing routine HR tasks, like running payroll, enrolling in or managing benefits, doing performance reviews and requesting time-off. But learning delivers less than 3% of the value in most HCM systems. It's just not their purpose.
LMSs are for managing content, events, compliance and learning records. So they generate value mainly by streamlining administrative and compliance tasks for L&D teams, like managing sessions and enrollment, automating assignments and running reports.
Likewise, most LXPs exist to help people access learning content more easily. So they measure value through engagement. And productivity tools are built to communicate, collaborate and get things done. So their value comes from saving workers time on high-frequency tasks.
More value for the workforce, not just for HR. That's one way we think Degreed is different.
2. What Kind of Learning Experience Do You Want?
What the data says:
Technology can provide at least 30 kinds of functionality to enable learning experiences. However, 60% of learning systems only do a few things really well, according to RedThread Research.
Why it matters:
More open and empowered learning experiences mean more flexibility, deeper engagement, new skills and better insights. Do you value efficiency over diversity?
Be specific about how you want learning to work. Everyone wants more engaging experiences. Everyone wants a more positive culture. But everyone and every app, system or platform also has different opinions about how to make those things happen.
Courses or resources? For performance support or for future development? Creating, curating or crowdsourcing? Managed by L&D and HR or owned by teams and managers? Technology can enable at least 30 kinds of functionality across the learning experience.
There's a lot to balance. No one system can do it all well.
Building features is not that hard. What's hard is doing it thoughtfully and putting them together in a fluid experience that's valuable for someone. Which is one big reason why 80% of the features in a typical software product are rarely or never used.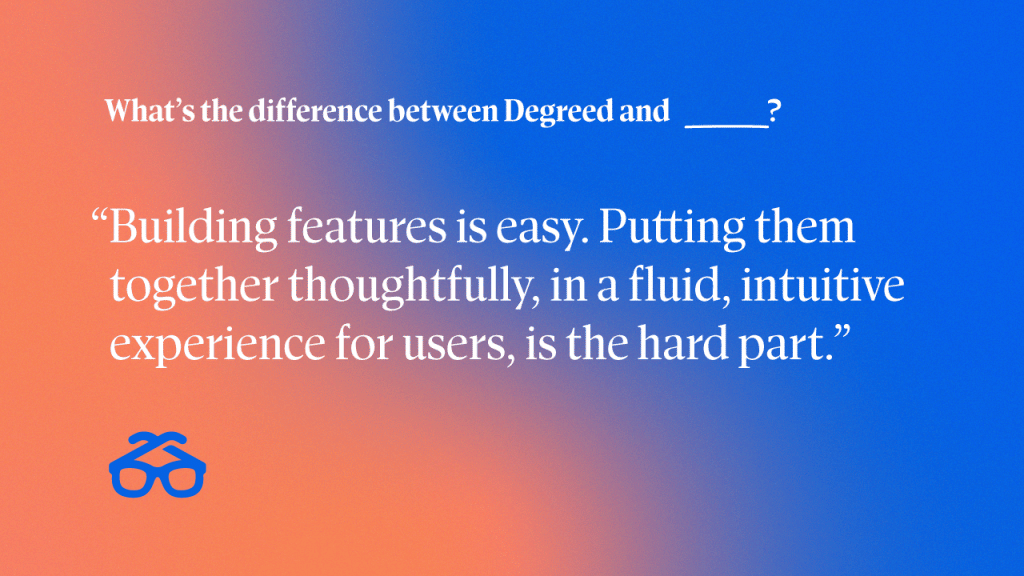 Yes, lots of LXPs, LMSs, HCMs, content solutions, talent systems and collaboration tools can help you understand skills and integrate content, arrange it in a grid, or recommend stuff. But the magic is really in what's behind the user interface "cards" (and who can do what with them). Here's why…
The definition of "learning experience" is any interaction in which learning takes place. Any interaction. Not just consuming content on a screen. LX is more than UI. Because learning also happens across screens as well as on your own and with other people, in real life.
All in all, there are at least 60 different ways people learn.
So when they say they're "open" or "empowering" (or whatever), ask yourself what they mean. Be specific.
Does "open" mean you can add your company's content to courses they've curated for you in their system (but you'll wait months and spend thousands on consultants to integrate anything else)? Or do you have the flexibility to mix and match the content, people and opportunities that matter to your workforce — all kinds of resources from all kinds of sources?
Who cares? Your team and your workforce will. Experiences are often measured by emotions and feelings. Our customers say "Degreed inspired change and new thinking because it felt more like a playground than a running track." Our users say it "gives us the power and flexibility to learn in our own way."
Degreed feels different. It feels more inspiring, more flexible and more dynamic.
Are they just "empowering" people to consume content anywhere, anytime? Does "in the flow of work" only mean recommending content inside apps people use to get tasks done? Or can anyone contribute, collaborate and connect around the work that matters to your business, too?
The value of empowering everyone is to scale the impact of learning, isn't it?
Degreed is different because Degreed empowers everyone to make development part of their job (not just L&D's or HR's job). It enables work groups and teams to generate "hundreds of custom learning paths" around their own urgent and specific needs. And that empowers "the L&D team to see what topics are trending and what new skills people want."
More flexibility, deeper engagement, new skills and better insights. Those are some other ways we think Degreed is different.
3. What Kind of Customer Experience Do You Need?
What the data says:
Implementing, operating and innovating can add up to as much as 75% of the total cost and work of owning a learning system over three years, according to Forrester Consulting.
Why it matters:
A more value focused and collaborative (and less transactional) approach to solutions means more successful customers. Do you need a vendor or a partner?
Think hard about what happens after you sign the deal. There's a big difference between what you pay for software and what it takes to make it work. What kind of customer experience do you really need to succeed?
Remember earlier, when we pointed out that most software features rarely or never get used? Or that most HR technology doesn't end up delivering the benefits buyers expect? That's because software doesn't get adopted or deliver benefits by itself. It takes work.
Planning. Organizing. Implementing processes. Integrating systems. Configuring settings. Decommissioning old systems. Getting buy-in. Managing changes. Getting actual people to use it. Squashing bugs. Solving problems. Building habits. Winning support.
Everyone says they're committed to customer success. But talk is cheap. Total cost of ownership calculations often miss things like change management, ongoing maintenance of integrations, and new people or skill profiles required for operations.
Customer experience matters more than you might think.
As one competitor's customer found, "a cutting-edge learning platform is not enough to create a sustainable learning habit." That takes more than just software. It requires deeper solutions and a flexible, creative partner because it's rarely as smooth or easy as you want.
Plans and priorities always shift. Things go differently than you expect. Some problems turn out to be harder than you thought. And people come and go. It happens to everyone. Around 80% of all HR technology implementations go over their timelines and budgets.
Degreed has helped customers work through 400+ implementations and thousands of integrations. It rarely goes as smooth or easy as we want, either. But our Client Experience team averages 13 years of experience in the L&D industry. We've learned what works.
Building more scalable L&D operations and more positive learning cultures takes more than software and content. It takes trusted advisors who listen to your problems, stretch your thinking, anticipate roadblocks, and find flexible, creative solutions.
Anyone can say they do those things, though. So when they say this, ask yourself what exactly you expect when you hear words like "solutions" or "partners" (or whatever). Then pay attention to how they make you feel. Do the people you're relying on share your values and beliefs?
The Degreed customer experience is different because these are not just things we say. Unlike most of our competitors, we help with everything from building business cases and skills strategies to integrations, curation, adoption and problem-solving.
Unlike most of our competitors, we offer original insights, expert advice, professional services, useful tools like engagement campaigns and an inspiring community. Not just software and a network of systems integrators.
These are the things that enable award-winning implementations, accelerate time-to-value and amplify impact. This is what makes the difference between getting 700,000 people to adopt your browser extension (like us) or just 5,000 people (like them).
Degreed customers feel the difference. They feel "how aligned it is with business and individual goals." It feels easier to integrate and deploy, and better at service and support. "It is not just a client-vendor partnership. We really feel a degree of co-creation."
A better aligned, easier, more collaborative and more impactful customer experience. Even more ways we think Degreed is different.
See and Feel for Yourself
Differentiating Degreed is hard to do in just a few simple words.
The real answer to "hey, how is Degreed different than…?" is "It depends."
It depends on your purpose and priorities. It depends on the learning experiences you want to create. And it depends on the customer experience you need to succeed.
Everyone says they can do what Degreed does. So don't listen. Instead, see and feel for yourself. Or let us show you, reach out today.