You've read the case studies, done the calculations, set goals, and identified the best learning and talent development platform for your organization. Perhaps you've even started strategizing how your chosen vendor will integrate with your existing learning and talent technology ecosystem. 
But that solution will never be implemented if you're unable to gain buy-in from the executive team and key stakeholders — a feat that's hardly straightforward or simple.
Traditional learning measurement tools, like Kirkpatrick's training evaluation model or Brinkerhoff's success case method, don't work for technology investments. They treat learning like an event. They show impact by comparing behavior (or other metrics) before and after live or virtual classes, online courses, or longer-term development programs.
More and more, learning is happening outside formal training. And there isn't necessarily a "before and after" with learning technology. It's always on.
Meanwhile, IT and finance executives already have a well-established toolkit for evaluating technology investments. It includes return on investment (ROI), of course. But it also includes some metrics you might not know, like payback period, total cost of ownership (TCO), net present value (NPV), and internal rate of return (IRR). Just like the learning metrics, each has specific uses as well as limitations. TCO, for example, provides a comprehensive look at costs, but it ignores any benefits.
Technology and business leaders don't just look at hard costs and benefits, either. They build a more holistic picture of how technologies might help create value; one that evaluates qualitative factors along with quantitative ones. Forrester's Total Economic Impact™ methodology, for example, starts with a rigorous cost and benefit analysis. Then it explores the potential impact on operating risks as well as future technology and business flexibility. Those things are harder to quantify but just as essential to understand, particularly when building a business case for learning technology.
There is no standard formula for building business cases, though. Every organization has different goals, unique challenges, and preferred methods for assessing investments. So we cannot give you a magical, do-it-yourself calculator (we tried — really). However, we can offer a simple, practical framework for identifying the various ways a new learning system or platform might help you generate value for your business. You can then feed those inputs into whatever business case format your organization uses.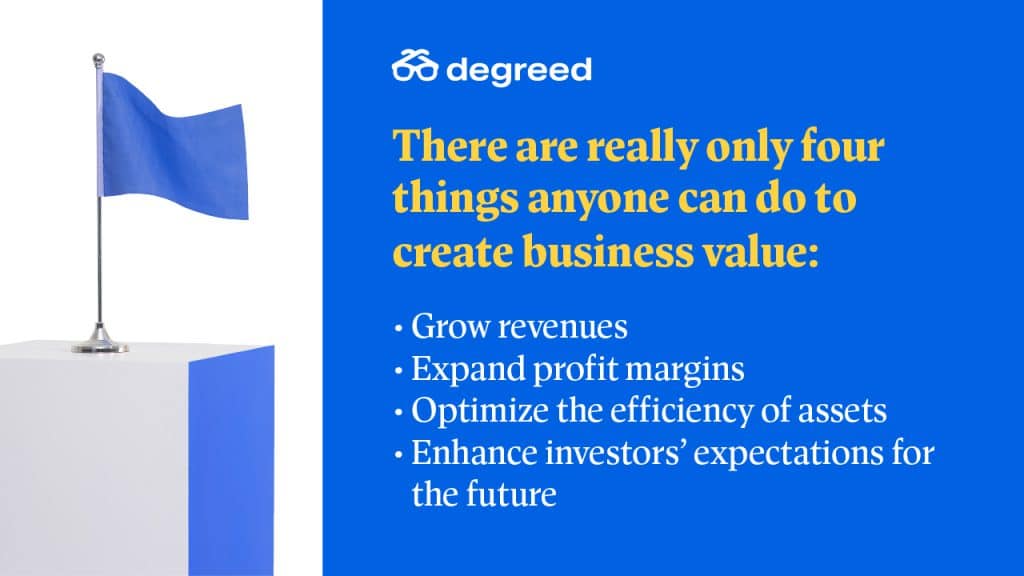 Map Impact to Value
Let's keep this simple. There are really only four things anyone can do to create business value: grow revenues, expand profit margins, optimize the efficiency of assets, or enhance investors' expectations for the future. That's it.
To build a business case for learning technology, you'll need to link the expected benefits, costs, efficiencies, risks, or opportunities to those four value drivers in order to show how the investment will make an impact. That's the simple part. But it does take some work to identify those benefits, costs, efficiencies, risks, and opportunities.
To help you do that, we've deconstructed and distilled several established models, including ones from both IT (e.g. Forrester's Total Economic Impact™ model) and finance (e.g. Deloitte's Enterprise Value Map™), along with dozens of real-life business cases from our work with many of the world's most innovative companies.
The result is this straightforward set of questions already mapped to the four key value drivers: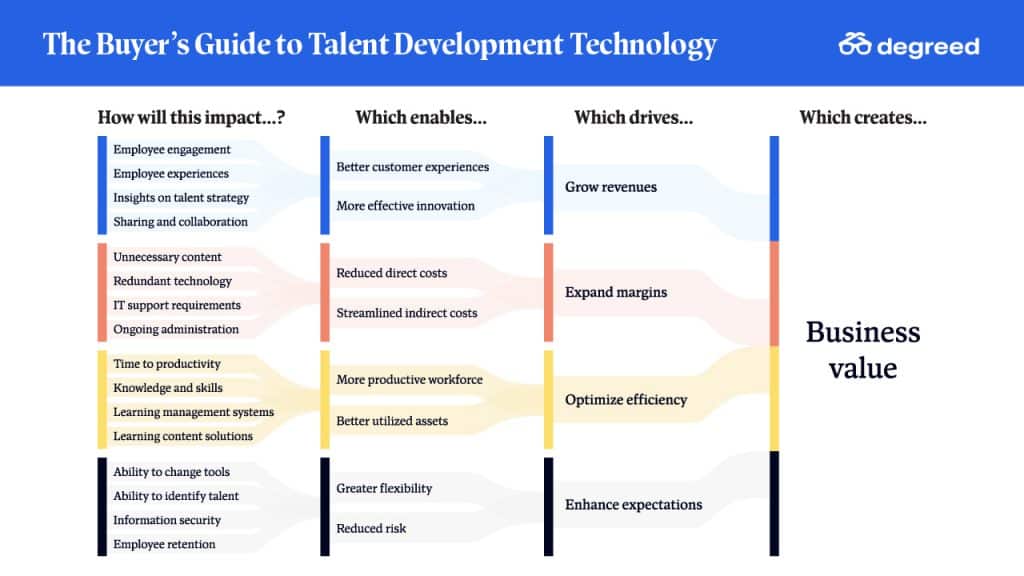 Identify the Elements of Impact
The best learning and talent development platforms will touch all aspects of an organization, impacting employees, processes, and even contingent workers at every level. It's difficult to determine how to compile its different areas of value, but tying it back to these four pillars can provide the initial framework to start building your case.
Want to Learn More?
Got more questions on how to navigate the learning tech landscape? Download The Buyer's Guide to Learning and Talent Technology today.
Or contact a Degreed representative, we've got answers.