When it comes to how we learn at work, we've got work to do. In the L&D industry, we still don't have a total understanding of the return on investment (ROI) on learning. Our latest research changes that and shows that the businesses with positive learning cultures have healthier, more engaged, better performing and more adaptable workforces. That's a lot of "more."
Engagement Is at Risk
This is the moment we've been waiting for in L&D. Investing in learning is more important now than ever. According to the World Economic Forum, 54% of the world's workforce will need significant "upskilling" or "reskilling" over the next five years.
There's just one problem.
Traditional approaches to learning and development aren't working so well for the workforce. Employee engagement is at risk — with 85% of global employees either not engaged or actively disengaged at work. But don't be discouraged, look at this as an opportunity for your team.
It's time to make sure your people and business have the skills they need to grow and adapt whenever the next opportunity pops up. But as of right now, they don't. Nearly 8-in-10 CEOs tell PwC a lack of key skills is threatening their businesses' growth prospects. Meanwhile, Gartner research shows only 20% of workers are confident they have the skills they need for their future careers. What does that mean for you? It's time to shift your perspective on learning and development. 
Manually curating content and keeping up with ever-changing trends while finding content that works for everyone is unfeasible. How can you change this? Take a look at Visa. The payments processing powerhouse maximized the ROI on learning by shifting to a culture of continuous learning driven by digital learning. Through APIs and technical integrations, the learning team minimized duplicating content and increased efficiency. 
L&D of the Future
These are not just statistics. They're real people and real businesses. 
To avoid disruptions, business and HR leaders are increasingly looking to build cultures that encourage continuous, lifelong learning. And the next big step in fueling those cultures is integrating learning with work. The thing is, you can't build or sustain a learning culture if you don't understand how your workforce behaves and what they value.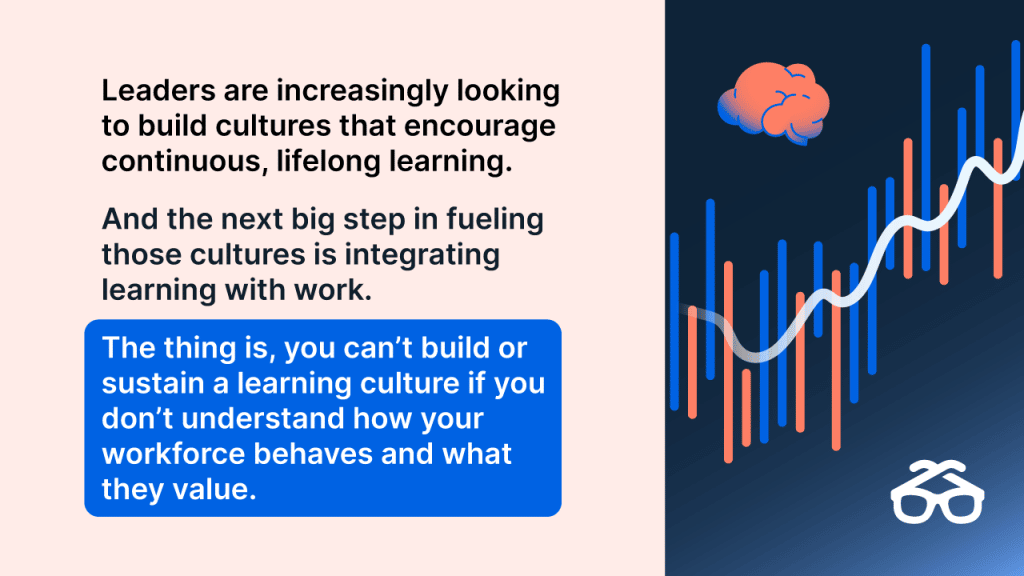 Our recent research found that workers need and more importantly want guidance, diverse experiences, feedback and insights, and experiential learning opportunities. With our fast-paced world, it's vital to invest in your people and create the right conditions for learning. In short, our research shows that the business value and ROI on learning is critical to success. And the future of L&D in an organization is crucial to determining how to get there.
The Return on Investment
As with any good business decision, it's important to look at the ROI. So, what's the ROI on learning? Our data shows that businesses with positive learning cultures have more engaged, better performing and more adaptable workforces.
More utilization: People who say they work in a positive learning culture are 100% more likely to track their activity, habits and growth.
Better performance: People who say they work in a positive learning culture are 166% more likely to say their companies grew revenue faster than competitors.
More agility: People who say they work in a positive learning culture are 101% more likely to work on a temporary assignment with another team.
The next question is "how does my organization get a major ROI on learning?"
Change the way you view learning and development and its function in your organization. L&D helps workers take control of their own careers. L&D assists managers in finding new ways to help their people develop. L&D uses data-driven insights to reimagine learning programs.
It means investing in the tools and resources that people can use organically to develop in ways that are more personalized and productive than completing assignments. In simple terms, you get the most ROI on learning when you listen and invest in your people.
Want to Learn More?
Download our report, How the Workforce Learns, to discover key action items you can take to create a positive learning experience to support growth for your people and business.