When it comes to how we learn at work, we've got work to do. That's why we've joined forces with Harvard Business Publishing Corporate Learning to study the anthropology behind how the workforce learns. Our latest research shows that the businesses making a positive learning experience a priority have healthier, more productive cultures, and more engaged, better performing, more adaptable workforces. That's a lot of "more."
This is not about feelings
This is the moment we've been waiting for. What we all do — developing talent — has never been more important. According to the World Economic Forum, 54% of the world's workforce will need significant "upskilling" or "reskilling" (that is, training and development) over the next five years. There's just one small problem.
Traditional approaches to training and development aren't working so well for the workforce. In new research by Degreed and Harvard Business Publishing Corporate Learning, nearly 800 workers, managers, and business leaders from all around the world gave their employers' learning and development opportunities an aggregate net promoter score (NPS) of -25.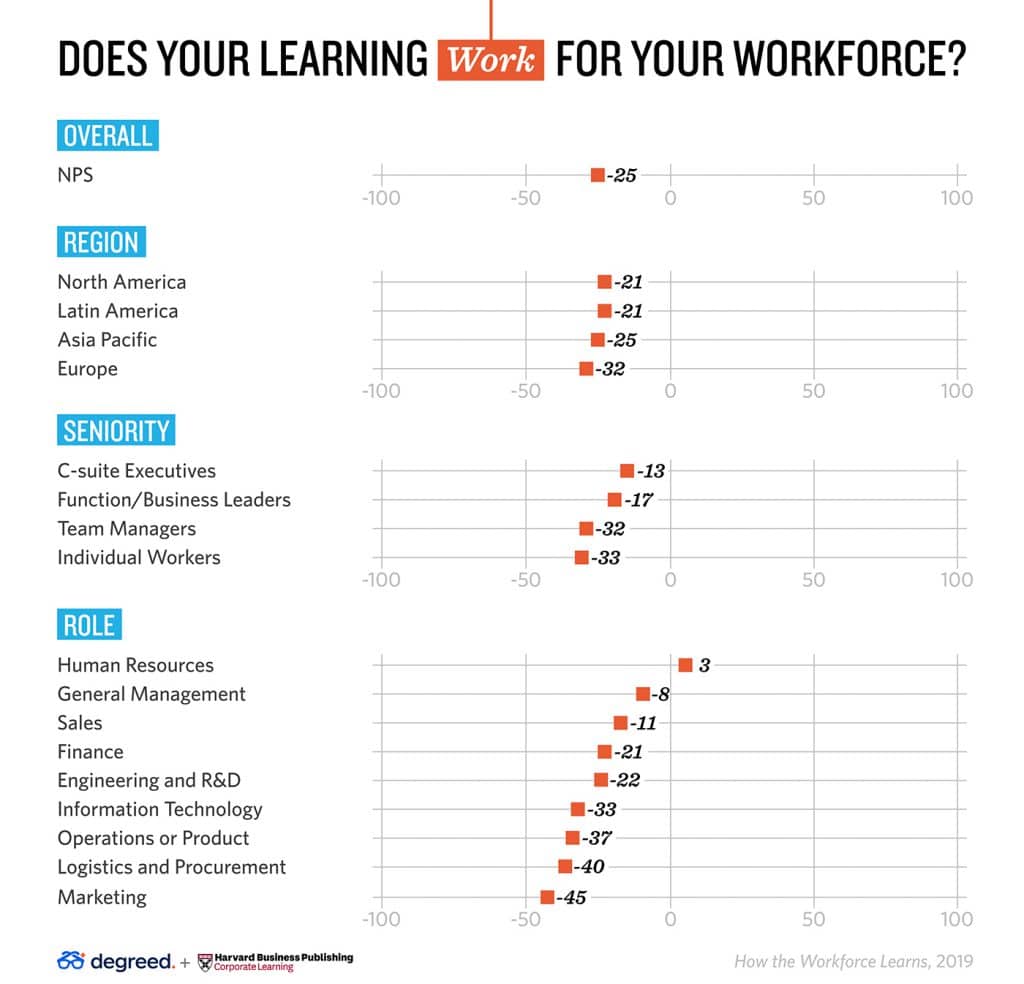 But this is not about feelings. It's about making sure our people and our businesses have the skills they need to grow and adapt whenever the next opportunity or threat pops up. The data say they don't. Nearly 8-in-10 CEOs tell PwC a lack of key skills is threatening their businesses' growth prospects. Meanwhile, Gartner research shows only 20% of workers are confident they have the skills they need for their future careers.
Do you have the skills you need for the future?
These are not just statistics. They are real people and real businesses you know. Food giant Kraft-Heinz, for example, spent the last few years learning to squeeze cost efficiencies out of its operations but neglected the skills it needs to excite consumers and retailers — innovation, marketing and merchandising. Meanwhile, its sales have gone backward by $229 million since 2016, and executives recently lowered their forecast for future profits by 25%.
To avoid these kinds of disruptions, both business and HR leaders are increasingly looking to build work cultures that encourage continuous, lifelong learning. And the next big step in fueling those cultures is integrating learning with work. The thing is, you can't build or sustain a learning culture if you don't understand how your workforce behaves and what they value. The definition of "culture" is literally "shared beliefs, values, and behaviors."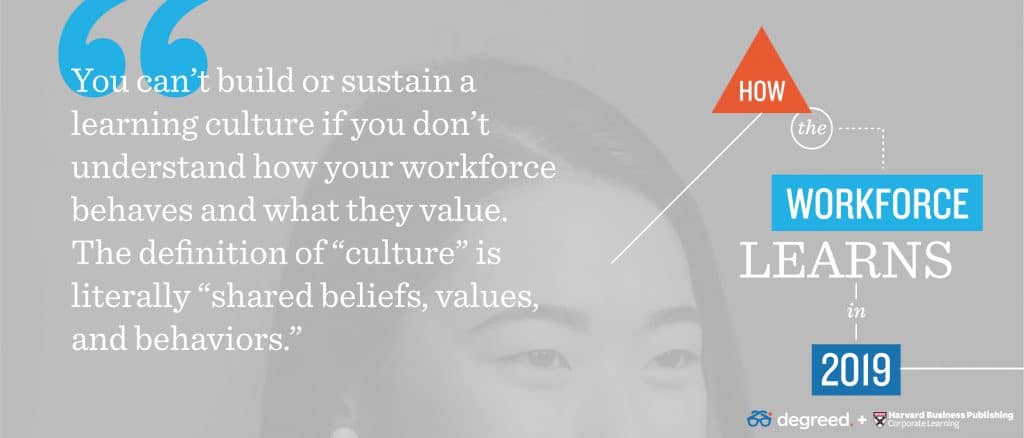 That's what this research is about. That -25 NPS says most organizations do not share (or even know) their workforces' values or behaviors when it comes to building skills for the future. In fact, only 21% of the people in our study are "promoters" of their employers' learning experience. Nearly half (47%) are "detractors." So we are studying how the workforce learns to help you make smarter investments in your most valuable assets: your people.
The ROI on learning experience
The first place you can start putting this data to work: building a better business case for investing in your learning experience. As we said, this isn't about feelings. Our data shows that businesses that make positive learning experiences a priority — the ones where "promoters" work — have more active and productive learning cultures, as well as more engaged, better performing, and more adaptable workforces. For example:
Healthier culture: Promoters invest 2.3x more time each week (over two hours) learning through their organizations' resources than detractors do (just 43 minutes).
More utilization: Promoters are 3.9x more likely to consult their talent development team and 2.4x more likely to use their organizations' learning systems.
Higher retention: Promoters are 21% less likely to have left their organization for a new role in the last three years, demonstrating stronger engagement and loyalty.
Better performance: Promoters are 28% more likely to have been promoted in the last three years, a strong indicator of on-the-job performance.
More agility: Promoters are 27% more likely to have moved into a new role on another team in the last three years, a signal they're more flexible and adaptable.
How's that for linking learning to business value? The only question now is "how?"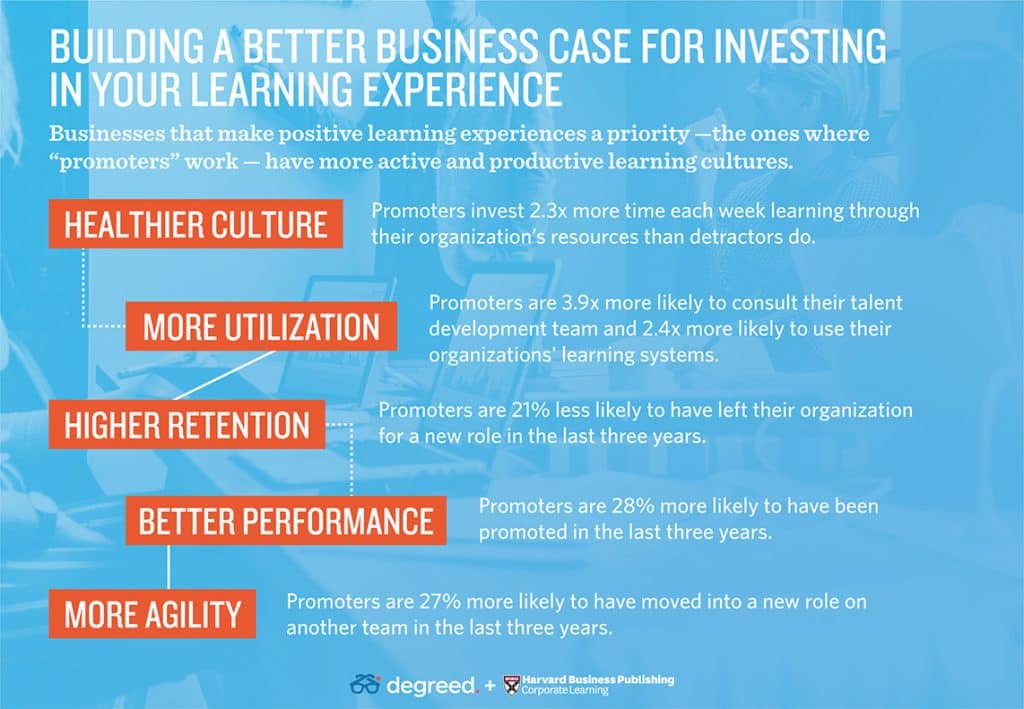 Stay tuned for more insights
In the coming months, we'll explore what specifically it means to invest in a more productive learning experience (hint: it's more than user interfaces or even technology). So stay tuned for more insights on how the workforce learns, only from Degreed and Harvard Business Publishing Corporate Learning. In the meantime, we invite you to come and hear more about the research at one of our upcoming events or webinars, or to get in touch for a deeper dive. You can also download the full How the Workforce Learns Report below!