We know the processes and demands of L&D and HR are changing — as professionals, we hear it everywhere. The skills gap is growing, technological advancements are displacing workers, AI continues to change the way teams operate, and the list goes on. And all the while, expectations for learning leaders continue to grow.

But here's the good news: a whole marketplace of solutions has developed in the past decade to help reskill your workforce, gather data on your people, and help inform business and HR decisions.
From HCMs to learning ecosystems, LMSs, and learning experience platforms (LXPs), this blog is intended to help you cut through the noise (and acronyms) of the marketplace and help you identify the solution that fits your needs best. Here are the quick and dirty answers to your most frequently asked questions about learning technology.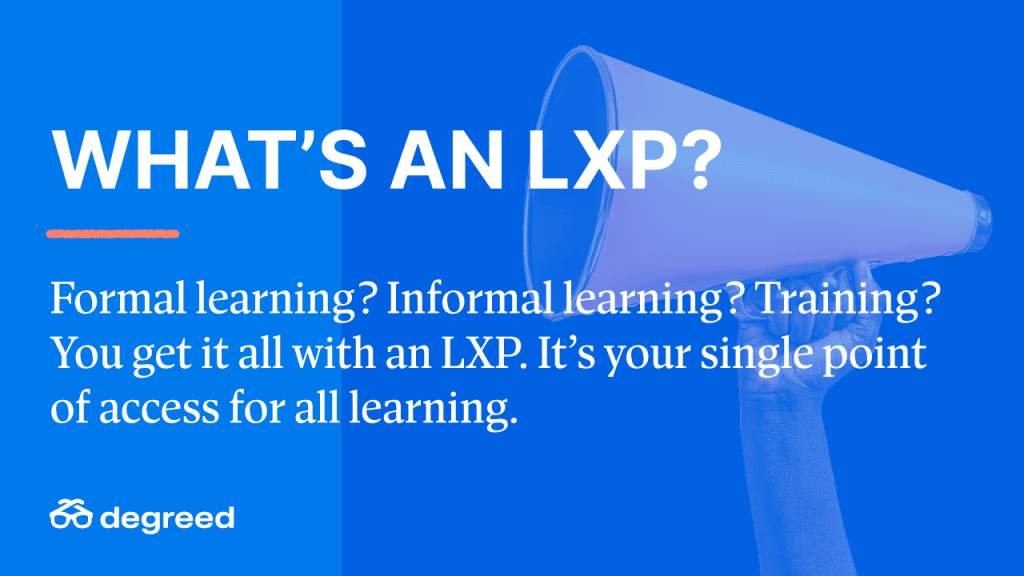 1. What's a Learning Experience Platform (LXP)?
A learning experience platform (LXP) is a user-focused learning software system that provides a single point of access for all learning — both formal and informal. The software encompasses the use of artificial intelligence (AI), data analytics, social learning and a host of features that help create a personalized, user-directed learning experience for the learner.
Formal learning resources, like online courses and internal training created on a learning management system (LMS), are tracked and measured from the same platform as informal learning resources, like articles, videos, podcasts, and ebooks. Rather than administrators managing employee learning from the top-down, LXPs enable employees to manage their own learning, pulling from the resources they utilize in their everyday flow of work.
While learning experience platforms are known for having an intuitive user interface, the most important characteristic of an LXP is the ability to connect the dots between all of the points of learning in a modern work environment.
LXPs wield hefty influence across the learning technology marketplace. Why? Because what people experience as they build skills is at the heart of a strategic and successful learning solution. Read more about how the Degreed LXP does just that.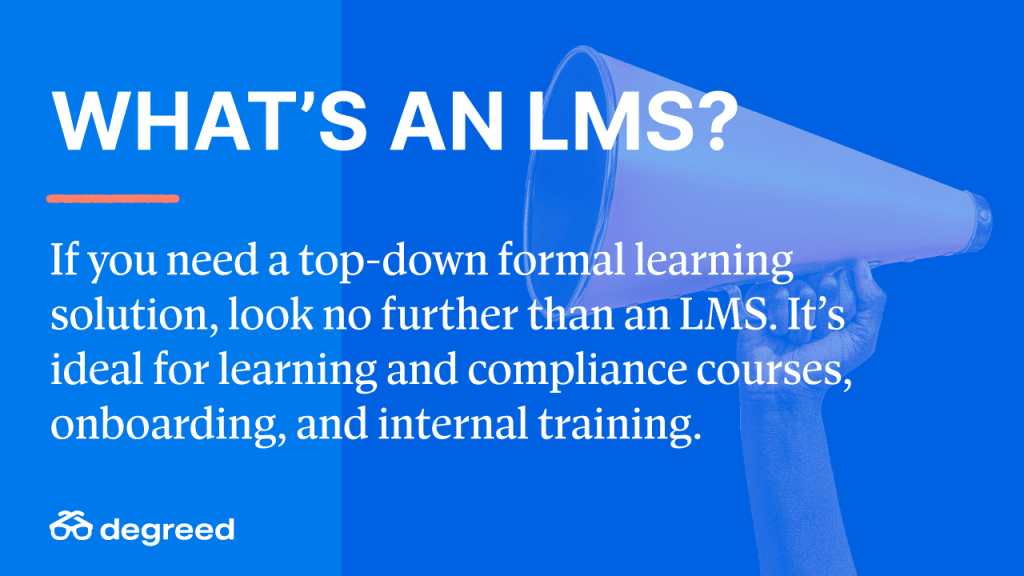 2. What's a Learning Management System (LMS)?
An LMS allows companies to create training and learning courses, deliver them to employees and gather data on those courses and learning programs. An LMS is designed to deliver formal learning courses and internal training, such as onboarding and compliance courses.
Companies typically have administrative teams managing the LMS and selecting the content to make available to their employees. As an administrator-driven platform, they're best suited for implementing top-down learning initiatives and aren't flexible, meaning they won't recognize any resources users access outside of the system. An LXP does not replace an LMS,. Rather, an LXP integrates with one or multiple LMSs, so learning and development teams don't have to sacrifice compliance training and specific coursework for a more personalized learning experience.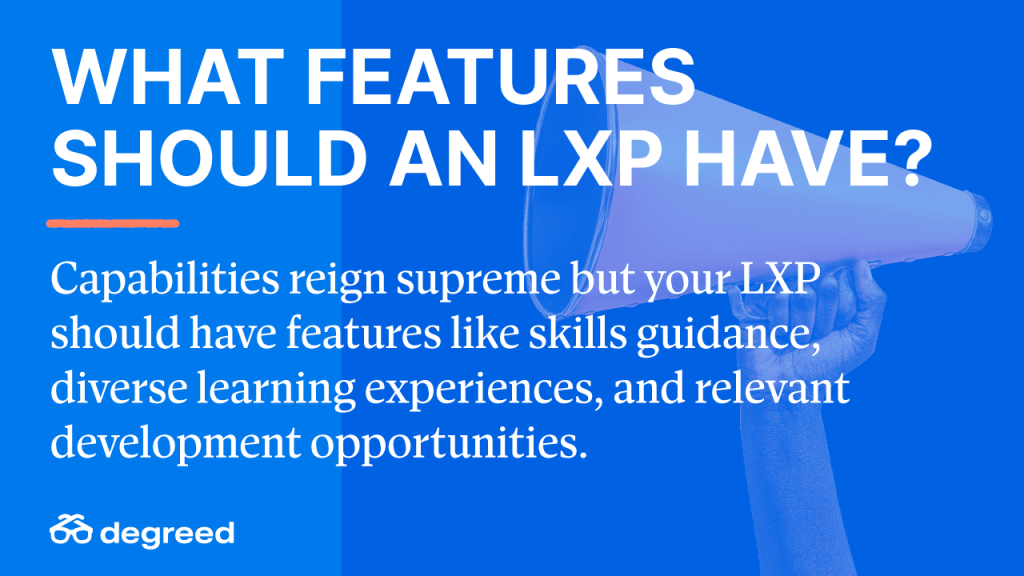 3. What features should a learning experience platform have?
When researching LXPs, keep in mind that capabilities are more important than features. Features constantly change and evolve with the technology. Capabilities serve as your solutions. Therefore, you should identify the capabilities you want from an LXP based on your learning and skilling strategy. Here are some common capabilities learning leaders look for in an LXP:
Guidance or insight into what skills employees should be developing
Diversity of learning experiences and content (user-generated content, social learning, articles, videos, classes, etc.). This includes the ability to create, syndicate, and consume content
A process to provide feedback on users' progress, offering both guidance for employees and visibility for the organization
Motivation in the form of clear career paths and relevant development opportunities for employees
The ability to utilize behavioral science to recommend and connect users with relevant resources, experts, and experiences
A process to measure the skills of your current workforce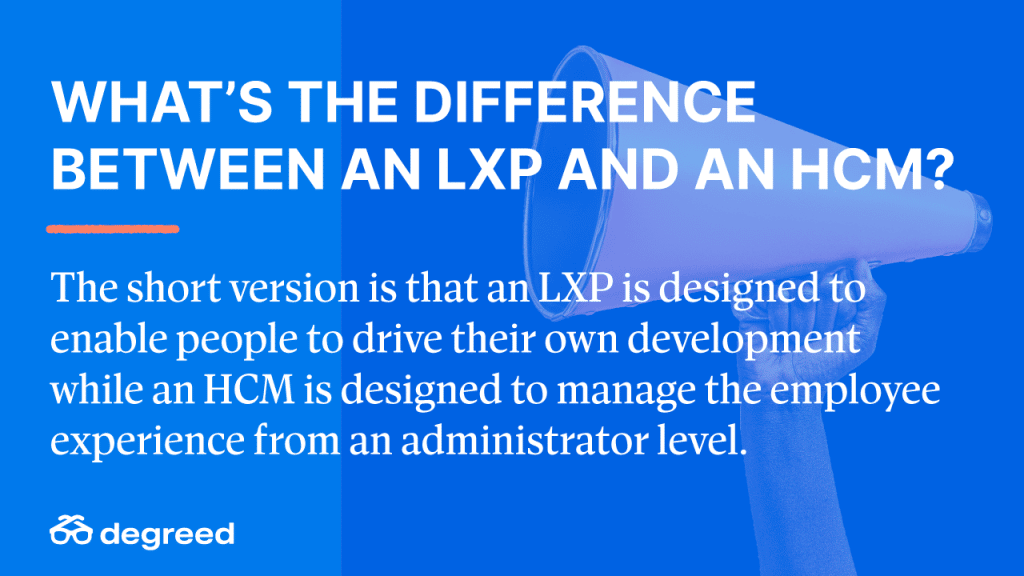 4. What's the difference between an LXP and a Human Capital Management (HCM) system?
Just like an LMS integrates with a learning experience platform, so does a human capital management system.
An HCM is built to manage your people at the organizational level and should keep your organization legally compliant with processes like payroll, benefits, time, attendance, and more. In short, an HCM helps you hire and employ your people, whereas an LXP helps professionally develop and retain them.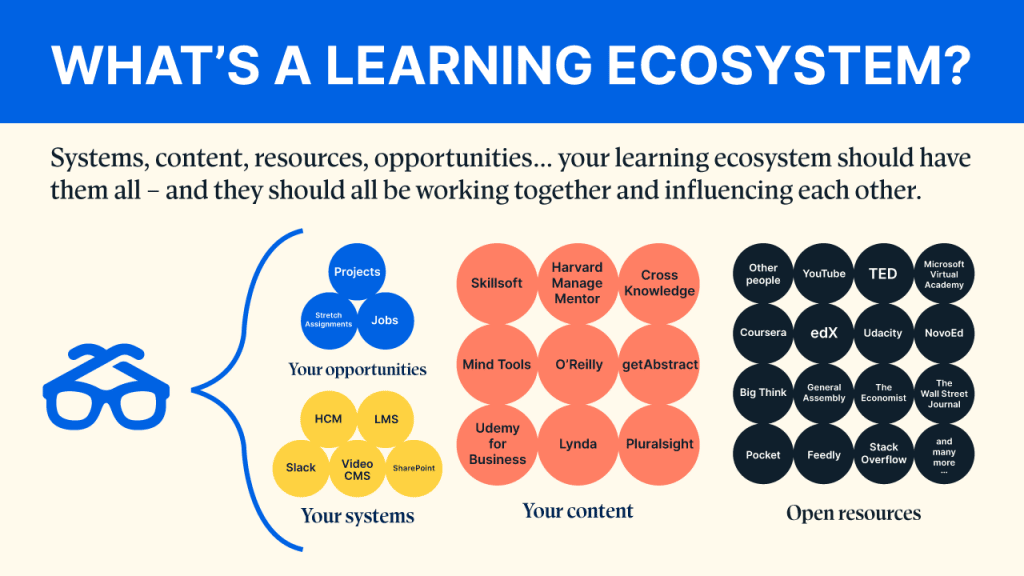 5. What's a learning ecosystem?
A learning ecosystem is an entire collection of learning technology tools working together within a given organization. It's called an ecosystem because the different platforms influence each other, much like different species and natural factors influence each other in a natural ecosystem.

As L&D has evolved, so have the available tools and functions to help support learning and skill-building efforts. A typical enterprise company's learning ecosystem may include an HCM, learning experience platform, LMS (sometimes multiple), and a content provider.
Want to Learn More?
Reach out to a Degreed representative today. We'd be happy to chat.