JPMorgan Chase is investing $350 million. Amazon doubled that, pledging $700 million. AT&T is spending even more, up to $1 billion. And then PwC blew them all away, committing $3 billion to the cause. To what mission are the world's leading companies dedicating these huge sums of cash? It's all about learning at work and upskilling.
These world-renowned organizations may have the budgets to invest heavily, but encouraging learning at work and upskilling is crucial for every company. The World Economic Forum predicts that one billion people — nearly a third of the global workforce — need new skills for the upcoming decade.
So it's no surprise that PwC placed the biggest bet on upskilling, especially when its research proves the urgency. When asked about the biggest upcoming threats, CEOs cited "availability of key skills" as one of their most critical concerns.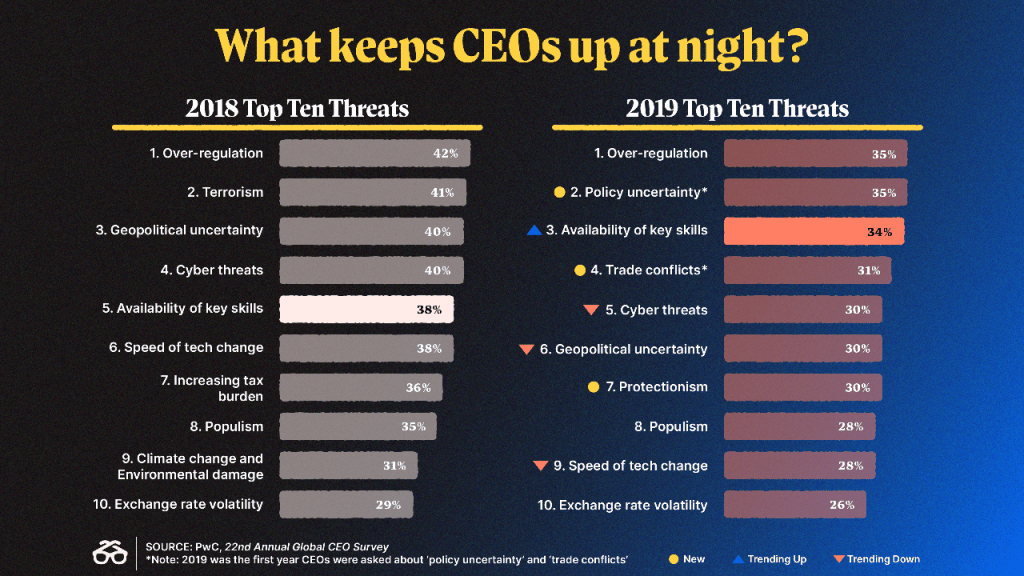 Skills are rising to the top of minds and executives everywhere are making massive investments in their workers. Yet there is no guarantee that these pledges will pay off.
Success depends on how the money is spent. Learning at work is in the middle of a major transformation. Traditional models are crumbling, disrupted by the need for agility and the resulting new approaches. Certain companies are cultivating vibrant learning cultures, leveraging best practices and scientific research, while others are stuck with outdated ideas about knowledge and expertise.
So, how should the learning leaders at Chase, Amazon, AT&T, and PwC spend their booming budgets? They have to face the future fearlessly, create thriving learning cultures, and implement scientifically proven approaches.
Face the Future
The way we learn is changing. Our most recent research, How the Workforce Learns, shows that content is not enough to promote learning at work, but thriving companies create conditions for learning at work.
The average worker is likely to spend more time on content that has been somehow vetted — an article that they searched for, a podcast that a colleague recommended, or a video that an algorithm suggested. Some forward-thinking organizations are cutting traditional classrooms and starting skills academies (often online) where people build capabilities in the flow of work through a combination of self-directed learning and group project-based learning.
Not only can this strategy save money — research indicates that 79% of learning comes from low- or no-cost resources outside of employers — but the future of learning will also be more effective.
Most formal training has failed, concludes Harvard Business School professor Michael Beer, because it does not fit firms' existing practices. "The system of organizing and managing is so powerful," Beer warns, "that individuals and teams returning from training will not be able to be more effective unless the system enables them to apply their learning."
Instead, learning should flow smoothly into work. This will build skills, not just knowledge. What's the difference? Knowledge is acquired information, but skills are abilities developed with that acquired information along with practice and feedback.
For a competitive advantage, skills beat knowledge. This is undeniable in athletics, for example. Plenty of fans know how to play baseball or soccer. But far fewer folks are skilled enough to hit a curveball or dribble past defenders. Without those skills, the knowledge is useless. You can't just study the game, you have to practice.
Similarly, workers might watch tutorial videos or click-through training modules. But if they never practice or receive guidance, they won't build skills.
To properly develop people's skills, try the learning loop. (The Expertise Economy dives deep into this framework.) Knowledge is the first step of the learning loop, followed by practice. Next, people need feedback on their performance to adjust their efforts. Offer time to reflect, so the learning gets locked in. Then, the learning loop begins again, with a fresh dose of knowledge.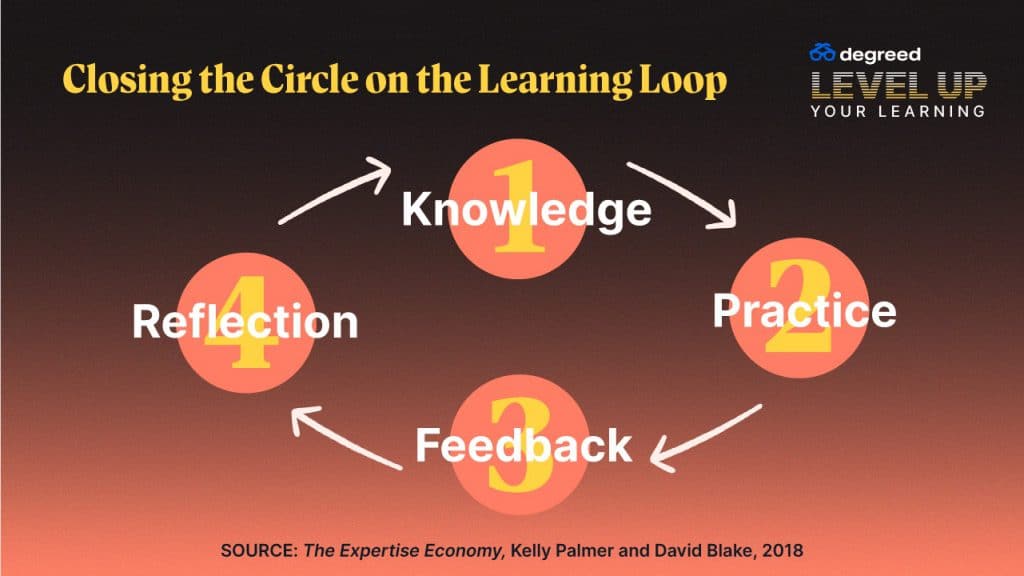 Booz Allen Hamilton has effectively implemented the learning loop for workers. The technology consulting firm is developing data scientists internally, rather than paying a premium to bring outsiders onboard.
To start, participating workers assess their existing skills. Next, the employees explore curated pathways to gain the knowledge they need. After absorbing this information, they take on mini-projects with mentors to practice their emerging skills. To close out the learning loop, the aspiring data scientists prove their abilities with a capstone project.
Create a Learning Culture
Of course, for AT&T and PwC, those billion-dollar budgets must build more than one specific skill set for a select few employees. Upskilling has to happen at scale. Therefore, the entire organization needs a strong culture of learning at work.
This was a top priority for Satya Nadella, the celebrated CEO of Microsoft. "Culture is something that needs to adapt and change," he insists. "You've got to be able to have a learning culture."
To instill this culture at Microsoft, Nadella told his staff about two imaginary employees: "If you take two people, one of them is a learn-it-all and the other one is a know-it-all, the learn-it-all will always trump the know-it-all in the long run, even if they start with less innate capability."
This was more than an abstract anecdote. Nadella modeled the behaviors that he believed in. "Where was I too closed-minded, or where did I not show the right kind of attitude of growth in my own mind?" he asked. "If I can get it right, then we're well on our way to having the culture we aspire to."
Organizations typically go through four stages of building a learning culture. They start at the lowest level — a compliance culture — where learning at work is limited to mandatory requirements. The next notch is necessary training, when people push themselves to learn whatever their job entails. Strategic learning is the third stage, as individuals build skills for the organization's key initiatives. And the highest level is continuous learning, meaning employees choose to cultivate their capabilities in the flow of work.
Climbing that ladder could seem daunting. But many people are already in a position to help. Managers might be the most important influencers for any company's learning culture. Workers crave their guidance, recognition and encouragement.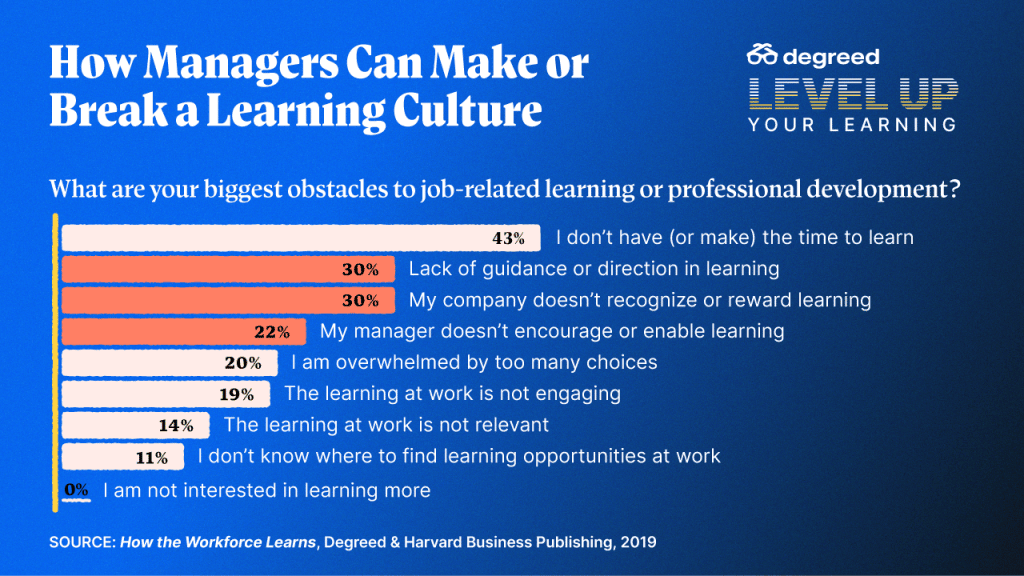 For managers, the next steps are straightforward. They can set clear expectations, reminding folks that it's important to take time for learning at work. Managers should start regular career conversations with their workers to identify personal goals and give guidance on which skills to build. Additionally, managers should pick new projects to which people can apply their skills, earning genuine praise for their growth.
Implement Proven Approaches
So far, much of the advice can be done by individuals. Workers can build their skills, executives can promote a learning culture, and managers can guide people as they learn.
But what about more systemic shifts? Can companies adjust their structures and incentives to enable more effective learning at work?
Certainly, more profound changes can be powerful. The key is to implement proven approaches backed by data and research. Here are a few methods to consider:
Recognize and reward learning. Stanford psychologist Carol Dweck is famous for her work on growth mindsets, which most companies have embraced. But she worries that many people misunderstand her research, as they market meaningless mission statements and praise any effort. Instead, Dweck urges organizations to affirm learning, not just effort, and to connect learning goals to real rewards.
Optimize the conditions for learning. If workers are trying to learn at work, organizations must put them in a position to succeed. Bror Saxberg of the Chan-Zuckerberg Initiative is an expert on learning motivation. His team has identified four critical factors: relevance, confidence, environment, and emotion. Employers should monitor these conditions, and assist employees if anything is amiss.
Have regular career conversations. Thoughtful managers might do this on their own, but smart organizations will encourage regular career conversations for everyone. At LinkedIn, managers tracked how these talks boosted employees' engagement and retention. Harvard Business Review has published similar conclusions for organizations in general.
Get insights from learning analytics. As mentioned above, the latest research from Degreed shows how people are actually learning at work. Workers are looking to a variety of sources, like their professional network and favorite websites, not just their company's L&D offerings. Smart learning platforms can track these activities and find patterns. The savviest Degreed clients are diving deep into their unique data. The analytics help these firms adjust their offerings and refine their strategy.
Whether they are spending $350 million or $3 billion, the world's leading companies should ensure that their learning strategy is backed by rigorous research and detailed data. Even without such budgets, all learning leaders must make every dollar count. These proven techniques can strengthen an emerging culture and prepare companies for the future.
Sure, it may be challenging to change old habits. Many people don't think they're learning unless they've sat in a classroom. But it's time to broaden our definition of learning. To address the concerns of CEOs and actually upskill one billion workers, we have to innovate. Now is our chance, so let's seize this moment.
Want to Learn More?
Download our latest research for actions you can take to promote learning at work through a positive learning culture. Or contact a Degreed representative today.