In the Putting Learners First webinar, VP of Product Marketing Todd Tauber, dived into the problems with L&D approaches, what it'll take to start putting learners first, and how to start rewiring L&D to provide what people and employers need. In Part II of the Webinar Recap: 'Putting Learners First' we'll dive into what it takes to start putting learners first.
1. Start putting learners first
We think that the most important shift to make here is about mindsets; it's putting learners not just at the center, but at the beginning. That's not as easy as it sounds. Pretty much everyone in L&D recognizes that most learning doesn't happen inside classrooms or learning management systems (LMSs).
– The 70:20:10 learning framework – which says only 10% of learning comes from formal training, 20% from other people and 70% from experiences on-the-job – is almost 20 years old. It's amazing, then, to see how far away most corporate L&D teams are.
The first step toward recovery is recognizing that you have a problem. When CLOs and their teams acknowledge that this is, in fact, a problem, then they start approaching a lot of things differently. They also start investing their time and budget money very differently.
2. Stop trying to command and control, and start empowering
A big one is the role and definition of L&D itself.
If you believe, for example, that the role of the organization's learning team is to manage training and development, then you make some very different choices about some very basic questions:
Who's responsible for driving L&D activity – HR and L&D or employees and their managers
When and where does learning happen – on a schedule at work or anytime, anywhere?
What and why do people learn – for operational efficiency and compliance or to build strategic capabilities and performance?
How do they learn – mainly through formal classes and online courses or in the flow of their work?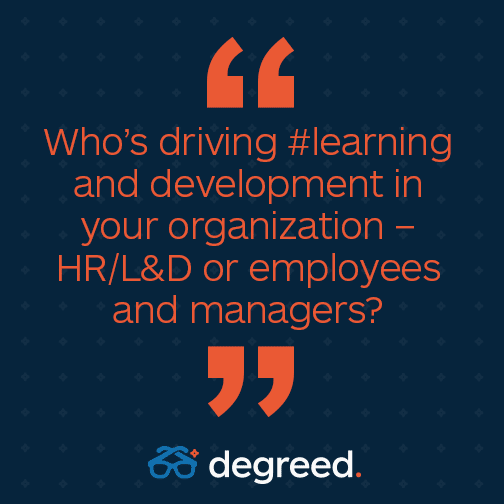 Janice Burns, the CLO at MasterCard, believes her team's jobs are to be, "motivators and facilitators more than anything else." And as a result, they prioritize providing people with the tools, resources and access they need to do their jobs better.
3. Stop making learning one-size-fits-all, and start offering choices
Thinking that way has prompted MasterCard to experiment with all kinds of new, unconventional approaches to learning, development and performance improvement.
Examples include:
Creating animated role plays and games to teach new hires – especially recent college grads – compliance.
Pairing short videos with quizzes to get new, external IT hires up to speed on the payments industry so they can do their jobs better.
Invitations for 5-minute tutorials on people management skills directly into leaders' calendars.
Producing scheduled, 3 to 6-week blended learning journeys to get product managers up to speed on innovation and entrepreneurship techniques, and to diffuse infuse their marketing managers with up-to-date digital skills.
MasterCard still has an LMS and course catalog, but now they're also acknowledging that they have an incredibly diverse workforce spread around the world – who all want and need different things. MasterCard segments those people into logical groups and then they design, develop and deliver differentiated solutions based on what makes sense for them.
By doing that, they're giving learners as well as L&D professionals choices. Guess what? It's working.
4. Stop making learners have to, and start making them want to.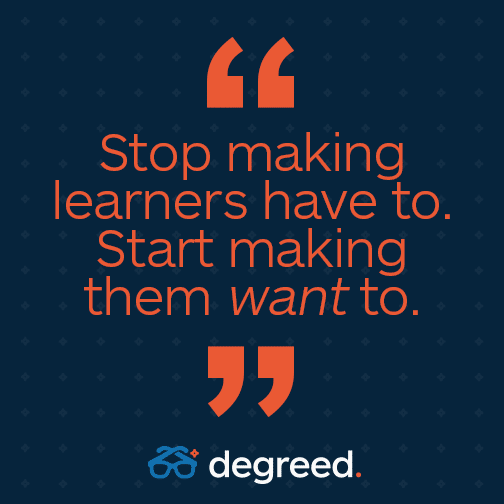 Something else happens when you approach L&D from the learners' perspectives: You tend to focus more effort on the things they care about – like leadership, soft-skills and sales. Coincidentally, these are also the things that enable strategy and drive business performance.
That doesn't mean you don't do the operational and compliance stuff – for example on desktop applications or proprietary processes or generic training for industry certifications. Of course you still do those things, they are still important. Higher-performing L&D organizations – the ones who are better aligned with business priorities and who deliver more effective learning more efficiently – make it a point to do them smarter.
Takeaway 2
Modernizing workplace learning demands some big shifts in how we think about L&D. And those shifts start with putting learners first.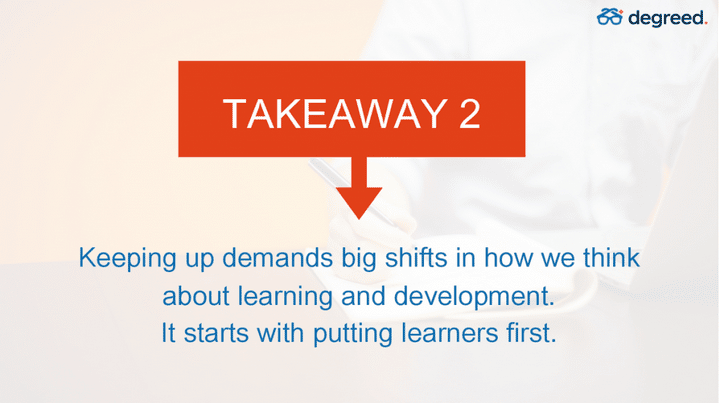 Here's the full Webinar: Putting Learners First