Motivating employees to pursue learning can be a huge pain for corporate learning leaders. The idea of making schedule changes and building learning habits can be daunting, especially without a clear strategy or proper motivation. What this results in is the average worker dedicating a modest 24 minutes a week to learning. In a rapidly-changing workplace, that's simply not going to cut it.

For many, it boils down to a lack of time, but that's far from the only reason. There's a laundry list of obstacles standing in the way of people not investing in their professional development.  
Based on data from our recent How the Workforce Learns Report, 43% of contributors said they didn't have the time to learn. Additionally, 30% reported that they lacked proper guidance and that their companies didn't recognize or reward learning. This is on top of the 22% who said their managers don't enable learning and the 20% who said they were overwhelmed with too many choices. The majority of these challenges can be traced back to the learning culture and environment of the organization, along with a lack of acknowledgment or reward system.
When Options Become Overwhelming
When thinking about how we could work toward solving these learning barriers, we considered the leaders in online shopping. While this may seem like a leap from online learning, both can cause people to feel overwhelmed by the sheer volume of options. For example, my latest online purchase was a Wi-Fi signal booster, which yielded over 1,000 results on Amazon. How can I sift through all of these options and feel confident enough in my choice to make the right purchase?
In looking for resources on developing a particular skill, the results can be overwhelming and offer little guidance as to which ones to choose. Learning, like shopping, requires an investment, in both attention and effort. Just like we don't want to waste money on something that doesn't work, we don't want to waste time on something that's not effective.
Amazon, like most e-commerce sites, has pulled together a variety of indicators to help narrow the results and assist in the decision-making process. With features like product reviews, buyers can find guidance from reputable sources to help narrow the selection.
How Reputation Indicators Can Help Employees Find the Right Content
The parallels between e-commerce and e-learning have not escaped experts in learning technology. In fact, the concept of "badges" in learning platforms has been largely influenced by the behavioral science behind reputation systems across the web. Look no further than eBay's Top Rated Seller Badge.
Similarly, Degreed has developed a reputation system, starting with the new "Active Learner" status. The status pulls together a combination of actions and behaviors into one simple indicator to both Active Learners and the other users who come across them on Degreed. The Active Learner status requires users to have completed at least five items, shared at least one item, have at least three skills, and log in monthly in order to be awarded a colorful circle around their avatar. This combination of actions provides a visible reward for the user to complete key engagement activities and it also gives recognition to those who are the most active. Immediately, you can see what the most productive users are learning on Degreed, making them much more likely to follow and consume similar content, and helping to increase employee engagement.
Another reputation indicator on the organization level comes in the form of endorsed Pathways, Plans, and Skills. Back to the Amazon example, there's typically a filter to narrow results to Amazon Prime products only. From there, the shopper's attention can be drawn to products with flags like "Best Seller" or "Amazon's Choice" based on feedback such as customer reviews.
Similarly, Degreed offers visual cues to filter the best options, which also help the algorithms that power Search and Recommendations. Leaders and managers can leverage this feature to elevate their Pathways above other options, offering both guidance and support.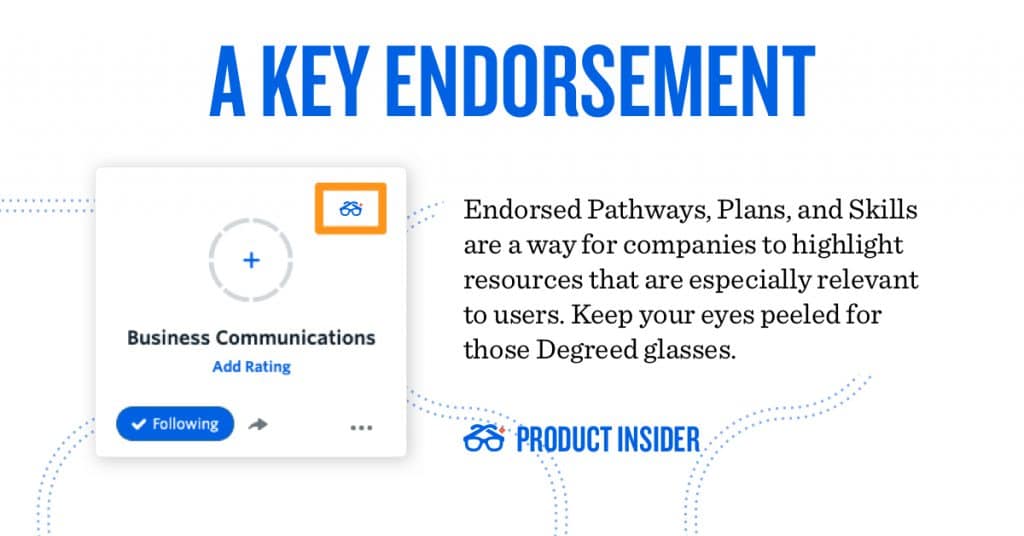 Seeking Guidance
This emphasis on guidance also aligns with the research in our How the Workforce Learns Report, which shows that employees prefer to learn independently and socially. This means a combination of visiting websites and following the guidance of a mentor, team, professional network, or social platform. 62% of survey contributors said they consulted their professional network for guidance or recommendations when they needed to learn something for their job in the last year.
Narrowing down these options and offering guidance from Active Learners creates more social, personal, and curated learning experiences for your workforce. Our Endorsed and Active Learner status features are just the beginning. In the future, we plan to expand on these as we continue to track the impact of user behavior on additional statuses and ways to indicate preferred learning content in order to increase employee engagement with learning technology. Features that leverage and highlight the expertise of leaders and subject matter experts within a company not only take some of the burden of content curation off busy L&D leaders, they also tie the learning platform into what people naturally do when seeking advice or coaching.
Connecting employees with these tools and opportunities to pursue learning and upskilling is the first step to motivating them to do so independently. With an overabundance of online content, bringing the experience of a trusted social network into the LXP will help motivate users, increase employee engagement with learning and development, and keep them from feeling overwhelmed by choices.
For more information on how to leverage Degreed to motivate your people and increase engagement, contact your CX Rep or request a demo today.