The number of DEIB programs at colleges and universities is growing, but your company can't wait up to four years for newly-minted DEIB experts to arrive.
In fact, you might not be able to wait days or weeks. Why? Lack of support is driving many people already working in DEIB enablement to look for new jobs.
"There's an emotional toll, and that's exacerbated when you have inadequate resources and support, or when the job is tokenizing," Paulette Granberry Russell, president of the National Association of Diversity Officers in Higher Education, recently told Inside Higher Ed.
The good news is L&D — starting today — can play a huge part in helping the business deliver DEIB programs that are supported, meaningful and impactful.
You can help your organization get it right by understanding, embracing and developing specific workplace skills across your organization that drive DEIB success.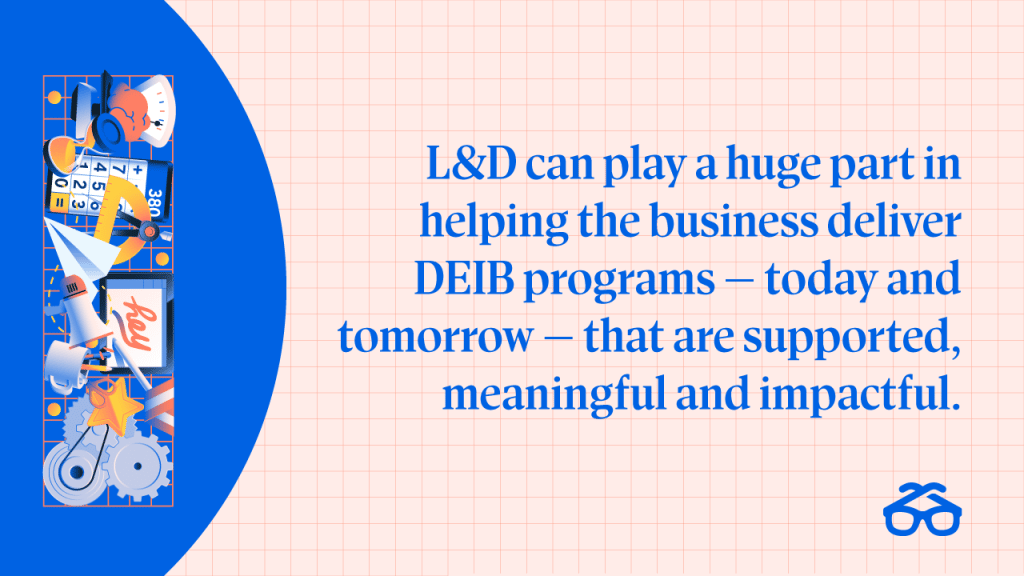 Enabling DEIB in the Workplace
Getting DEIB right takes a thoughtful approach. And you can put talent development right at the core.
"Focusing on DEIB in the workplace isn't new, but where many companies struggle is thinking that DEIB is simply about a diverse representation of employees," according to Degreed Chief People Officer Janice Burns. "Representation is an input and a first step in inclusion. But without the practices and the conditions where people feel included, the representation falls flat."
DEIB initiatives fail when they don't overcome people's fears, don't have specific goals, lack shared accountability, and the list goes on.
And if you're failing to retain the DEIB pros currently on your staff, "The important thing is making sure that people come into the roles adequately prepared, and that those who are developing those roles understand what it takes to not only realistically set goals, but also support that individual in pursuing them," noted Granbery Russell.
While the Degreed LXP isn't a DEIB training solution, we recognize the role it can play in helping L&D promote skill development and reduce bias in support of DEIB business initiatives. And DEIB is something many of us here have taken a personal interest in, by joining Business Resource Groups (BRGs), by engaging in learning and dialogue and more.
Moreover, DEIB is a topic we studied in collaboration with RedThread Research in our report Creating a DEIB Culture: The Skills Every Employee Needs.
When we started our study, we discovered there wasn't a set standard to prioritize DEIB in the workplace. Some methods of DEIB training aren't effective. Often, but not always, current training focuses on the legality of DEIB in the workplace, and it's oftentimes mandatory. Yet, there aren't any substantial results to show this positively impacts underrepresented populations.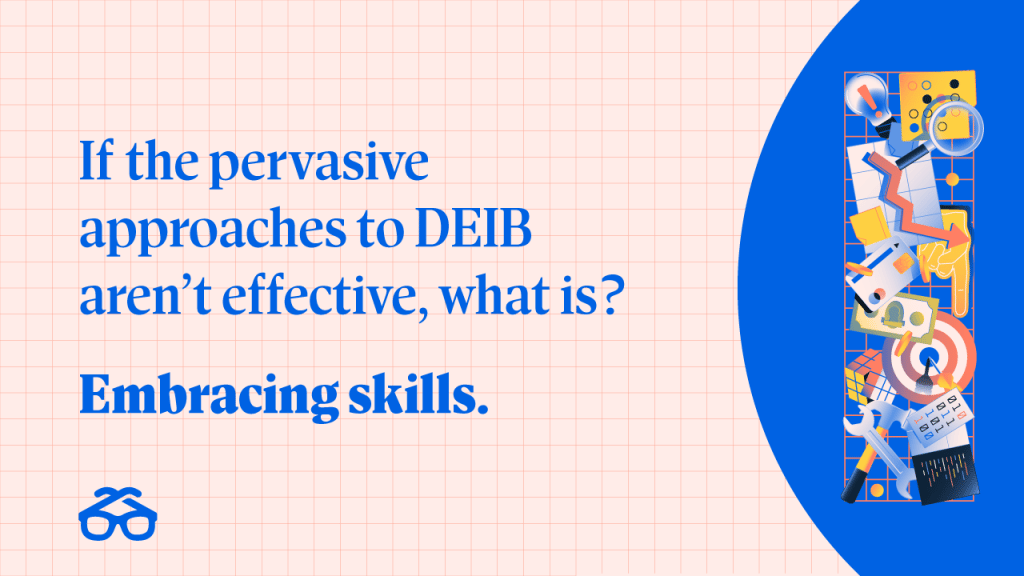 L&D, Skills and DEIB
Embracing skills can be an effective way to create a more DEIB-focused workplace culture. Specifically, learning and applying skills critical to creating and maintaining a strong DEIB culture.
What are these skills? Most organizations haven't identified the skills necessary to develop a strong DEIB culture.
Our research found:
For senior leaders — Interpersonal skills are most important, reflecting the amount of interpersonal work required by the leaders to drive DEIB in the workplace
For managers — Skills like curiosity and influence that allow them to remain open to new ideas, drive and monitor change, and navigate social complexity are vital.
For individuals — Authenticity and skills dealing with influence and pattern-recognition are key.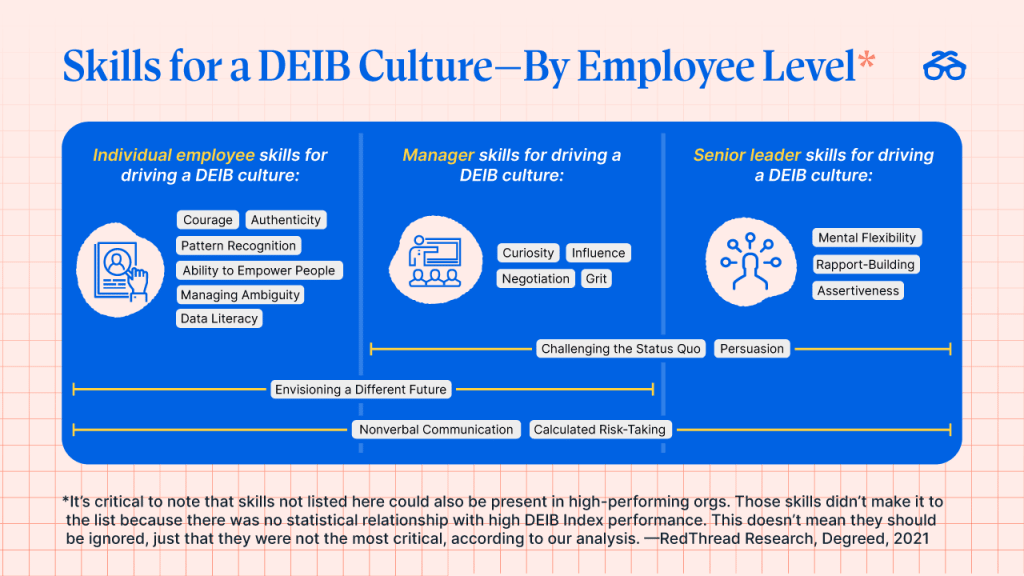 When we explored what skills matter for DEIB, we knew the answer would differ for each level of responsibility across each organization. But understanding which skills are most important for all employees to have (and which are key for certain roles), can be an effective way to help drive change in your DEIB culture.
It's not enough to talk about DEIB in the workplace. Skills are needed to bring DEIB to life.
Want to learn more?
By showing you the skills your organization has and needs, Degreed can help you easily build a learning strategy that connects employee development to business goals — and empower your managers to upskill teams in support of high priority goals. Find out how Degreed Intelligence can help you make smarter investments in your people.
Got questions? Contact a Degreed representative today.
# # #