Engaged people are productive people. We highlighted that in our most recent report, 4 Ways Every Manager Can Create a Positive Learning Culture. But what exactly is workplace engagement, and how can you promote it across your organization?
Workplace engagement is the emotional connection and commitment employees feel toward your organization and its goals. And according to Gallup, workplace engagement has declined for the first time in five years. It's no longer enough to simply talk about how your workplace values permeate. Connection happens and commitment becomes real when input and action come from all levels of your organization — including senior leaders and individual contributors.
At Degreed, we boost workplace engagement by celebrating the strengths of all our colleagues. One key approach has been formalizing our Business Resource Groups (BRGs), which work to create an inclusive and safe environment that empowers people to be their whole selves and to drive innovation and performance. They even tackle issues like nonverbal communication, which is all the unspoken cues between people, including facial expressions, gestures, body movements and nuances of the voice.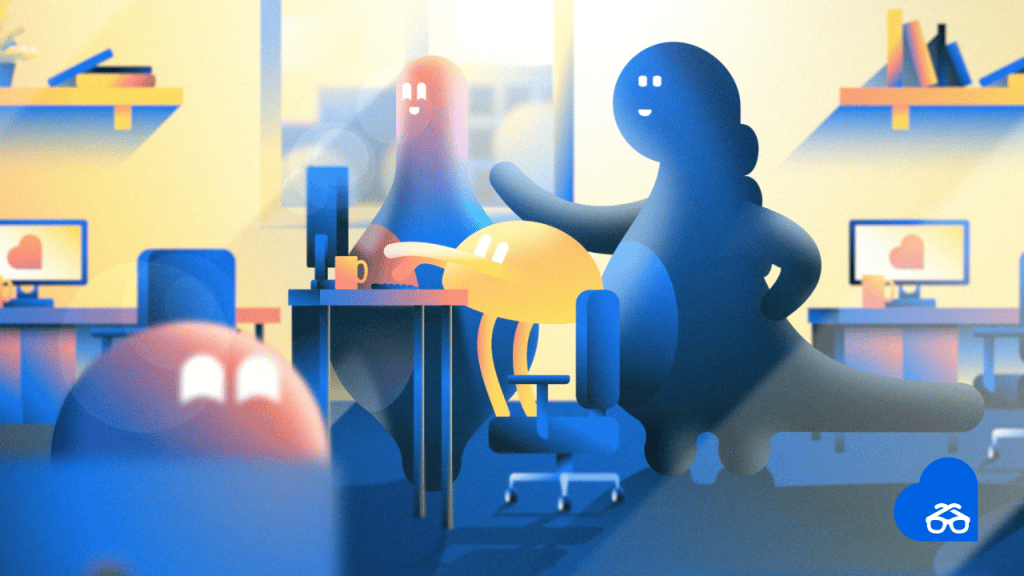 The Impact of a Strong DEIB Culture
In collaboration with RedThread Research, we sought to understand the relationship between a strong DEIB culture and business outcomes.
After speaking with more than 100 people and surveying more than 1,000, we created a DEIB index that measures how diverse, equitable and inclusive an organization is based on respondents' input. We found if an organization has a strong DEIB culture, it has better business outcomes. Specifically, respondents were 81% more likely to indicate high customer satisfaction.
Other research shows simply integrating DEIB training methods isn't effective in driving equitable outcomes. At Degreed, we've found success by normalizing a respect culture through a combination of:
Creating opportunities for our employees to learn personal, interpersonal and technical skills.
Supporting these efforts by enabling employee-led resource groups sponsored by senior leaders.
Building a DEIB Culture: The Business Case for BRGs
Why do BRGs boost engagement and help drive productivity? It's because they build trust across an organization.
As our own Chief People Officer Janice Burns described during one of our internal BRG summits: "Focusing on DEIB in the workplace isn't new, but where many companies struggle is thinking that DEIB is simply about a diverse representation of employees. Representation is an input and a first step in inclusion. But without the practices and the conditions where people feel included, the representation falls flat."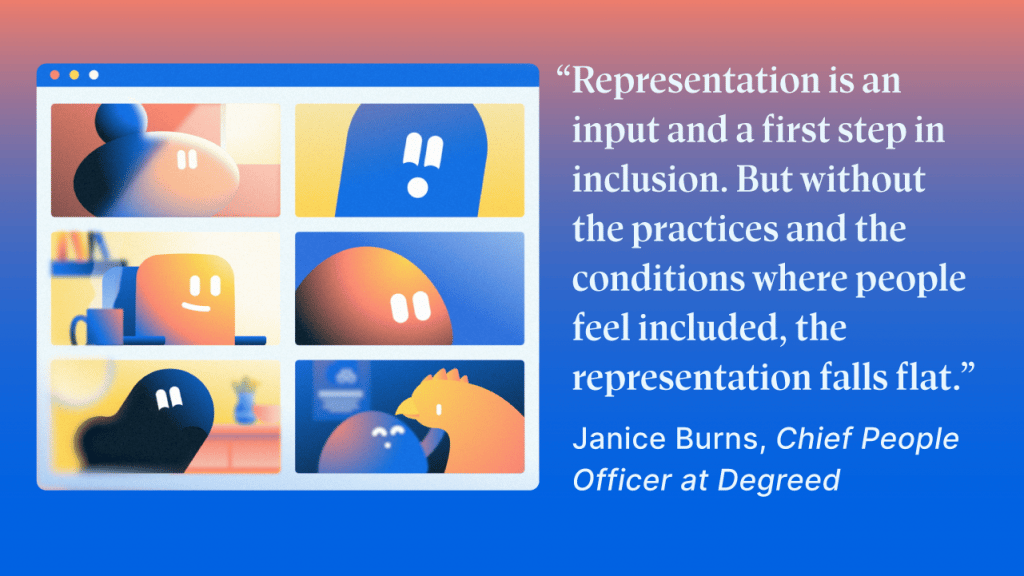 At Degreed, our first step to creating a culture of inclusion was establishing five Business Resource Groups (BRGs).
BRGs are led by employees — for employees. At Degreed, these groups enable our leadership team and individual contributors to learn new skills and share diverse perspectives.
While each group has an executive sponsor, the responsibility of driving these programs falls on individual contributors at all levels of our organization. These groups are not an extension of HR but instead report to the CEO directly. Why? It gives a voice to all employees and authentically integrates diversity, inclusion and belonging strategies into our business practices at all levels.
Co-chairing or participating in one of our BRGs encourages individuals to put learning into practice. It allows people to gravitate toward their passions and educate and challenge one another to think outside of their norms.
Our research with RedThread found individuals are just as important as managers in driving change. Organizations score much higher on the DEIB index when individuals:
Put skin in the game by showing up authentically and demonstrating courage in what they say and do.
Influence others by managing nonverbal communication, empowering people and engaging in calculated risk-taking.
Help design a new future by recognizing patterns, accurately interpreting data and information and using that insight to envision a different tomorrow.
Since launching our BRGs we've seen positive growth across our organization. We have demonstrated a clear commitment to social responsibility and as a result have seen our annual workplace engagement survey score in relation to these efforts increase by 12 points.
We have also seen a positive increase in the number of our colleagues reporting that they believe Degreed helps them to make a positive difference. We continue to seek gender balance, overall our company is at 47% female and 53% male. Our leadership team is now more representative — we have seen the number of women in leadership roles increase by 13% and our leadership is also now more diverse in terms of ethnicity, race and geographical location.
Integrating BRGs Into Your Learning Culture
Launching BRGs won't drive lasting change on its own. But it can be a great tool to add to your arsenal — especially when combined with workplace development.
To start, get managers involved. We learned managers are responsible for creating the conditions that allow a culture of DEIB to thrive. Managers who succeed at this:
Create psychological safety within their teams.
Set clear expectations that hold employees accountable.
Model appropriate behaviors and lead by example.
Foster an inclusive workplace by raising awareness for the needs of team members, ensuring equitable practices and development of their teams.
Proactively seek out different perspectives, understand people's challenges, and enable employees with tools, resources and technology.
Our research shows the important skills for managers at high DEIB orgs are:
Be open to new ideas by being curious and willing to envision a different future.
Drive and monitor change by challenging the status quo, demonstrating grit in following through, and engaging in calculated risk-taking.
Navigate social complexity by using negotiation, persuasion and influence skills as well as effective nonverbal communication.
You can endorse these skills at an organizational level by giving your workforce insights and technology to build the capabilities they need to create an inclusive culture.
Focus on centralizing your technologies so they're easily accessible. This lets people continue discovering the content they need, aggregate it, organize it and share it. Embrace learning pathways to encourage DEIB skill-building. Degreed Pathways can be shared, built by anyone and used for personal or collective learning. Encourage everyone to share their expertise and build Pathways that help others.
"Traditional approaches to improving DEIB have fallen short at many companies," said Susie Lee, SVP, Global Business Transformation & DEIB Executive Officer at Degreed. "This new actionable skills data on inclusive organizations can be the catalyst that will finally drive change. And what's really exciting is the actionability not just for HR, but across the entire business and for all job levels, because it's only through making DEIB part of holistic business operations that true systematic change will occur."
Our world is changing. Taking assertive action to create a more inclusive workplace is critical to business success. It's the responsibility of individuals, managers and senior leaders to drive this change. And providing your workforce with the right resources is essential.
Want to Learn More?
Download our new guide, 4 Ways Every Manager Can Create a Positive Learning Culture, to discover what managers can do to build a positive and inclusive learning culture.