If your company's like most, it's using several systems that make HR processes — like enrolling workers in benefits, processing payroll, conducting engagement surveys, or tracking job applications — more efficient, automated, and self-service.
But these systems are rarely designed to empower workers and team managers to go beyond standardized HR processes. As a result, they're not usually the best place for workforce learning and upskilling.
Of course, most talent and learning management systems include some relevant functions and content. But inspiring and empowering people to learn and grow takes more than just some courses, videos, and an AI-powered homepage. Because learning isn't limited to content catalogs and HR systems. People learn in unique, individual ways, across devices, apps, and ecosystems — and in real life, too.
As we've discussed before, most software has a purpose. What really matters is what each system is designed and engineered to do — and for whom. And human capital management, talent management, and learning management systems are all built for managing HR processes. It says so right in their names. Yes, they're essential for businesses. But people need more than efficiently managed processes and content to navigate change and disruption. They also need (and want) guidance, insights, empowerment, and opportunities.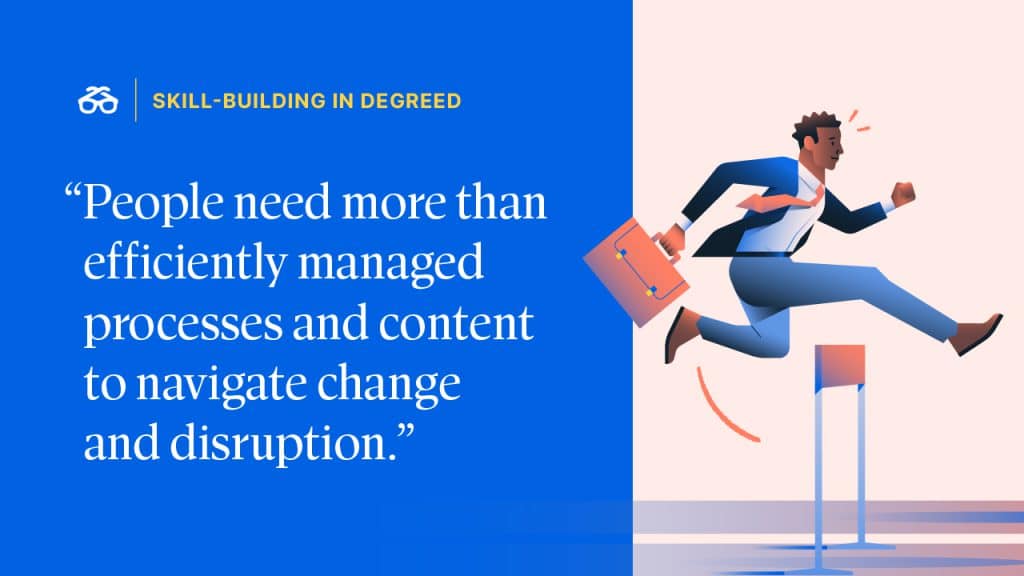 Learning Platforms Fall Short Too
Right now there's a dire need for upskilling, especially among customer service teams, sales reps, computer programmers, and anyone else on the frontlines of delivering consumer experiences.
It's impossible to manage every learning opportunity for every worker. There's just not enough budget or bandwidth. And besides, workers often know best what they need to advance their careers. The good news is your organization can help people master skills autonomously — in all the ways people learn.
Learning platforms help people learn on their own, but most don't go far enough. They might connect your people to the content they need, but they miss an important next step. Successful upskilling requires doing. People need a chance to practice and master their skills through real-world, on-the-job opportunities.
Moreover, learning platforms aren't giving your organization enough visibility into the skills it has, the skills it's building, or the skills it needs — all insights that are necessary to align workforce development with your overall business strategy. And that matters, because more than half of business leaders (53%) say a lack of visibility into skills is their top barrier to workforce transformation.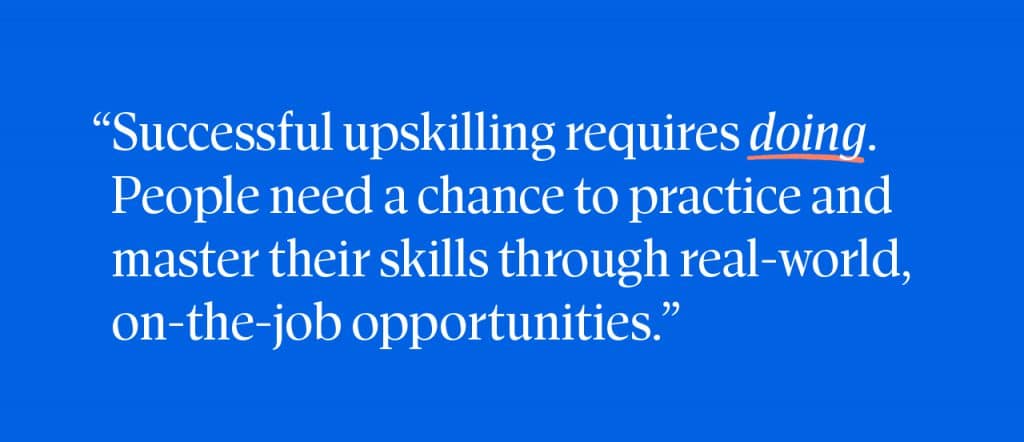 End-To-End Upskilling for Everyone
At Degreed, we have one overarching vision: enable people to continuously grow and advance their careers based on their skills. To bring this vision to life, we're building a complete, end-to-end upskilling platform that's relentlessly user-focused.
As we shared at Degreed Vision, our 2021 product preview event, our new platform is powered by three products — Degreed Learning Experience, Degreed Skill Analytics, and Degreed Career Mobility. These tools are designed to work together by engaging workers, sharing data, and exposing opportunity. And as an open platform, Degreed can integrate with almost any of the HR or learning tools you're already using, so your people benefit from an intuitive, unified upskilling experience.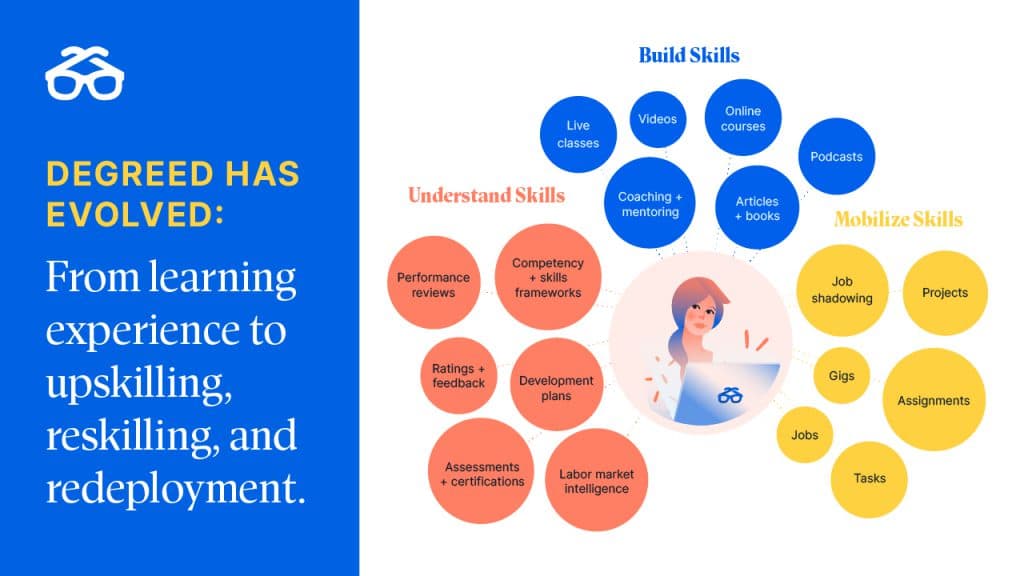 What's in It for the Workforce?
Degreed Learning Experience continually engages workers with diverse experiences, helping them build in-demand skills on their own (and with their teams and managers) as it tracks their progress.
With Skill Analytics, Degreed aims to help your organization understand — in real-time — the skills your people already have, those they're currently building, and those they'll need next. These insights will allow you to respond to change quicker, target capability gaps, and direct personalized development — so your organization benefits along with your people.
Degreed Career Mobility completes the cycle. Informed by Degreed's skill insights, Degreed Career Mobility connects people to tasks, projects, stretch assignments, gigs, mentorships, and other real-world opportunities. Unlike stand-alone talent marketplaces, though, Degreed shares these opportunities in the same place your people go to grow and build skills every day. As a result, meaningful opportunities find them at the right time. They can grow and answer the question "What's in it for me?"
Nobody builds skills just watching and listening. People need to interact with their colleagues, practice, make mistakes, and reflect.
Let's partner to connect learning to skills and skills to opportunities, so you've got the right people in the right places for where you want to go.