It makes sense that the first people to spot skill gaps are often those closest to the work.
Imagine if they had the confidence to tackle skill needs as soon as they arise or even before, instead of waiting for L&D to define and solve the problem. What if they already had a strategy?
In just about any company, managers are uniquely positioned to affect change that gets results. At the same time, they set a tone.
"In the right conditions, middle managers don't block change — they drive it through," noted strategy + business. "But they need the right kind of support."
Our new, shareable quick infographic, 4 Ways Every Manager Can Create a Positive Learning Culture, is designed to help — by highlighting how managers can give people guidance, support diverse and active learning experiences, provide regular and immediate feedback and create opportunities for people to practice and apply new skills on the job.
All of this comes as L&D teams are stretched thin and looking for ways to ease bandwidth challenges.
Managers Make the Difference
Managers see first-hand the changes in their markets, their workers, and their strategies. A whopping 87% of managers and executives polled in a McKinsey Global Survey said they're experiencing gaps or expect to within a few years.
According to a 2019 Gartner study, managers can boost employee performance by up to 26% and more than triple the likelihood that workers are high performers.
Despite those realities, our own How the Workforce Learns research routinely reveals that managers do not provide consistent talent development guidance or support. For example, in 2019, only 17% of respondents said their manager helped them set goals.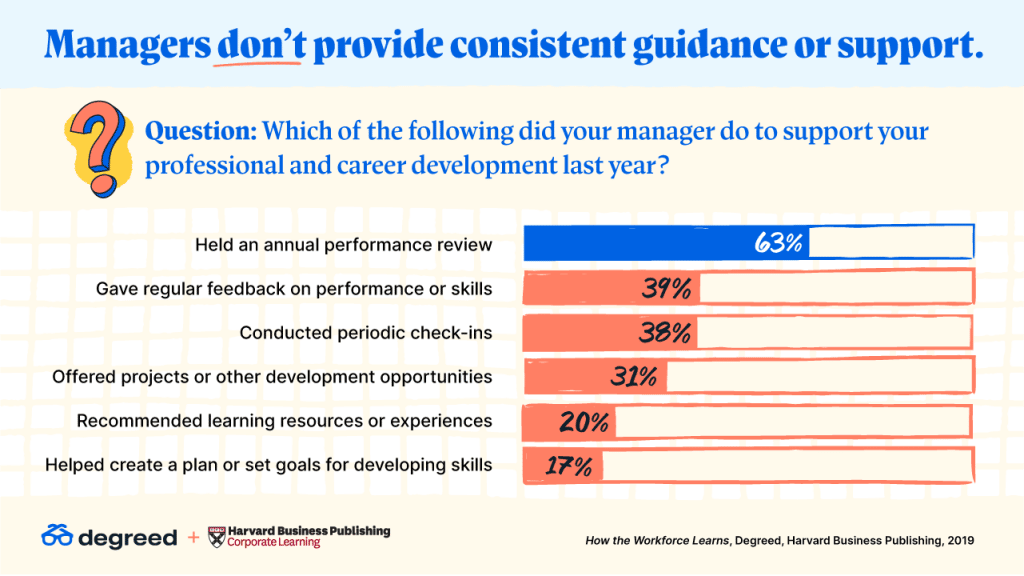 Our most recent report released late last year explored the perspectives of more than 2,400 people around the world and spelled out like never before the nature and scope of a great learning experience. We focused our attention on the differences that emerged between those who rated their company learning cultures as positive (called promoters) and those who rated their learning cultures as negative (detractors).
We found that in a positive learning culture, people are 92% more likely to say their manager supported their development.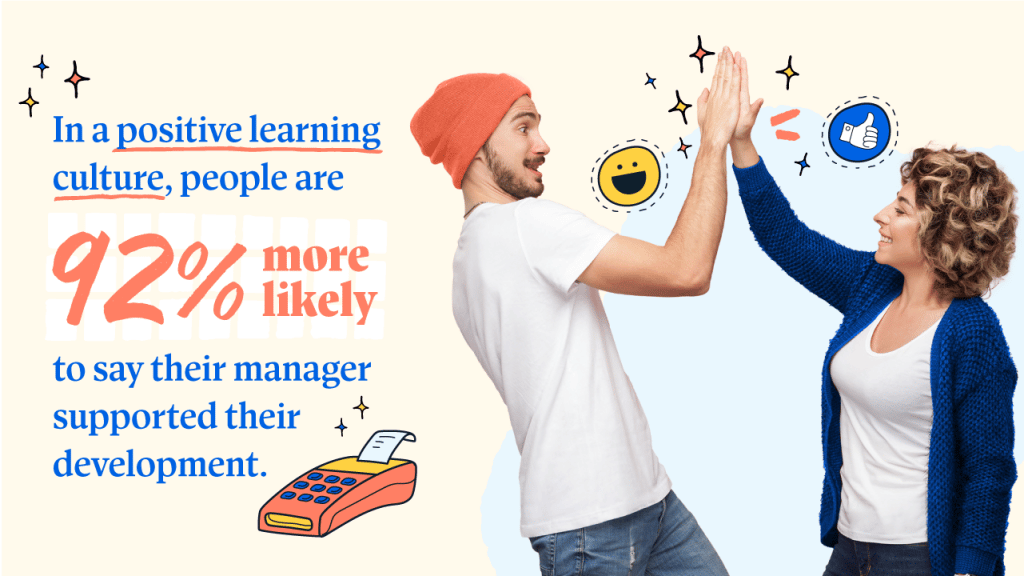 Let's take a look at how supportive manager behavior can help build a positive learning culture.
At a Glance: How Managers Can Support Learning
Our latest research shows that managers create a positive learning experience when they:
Provide guidance on how and what to learn. In a positive learning culture, managers encourage people to learn in a wide range of ways, help them understand what to learn for current and future roles, and help them identify focus skills.
Offer diverse and active development experiences. In a positive learning culture, managers embrace learning that's continuous and make sure their people know where to go for it.
Share feedback and insights on progress. In a positive learning culture, managers cultivate psychological safety that values continual, immediate, and informal guidance.
Extend opportunities to practice, apply, and stretch skills. In a positive learning culture, managers embrace on-the-job learning and keep their people updated on new opportunities to gain real-life experience.
Whether you're a manager with a motivated team or an L&D pro looking for new strategies to share with supervisors, you can help create the right conditions for learning that helps grow your entire organization.
With those conditions in place, people are more engaged, teams are more agile, departments adapt more rapidly and businesses grow faster.
Want to Learn More?
Download our new guide, 4 Ways Every Manager Can Create a Positive Learning Culture, to discover what managers can do to build a positive learning culture.
Or contact us to learn how Degreed can help you engage employees by connecting skills to new opportunities.