If your organization is feeling the pains of the ongoing Great Resignation, you're not alone. A recent Microsoft study found 41% of workers globally are likely to consider leaving their current employers within the next year.
Why? Typically, it's for one or two reasons. The first? A bad boss. The second? Lack of professional development.
To give your people the development they seek, and to create real business value for your organization, it makes sense to embrace a performance enablement strategy. This is a plan that's all about giving your people the resources they need to thrive.
You can enable performance by connecting what your people learn to ongoing, real-time and internal experiential learning opportunities in which they can explore new types of work.
For a performance enablement strategy to really fly high, managers need to play a pivotal role, according to Degreed CLO Kelly Palmer. "The manager is the role that actually makes or breaks whether this will be successful."
Culture Through Partnership
Experiential learning opportunities often originate with managers. With employees providing demand for growth, managers supply the means through stretch projects, gig work, mentorships and more.
And once those opportunities are defined, "It's the manager's role to partner with employees to help them progress on their career journeys," Palmer said.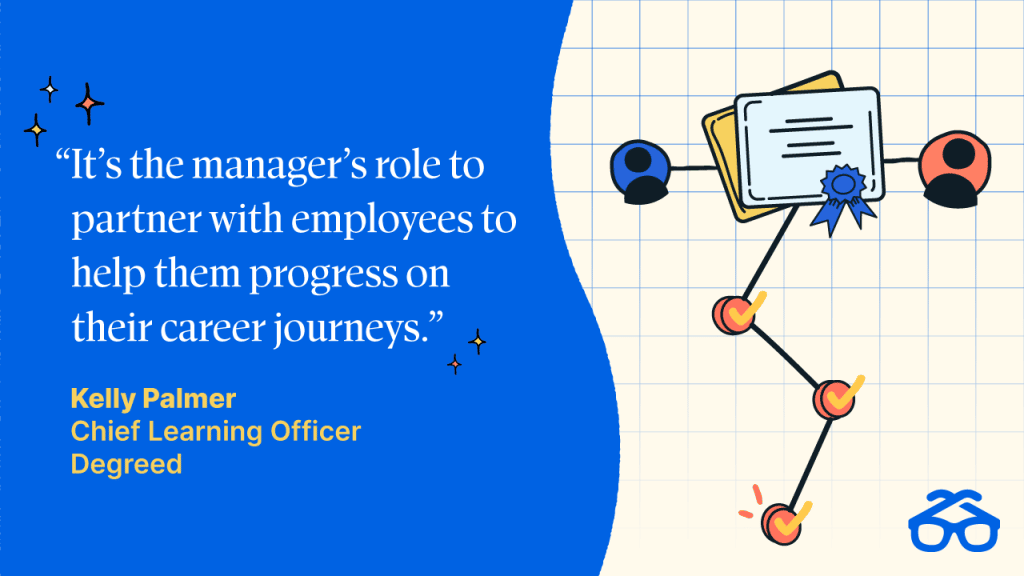 The end goal is creating a rich and positive learning culture — one that integrates your skills, technology and implementation strategies. Managers are uniquely positioned to affect change that gets results when building a positive learning culture that supports performance enablement. In fact, we found in a positive learning culture, people are 92% more likely to say their manager supported their development.
Rewarding Connection
Managers assessed solely on their ability to get work done will hoard talent. And hoarding talent, especially rockstar performers who want to develop, is a surefire way to lose those people to other organizations that will offer those opportunities, Palmer said. "I've seen this happen so many times."
Losing people is costly. A growing body of research suggests hiring external candidates — versus internal hiring, experiential learning, or upskilling — requires more compensation, takes longer and carries more risk.
When managers are evaluated on leadership skills, however, they're more likely to be flexible about sharing talent with other teams. And they're more open to letting their people be mentored by other team leaders. Our research found that, in a positive learning culture with manager support, people are 113% more likely to have worked with a mentor or coach to improve skills.
"Organizations that are most successful at developing workers cultivate managers who connect employees to the right people and resources at the right time," according to a 2019 Gartner study. These managers boost employee performance by up to 26% and more than triple the likelihood their people will be high performers.
In that same study, more than 70% of HR executives said managers should get more involved in coaching.
Some companies track career conversations, how many projects are staffed cross-functionally and how many promotions are internal. When managers are measured by these metrics, Palmer said, "They're recognized for being amazing leaders for internal talent, and then they're much more willing to be that kind of manager."
Three Takeaways for Managers
1. Make your relationship with your workers a partnership.
"Have regular career conversations with your employees," Palmer said. And because those conversations have a different dynamic and purpose than a performance review, do them separately. Performance enablement isn't the same as reviewing performance. It's about setting people up for success.
Make sure to dedicate calendar time for weekly check-ins with direct reports. Before these conversations, identify key results and goals you want to achieve in partnership with your people. Chatting about goals, opportunities and expectations can help build trust and alignment and give your people confidence you're dedicated to their success.
These career conversations don't have to take a lot of time to make a big impact if you plan efficiently. Checking in with someone or asking what they learned after a big project can take as little as five minutes. It helps to set reminders to ensure you're dedicating five minutes a week to recognizing effort. By using your time wisely, planning efficiently and setting reminders, you can become an active part of your people's career journeys.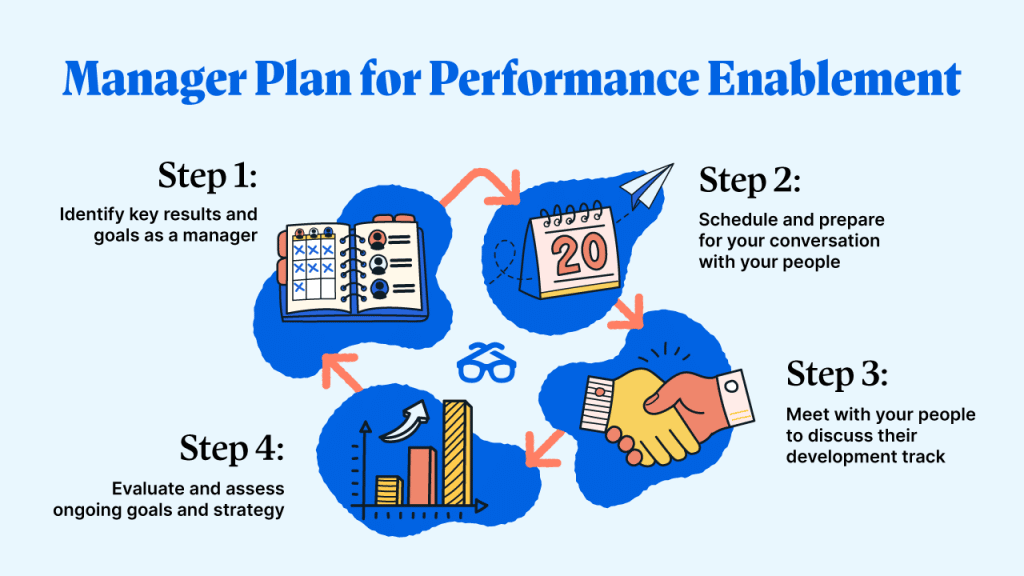 2. Always think about how you can give your people new challenges.
These can be special projects and other short-term opportunities. Maybe someone on your team wants to be trained or mentored. Or perhaps that person wants a chance to train somebody else. Experiential learning and enablement don't just have to be about taking on a new, full-time position.
It's important to consider the connection between what your people are learning and the types of experiential learning opportunities they get to explore. If they're using Degreed to learn new skills, the opportunities they see when browsing an opportunity marketplace are aligned with that learning. And that means opportunities are personalized, relevant and changing over time as skills grow.
3. Help create a company culture that rewards learning and mobility.
And If you're a manager, Palmer said, "Model what you want to see." If you don't make time to learn, your people will notice and they won't take your encouragement seriously. With a few small steps, managers can model learning behaviors. Talk about your own skill-building efforts during team meetings. Track your progress, and share content on a networked learning platform like Degreed to spread the wealth.
Putting It All Into Action
You may be concerned about how long these performance enablement conversations will take. Depending on your workload, global teams and shifting priorities, there's only so much time in a week. But fear not. That's where planning and preparation come in.
Factor in 15 minutes for a weekly check-in, and provide feedback as your people build new skills. To prepare, spend up to 30 minutes on planning to evaluate what you need to bring to the meeting. The most helpful move is to co-create learning and development plans with workers. Listing relevant topics, skills and roles gives them the clarity they need to develop themselves. Then, revisiting and revising these learning plans can become the basis of those regular career check-ins.
It's especially helpful if you have something to reference as these conversations go on. Something to turn back to and make sure you're fully prepared for these meetings. That's why we've created a manager conversation worksheet. Download and use it for all of your performance enablement conversations.
Want to Learn More?
Download our new guide, 4 Ways Every Manager Can Create a Positive Learning Culture, to discover what managers can do to build a positive learning culture.
And be sure to download our new manager conversation worksheet, to help managers facilitate more productive career conversations with their people.