For some—like Degreed—remote work is built into the fabric of company culture. For others, operating without the comforts of a cubicle and the familiarity of in-person connections is a brand-new experience. The situation we've all found ourselves in is unprecedented. How can we keep focus when distractions lurk around every corner? How do we stay responsive when priorities are shifting at hyper-speed? How can we encourage "business as usual" when it feels like anything but?
We're interviewing clients across a wide variety of industries to hear how they're supporting their newly-remote workforces, creating virtual learning programs, and maintaining productivity in uncertain times. This is definitely new territory for us all, but we hope that by sharing best practices, insights, and real stories, we can all continue to grow, learn, and thrive—together.
Check back often for new entries in Navigating the New Normal: Advice from Degreed Clients.
Most recently, we spoke to Julie Dervin of Cargill. A global company, Cargill is based in Minneapolis and has about 160,000 employees spread across 70 different countries. Their mission is to draw together the worlds of food, agriculture, nutrition, and risk management.
Degreed: Can you briefly introduce yourself?
Julie: I'm Julie Dervin and I'm the Head of Global Learning for Cargill. Our purpose is to nourish the world in a safe, responsible, and sustainable way. We serve as a trusted partner for food, agriculture, financial, and industrial customers in more than 125 different countries.
Degreed: How are recent events affecting Cargill's workforce?
Julie: Our first priority is making sure our people stay healthy and safe. We have teams set up to monitor our locations and our geographies, balancing what the local governments are asking of people as well as what we need to do as a company to make sure that our people are safe. That leads to doing everything possible to mitigate disruption in our global food supply chain, to ensure that we are doing our part to supply the world with the food that they need.
The impact on our teams is different depending on the geography and the type of business they're involved with. Parts of our workforce can work remotely, but for others, remote work is not an option, including those at plant and production facilities. It's times like these where we rely on Cargill's values to bring us together and guide us: People first. Do the right thing. And reach higher. The message we are receiving is that while we may be working differently across the globe and prioritizing measures to keep our employees safe and healthy, it does not mean our work stops. Cargill provides an essential service to the world—providing ingredients, feed, and food that nourish animals and people.
Degreed: What about your learning and development team—how are they responding?
Julie: We have learning and development team members across the globe. We're making sure that we are aware of what's happening in the local environments where those employees live; we're being very sensitive and supportive in how we can help. And we're exhibiting empathy because it's placing hardship in many different areas of the world. We just need to be understanding and supportive as team members.
Just like other people, the transition to working differently has maybe taken a week or so. Everyone is adjusting to what that means for them. How do they create the space within their own homes to do the work that they need to do? And take care of their families as well? The situation is changing by the day and that requires us to remain agile across all aspects of our lives right now.
But beyond these challenges, it's been engaging for our team to recognize how we can do our part to support the organization, our employees, and our leaders with various content and resources that will help them navigate this transition.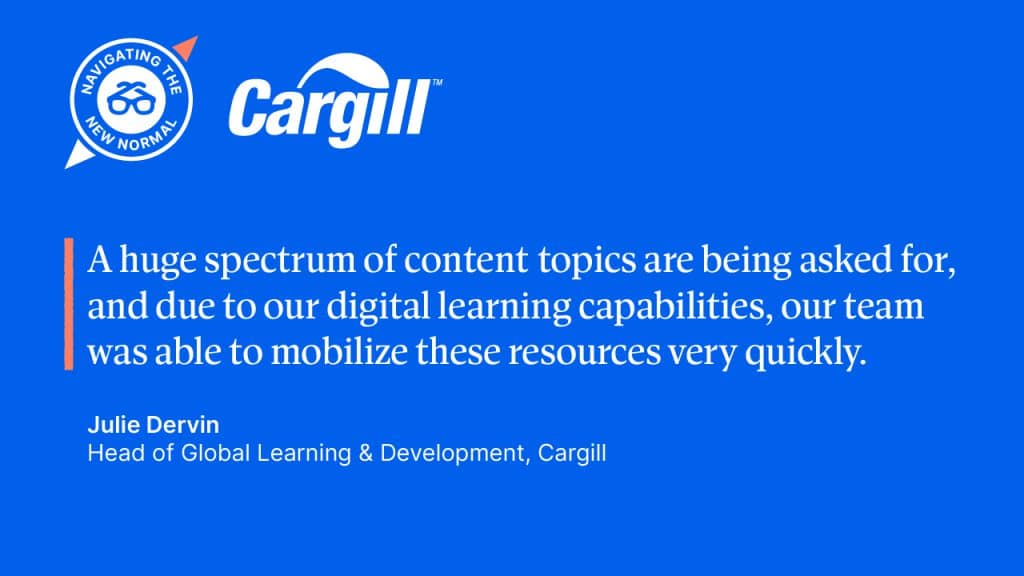 Degreed: What do you mean when you say "doing our part"? What does that look like?
Julie: First, we organized a small team to understand what kinds of content our employees needed— everything from how to use different productivity tools, like Skype and Microsoft Teams, to stress management and leadership resources on how to support your team while working remotely. A huge spectrum of content topics are being asked for, and due to our digital learning capabilities, our team was able to mobilize these resources very quickly.
When I say quickly, I mean that within a day or two they got their arms around the most critical topics. Then they started curating the content, creating different Pathways, and setting up a site within Degreed. Our crisis management and communications teams can leverage and reference these resources as they send out communications globally to our employees. Now we're seeing communications from our CEO and executives, and embedded in those communications are references to this content.
Second, our L&D team is partnering with our broader HR population across the globe to make sure we have a coordinated approach to deploy resources as they are ready. In response to different needs in different locations, we have a structure set up in Degreed that people can search, curating their own local content as needed. Our team is showing them how to do that, providing the tools and resources, so that we can have a broad network to curate relevant content, helping our employees and leaders during this time.
The third thing is to keep business going as usual. A key message from our executive team is, "We are working differently, but work doesn't stop." Yes, we need to prioritize, but also we have critical priorities moving forward. We are in the midst of some significant projects to support our digital learning transformation. A positive highlight is that we had a major milestone coming up at the end of March—to provide employees with a single point of access for all their learning needs and the ability to navigate between technologies within our learning ecosystem. We were able to deliver that an entire week early.
We were not able to do big, splashy communication around it, because we want to keep channels open for the critical communications around COVID-19. However, through the integration of learning resources within those channels, we were able to make the employees aware of this new centralized learning resource. So, we're taking a bit of a soft role, but that has been a major project that our team has been working on for the last four to six months.
Degreed: Are there any specific tools or technologies that your organization is finding useful now?
Julie: Communication and collaboration tools seem to be the focal point. We use internal communication tools like Yammer and SharePoint. One of the tools that is starting to get a lot of attention is Microsoft Teams.
The organization was piloting some new tools with smaller populations within Cargill. They fast-tracked some of the call tools, collaboration tools, and video conferencing tools in response to this, opening them up to the entire organization. That required some immediate response around training our employees to use these new tools, so they could get up and running quickly.
That was another highlight. Our global IT function was pushing live web conferences with significant numbers of seats to train employees on MS Teams. So we reached out and said, "Hey, how about if you record a series of short videos? We can partner with you to create content on how employees can use Microsoft Teams." We did that instead of burdening our network with large meetings that had hundreds of logins. Making sure that we're using our network for business-critical reasons reduces the number of big meetings that can create issues for employees trying to connect.
Degreed: Did you or your team learn any lessons over the last week that would be useful to share?
Julie: We feel fortunate. Maybe it's a bit of luck. We started this digital learning transformation a couple of years ago, so we have the tools and the resources to help the organization. Had we not started this transformation a couple of years ago, we wouldn't have the digital capabilities we have today. This current environment we are in has really put our digital learning strategy and capabilities to the test. We are thankful the decisions we made over the past couple of years to move in this direction has enabled us to continue to support our organization's learning needs.
Another thing this has highlighted is that not only do we have to keep the work going, but we have to think differently about how we continue to cultivate our team culture, how we stay connected, how we have virtual hallway conversations. We want to keep that human connection, it just looks very different when everyone is more isolated and working remotely. This is helping us to accelerate how we do that— and to pay attention to how important that is.
Degreed: Is Cargill at the point where you and your team are starting to think ahead to what comes next?
Julie: We're well-positioned now to make that shift to being a skills-based organization. For Cargill, we have to figure out the business case for each of these priorities. There's the business case around reskilling and upskilling, especially where jobs may be impacted by technology. There's the case around open talent markets. How do we bring greater transparency and visibility into the skills that we currently have within our workforce and maximize the capacity that we have across the organization?
We need to figure out—for Cargill—what is that business case and how do we prioritize those? Where does the organization need us to focus first? It's beyond just learning and development. How do we coordinate across HR practice areas such as talent acquisition, organizational effectiveness, performance management, or compensation and benefits? How do we make sure that we are all aligned around the priorities, and that each of our strategies is designed to enable that shift to a skills-based organization? That's next on the horizon.