Did you know that less than 20% of companies use advanced learning technologies? That's it.
Why is that percentage so low? There are lots of possibilities—a lack of growth mindset or even a weakness of business partnering and leadership—but David Perring, Fosway Chief Insights Officer, believes the most significant barrier is expertise: These companies "don't have the level of expertise to execute learning technology well."
If your company is part of that vast 80% that aren't advancing their learning tech, whatever the reason might be, then you're on the wrong side of that Fosway statistic. If you're on the wrong side of the statistics because of a lack of expertise, don't despair. You have options.
At Degreed, we do more than create learning technologies to power open learning ecosystems. We also consult. We advise. We guide. We can jump in next to you to get the work done. And we take great pride in doing so. We're more than a platform provider.
We're a partner and want to help you advance your learning technologies in custom ways that make sense for your specific organization. The Degreed Professional Services team operates at the core of these efforts.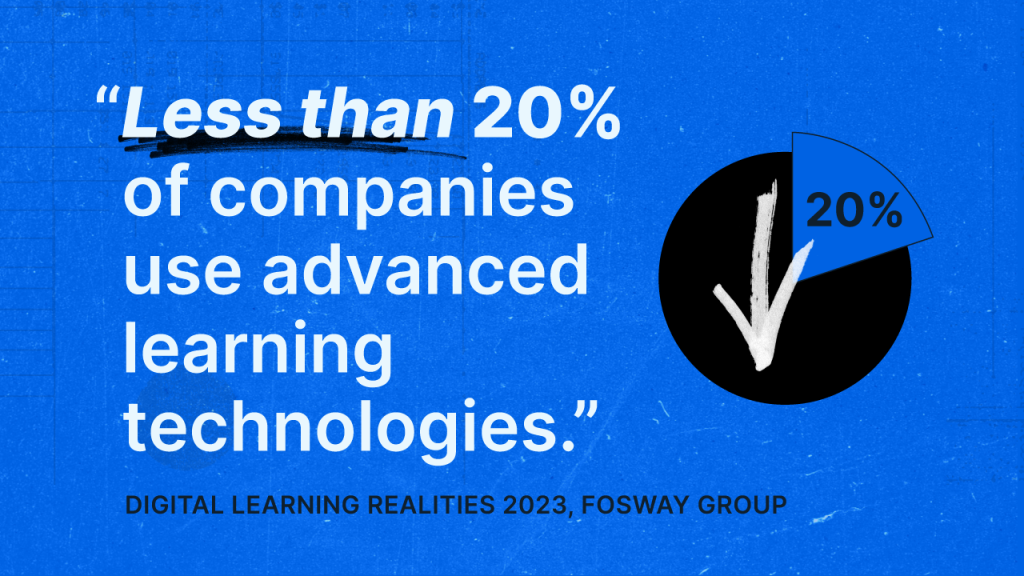 Providing You with Learning Technology Expertise
Understanding, purchasing, integrating, and using learning technology is perhaps the most daunting part of an L&D pro's job. While most have tremendous knowledge and know-how when it comes to learning techniques, methodologies, styles, and approaches, they're not always experts when it comes to learning ecosystems, skill data analytics, APIs, and other tech acronyms. And let's not forget that new learning technology is purchased because of the desire for transformation. Transformation is change and change is hard.
This is why Degreed offers clients technical consulting. Through our Professional Services offerings, we can help with anything from streamlining admin processes to integrating Degreed into your existing learning tech ecosystem. And when your technical needs evolve—and they will—we're here to work with you through the changes and answer all your technical questions.
Boosting Engagement and Adoption
Degreed Professional Services offers more than technical expertise. If you need a marketing and change management guru to make your learning technology stick, we can help with that too. All too often, a new learning tech platform fails because of a lack of consideration for the people side of the technology. To help you avoid this, our Professional Services team has implementation and adoption down to a science.
Our team has worked with hundreds of customers to implement the Degreed platform. With every new project, our knowledge grows with theirs. We're confident we can recommend the right implementation and adoption strategies based on your company's goals, size, and industry.
Translating Metrics into Business Impact
L&D tends to struggle with turning learning metrics into business outcomes. That process is a bit like alchemy, requiring some science, a bit of art, and a sprinkle of what can seem like magic.
The struggle is very real: The Brandon Hall Group in 2021 found that while almost every company (87%) expressed the need to align learning and goals, only 13% said they could get the job done. Let us know if you, like many other L&D professionals, struggle to prove your team's business impact. Degreed Professional Services can help.
To make Degreed Professional Services as effective as possible, we've carefully assembled a team of industry experts and ex-CLOs who love to consult with prospective clients. These team members understand from their personal experiences how difficult it can be to "speak C-Suite." That's why we've developed innovative methods you can use to deliver L&D metrics that excite your C-Suite.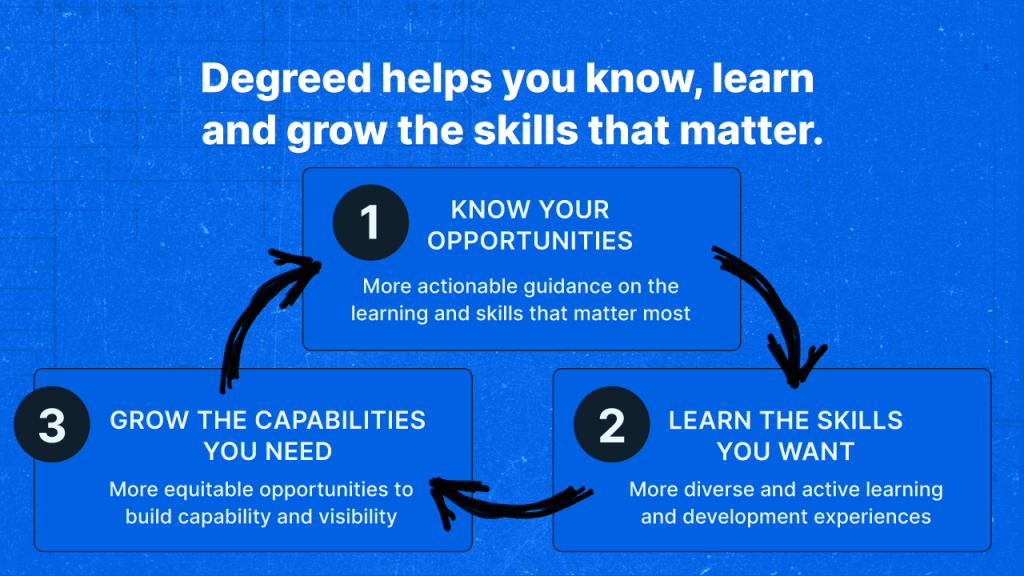 Activating Learning AND Skilling
While we're on the topic of appealing to your C-Suite, nothing gets senior executives more hyped than internal skill development. Nay-sayers might argue that accountability for skill development belongs with your HR or Talent teams, but what's the key ingredient to developing internal talent or developing new skills? Learning.
If your senior leaders want to activate skills, they'll need mature learning technologies for metrics and skills-based learning. Our team has been actively helping clients grapple with technologies like these for years. Degreed is one of the few learning tech platforms with a track record of helping clients understand the skills their organizations have and the skills they need to win in the future. By helping clients connect the gears of learning and skills, organizations unlock insights and intelligence not otherwise possible.
How? Clients use Degreed to build insights based on a wide range of analytics our systems generate. Our learning tools and partner integrations enable employees to obtain credentials, which in turn provides L&D even more data for insights. And Degreed helps people develop skills by connecting employees with a talent marketplace, which lets your organization share and resource skill projects, internal gigs, and more.
Check out our article about the Degreed Product Suite to see all the other ways we support business impact.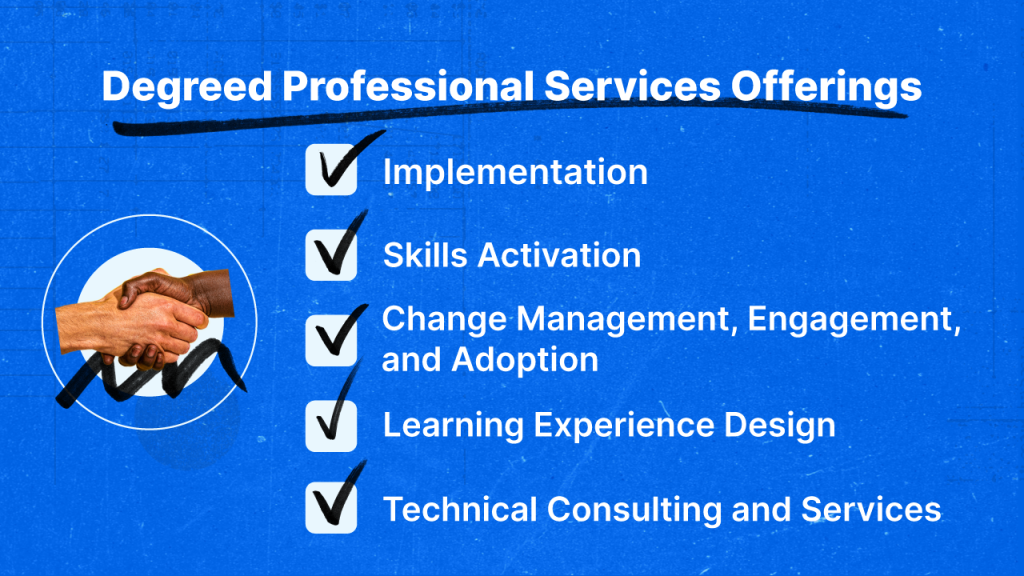 It's time to invest in your digital learning technology.
"The world is moving so fast," Perring noted in the Fosway report. "Not think[ing] about how technology can deliver transformation . . . is dangerous."
In other words, if you're part of the 80% of companies not using advanced digital learning technology, you need to make a change.
Don't let your lack of learning tech expertise, confusion about implementation techniques, adoption strategy, vision for skills, transformation for learning, or inability to speak C-Suite keep you from developing your L&D ecosystem. If you work with the right partner and resources, exploring and engaging with new opportunities can—and should be—a smooth and successful experience.
Get started today. Book a private consultation with the Degreed Professional Services team.