A positive learning culture is key to keeping your company competitive. Why? Because the right learning experience can make your people more skillful and agile. It can make your business more responsive. The value it creates can help drive revenue.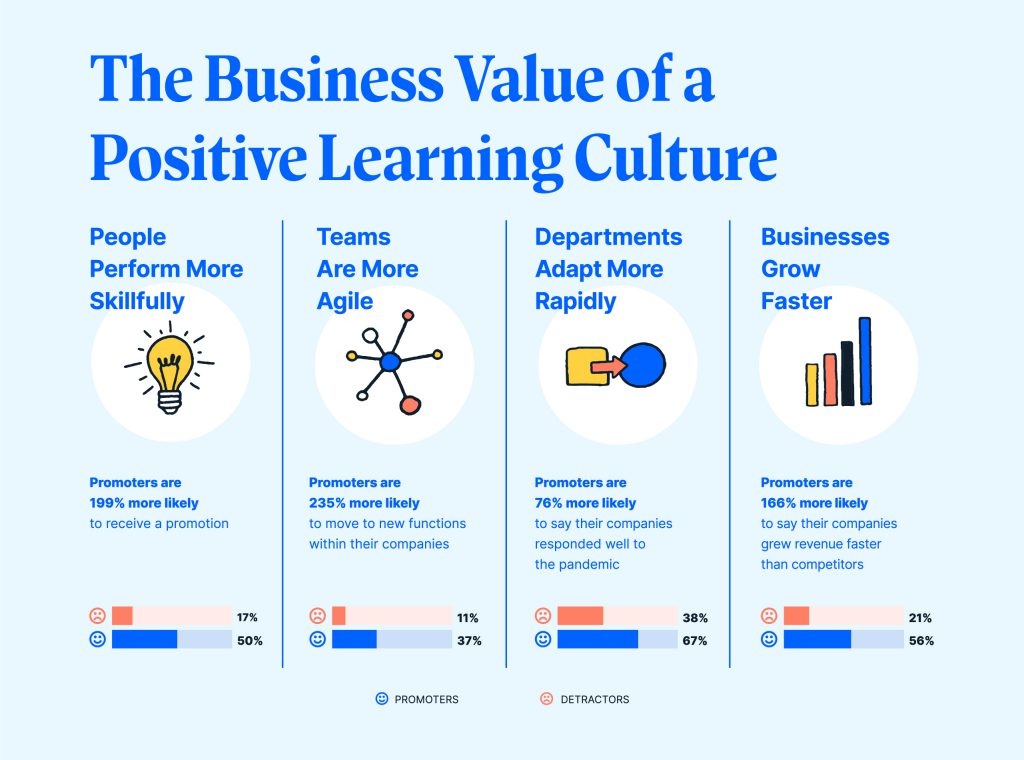 Defining a Great Learning Experience
The Great Resignation is here, threatening costly workforce turnovers that could devastate businesses large and small. That's why many L&D teams are reevaluating their learning cultures, hopeful that new and revitalized learning experiences will boost employee engagement and retention.

But learning culture can be hard to define, and it's tough to know what works. That's why we asked the hard questions and created our latest research report, How the Workforce Learns, exploring the perspectives of more than 2,400 people around the world. In doing so, we took note of commonalities and spelled out like never before the nature and scope of a great learning experience. We did this by focusing our attention on the differences that emerged between those who rated their company learning cultures as positive (called promoters) and those who rated their learning cultures as negative (detractors).
The resulting roadmap describes 15 things you can do, starting today, to help your organization not only keep up with but drive global change and digital innovation.
Here's the secret: Companies driving change are doing a lot more than simply creating or sharing learning content. According to our data, these teams are shifting their focus to creating conditions for learning.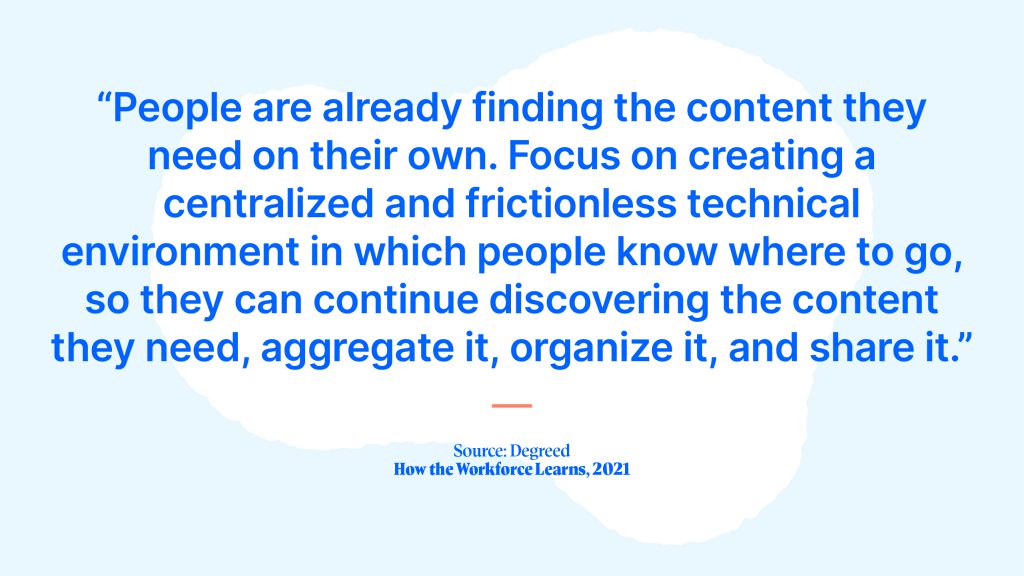 Workers can already find the content they need for just-in-time learning every day, and it's been that way for a while. But to elevate that access into a culture of continuous learning, the smartest L&D teams embrace and implement strategies that make it easy for people to find what they need — from a centralized place that lets them collect, organize, and share not only content but their own expertise.
Let's Take a Closer Look
Among other findings, our research shows that learning teams create a positive learning experience when they:
Provide guidance on how and what to learn. In a positive learning culture, people are more engaged with all three types of learning experiences in the 70|20|10 model: experiential, interactive, and instructional. For example, promoters are 103% more likely than detractors to find relevant learning from a coach or mentor.
One key takeaway is that upskilling comes from experiential learning, or learning in the flow of work. Thus, experiential learning opportunities should be digitized, democratized, and accessible to all of your workers to ensure inclusivity. Leverage technology that increases exposure, and use selection frameworks that decrease social biases.
Offer diverse and active development experiences. In a positive learning culture, structured learning is consistent. For example, promoters on average attend a class or workshop nearly every month, while detractors attend structured opportunities less than annually.
Offer classes, workshops, or other formal learning opportunities on a regular basis that use a blended learning approach. Introduce "flipped classrooms," which allow people to play a more active role in applying their skills and teaching others. This improves knowledge retention.
Share feedback and insights on progress. In a positive learning culture, skill data is tracked across more employee profiles and updated more frequently. Note that promoters are almost 200% more likely to update their company job application system to look for internal learning and growth opportunities.
One action item is to give your people a reason to update skill profiles more regularly. Make sure they understand how their skill data can benefit them from a social and developmental standpoint. Use things like leaderboards or influencer programs to give people incentives to update their profiles.
Extend opportunities to practice, apply, and stretch skills. In a positive learning culture, people grow in all directions, not just by climbing a vertical career ladder. The largest differentiator between promoters and detractors is the ability to work with new teams or functions. Promoters are 101% more likely to work on a temporary assignment with another team.
Promotions matter, but they're not the only kind of mobility. What employees need from their managers and your learning team is the support and resources to grow in all directions. That could look like a mentorship or working on a temporary project with another function.
Getting Started
Retention. Culture. Worker engagement. We recognize you have huge priorities right now, and that's why our research is presented as a tool you can use to better understand what your people and organization need. How the Workforce Learns, 2021 is a guide designed to help position L&D as an innovative leader.
As you work through the report, remember that a phased implementation of its recommendations might prove best — and that key stakeholders, as well as people managers, can help prioritize goals.
Learn more about how you can create a positive learning experience at your organization. Download How the Workforce Learns for free today.