The age of big data has landed us in a world where we expect every online experience to be personalized to our unique interests and curated for our desires.
We take for granted the personal experience presented to us on Facebook and Linkedin, the recommendations on Netflix, and personalized playlists on Spotify and Pandora. We assume online retailers will only promote relevant products to us, and get frustrated when promotions aren't relevant.
What is personalization?
Perhaps the best example of personalization is what you experience when you log-in to Amazon. Amazon's product recommendations seem to hint at telepathic abilities. I see recommendations for products I had no idea existed, but once seen, I must have them.
Personalization is a movement with a lot of momentum among consumer websites, and the approach has been wildly successful. In 2012, Amazon reported a 29% increase in sales in its second fiscal quarter, largely due to the personalization strategy it incorporated into every part of the purchasing process. Amazon isn't the only one- nearly 80% of all marketers say personalization has boosted revenue.
The personalization movement for consumer websites is now spreading to enterprise software. The trend to consumerize enterprise software – making enterprise software more engaging for the end-user – is only in its early stages, but it's on the rise. It's becoming increasingly difficult for enterprise software companies to gain traction in organizations without creating a great user experience.
Personalization is an especially critical issue in corporate learning. Traditional learning solutions have been corporate-centric, focused on mandatory training and compliance which has resulted in low employee engagement. Half of people surveyed said they use their LMS for voluntary development once a quarter or less. Workers are more likely to turn to a colleague or Google to satisfy their on-demand learning needs [Degreed].
Personalization and an employee-centric approach to learning is an often cited trend for 2016 [L&D Global Sentiment 2016]. Research from Bersin by Deloitte highlights that improving the user experience is a main buying criteria for new HR solutions for 67% of people surveyed.
Bersin by Deloitte has published several research reports about the overwhelmed worker. We're all bogged down with too much information, meetings, and emails. Employees cited not having enough time as the most common obstacle to workplace learning, but at the same time we all know that learning is a critical competitive advantage – something we all need to be doing to compete in today's market. The solution is a set of tools that can streamline the learning process – deliver the right content, to the right person, at the right time.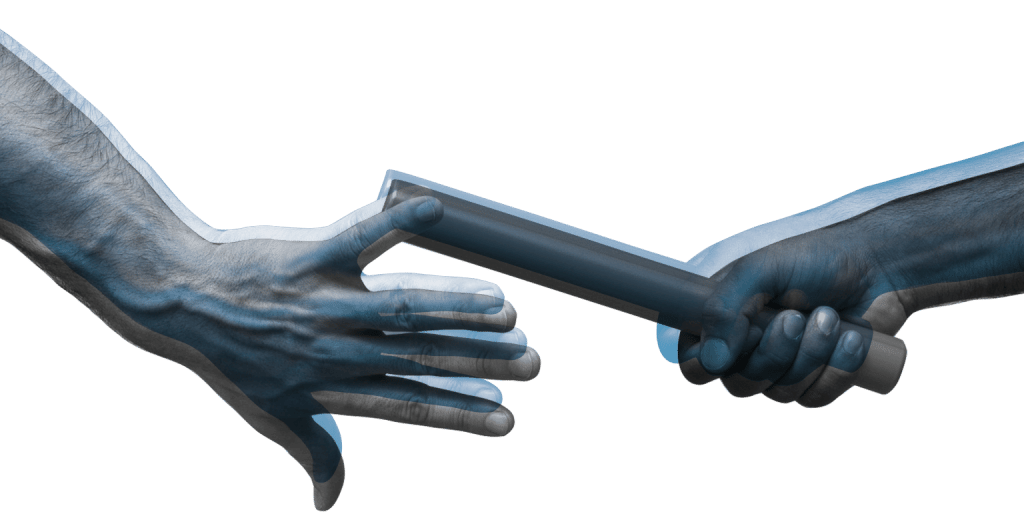 Personalization and Corporate Learning
Personalization in corporate learning has the potential to revolutionize what companies can offer their employees in terms of tangible career growth. Similar to the product offerings you see on Amazon, what if you were offered courses, articles, and videos that perfectly aligned with your current and future career goals – saving you the time of searching online, subscribing to blogs, or hunting across various intranet sites at your company? So why aren't more corporate learning solutions offering a personalized approach to learning tailored to each individual's needs? A few are.
There are three main ways to accomplish the goal of a more personal approach to corporate learning:
1. Manual recommendations – the more traditional form of personalization, L&D directed suggestions based on employee's roles and business units. An admin or learning professional sends course recommendations to groups or individuals in the organization. Perhaps marking certain courses as mandatory. Some platforms allow managers to create personal learning plans for their direct reports.
2. Social recommendations – from friends, colleagues, or managers.
3. System recommendations – based on data about the user.
Most traditional learning solutions can answer personalization using manual tools, where L&D professionals are assigning mandatory training based on roles and business units. But this type of personalization only covers the training that is happening periodically throughout the year.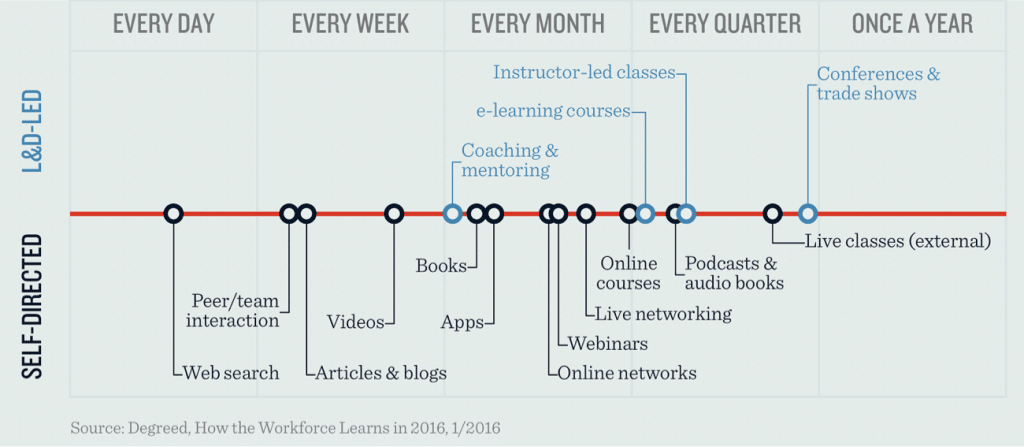 "Social" is another hot buzzword in corporate learning, and tools to facilitate social learning recommendations are on the rise. But most of these tools lack the ability to aggregate social trends, such as learning content that is popular in your network, or popular among people who are similar to you.
With the advent of big data and better algorithms for gaining insights, algorithmic or system generated recommendations will become more prevalent, streamlining L&D activities while allowing workers to take charge of their own learning.
The future of corporate learning will also need to include personalized recommendations for more than just the formal and mandatory courses traditionally offered in an LMS. If a personalization engine only makes suggestions for formal courses, this will only benefit the user periodically throughout the year. Based on our research, we know that when workers need to learn something new for their job they don't go to their LMS first.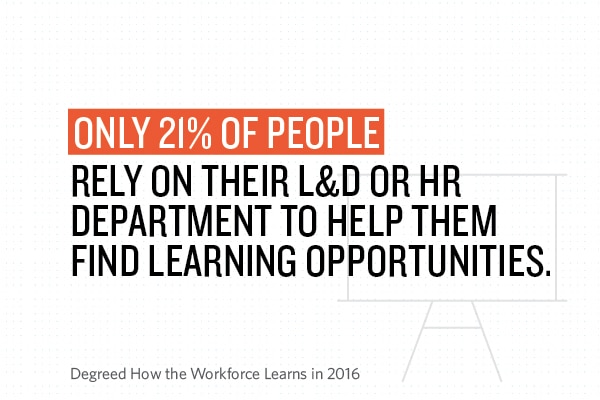 Degreed's Approach to Personalization
Degreed has taken a new approach to corporate learning – with a platform designed to enable and empower the learner. We are facilitating personal development, in the literal sense of the word, anywhere, anytime, from any device. To accomplish this, the experience is unique for each user by leveraging all three tools of personalization: manual, social, and system generated.
Like Amazon, Degreed is able to recommend learning content you may not know existed, but once seen you know you're interested in.
1. Manual Recommendations
Degreed offers the ability to send recommendations to an entire group or an individual. An admin can request rules so employees are assigned to pertinent groups and enrolled in relevant Pathways. An admin can also request which organization Pathways are featured more prominently in the library.
2. Social Recommendations
Degreed offers social tools for viewing and following what others are learning, so you can learn from an expert or a colleague you admire. Degreed makes it easy to join groups with like-minded learners, rate content, and join conversations, and send and receive recommendations from friends, colleagues, and managers. Not sure who to follow? Degreed will offer suggestions for people with similar interests.
3. System Recommendations
The first thing a user sees when she logs into Degreed is a dashboard of system recommendations – five items of personalized learning content tailored for each user, and refreshed daily, called 'Today's Learning'. These recommendations can come from either external resources or internal content sources proprietary to the organization.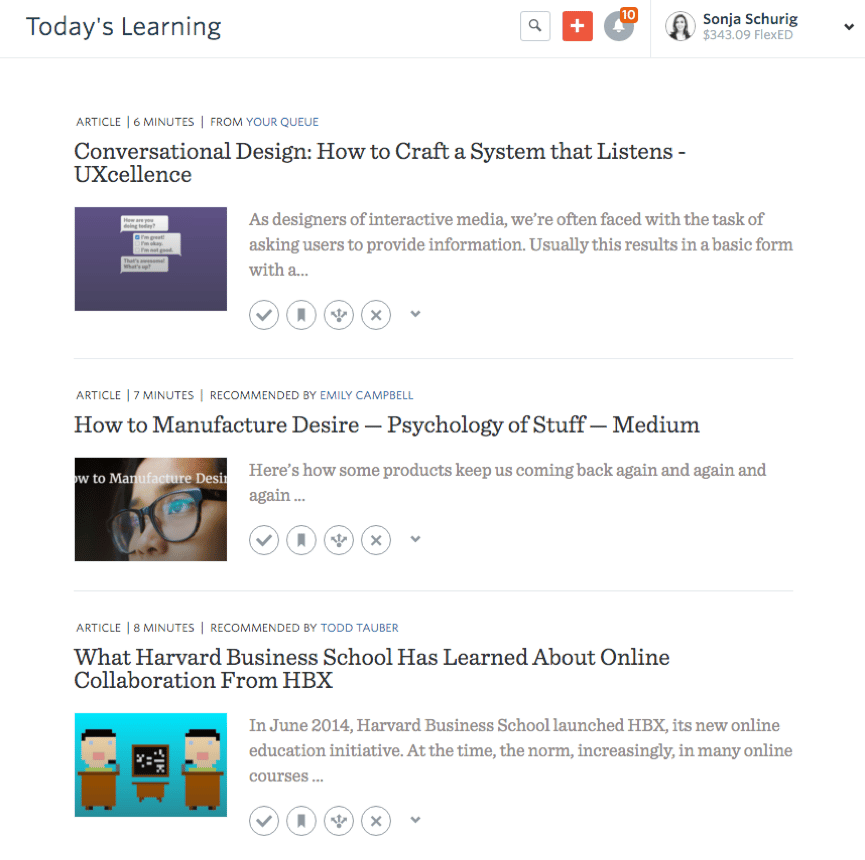 Degreed also offers a browse experience in the library similar to Netflix. The first thing a user sees when navigating to the Degreed library of content isn't just a blank search page, the user will be given system generated recommendations by default, with the option to search if you don't see what you want right away.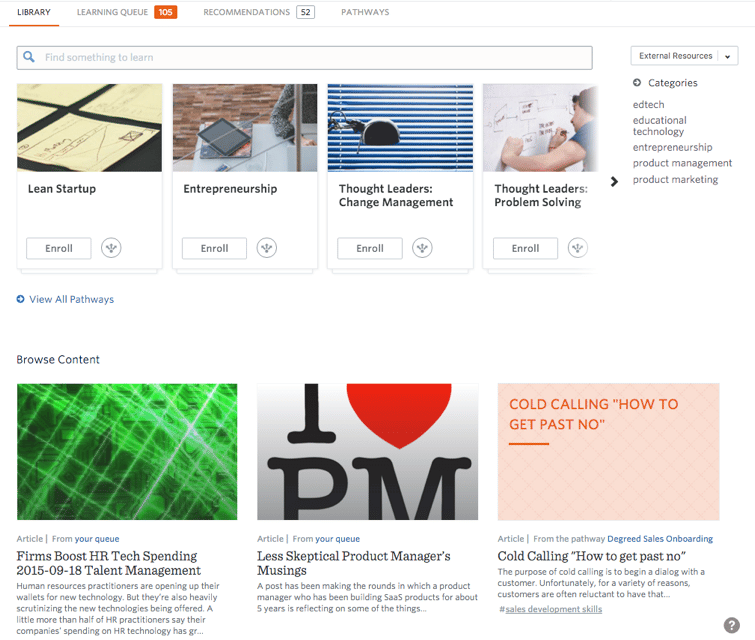 The result is a learning solution that employees actually want to use. The average LMS has a net-promoter-score of -31%, while the average net-promoter-score for Degreed is 70.

Takeaways
There are only a few enterprise learning software providers that utilize personalization, but just as this trend has taken over the consumer market, expect it to revolutionize the world of enterprise software as well.
In the market for a new corporate learning solution? Look for a tool that takes an innovative approach to corporate learning by building more consumer-like features, such as personalized recommendations. Today, nearly half of all online shoppers search on Amazon before making a purchase. Imagine a future where your corporate learning solution beats out online search as the most popular place for learning in your organization.
Learn more about how you can offer personalized learning at your organization here.