BMO didn't want people to simply build skills for today. Leaders there wanted workers developing for the future — to prepare every single one of the bank's 46,000 people for whatever challenges may come next year, five years from now, even 10 years down the line.
"We're focused on being bold on talent, so we have a multiyear talent strategy," CLO Gina Jeneroux said. "Learning is a critical component of that."
To support its extensive and long term strategy, BMO needed a way to "put learning in the palm of everyone's hand," Jeneroux said. "What if we put the employee right at the center and we built out an ecosystem that was all about them and what they need?"
The Solution: Learning Anytime, Anywhere
Only 10% of workforce learning at BMO takes place in a formal, classroom setting. The rest happens on the job or through on-demand access to instruction, said Karen Collins, Chief Talent Officer.
To power that on-demand access, BMO chose Degreed.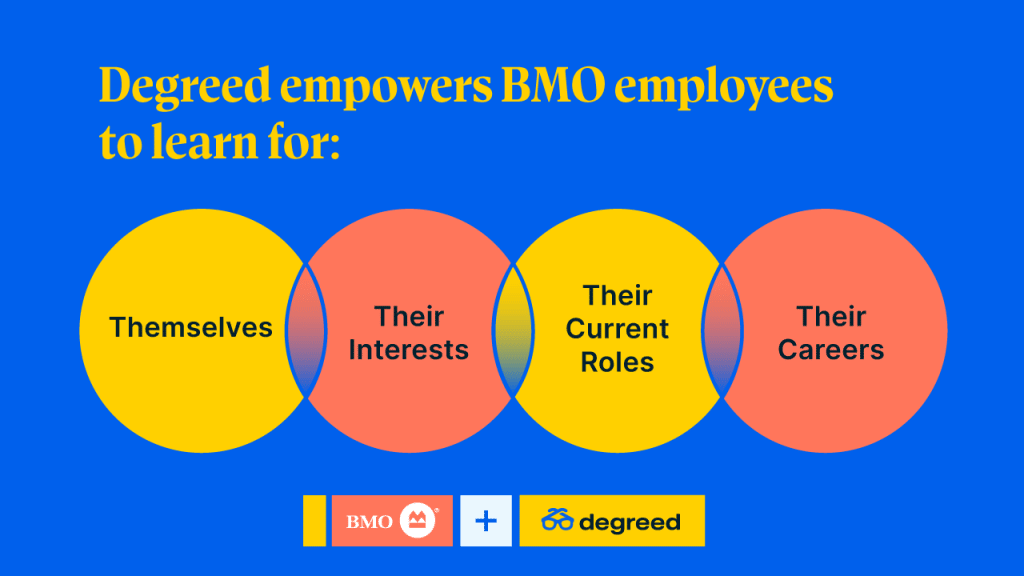 With its people spread across 22 countries, it made sense that BMO, the eighth-largest financial institution in North America, needed a solution that could deliver learning anytime or anywhere.
But there was more to it, said Elaine Jones, Senior Adviser, Enterprise Learning Governance. "BMO chose Degreed because we have similar visions."
Results: Connecting Skills to Work
With 34,000 activated users, adoption of Degreed at BMO is outstanding. That's 74% of the company's workforce.
Degreed gives BMO employees a personalized skill roadmap they can use to learn and navigate the next steps in their careers.
"What Degreed has allowed us to do is to really empower employees to learn for themselves — for their role, their career, or even their personal interests," Jones said.
In addition, Degreed helps the learning team be more efficient and effective.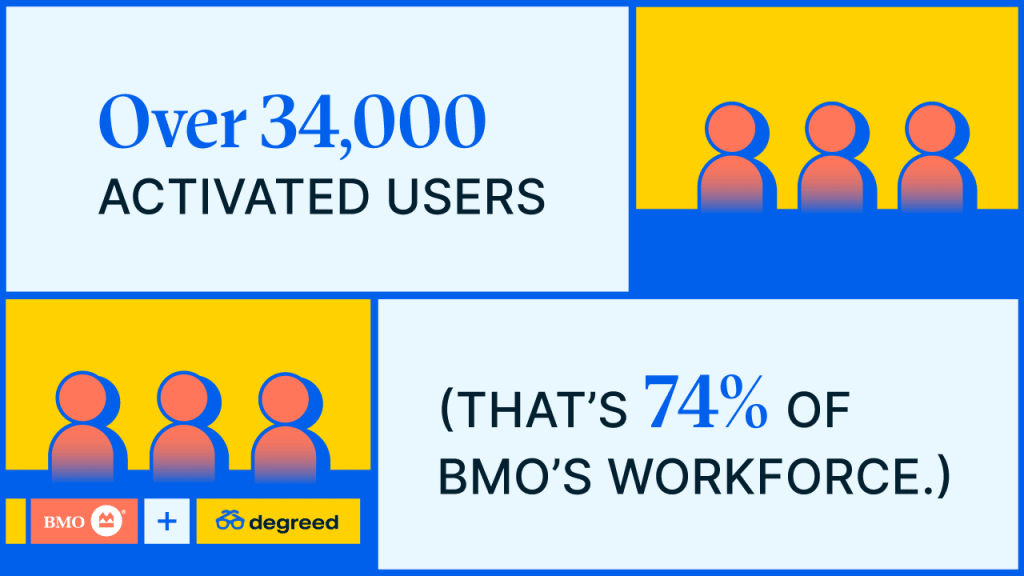 "Degreed makes it so much easier for instructional designers to go back to the administrative side of it and just have a wealth of resources available," said Meenu Nanwani, Senior Instructional Designer. "I really like the way that we have external providers and the flexibility of being able to add in a range of learning materials — be it videos, podcasts, articles — and construct a learning Pathway, and create that compelling user story."
Likewise, Degreed plays a big part in helping the entire BMO organization serve its 12 million customers. It helps make the whole business a success.
"Degreed has played a critical part in how we're able to operate as a business," Jeneroux said. "We're able to get much richer insights and be able to pivot, so instead of connecting people to jobs, we're able to connect skills to work, and that's going to be so critical for the future.
"At the end of the day," Jeneroux said, "it's about how we can actually help the business and our customers be successful."

Watch the full BMO success story below: