Like companies around the world, Cielo needed to fill strategic vacancies. Recruiters at the Brazil-based electronic payments firm faced a structural gap in which they could not adequately hire people with the skills needed to meet key business objectives.
Sound familiar? Unfilled positions are a common, global concern. A new and extensive Korn Ferry report finds that by 2030, more than 85 million jobs could go unfilled because there aren't enough skilled people to take them. Left unchecked, in 2030 that talent shortage could result in about $8.5 trillion in unrealized annual revenues.
At Cielo, the challenges didn't end with unfilled roles. In addition, business leaders sought to increase staff diversity, and learning leaders needed to reduce the cost of training across the company's workforce of over 6,000 employees at multiple locations across Brazil.
L&D Turns on the Turbo
To tackle these challenges, the L&D team in 2021 created Modo Turbo, or "Turbo Mode," a career acceleration program aimed at selected employees. Training happened mostly in person at the company's headquarters.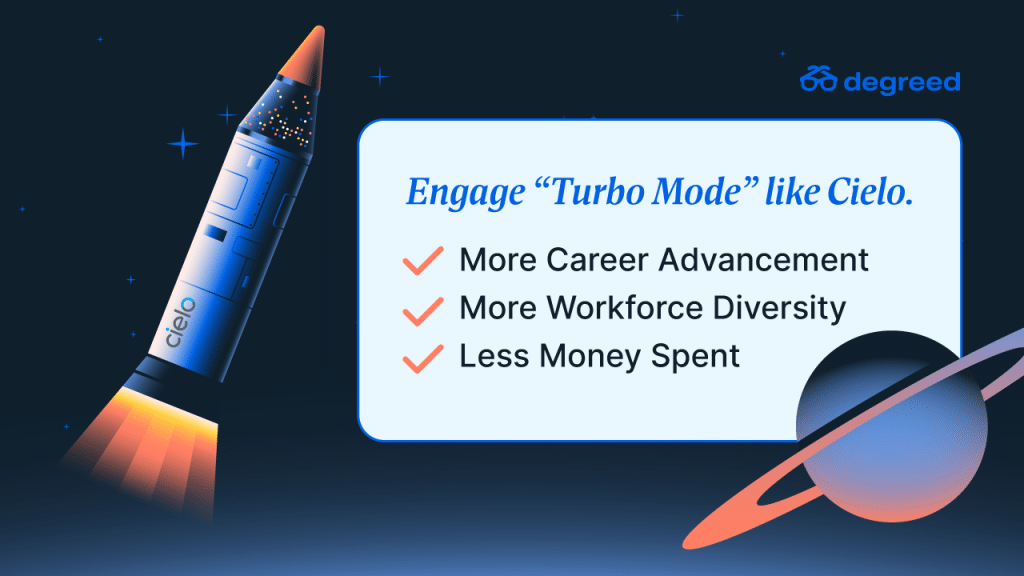 Turbo Gets a Boost
In 2022, learning leaders took the whole program a big step further and began supporting it with Degreed, which enabled the program to expand to other regions of Brazil. Today, participants follow a customized curriculum that covers soft and hard skills in weekly face-to-face and online training sessions. In addition, networking meetings with the company's leaders are a key component.
"With Modo Turbo, we have met the demand for faster and more effective preparation of professionals who, despite having potential, were not yet ready to assume strategic positions. The result is a more capable and developed team to overcome challenges and achieve the company's objectives," said Karla Woods, Superintendent of Attraction and Organizational Development at Cielo.
Speedy Results
The addition of Degreed switched the focus from in-person classes to asynchronous learning, which provided everyone involved with more flexibility. This in turn enabled a 36% increase in employee participation. The number of training hours increased, and completions jumped by 61%. Cielo saved an eye-popping 36% on its total investment in Modo Turbo. At the same time, participant satisfaction went up.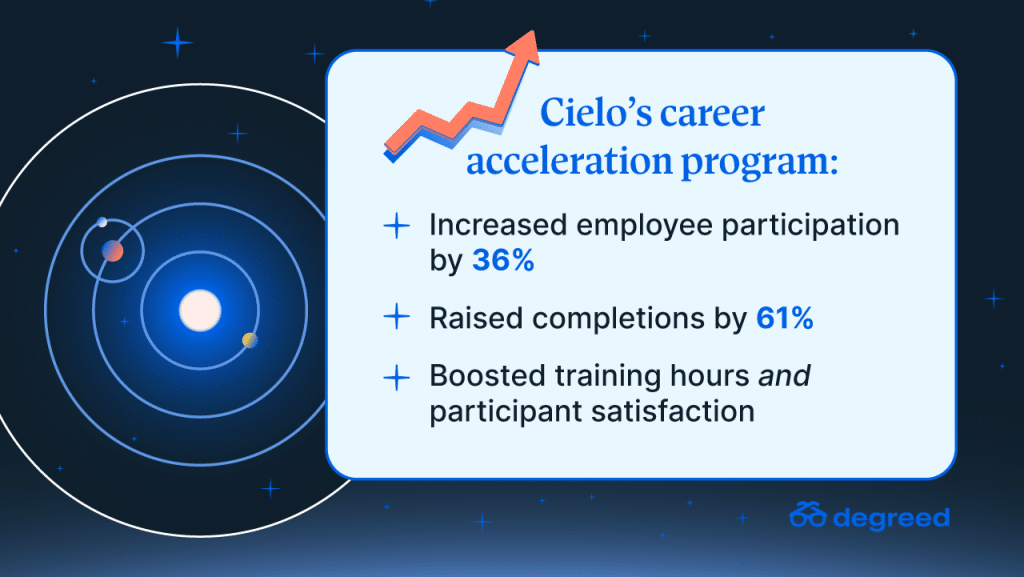 The program also reflected Cielo's strategies to strengthen the diversity of its workforce, with 50% of affirmative vacancies for women and black or indigenous people. The most recent class was composed of 57% women and 43% men. And in another big win, 53% of the participants were recognized with a salary increase or promotion after completing the program.
Looking Ahead
Cielo leadership wants to expand the Modo Turbo model to other learning projects — and Degreed will help make it happen
"Degreed clients are known for being pioneers when it comes to learning," said Débora Mioranzza, Vice President for the Americas at Degreed. "In Cielo's case, we worked together to create a customized journey that offered a robust and complete development framework to boost employees' careers. The results achieved by Modo Turbo are exceptional, and we couldn't be happier to be part of this story."