Enhancing workplace culture — and preparing for the future — rank among the most important factors guiding the next chapter of learning across APAC. And it's clear learning technologies will continue to play a key role in helping companies meet those goals.
Researchers recently took the pulse of L&D and HR leaders across the Asia-Pacific region and found more than half (51%) viewed improving training and development as their top strategy for elevating workplace culture. Providing greater flexibility and autonomy (41%) came in second, followed by facilitating collaboration (40.5%), according to the survey by HR Exchange Network.
"These responses fit with the growing trend of personalizing employee's experiences, demonstrating a desire to help employees grow professionally, and fostering a sense of community," according to HR Exchange. "In Asia-Pacific, HR professionals are focused on learning and development. Specifically, they said adapting training to a hybrid workforce (17.49%) and identifying skills to train for (16.94%) are their focus in L&D. There's an urgency with learning because 19.95% of respondents also said that the employee skills gap was the biggest challenge to the future of work."
Getting the Most from Learning Technology
From training employees to giving them more autonomy and supporting their collaboration, a thoughtfully designed learning ecosystem can play a huge role in helping business leaders meet today's business challenges.
Whether you're supporting personalization, fostering community, plugging skill gaps, or all of the above and more, best-of-breed learning tech is designed to help your organization find its place in the future of work and build real business value. It's why Degreed offers a comprehensive suite of solutions — Degreed LXP, LXP+, Academies, Benefits, Professional Services, and Extended Enterprise (EXE) — designed to put people's experiences first.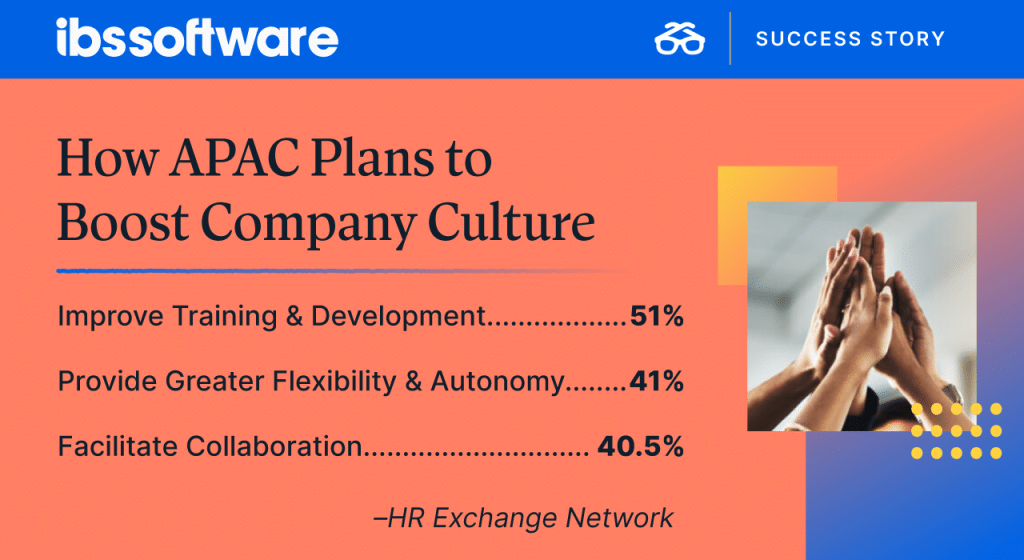 A Case in Point: IBS Software
A leading SaaS solutions provider to the travel industry globally, IBS Software manages mission-critical operations for customers in the aviation, tour and cruise, and hospitality industries.
Supporting Employee Transformation
Based in Singapore, and with 16 offices worldwide, IBS Software was challenged to give employees a more intuitive way to access available learning content — to help them meet expected competencies for their roles, to boost their performance, and to upskill with an eye on advancing their careers. How the organization solved these problems is the focus of our latest Degreed case study.
Degreed-powered Development
Using Degreed as a front door to learning, the L&D team put formerly disparate third-party learning platforms together in one place, creating an easily accessible and unified learning ecosystem. The L&D team, a unit of only five people, scaled learning programs by empowering each of the company's five lines of business (LOBs) as well as several software engineering units (SEUs) to use Degreed to drive the development of their people.

Relevant Learning at Scale
With help from Degreed, HR teams as well as the company's LOB and SEU leaders, managers and employees are clear on roles and responsibility expectations. Degreed Plans, as well as the personalized learning experiences Degreed facilitates, help keep everyone aligned with the company's role competencies and career frameworks.
People are supported with a flexible, unrestricted learning ecosystem. And employees across the company are getting the mission-critical skill-building content and information they need to be more productive.
"Degreed has beautifully integrated the various learning ecosystems that IBS Software had internally and also content platforms that were external," said Ganesh Iyer, Global Head of Learning & Development. "For a product company like IBS Software, it is important for our people to have domain and product capabilities, as well as essential technical skills. Degreed has played a great role in enabling this education."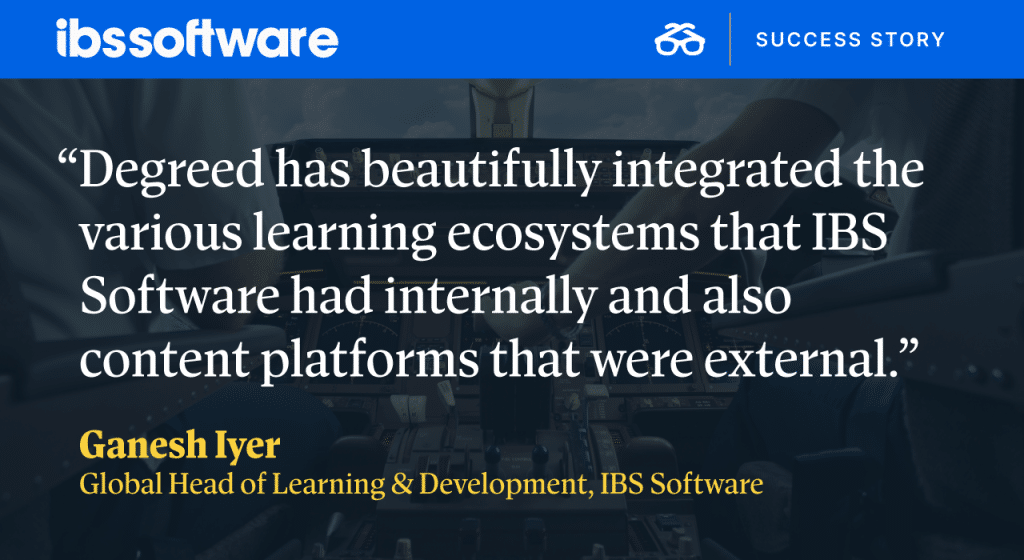 Find out more.
Let's talk more about your specific skill gaps, and how upskilling can help your company sharpen its competitive edge. Got questions? Want a demo? Contact a Degreed representative today.