Building a culture of continuous learning can be unnerving. It's hard to know where to begin when you're creating a model to align development goals with business objectives, all while maximizing engagement. The general consensus is that people need (and want) guidance in establishing a learning and upskilling strategy.
We know because we asked. When we released our Upskilling Strategy Audit, the goal was to help you see what's working, assess your biggest challenges, and figure out solutions. In turn, we learned a lot and created a personalized pathway of content and tools to help you succeed. Sounds great, right? If you haven't already, you can still take the quiz!
The results of the audit to date are telling, providing a window into what's lacking, working, and wanted at companies large and small. And that's where this new three-part blog series comes in — to help you understand the L&D landscape so you can increase participation, maximize insights, and provide your people with real-life learning opportunities. In this first part, let's focus on understanding how a culture of continuous learning that's unique to your organization (yes, they're all different) can help you make worker engagement a standard part of your learning culture.
Curating Learning: What's Relevant?
A majority of respondents to our audit have some sort of process in place for learning teams and workers to curate content, and many are also able to create and discover content. But it's a slim majority: 48% of respondents said that their people are expected to source their own learning opportunities, and worker engagement is threatened. Similarly, another 45% of respondents rely on managers to curate learning experiences. This comes amid a separate study that found 85% of global employees are either not engaged or actively disengaged at work. And a Gartner survey found 45% of managers lack the confidence to help employees develop the skills they need today.
How can you fill that gap between individual worker engagement and manager-curated learning? It differs from one organization to another. And while a range of approaches can all contribute to a successful culture of continuous learning, only 23% of respondents to our audit are utilizing smart technology.
A smart technology platform can provide insights into what your people are learning in and beyond the flow of work, as well as provide relevant learning recommendations. Why is this important? Because every organization, team, and person is different. And in traditional models of manually curating learning, it's clear that keeping up with ever-changing trends and finding content that works for everyone is unfeasible. To be more effective, L&D is moving on to more personalized ways of learning.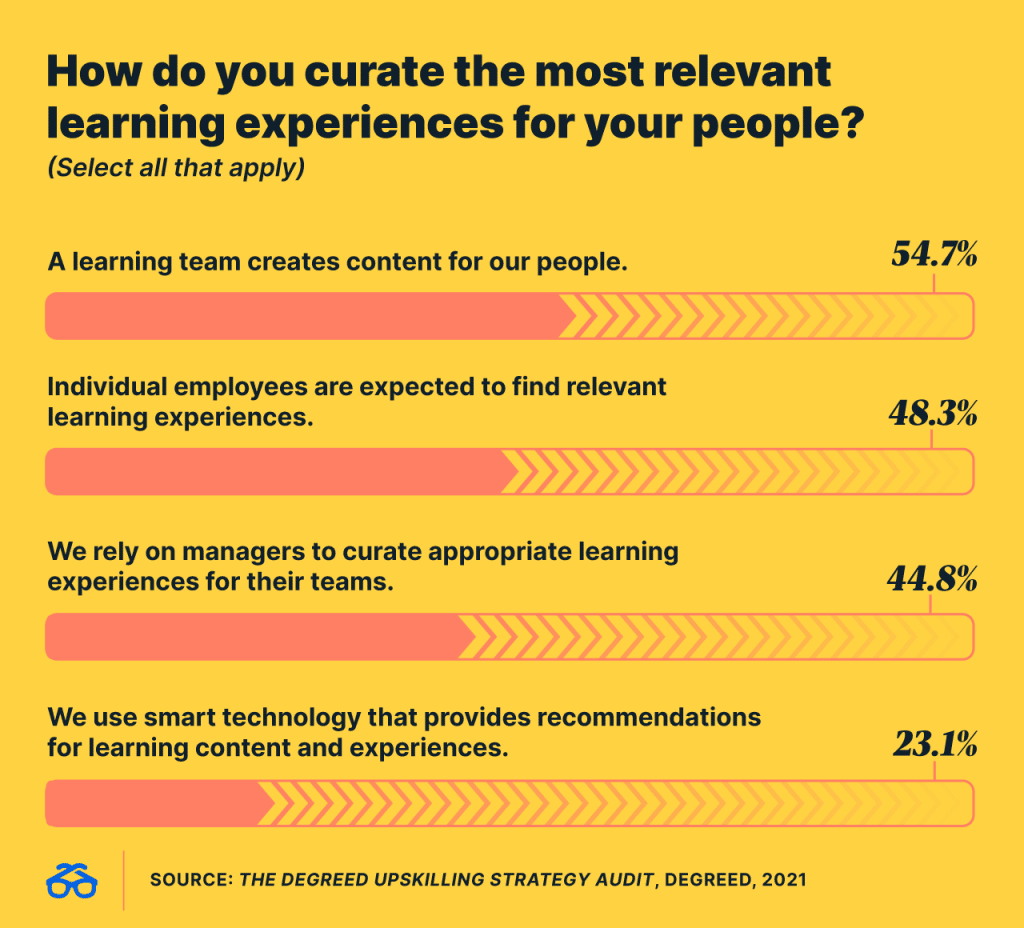 Shifting to a culture of continuous learning driven by a digital learning ecosystem is not an easy task, but Visa was up for it. Through APIs and technical integrations, the learning team at the payments processing powerhouse minimized duplicating content.
With the power of technology, your people can easily access, track and control their learning. This eases the burden on your L&D team and managers and empowers your workers to take control of their learning in personalized ways.
So, what can you do? Help your workers see the larger value in building new skills and investing in themselves. Encourage your people to focus their development around the specific skills necessary for their current and future roles. When workers understand how skill development can benefit them in tangible ways, it provides an incentive to prioritize learning in the flow of work.
Understanding Impact: What Works?
With L&D, limited data insights traditionally haven't assessed value and impact, so figuring out what's working hasn't been easy. Most respondents to our audit use a combination of workforce feedback and content completion rates. But you can do more.
What's key to determining impact is having clear outcomes that provide visibility into your people's learning. This includes counting active users, ranking new skills developed, and comparing learning measures with hard business metrics. With these new insights, you can improve business and talent strategies, assess workers' skills, and be clear about what your people and business really need.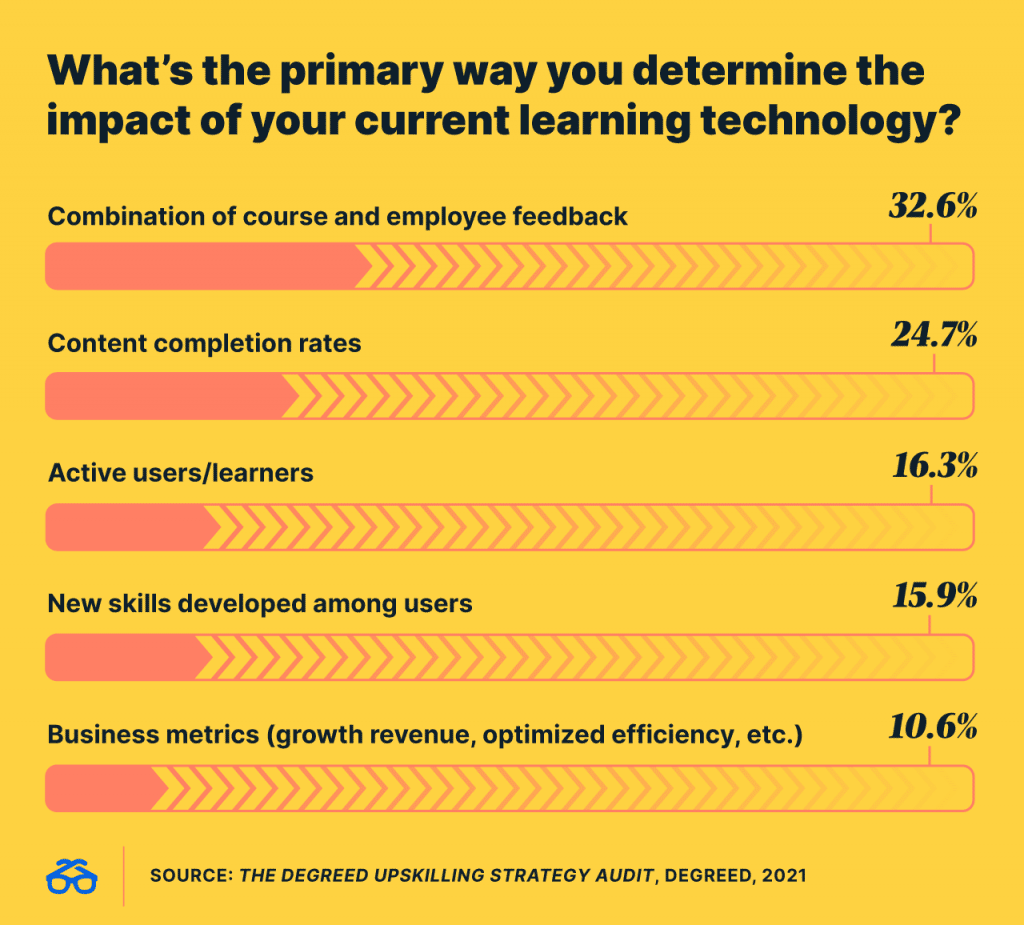 How do you know what works for your organization? Consider Degreed client Cargill. Learning leaders there appeared at our recent Degreed VIEW webinar on creating a learning culture, describing how the global energy company uses a benchmark for measuring impact. They track first-time, return, and repeat visitors as well as adoption. Next, they account for active learner metrics. After that, they benchmark these metrics against similar companies in industry, size, and more.
Use technology to make learning personalized and meaningful. Content completions and feedback can be useful, but they miss out on the bigger picture of progress that can be painted with the help of technology. Unite your learning systems to your workers' professional goals. That requires shifting from admin-focused to user-focused technology.
Looking Forward: What's Helpful?
The rise of digital automation and the need for agility in our pandemic-affected world has put more pressure on businesses to identify future and emerging skills. When you create a culture of continuous learning, a big goal is to make development insightful, helpful and, most of all, relevant to your people.
A majority of respondents to our audit (62%) rely on managers to determine workers' skill growth or don't have a formal system in place. Among those that do, 27% use a competency model, which can become outdated before it's even put to use. Compared to these methods, only 11% are taking advantage of a smart system that intuitively recommends upskilling and learning opportunities to prepare for the future.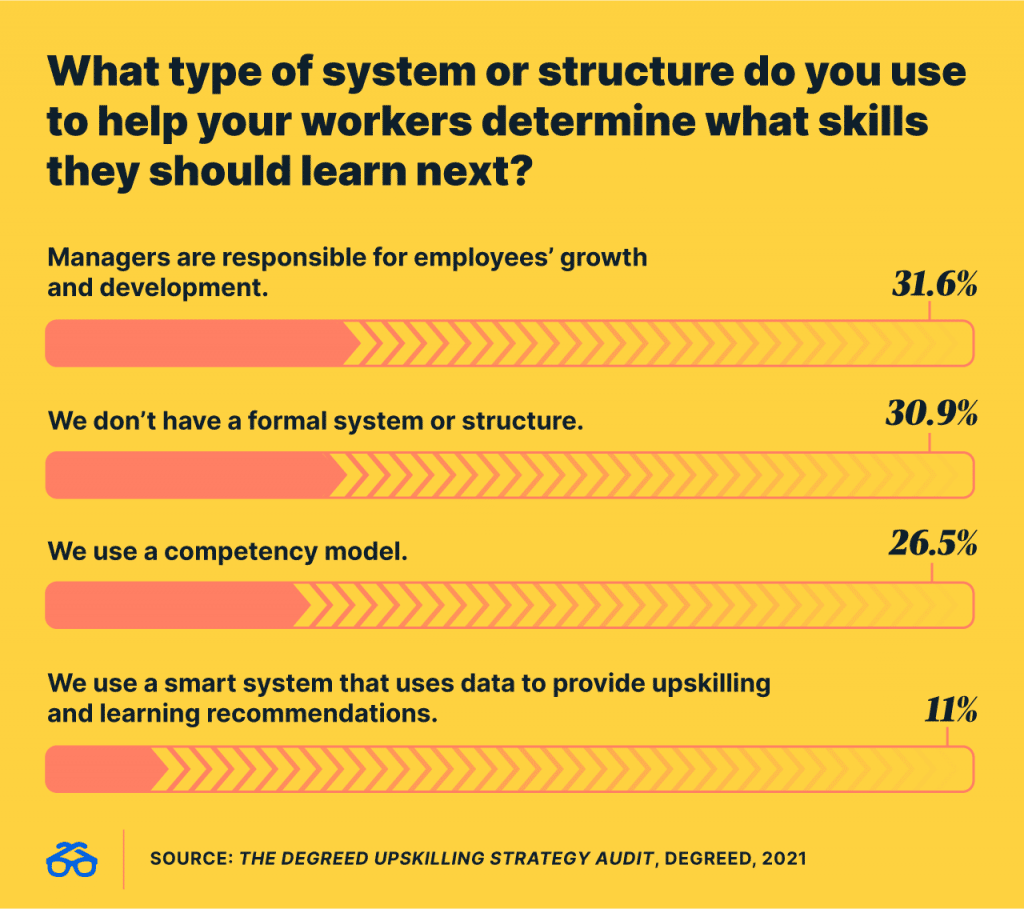 According to our research report State of Skills, nearly half of workers globally believe their core job skills will be obsolete within five years. When we take into consideration all the learning required across teams to learn new skills at an organization, it's simply impossible to expect your L&D team to stay on top of every discipline and emerging skill. Instead, account for the different ways people learn, the amount of time each person has to dedicate to learning, and what skills are important to each role.
More than half of business leaders say a lack of visibility into skills is their top barrier to workforce transformation. But data shows that — from books and online forums to podcasts and more — people are already accessing learning across different platforms. Your people already know where they need to be skilled, so why not give them insights and technology to build the capabilities they need? Focus on creating a centralized technical environment that is easily accessible so your people can continue discovering the content they need, aggregate it, organize it, and share it.
It's no longer enough to encourage learning at work. You must create the right conditions for learning. People need more set-in-place processes and curated content to achieve transformation, and building a culture of continuous learning is just the start. Our recent research report found that workers need and more importantly want guidance, diverse experiences, feedback and insights, and experiential learning opportunities.
In our fast-changing world, agility is vital for business success. It's expected that skills and priorities will evolve as time goes on, but having resources for your people to turn to during this shift will prove essential for progress.
Want to Learn More?
Take our Upskilling Strategy Audit to gain insights on what you can do to help your L&D strategy thrive. And download our latest research report How the Workforce Learns for 15 actions you can take to create a positive learning culture at your organization.