Sometimes, you just know something is right.
We've always been proud of our partnerships here at Degreed, and our relationship with SAP® is especially gratifying. Why? It's because of the value our shared product integration drives for clients.
Flexible and inclusive.
An additive experience.
Providing everything you might need for all kinds of learning.
These are just a few of the key ways the Degreed LXP and the SAP SuccessFactors® Learning solution work together. These types of platforms have specific purposes. Clients who've implemented our tight integration between these platforms are supporting all types of learning for workforce agility. They can see learning and development activities happening across their organizations — from required compliance training to the most aspirational skill-building underway by individuals, teams, departments, or entire companies.
If you're using the SAP SuccessFactors solution as your LMS, adding Degreed to the mix enables you to combine all sources of learning in one place to activate and advance workforce learning.
This means more learning data and less manual data management for you, which provides a more efficient way to empower growth and beneficially track employee development.
"At Degreed, we truly think that support for an inclusive and varied ecosystem offers the best features, flexibility, and satisfaction for our clients while adding value to all their existing investments," said Nag Chandrashekar, Chief Product and Platform Officer at Degreed.
"Partnering with SAP as an LXP partner empowers our clients with the advantage of swiftly implementing a tailored and effective learning and skills strategy while ensuring that SAP continues to remain as the system of record for user profiles and skills."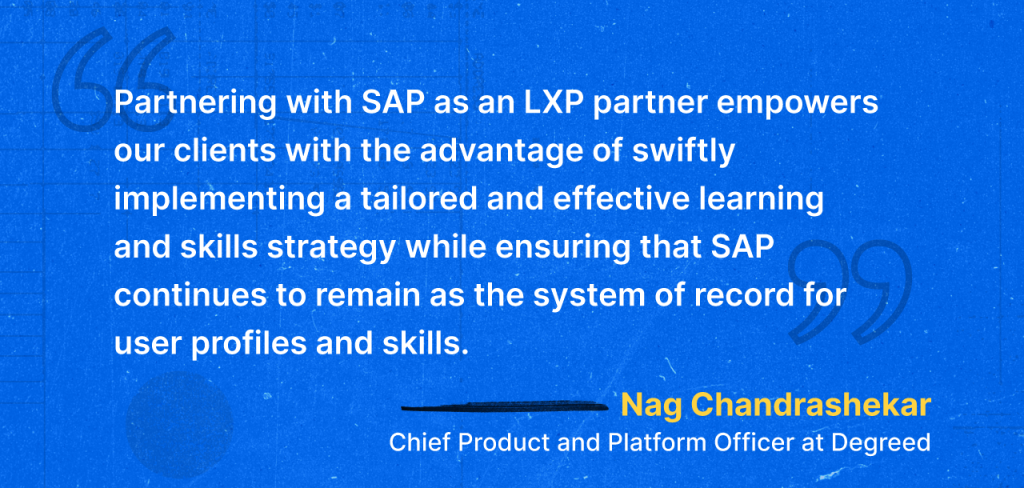 A Natural, Collaborative Evolution
Our partnership with SAP really gained momentum in 2016, when the Degreed-SuccessFactors integration launched following a cascade of requests from mutual clients. The move signaled our strong alignment with SAP on customer-centric investment paths.
In May 2022, Degreed availability on the SAP Store was announced.
Shortly thereafter, we were thrilled to welcome Nate Hurto, Head of Solution Go-To-Market at SAP SuccessFactors, who joined a March 2023, panel discussion called Bringing out the Best in Tech Together at Degreed LENS, our annual flagship conference. You can check out that session on demand.
"We know over our several decades of experience in learning that learning is very much an integration business," Hurto told the LENS audience. "One thing that has been consistent in our relationship with Degreed is that, from Day One, it has been driven by customer desire to bring the best of our solutions together for a truly additive experience."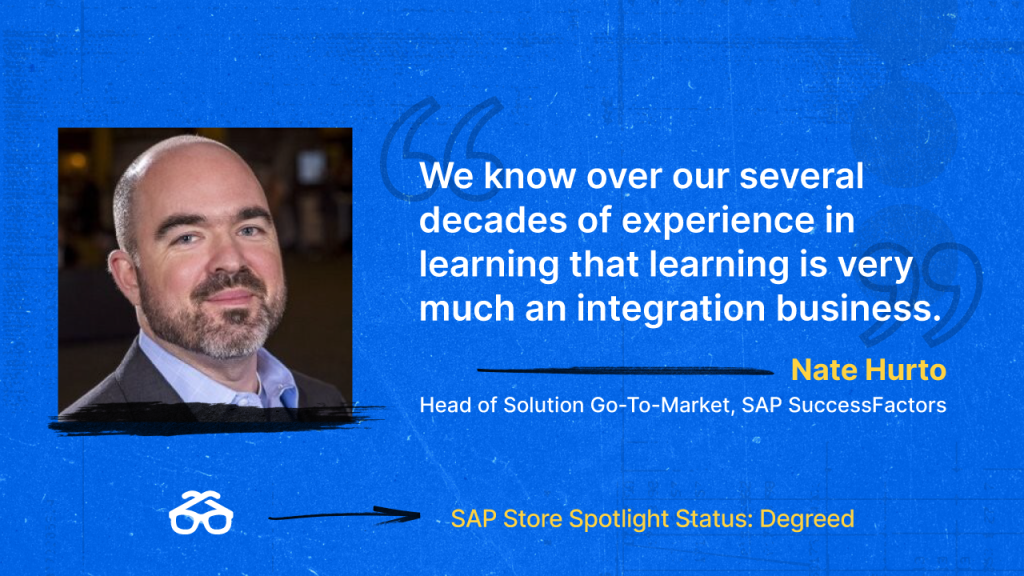 Fast forward to this past June, when Degreed achieved Spotlight Status as a trusted SAP partner. This significant milestone reflected the strong performance of Degreed in the SAP Store and a natural evolution of the collaborative efforts from both companies over the past few years. It reflected our commitment to helping our clients build an employee growth mindset and be more informed about their employee's learning. We've successfully navigated today's market challenges, providing our clients with best-in-class experiences and empowering rapid innovation that helps fuel our customers' successes. We are so grateful for this ongoing opportunity.
Moreover, SAP specifically chose to partner with Degreed because our LXP helps companies be more specific and intentional around role-based learning, so every employee can excel in their roles, with everything they need and want to learn available in one place.
Degreed's Spotlight Status moved Degreed even further to the forefront of creating enhanced learning experiences that focus on the critical skills organizations and individuals need. And it further confirmed the robust enterprise-readiness of the Degreed solution.
And we're not done. Degreed continues to enhance our integrations with SAP driven by customer feedback.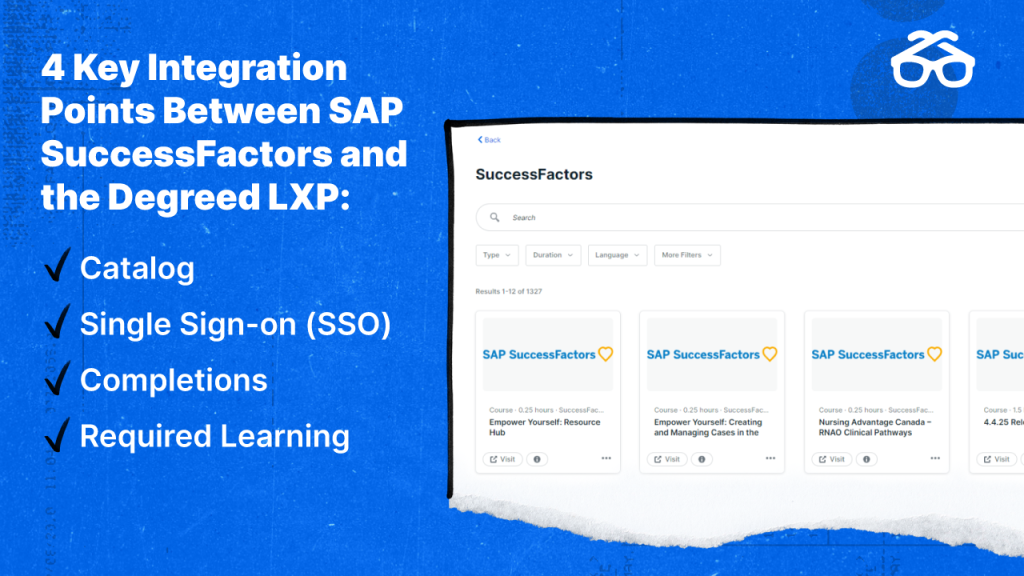 A Closer Look: Better Together
In a truly collaborative fashion, the Degreed and SAP SuccessFactors combo improves the learning experience, which drives employee engagement to be better and faster at driving business impact. That engagement in turn provides your organization with more and better insights into how L&D can build strategies that create real business value.
Degreed and SuccessFactors work together through four key integration points:
Catalog. An employee can easily search and discover SuccessFactors using the Degreed unified and AI-driven personalized search. The employee is then directed back to SuccessFactors Learning to access the content.
Single Sign-on (SSO). Employees can use a single login to securely access Degreed and SuccessFactors.
Completions. When employees complete a course in SuccessFactors, the course status is automatically updated on their Degreed profiles.
Required learning: Courses assigned to employees and marked as required in SuccessFactors are reflected in Degreed and highlighted on their "Today's Learning page." Completed and verified courses are also reflected on an employee's Degreed profile.
Clients: We Love It!
Our happy customers tell us the Degreed-SuccessFactors integration has boosted employee engagement by delivering everything employees need to be at their best.
One industry-leading pharmaceutical company wanted to bring required training together at one easy-to-find place. At the same time, it took the opportunity to be more specific and intentional when encouraging employees to embrace role-based learning.
"We have one place where every colleague can go to see not only what they need to do, but also ways they might grow and build their skills in partnership with peers and partners," said the CLO of the company. "Everything I need for compliance and required training. Everything I need for role-based training. Everything I have access to for desired learning experiences."
Want to learn more?
For more information, download our Degreed and SuccessFactors integration fact sheet.
Let's talk more about your specific needs. Got questions? Want a demo? Contact a Degreed representative today.