At the start of the pandemic, companies quickly pivoted to fully remote work environments out of pure necessity. Fast forward to today, and this "temporary" solution has become a permanent part of workplace culture – and an expectation from workers.
Remote work is here to stay, so it's time to ensure all your organizational leaders are onboard. By ensuring remote leaders at all levels are motivating and engaging employees, as well as offering upskilling and reskilling programs to their teams, you'll set your company up for long-term success.
We All Play a Role in Creating a Productive Remote Workplace
When it comes to setting up a remote workplace, there's more than just logistics, technology and policies to consider. It's just as crucial to ensure your people are onboard with this new plan and embrace the roles they must play in order to make this transition possible.
Here's a closer look at these roles and their remote-workplace responsibilities:
People managers: To put it plainly, the past couple of years have been tough on workers' physical, mental and emotional health. As a result, employers must play a bigger role in their employees' overall well-being, which can be challenging in remote work situations when communication is less about face time and more about FaceTime.

In order to be true leaders in a remote work environment, people managers must tune into their soft skills and focus more on motivating and engaging their employees. Find times to connect with your team, whether it's through weekly check-ins or regular lunch dates (in-person or virtual) and most importantly, following through on promises made. 

"When it comes to manager-employee interactions, it's quality – not proximity – that counts," says Janice Burns, Chief People Officer at Degreed. "Today's workers can spot an insincere check-in from a mile away – or from across a computer screen. However, if done with thoughtfulness, honesty and transparency, managers can win the trust and loyalty of their employees within a virtual setting."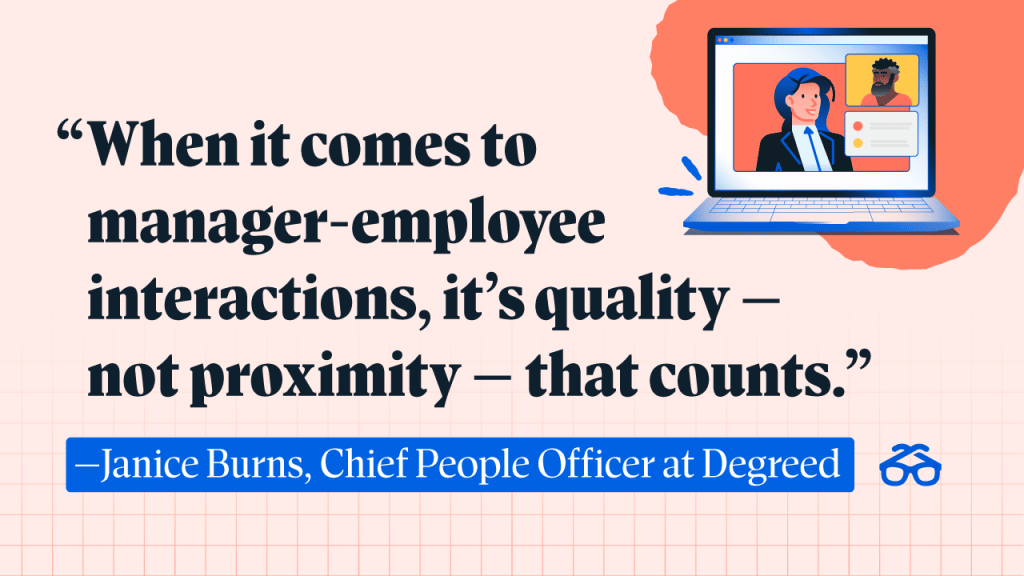 L&D leaders: Remote work isn't just changing the structure of workplaces, it's changing the skills needed for the workforce. L&D professionals must shift to meet the demands of this new tech and software-focused workplace. 

Employees today need to possess both the hard and soft skills necessary to work in this unconventional landscape. L&D leaders are there to encourage this new skill development but are also responsible for managing learning programs that give employees the tools needed to meet these new skills goals. This includes shifting learning environments from in-person and on-the-job, to online learning and development that happens anytime, anywhere. 
What's more, the best online learning experiences encourage development and track accomplishments, arming L&D leaders with data that show how skills are distributed throughout their teams. This allows them to re-allocate resources based on the skills needed for certain projects, which can lead to more positive outcomes. And all of this can be done without stepping foot inside the office.
Business leaders: It's clear remote and hybrid work isn't going away. It's time for business leaders to fully embrace the workplace of the future and adapt their workforce accordingly. Those who do will be rewarded by increased productivity and retention.  

According to a recent study, 40% of workers said they were more productive at home during the pandemic than they had been when in the office – which means a remote work environment is better for your employees and your bottom line. 

What's more, employees appreciate employers that offer flexibility and are more likely to stick around – something that's crucial in today's competitive hiring landscape. In fact, 79% of workers said they would be more loyal to an employer that had remote flexibility, saving you hundreds of thousands in retention and training costs. 
The Future of Work is Here — And It's Here to Stay
Gone are the days when "butts in seats" was the key to career success. Today, remote work setups have proven to increase productivity, innovation and retention. We can now add closing skills gaps to the list. With an intuitive learning platform like Degreed, learning is accessible beyond 9 to 5, allowing your employees to gain the skills needed for the future of work.
Want to Learn More?
Download our guide, 4 Ways Every Manager Can Create a Positive Learning Culture, to discover what managers can do to get their employees excited about developing new skills.