Disjointed learning. A workforce hungry for development. And a company eager to engage and retain its people.
These were the forces that compelled the rapidly growing Ibotta to rethink L&D and create a new learning culture anchored in experiential learning.
Learning leaders knew they needed a way to assign learning proactively and to create follow-up activities. They needed a place where people could learn every day, anywhere. They wanted to let employees learn at their own pace but also in a personalized way and with direction. They needed workers to feel empowered to invest in their careers — and knew that meant connecting them to new, internal opportunities to build skills on the job.
Advancing L&D
"We thought we could do better than we had been — a lot better," says Ryan Arpin, Director, Learning and Development & Events, in our latest Degreed customer case study.
"We wanted to create an experience where our people can learn skills relevant to their current roles as well as the roles they aspire to. We needed to connect people in real time to new opportunities like mentoring."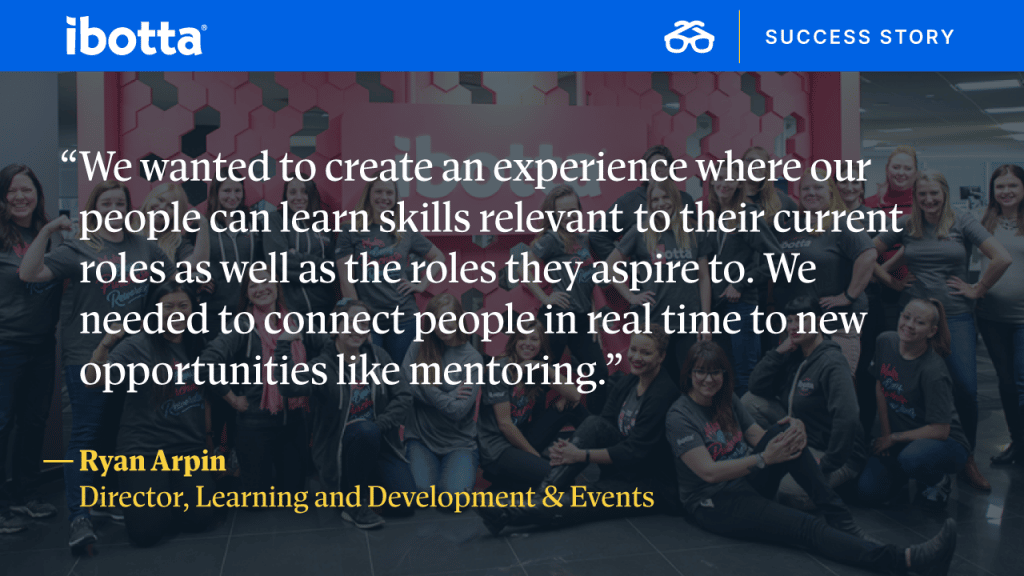 "Tracking learning content on a spreadsheet then distributing that content in a limited capacity via Google Drive only gets us so far. Until recently, that was our process. Sure, it let us get stuff out, but we still had no way to reliably know if you'd even viewed it."
Using Degreed, Ibotta connects people and their skills to relevant career growth opportunities like projects, stretch assignments, new roles and more.
Impressive Results
L&D provided access to all of the company's more than 750 people.
Degreed helps those workers:
See what skills they need to advance their careers.
Carve their own, personalized and relevant learning paths.
Own their own development.
Degreed helps managers:
Identify new leaders
See where their teams are strong
Share any course, video, article, book or more with the click of a mouse.
Degreed helps L&D:
Identify people's skill sets.
Understand the supply and demand for skills across the organization.
Recommend high value content from dozens of content providers.
L&D expects Degreed to have positive impacts at the team level too, Arpin says. "My goal is to get us to a point where teams can use it to cross reference skill sets and ask each other for help on cross functional projects or even create cross-functional committees for special initiatives."
Want To Read the Full Story?
Download the case study to learn more about how Ibotta created a new learning culture that promotes career growth.
Or reach out to a Degreed representative to learn how you can encourage experiential learning at your organization.