Nobody wants to see an economic downturn. But L&D can still spin gold. You can make tough times your time to shine.
When creative action becomes urgent, you can demonstrate agility in spades, show the rest of the business a thing or two about how to pivot, and prove L&D programs threatened with budget cuts are worth saving.
Some of this hinges on identifying or re-identifying skill gaps across your organization. And if your company recently went through layoffs, it's likely they've punched holes in your workforce's capabilities, which means sussing out those skill gaps is more essential than ever.
Once you know what new skills gaps have emerged, you can upskill your people in areas that align to your organization's emerging — and probably more cost effective — business priorities. And this means you and your team can play a huge role in keeping your company competitive in the long term.

The Big Picture: Pain & Change
In one recent survey, 75% of senior HR leaders said economic uncertainty is impacting their L&D strategies for 2023, with many looking to cut training costs as a result.

Even before today's threat of an economic downturn, the rapid pace of change was being felt across the world. And it's costing us all. According to one study, the U.S. alone was expected to lose out on $8.5 trillion in unrealized revenue from the skills gap and talent shortage by 2030.
Business transformation requires workforce upskilling, said Annee Bayeux, Degreed Chief Learning Strategist. "It is only through upskilling and reskilling that you can prepare your organization for the future."
If cost-saving measures have reduced or eliminated business activities like travel, for example, some employees might have more bandwidth to build skills that matter to your organization. This is especially true if your company hasn't experienced layoffs, which often have the effect of making people busier, Bayeux noted.
"When we're talking about building that capable workforce and preparing for the upturn, the best way to do that is to create agility and resilience, right?" Bayeux said. "We know that from the pandemic. That should be our priority… Building an agile and resilient organization is something we definitely should do, so we can bounce back faster."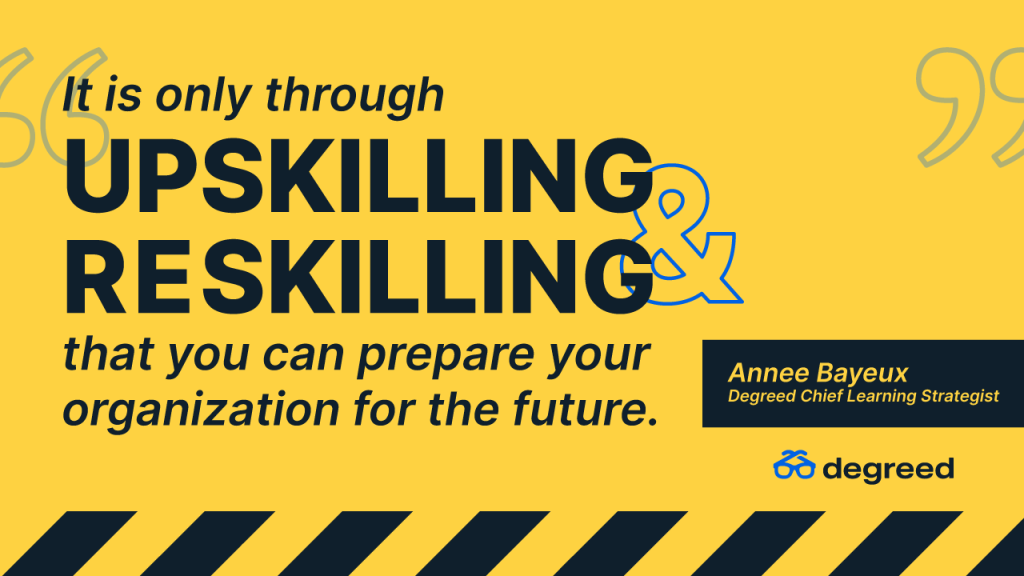 How to Find the Skill Gaps at Your Company
A skills gap is the difference between the skills a job seeker, candidate or employee has and those they need for the role they're seeking, interviewing for or performing. It's the divide between what an employer needs and what an employee (potential or established) can deliver. A skills gap can also occur across a team, department or entire organization when aggregate skills don't line up with what's needed to drive the business forward.
To find your skill gaps, start with an analysis that will help highlight the skills your organization values as well as the skills you have, those missing and how you should go about upskilling your people.
To perform a skills gap analysis, you will need a skills taxonomy, which is an evolving list of skills for critical roles within your organization. Once you have this taxonomy in hand, determine if the skills it describes are outdated, need refreshing or are good to go. Previously an arduous and manual task, artificial intelligence (AI) and machine learning technologies like Degreed can help you do this today.
Next, create a skills map of what skills your employees already have or are working toward. This is different from a taxonomy because it's a visual representation. It's often confused with competency mapping, but there's an important difference rooted in the level of detail. An important debate within talent and HR circles centers on the "role of the role" and how organizations are moving from hierarchies to "wirearchies." Recognize that over-focusing on "moving people into roles" might get in the way of visualizing the "skills you need to work."
Once you have your skills gap analysis in place, you can start figuring out how to develop your internal talent in the ways your organization needs to meet the moment. Maybe you need to focus on new technologies like AI or robotics. Or maybe you need to boost communication skills because teams are more cross-functional and fluid now.
As you give your people new and engaging ways to learn — online, from mentors and peers, on stretch assignments, all in the flow of work — help them see the larger value in building new skills and investing in themselves, and how it will grow and future-proof their careers. Encourage your people to focus their development on the specific skills necessary to meet business objectives and support their career growth.
When workers understand how skill development can benefit them and your organization in tangible ways, they're incentivized to prioritize learning.
And last but not least, to successfully uncover skill gaps, it helps if you can consult good data.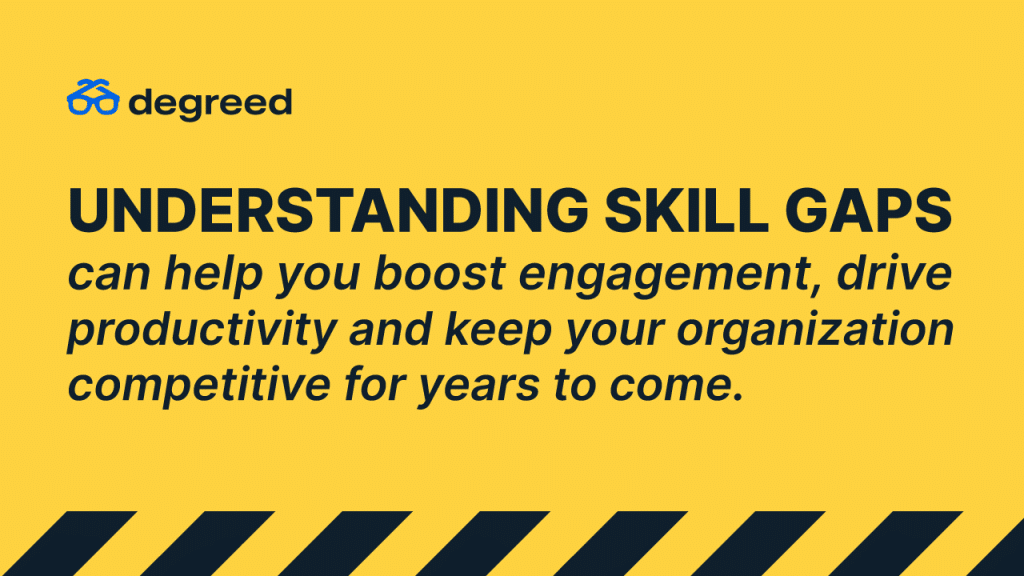 The Importance of Skills Data
To start using skills data, consider your personal, team or organizational goals. Once you identify your goals, you can begin finding and tracking success metrics that matter to your organization and people.
Skills data includes data points that relate to the capability, demonstration or definition of a skill. In short, it's the measurement of what your people can do.
Without the insights provided by skill data and analytics, businesses can't make the smartest decisions about the skills they need for growth. They have less visibility into what skills their people have and what skill gaps exist.
There's no better time to start using skills data than right now. Indeed, only 10% of HR and business executives say their organization has a skills database with profiles for all employees. This means that, when the economy does bounce back and hiring picks up, companies that have embraced skills data will have given themselves an extra competitive advantage.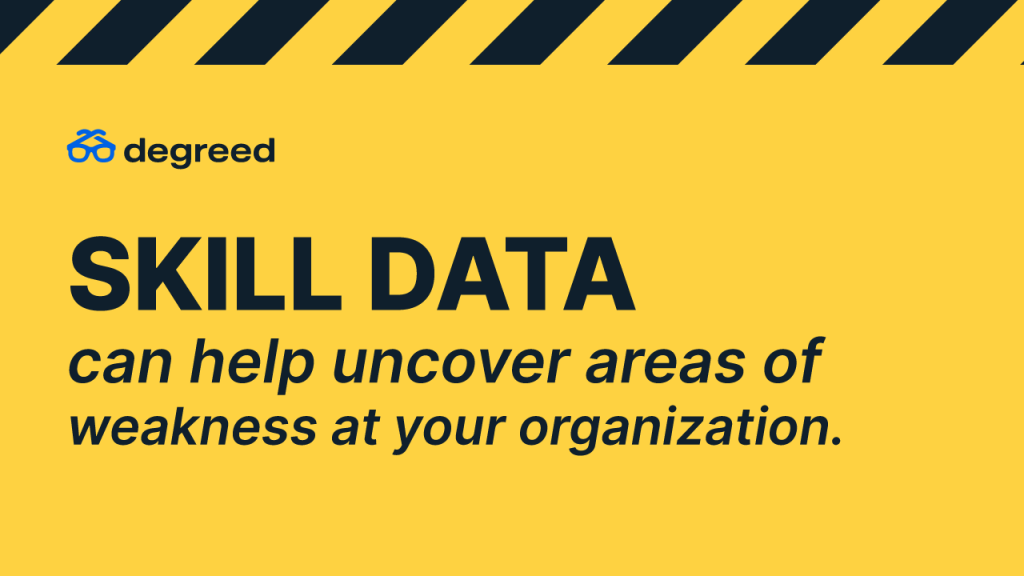 A smart technology platform can provide insights into what your people are learning in and beyond the flow of work, as well as provide relevant learning recommendations. Why is this important? Because every organization, team and person is different. And in traditional models of manually curating learning, it's clear that keeping up with ever-changing trends and finding content that works for everyone is unfeasible. To be more effective, L&D is moving on to more personalized ways of learning.
With the power of technology, your people can easily access, track and control their learning. This eases the burden on your L&D team and managers and empowers your workers to take control of their learning in personalized ways.
Degreed client FICO used skills data as a tool for informing and creating targeted initiatives and personalized learning plans. These are directly aligned with the strategic priorities of the credit ratings company, which provides analytics software solutions to banks, insurance companies, telecommunications firms, retailers and more.
Traditional learning data often emphasizes course completions and time spent learning but doesn't directly tie in to business outcomes.
"The same can't be said of skill data," said Chrissy Chamberlain, Sr. Director of Digital Learning at FICO, at Degreed LENS Lite. "That's because business strategies at their core have a set of skill and talent requirements to achieve successful outcomes, not a set of training requirements. And skills are measurable. You can put a scale to it. You can wrap context around it. You can track an upskilling development journey from novice to intermediate to expert, and learning then becomes a supported activity within that journey."
Ready to find out more?
Even during good times, understanding the supply and demand for skills at your company is critical to your upskilling and reskilling strategy.
When recession looms, it can be more helpful than ever to know which skills are growing or declining at your organization. Get started today. Explore the Degreed Recession Survival Kit for L&D Leaders.
Let's talk more about how your skills gap, and how upskilling can help your company not only survive but thrive in a weak economy. Got questions? Contact a Degreed representative.