Learning leaders at a North America-based tech company found success using Degreed to advance workforce development, powering and scaling an internal learning network globally, but their L&D journey didn't end there.
In our latest case study, we explore how the organization began to see value in helping people advance their careers by matching them to on-the-job development opportunities outside their current roles or teams. They wanted to give managers tools to make this possible. To share talent. To help people practice new skills. To help them stretch and engage new mentors.
And COVID-19 made finding the right solution even more important, said the company's learning leader. "Think about coming into a company where you haven't established networks yet. How would you ever get this type of exposure?"
A Bold Step to Advance Careers
To start matching people to opportunities, learning leaders expanded their existing learning platform by launching the online opportunity marketplace powered by Degreed, piloting it to two teams.
"A big part of our company's culture is to develop employees," the learning leader said. "And so, the point was that this is about reciprocity, that this is about you too. If you have an opportunity, you too could post it, and maybe you get someone who's even more skilled in that area. The message was that it's a win-win for everybody."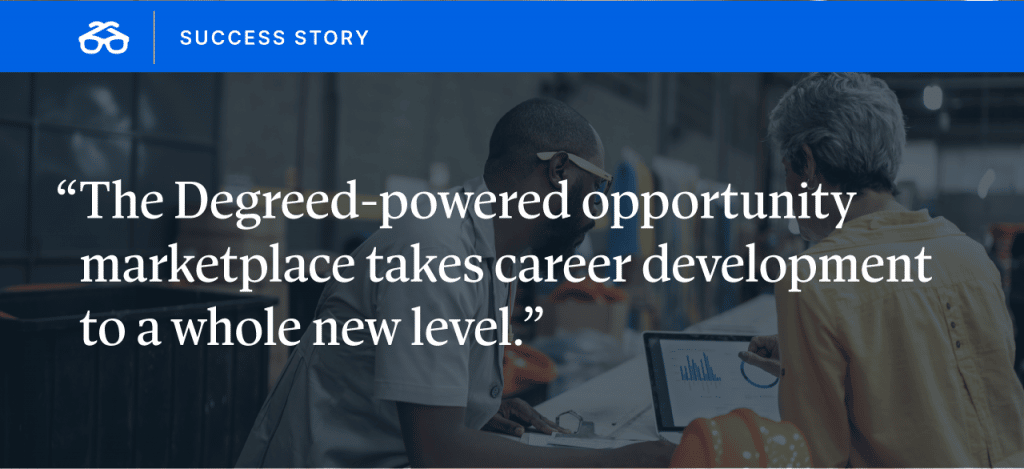 Results: A New Way of Learning
Workers who participated built new skills by breaking out of their comfort zones and applying new knowledge. Managers benefitted too. And the L&D team gained new insights it can use for future programs.
Degreed experiential learning helps those workers:
Meet new, inspiring people
Get deeper insights into the overall organization
Grow personally and professionally
Degreed experiential learning helps managers:
Engage with an intuitive vehicle and structure for developing their people
Collaborate with workers they might otherwise never meet
Get extra help and get work done faster
Degreed experiential learning helps L&D:
Get insights that can improve development programs
Democratize learning, but providing exposure to new opportunities
Advance a strong culture of inclusivity
"The Degreed-powered opportunity marketplace takes career development to a whole new level," the learning leader said. "And while employee development has been our primary focus, Degreed has helped us in certain areas of our business where there are projects that we'd like to get after but perhaps we can't resource them or they're not prioritized."
Want To Read the Full Story?
Download the full case study to learn how this organization created a new learning culture that promotes career growth.
Or reach out to a Degreed representative to learn how you can encourage experiential learning at your organization.