Unilever is well known for its ubiquitous brands: Dove, Lipton, Hellman's, Axe, Ben & Jerry's. In fact, you've likely used or consumed at least one Unilever product today — if not multiple products. Powered by 140,000 employees in over 100 countries, the consumer goods company must adapt continuously to countless competitors, complex supply chains, and shifting consumer preferences.
To keep up, Unilever's people are always learning. That used to be expensive and inconsistent at such a scale. But the company has transformed its learning strategy in the last three years, and the results are impressive.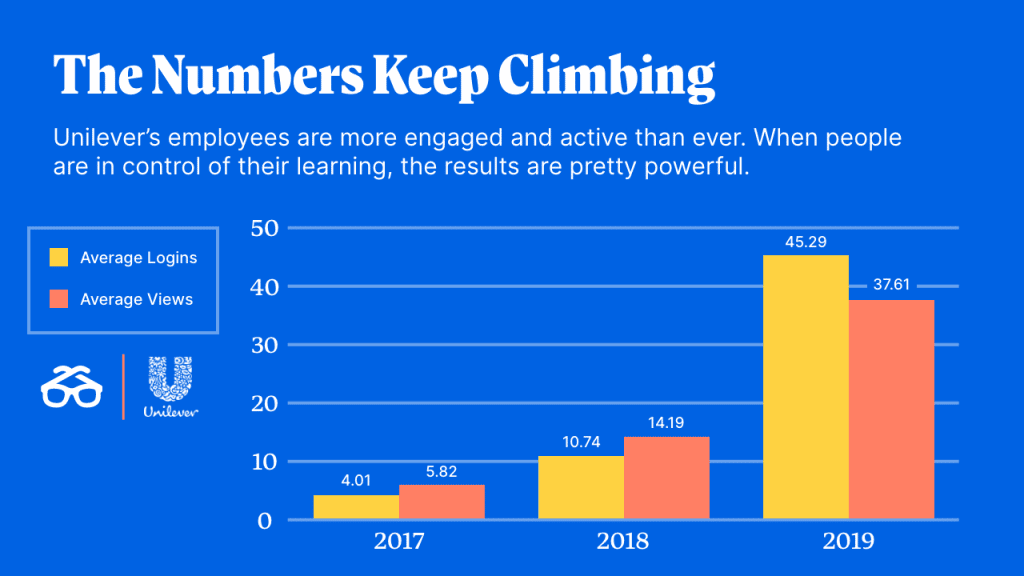 Engagement and activity are growing exponentially. Employee satisfaction is rising rapidly. Costs are under control. Nicola Braden, Unilever's Global Learning Innovation Director, summarized how she led this shift in five strategic steps at a recent Learning Technologies summit.
1. Start with the Why
"We are really passionate about helping people have sustainable livelihoods and sustainable careers," Braden said. "For a company of our size and scale, if we were to rely on the old ways — selling people some courses and mundane team learning — we would need an army of people. And we still probably wouldn't meet the need."
To understand how to serve its workers at scale, Unilever listened. They asked what people liked and disliked about the status quo. Employees wanted to learn but said that opportunities were inconsistent and inaccessible. After that outreach, Braden and the learning team knew why it was time to change — and how to go about it.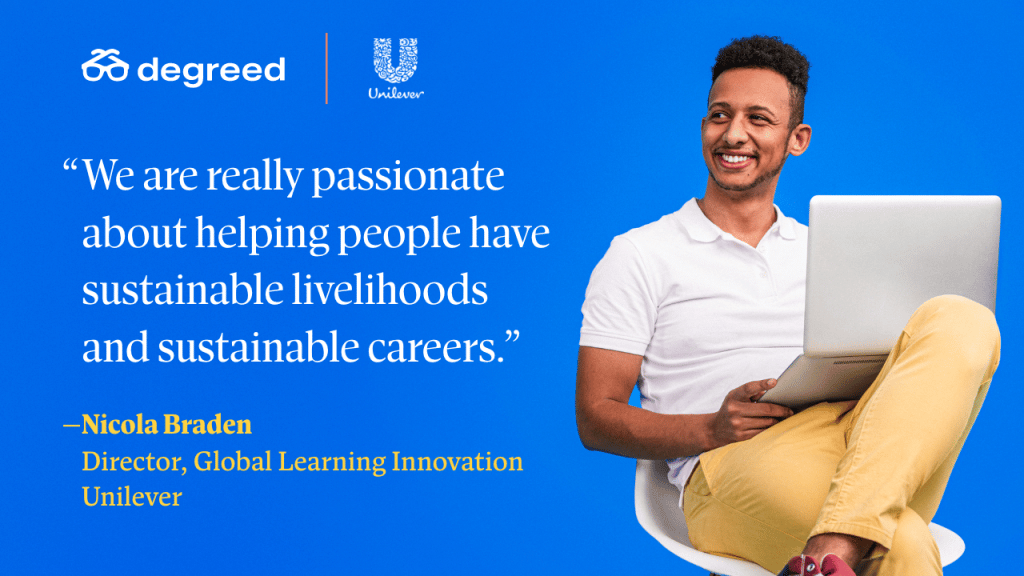 2. Address the Barriers
Employee feedback made it clear that Unilever's learning offerings were too confusing. While they had many systems, those systems were scrambled and difficult to find. The company needed a unified learning ecosystem, a central hub that would make it easy to access anything. That central learning hub would be Degreed.
Unilever made its new platform as inviting and intuitive as possible. They posted links on the company intranet, secured it with single sign-on, and used personalization to offer uniquely relevant content quickly and continuously.
Braden had a bold vision but moved cautiously and deliberately. "We needed to be careful that we didn't overwhelm people," she recalled. "You do this in stages, gradually introducing new features. You've got to help them understand how this is going to help them."
3. Be Brave and Be Humble
Moving to a digital learning platform was initially challenging for Unilever's learning team. They had to humble themselves and shift their mindsets, as they released control to workers outside of Human Resources. In an online learning ecosystem, everyone can monitor their own learning, add content, and assess their progress.
But the learning team also had to be brave, since the new platform was meant to catalyze profound change throughout the company. The key was strategically aligning the learning technology stack.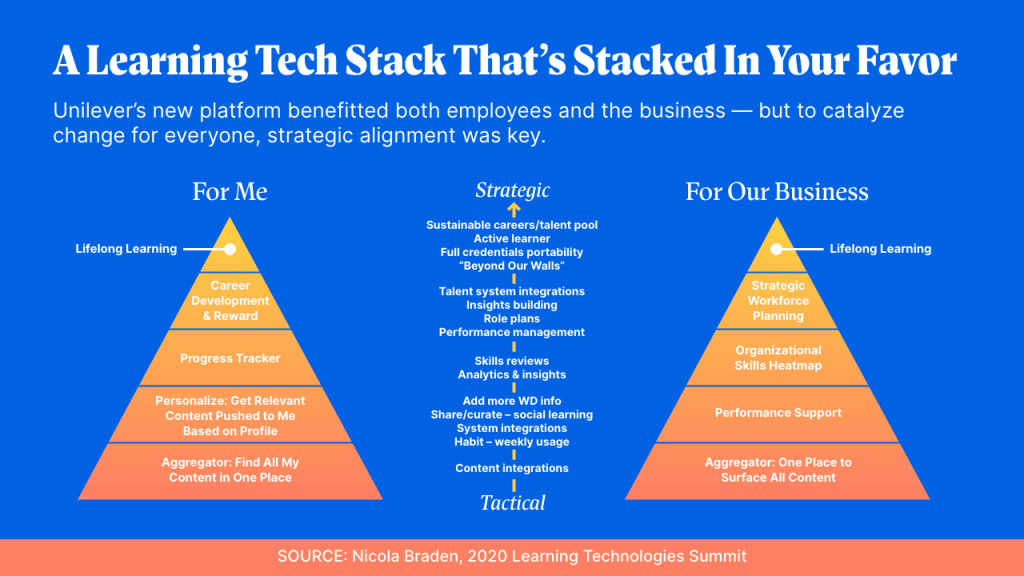 The technology was designed to serve both the individuals and the organization. Personalization gave users relevant content, while also enabling targeted performance support throughout the company. Skill reviews kept workers on track and aggregated into an organizational skills heat map. Employees experienced better career development, which powered Unilever's strategic workforce planning.
4. Create an Experience
Some initially worried that digital solutions would dilute the learning experience. To address this, Unilever made sure that its new learning ecosystem was even more immersive and collaborative.
A centerpiece of the strategy was creating learning groups called tribes. "We've done this around skill areas and what people have in common with each other," Nicola Braden explained. "It could be that they sit in the same place geographically, that they're the same function, or focused on a particular business initiative. They're getting that sense of being part of a movement, something more participatory than individual training courses."
Communication was also crucial. Unilever held town hall meetings, launched learning roadshows, established help desks, and collaborated with line managers. They even introduced an online character, Idris Lever, who shared updates with everyone. "He's this very lively person and actually has quite a big influence," Braden remarked. "He's the most followed person in Unilever!"
As workers logged on, Unilever encouraged more engagement with recognition and rewards. One popular push was an international competition in which each national branch of the company tried to post the highest learning numbers. Unilever also gave prizes to the most prolific users.
5. Build the Partnerships
Degreed delivers cutting-edge analytics to Braden and the learning team, but they have not hoarded the data. "We work very broadly with HR, our talent team, and various other teams around the business," she noted. "For us, that was about opening things like dashboards, metrics, and feedback. They can see for themselves what's going on. They can see their progress and spot what areas they need to focus on."
Another important connection is with the rank-and-file workers at Unilever. The learning team uses Yammer to keep communication open and they welcome ideas, questions, or feedback from any worker at any time.
The results speak for themselves. "We do an engagement survey every year," says Braden, "and the question around the accessibility of learning this year showed the second-highest increase [of positive feedback] of any question in the survey."
Finally, partnering with the right vendor has been foundational to Unilever's success. "Our relationship with Degreed has been super important," Braden declared. "Choose the vendor who's in the same place as you, designing stuff that will be aligned with your mission and the culture change you're looking to make."
Still Looking for Your Perfect Vendor?
Check out our Buyer's Guide to Talent Development Technology to find which solution is right for your organization.