Necessity is the mother of invention, as the saying goes. And to us, our LENS conference is as necessary as it gets. So this year, we went virtual — rescheduling and rebranding our annual flagship event as Degreed LENS Lite.
Sure, there were fewer handshakes. And unlike last year's LENS in Austin, Texas, there was no mechanical bull. But on the upside, there were more sweatpants, more attendees, more virtual connections, and no delayed flights.
Packing it all into one day, we had more than 11,000 people on our event platform from over 90 countries.
Most importantly, we came away with some important — no, scratch that — vital takeaways relevant to any business, and of course the learning, HR, and talent spaces.
If you missed LENS Lite, don't sweat it. We'll continue to write about the sessions and the insights that fell out of them for weeks to come. If you want to watch for yourself, find all the video content on our On Demand page!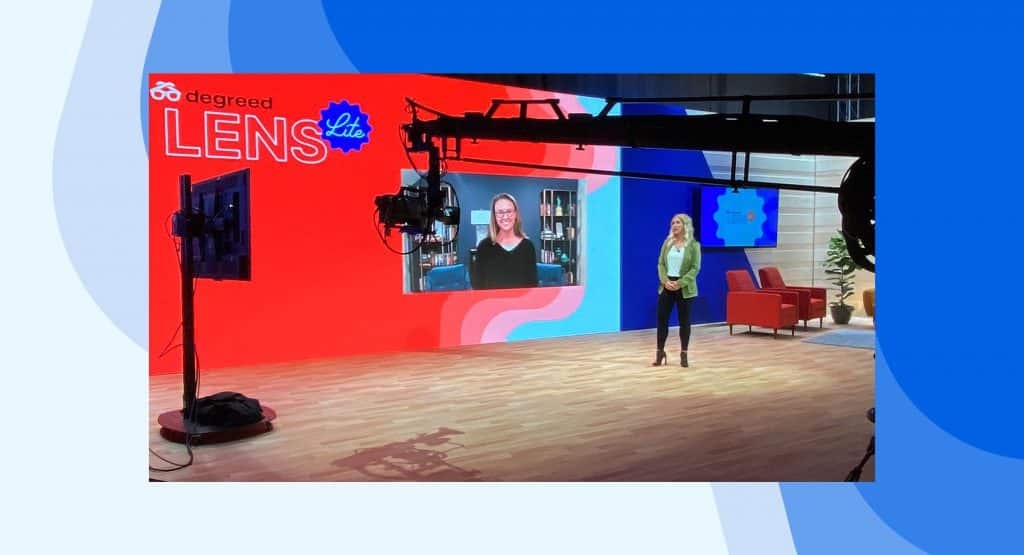 In the meantime, here are five key takeaways from the event that we think every business leader should consider right now.
1. Learning Technology Works Best When it Helps Transform Learning Culture
Transformation starts with culture, whether you're leading HR, L&D, or Talent — or leading the Dallas Mavericks pro basketball organization like its CEO Cynt Marshall, our morning keynote speaker.
"We were very intentional about investing in our people," Marshall said, describing the 100-day plan she instituted to set the NBA standard for diversity and inclusion. "We were about a culture transformation and a skills transformation."
"This is the time to be insightful," she added. "To bring everyone to the table to talk, to widen our circles. . . This is the time to inspire each other to come together, to make a difference."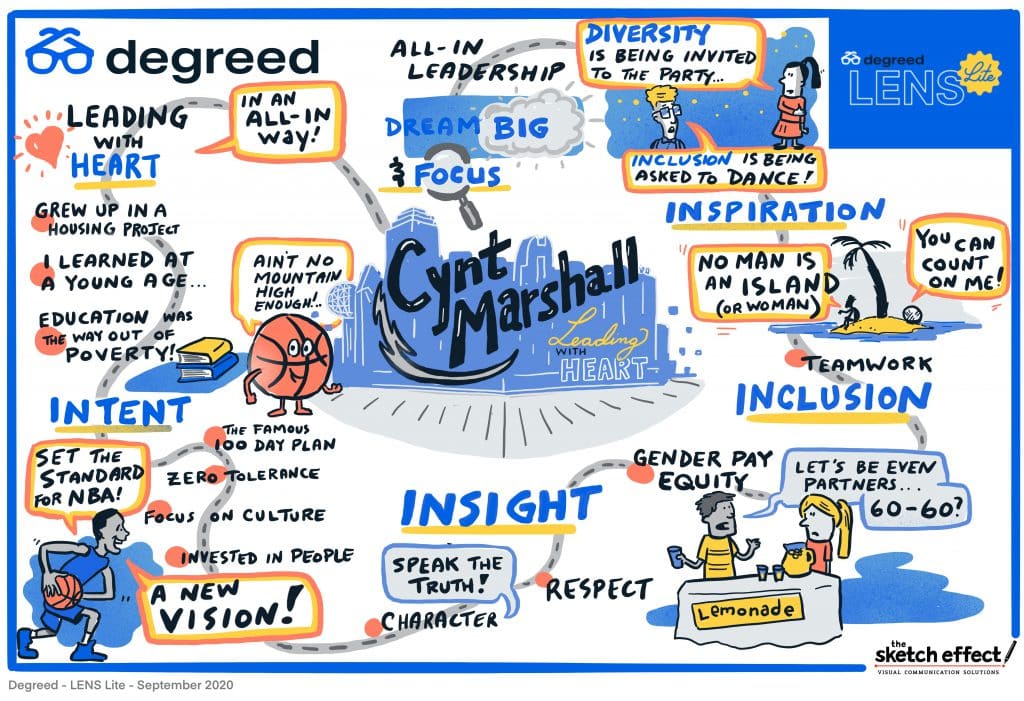 At Verizon, L&D leaders know about transformation as much as anyone. Recently, they had to shift their customer service approach as a result of Covid-19. But even before that, they reimagined L&D and built a culture rooted in purposeful, continuous learning for all employees.
Prior to this, Verizon employees had no simple, accessible way to offer or track informal learning. The learning team there introduced a new vision: democratize learning for all. In April 2019, Verizon launched a new learning portal powered by Degreed, which enabled the team to support the most critical business initiatives with a modern, skills-based approach.
Verizon achieved 95% employee adoption, but the organization isn't letting up. In fact, it's always looking for new ways to innovate.
"Our goal was to have a collection of learning experiences that were delivered in formal and informal ways," said Lou Tedrick, Vice President of Global L&D, adding that employees are now "stretching and building skills for what is needed today and what is needed next at scale."
Make no mistake, transformation takes more than a technology solution. We're under no delusion that any platform is a panacea.
As analyst Amanda Nolen, Co-Founder of NilesNolen, told the LENS Lite audience: "Technology alone will not achieve learning transformation."
To be seen as a strategic partner, and to get buy-in, Nolen recommends teams on the hunt for a solution do three things:
Identify the business problems they're trying to solve
Consider how people are already learning today
Buy technology to address problems and fills gaps
And while learning technology can be a culture builder, it can also be a culture sustainer, especially in today's world when colleagues can't physically be together, noted Sarah Gretczko, Senior Vice President, Chief Learning & Insights Officer at Mastercard. Learning technology "really helped us to sustain and continue to build our culture at Mastercard. It's a culture that has learning at its foundation."
2. There's No Substitute for L&D Data When Aligning HR With Business Strategy
We loved this statement from Racquel Andrade, Head of Attraction and Development at Itau: "HR should think like the business and always be connected with the strategy."
To connect with business strategy, HR needs to start thinking in new ways and be proactive about making change, even when internal headwinds make that difficult, said Julie Hiipakka, Vice President & Learning Research Leader at Bersin, Deloitte Consulting.
In a recent Deloitte report, 63% of business professionals who responded said they were not confident that HR has the ability to make radical and necessary changes in the next year.
Ready to prove them wrong?
Hiipakka offered some compelling advice. "We have to expand our sphere of influence beyond what we historically focused on — to the entire enterprise and the business ecosystem as a whole," she said, adding that conscientious use of L&D data can help harmonize work (i.e. projects that need to be done), your workforce (i.e. your people, of course), and your workplace (i.e. the environment that projects get done in). This, in turn, drives positive change.
Sounding a similar note, Alan Richardson, Vice President of Learning & Performance at Royal Bank of Canada (RBC), said the L&D team there found that measuring its own success is the single, most important thing it can do to earn a proactive, strategic voice at the business strategy table.
By tracking skill development, RBC takes employees from the point of learning entry all the way to deployment in the field and then measures the impact they have. Using A/B testing, RBC found that L&D could drive a 15% to 30% revenue increase between those employees it developed and those it didn't.
The real-world consequences of all this are clear. Data-driven HR and learning organizations are 56% more likely to be viewed as a Strategic Business Partner, according to LENS Lite presenter Stacey Harris, Chief Research Officer & Managing Partner at Sapients Insights Group.
3. Learning Technology Makes L&D Nimble
At Atos, learning leaders realized that the company over the years ended up with a huge number of highly specific individual job and role descriptions.
"That made it almost impossible to do a meaningful search for who could do this work," John Hall, Head of Strategy & Portfolio, told LENS Lite. "But breaking it down into a meaningful structure and hierarchy gave us functional search capability."
Verizon shared a similar story, describing how its quest to transform the learning culture there resulted in a new tech-powered learning ecosystem. This underpinning helped L&D support major operational changes and pivot to respond effectively to COVID-19.
"We feel very fortunate that we had the foresight to have this infrastructure in place," Tedrick said. "The journey we've been on continues. The resources that we have assembled have allowed us to be agile."
When an organization understands the otherwise hidden skills of its employees, it can do a much better job of efficiently connecting them with new opportunities — including stretch assignments and even new roles, said Chris Milligan, Degreed Vice President for Career Mobility.
Technology can play a huge role in enabling this, Milligan told attendees, adding that it can help L&D quickly adapt a talent strategy to meet shifting customer and market demands, so an organization can weather change and prepare for the future.
4. Effective L&D Puts the User Experience First
In our afternoon keynote, optimist and bestselling author Simon Sinek urged companies to operate on a human level.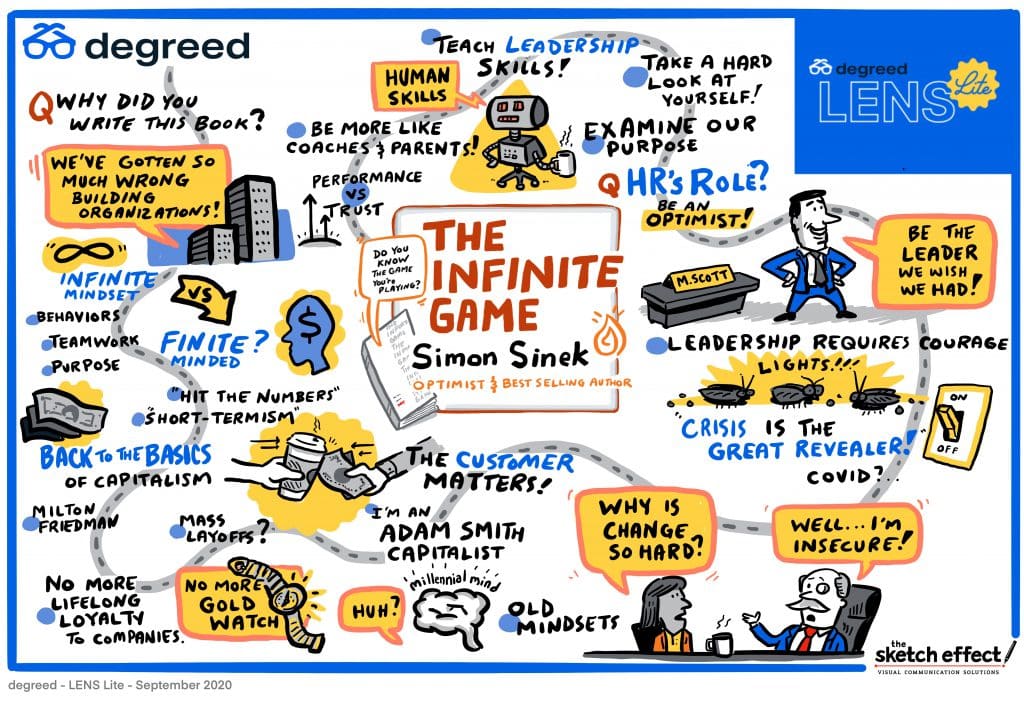 "Train leaders to do a better job giving and receiving feedback," Sinek said.
Teach them how to have difficult conversations, he added. Help them with their listening skills, and show them how they can prioritize having patience.

Reward people for performance, but also for how they achieve their performance, Sinek said. "Trust is what happens between the meetings."
These things — some small, some critical — shape an employee's day-to-day. And addressing them with care through L&D can dramatically improve the employee experience at your organization. And that benefits the entire organization.
At Capgemini, learning is a priority — and that's made clear to employees from their first day on the job. When the company sought to transform what it offers employees to learn and how that content is delivered, L&D put the employee experience at the center. In doing so, leaders there understood that the journey employees were going on started at onboarding. Capgemini wanted to focus on learning from the start — across all work — and invested in Degreed.
The result? Capgemini has a much better view into its employees' skills and development goals, and employees are much more engaged, said Estelle Maione, Head of HR Transformation. "The learning driver that we follow for people to be engaged really increased a lot since the platform is measurable. That is, I think, something we can be really proud of."
5. A Good Skills-Based Learning Strategy Is Constantly Evolving
At Mastercard, the L&D team led by Gretczko created the Mastercard Academy Digital Campus powered by Degreed, providing fit-for-purpose learning experiences designed to ensure that employee skills remain relevant and forward-looking.
"We didn't just want our people to do the things that would get them through today. We want them to do the things that will help them create the future for Mastercard," Gretzcko told LENS Lite. "Driving to the future means adapting your learning and development culture to address the changing demands of the business."
Nolen described this in a similar way: "Don't get married to some rigid skills framework that takes you a year to build. You've got to be agile and iterate."
To do this, you've got to put skills first.
Skills are the currency of the future of work, said David Blake, Degreed Co-Founder. He urged attendees to focus on the skills required to do the work that needs to get done at their organizations, rather than on job titles.
"In the future, we will organize by skill. We will staff by skill. We will hire by skill. We will promote by skill," Blake said. "Our mission to jailbreak the degree is to walk us forward into a future where your learning, your skills, your education is what matters irrespective of how or where you got that education."
Putting skills first takes a flexible skills strategy. And that's exactly what you need right now, said Janice Burns, Degreed Chief Learning Experience Officer.
Her shortlist of steps to get started?
Create and maintain a list of in-demand skills needed to meet your business goals.
Take inventory of the available skills within your organization.
Compare the demand and the inventory and make a plan to move forward.
And if that's not enough inspiration, take note of this message from Degreed CEO Chris McCarthy:
"The world needs change agents and innovators now more than ever. Right now, we have a call to action: to transform old ways of doing things and be bolder. We have a chance to completely rethink how we look at our people, our talent, and our skills. Our organizations need us to reassess what's important as businesses. They need us aligned to build the skills needed to address these rapidly changing demands."