Close your eyes. Can you imagine your ideal learning tech stack? Can you really see it — not just a list of products, but how the elements interact?
This is what we like to call ecosystem mapping. No matter the size of your ecosystem, be it a puddle or an ocean, ecosystem mapping is critical.
Mapping is a tried-and-true methodology for architects, engineers, and now L&D: If you can map it, you can see it, critique it, and perfect it. Not only can the exercise help you plan for the future, but it can help you spot many of the causes for your L&D growing pains.
When you consider all macro and micro elements of your learning ecosystem and create an accurate map, it can help your L&D team to:
Identify current ecosystem strengths and opportunities for improvement.
Provide a compelling visual for the C-suite and strengthen your relationship with IT.

Get to Know Your L&D Ecosystem
Whether you planned it or not, you have a learning tech ecosystem. Truth be told, most ecosystems aren't planned. They develop organically over time as you add one solution here, a solution there — oh, and yet another to solve that random problem that popped up a month ago.
Often in these moments, you don't consider how your new tech will interact with existing tech. So after a while, you end up with a tech stack in which the overall connectedness suffers from being an afterthought. It's a bit of a mess: redundancies, dead-ends, data pits, and other blind spots.
You didn't end up here because of bad intentions — you were just solving problems. This isn't bad. People are problem solvers. But through this process, you can create a larger challenge.
So let's see what you've got. Let's see what your current ecosystem looks like.
Where to Start with Your Ecosystem Mapping
1. Make a List of All Your Solutions
Account for EVERYTHING.
List the systems specifically bought for employee development. And don't forget to include systems employees broadly use for learning experiences — even the solutions not necessarily designed or intended for learning. For example, SharePoint was initially designed for file sharing, collaboration and productivity during the course of a project, but this, and other programs like Slack and Microsoft Teams, can play a role in your learning ecosystem.
Does your list seem never-ending? If this step becomes overwhelming, a good place to start is by reaching out to your IT partners. Oftentimes, they'll have a list and possibly even diagrams. Or if it helps, break down your tech solutions into categories. The graph below shows the different layers of technology and some common vendors you might already partner with.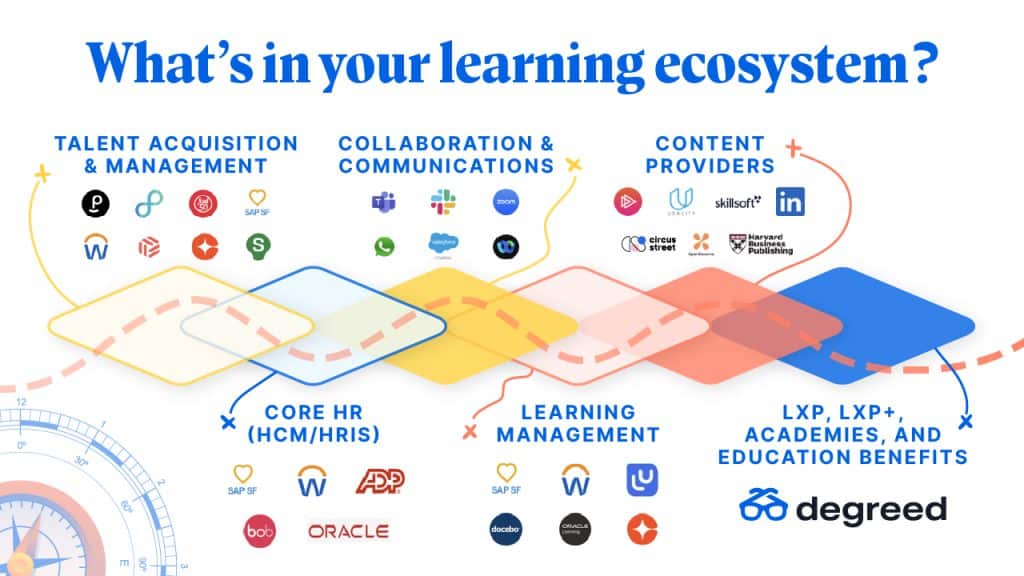 2. Find Connections
Draw arrows to show the relationships between the solutions on your list.
While you can do this manually, the IT diagram we mentioned above serves as a handy cheat sheet for this step. A full-blown IT architecture diagram may be overkill for your needs, but it can help you consider the flow of information and interdependencies of resources and activities across your ecosystem. And that's precisely what you need to do for this step: show how the various systems in your list integrate or communicate with one another.
3. Identify Hubs
Find software nerve centers.
By drawing those connections, you'll discover a few solutions that serve as major nerve centers. These solutions direct learner traffic, generate and collect data, and drive engagement. They might also be the primary way your learners access most experiences. These are your hubs — your core software partners. These core partners are mission-critical to the success of your ecosystem, so once you identify them, circle them.
4. Refine Your Map
Draw a revised version of your ecosystem map.
Your ecosystem map might look chaotic after listing solutions, adding arrows, and identifying your hubs. Draw a clean version on a blank canvas — metaphorical, real, or digital. To keep things organized, place your solution hubs toward the center. Of course, remember to include your arrows, or whichever symbol you prefer, to show the connections between systems.
Ta-da! Now you have a working map of your current learning ecosystem.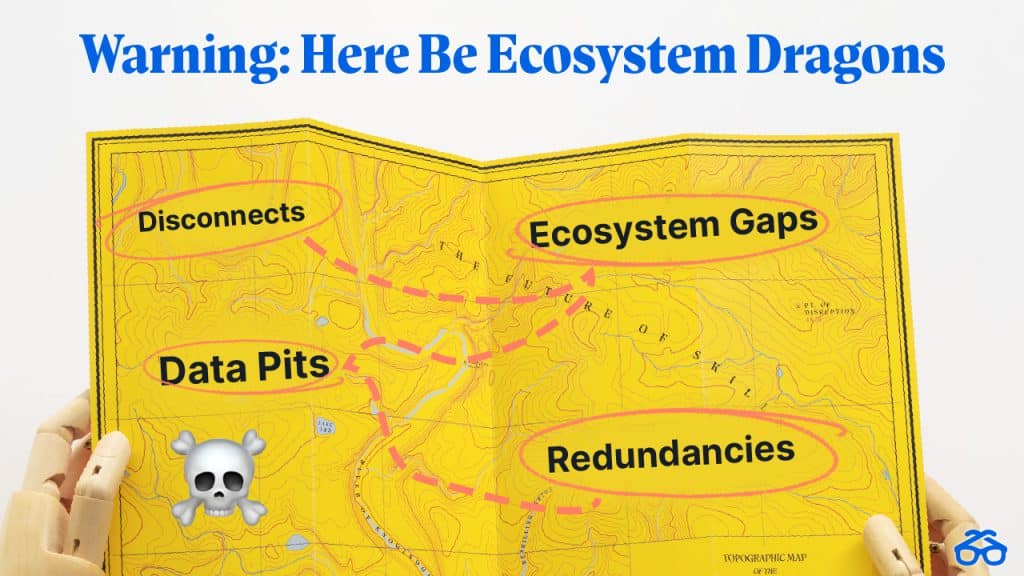 Using Ecosystem Mapping to Identify Improvement Opportunities
With a clean copy of your current ecosystem map in hand, some problems may jump out at you. Others may require some deeper analysis. But no matter the method of discovery, the beauty of ecosystem mapping is how effectively you can identify common issues. Generally speaking, there are a few common problems to be on the lookout for.
Gaps
Are you missing any mission-critical solutions?
Business goals and outcomes can change at a dizzying pace, and L&D strategies, tools and solutions can easily fall behind. Identify your business needs and goals and see which are going unmet. Once you identify your gaps, there's no guarantee that a technological solution is the answer, but technology moves so quickly that you'll never know until you check.
Examples:
You provide tools for training and everyday learning, but you're missing resources for deep upskilling experiences. And if you do provide resources like leadership academies, coding boot camps and certificate programs, are they siloed and require a lot of different people to manually manage?
You have access to some metrics but not everything. For example, your content platforms and LMS may produce similar reports based on time spent sitting in a classroom or staring at a screen. While these metrics are necessary for meeting regulatory and legal requirements, they fall short of providing actionable insights. Can your data demonstrate employees upskilling or other key KPIs?
Redundancies
Can you streamline your solutions?
If several solutions perform the same service or function without any unique added benefit, you've got redundancy. While you look for redundancies, also identify solutions performing services you no longer need. But be careful during your audit: there's a difference between having systematic overlap and redundancies. Some overlapping is nearly impossible to avoid, and that's okay.
Examples:
You're paying for multiple video conference tools to facilitate your virtual Instructor Led Training sessions. Do you really need MS Teams, Zoom, WebEx, and Google Meet?
You're paying for content authoring tools (Adobe Captivate, Articulate 360, Camtasia Studio, etc.) al-a-carte and could get better pricing based on an enterprise or bulk subscription basis or visa-versa.
You're paying for several premium content providers with very similar catalogs and you may be able to retire the one with the lowest utilization rate.
Two solutions appear redundant but actually serve separate needs or audiences.
Disconnects
Are learner experiences easy and seamless?
A highly functioning ecosystem should make it easy for your employees to move from one system or solution to another. But sometimes they can find themselves unable to access specific solutions or functionalities in a logical or sequential way. Often, this is due to a lack of integrations, improper system configurations, or systems being simply not available.
Examples:
You have more than one access point for learning. While it's okay to have more than one access point (accessing a content provider directly or via your LXP), it's not okay to leave your employees guessing what's available and how to gain access.
Your employees use a solution that analyzes their "fit" for new roles but doesn't provide any next steps or solutions.
Data Pits
Can information freely flow across all systems?
Data pits occur when important data can't be shared between core vendors in your ecosystem. For instance, to get access to that data, you have to log into specific solutions, or sometimes, the data can only be applied or analyzed using that solution.
Example:
An employee enrolls in a recommended boot camp, but you need to manually enter information into your LMS, LXP, or academies platform. This information could include completion dates, the cost of the program, the specific skills learned, and proficiency scores for skills.
You ask employees to fill out a professional profile, but that data doesn't get shared with solutions. Since a professional profile is critical, this siloed information can lead you to ask employees to manually enter their current skills in several systems. Not a fun experience.
If you need more direction in figuring out your ecosystem weaknesses, read "Experiencing L&D Growing Pains? Look to Your Learning Ecosystem."
Analyze Your Vendors' Ecosystems
Armed with your ecosystem map, you know the current state of your L&D ecosystem and how it can improve, but the ecosystem mapping exercise isn't done. Ecosystems are complex and yours doesn't exist in a silo. To fully understand it requires some zooming in and out.
First, zoom in on your vendors and platforms to better understand if they integrate well with others. Why? If vendor ecosystems are restrictive, they'll inherently limit your own ecosystem's capabilities. Let's look at the qualities that make an L&D vendor ecosystem great — so you can see if you're partnering with the right people.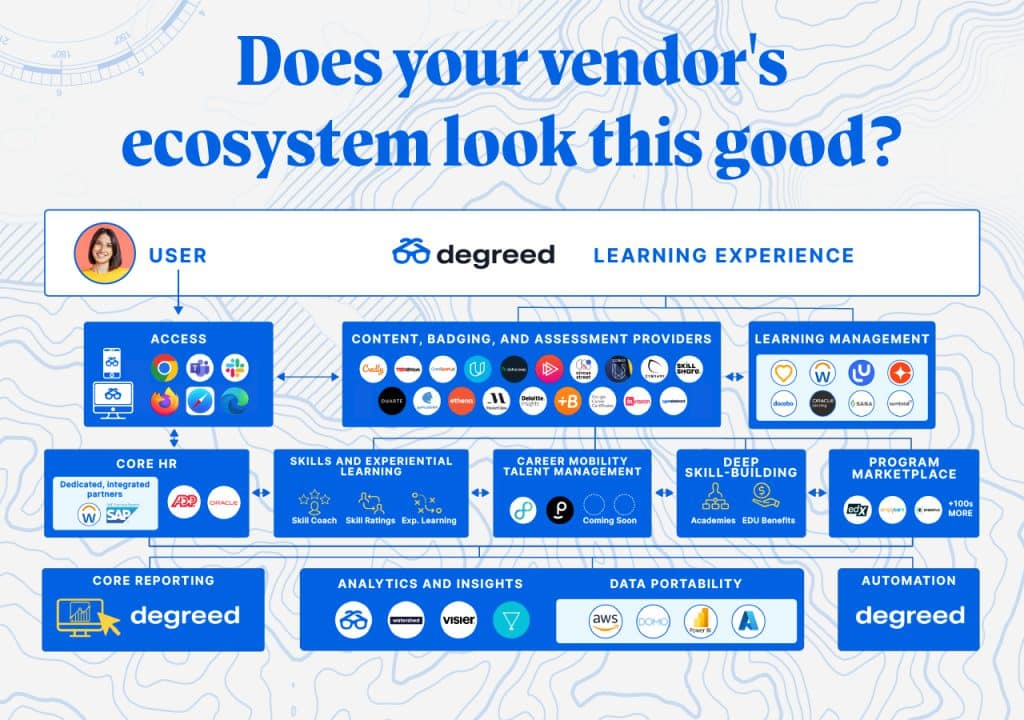 What to Look for in Vendor Ecosystems
At this disruptive moment for learning technologies, it helps to partner with purpose-built, multi-product, integration-friendly, and forward-thinking vendors. It makes your job easier if you find the right vendors to sit at the top of your stack, to connect and organize the tools and technologies within your learning tech ecosystem.
What does that look like? Well, we didn't need to look far for an example of a healthy vendor ecosystem. Degreed is full of ecosystem nerds, and we're constantly mapping and assessing the health of our own ecosystem. While we're not the only vendor ecosystem out there, our Degreed ecosystem map is truly fantastic.
What makes our ecosystem healthy and successful applies to any vendor learning ecosystem. A learning tech ecosystem vendor should:
Include diverse and extensive providers
Share, collect and synthesize data
Focus on the future of corporate learning
Work with Diverse and Extensive Providers
You can tell a lot about someone by their friends, and the same goes for your vendor and their partnerships. In some ways, it's as simple as counting providers to ensure that their own ecosystem is diverse and comprehensive. For the LXP platform of Degreed, this is not just limited to content partners, and badging and assessment providers. It extends beyond to include partners across HCM/HRIS, talent intelligence & career navigation, coaching & mentoring, and advanced data analytics and insights.
No matter what solution a vendor provides, much like a stock portfolio, the more diversified your tech partner's ecosystem is, the more easily you'll be able to adapt and grow your own system to your advantage.
While you might only leverage 20% of a tech partner's ecosystem today, you can't predict what you'll need tomorrow. You need room for growth, and you should have confidence in your preferred tech partner's ecosystem to make that growth simple.
Ask yourself: Based on your company's goals over the next 2 to 3 years, are you working with vendors that can leverage partnerships to help you meet your learning and skills goals?
Example
To provide a tangible example, let's take a look at Degreed's map. Specifically for content, badging, and assessment, Degreed works with over 100 providers.
Why do we have so many? We realize every organization has different needs, and only some vendors have them. Also, employees require diversity in learning experiences, and no one vendor provides the diversity that learners need. For these reasons, we integrate with other vendors — so our clients can have it all without sacrificing anything.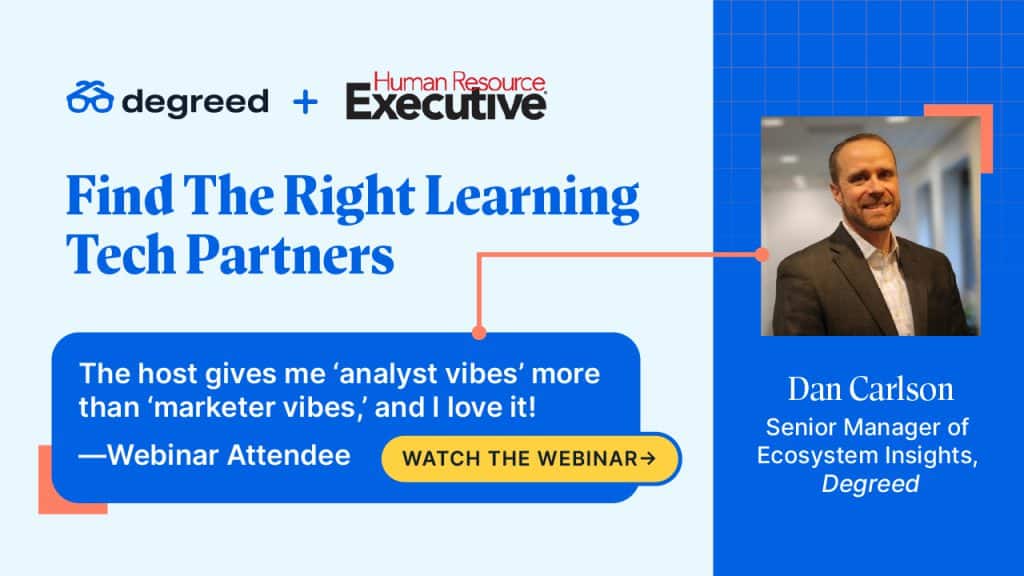 Shares, Collects and Synthesizes Data
Skills data is critical to the future of L&D. To be clear, the data we're talking about goes beyond the one-way integrations that have been around for a long time. Upskilling requires more than one solution pushing basic employee data into another system. The new standard — due to customer demand — is a true two-way exchange of data between providers.
In short, you need an unrestrictive ecosystem that encourages data to flow between systems to give your organization a holistic view of your workforce and skills are becoming part of that view. To do that, work with vendors that prioritize integrations with the tech solutions collecting critical skills data. Even if your organization doesn't feel ready for the "skills agenda" today, collecting the data now will set you up for success when that day does arrive.
Ask yourself: Can your vendor's ecosystem enable the exchange of more data than just search results and completion stats?
Example
When we look at the Degreed ecosystem map, it's clear we prioritize data. Degreed connects and works directly with Workday, SAP, Filtered, Eightfold and others to help measure the skills of your current workforce and offer guidance on where your people need to develop. These integrations allow data to flow between systems, and we are the only LXP that's a leading partner with Workday, SAP, Filtered, Eightfold and more.
Thinks and Acts Proactively for the Future
Tech vendors live and breathe learning and upskilling, so they should be thinking hard about solving current and future problems. Even if you're not ready to start thinking about problems for L&D that might occur 5 years down the road, your vendors should.
Right now the learning tech industry is furiously trying to solve for a skills-based future (SBF). While there are a lot of questions that remain to be answered, you need vendors in your ecosystem who can help you chart a course to get the answers and solutions you need. One day, maybe sooner than you think, it will become a strategic priority.
Ask yourself: Does your vendor anticipate your future needs?
Example
By thinking about and solving for the future, Degreed now offers a suite of tools — not just an LXP. Experts like Josh Bersin predicted a shift within L&D that would focus on deep skill-building solutions, and Bersin specifically promoted a solution called capability academies. Seeing this growing need and shift for L&D, Degreed acquired a startup learning academy platform called Learn In. Now we offer our clients Degreed Academies.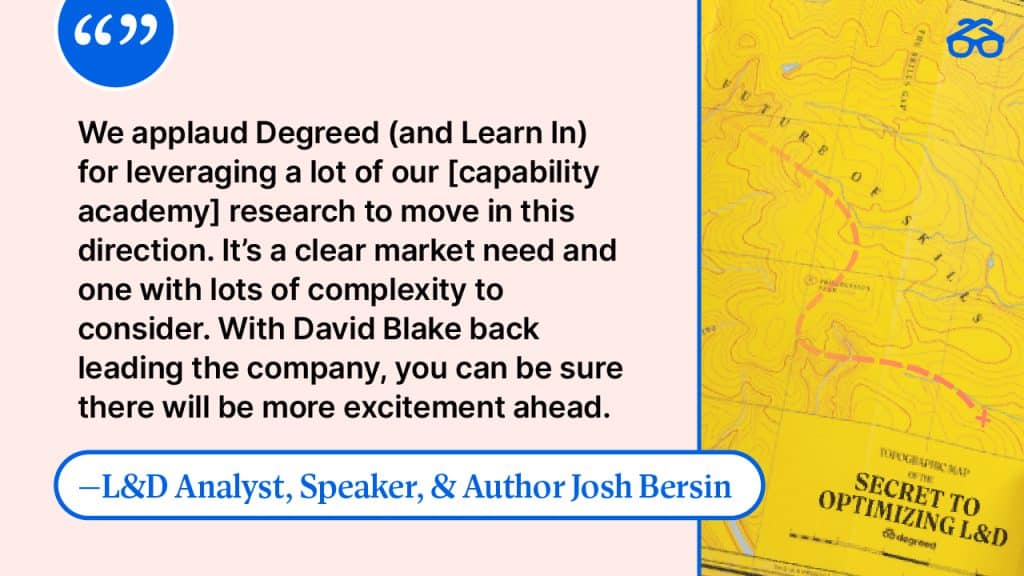 At Degreed, we think about the future and anticipate it in seismic ways. Our ecosystem and growing product suite attest to our proactive vision. And again, we're using Degreed as an example. This is not to say that Degreed is the end-all-be-all — it just illustrates what to look for in future-facing vendors.
"Marry Up" With Your Vendor's Ecosystem
To sum up this section: any ecosystem that's designed for natural growth is one that contains point solutions such as content providers as well as big or small platform partners with a large or niche focus. Look at your current ecosystem map. Think of the hub solutions you identified. As you make plans to improve your ecosystem, pay attention and scrutinize your vendors. Are you partnering with the right people for the future?
For an analyst-led, deep dive to find the best tech partnerships for your business, watch a recording of this HR Executive webinar, "A Better Way: Using Learning Tech to Your Advantage."
Align With Overlapping Internal Ecosystems
You've zoomed in on your current vendor ecosystems, now zoom out. Your L&D ecosystem is more likely than not a subset of your broader HR ecosystem. And an HR ecosystem is a subset of your holistic IT ecosystem. There needs to be a natural flow between all of your company's various ecosystems, each supporting and strengthening the next. Just as in nature, very few ecosystems can thrive in isolation. It's important to know this because it will get you to think about solving your ecosystem goals in a way that your C-suite will appreciate and expect.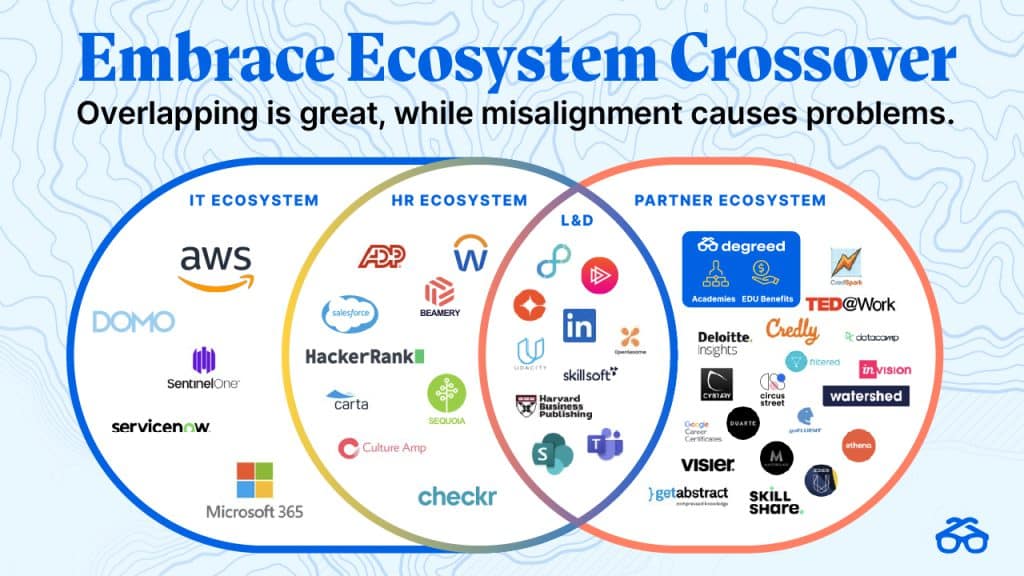 As you finalize your plans for the future, ensure those plans integrate and align with the HR ecosystem and IT ecosystem. In fact, if you haven't contacted IT yet for a map of your L&D tech, do that now. Build a strong collaborative relationship with IT so you can build your dream ecosystem. Sizeable learning tech changes require IT support, and it's best to gain that support now before you present your ecosystem plan to the C-suite.
But it's more than just a matter of IT-friendly support. As a recent RedThread report explains, "L&D must start thinking in terms of enabling." Once L&D teams use learning technologies to bring together development resources, programs and data, it's up to the employee and departments to build, develop, and share their own learning experiences. IT and HR play a crucial role in helping you build an ecosystem that can enable everyone in your company to learn and upskill. You may even discover systems or tools already inside the organization that you leverage for your own L&D pursuits.
After L&D provides the spark, the inspiration and direction for building skills and growing professionally can come from anyone anywhere. And to enable that, you must reduce the burden on L&D Admins and IT teams to figure out how to connect various, disconnected technologies.
Making a Strong Case for Your Ecosystem's Future
Ecosystem mapping, as you've now experienced, requires careful thought and planning. It's also quite satisfying: you know what your current ecosystem looks like, and you can dream up and build an ecosystem better equipped for the future. Not only that, but the exercise provides you with insight into improving your ecosystem and building connections outside L&D to get everyone on board. (Plus you'll have a great visual that will impress C-suite!)
For a more in-depth guide to help you plan a learning ecosystem that will impress C-suite, download our guide, "Building Your Learning Tech Ecosystem: Open, Diverse, Flexible, Interconnected."