Capturing the dynamics of a workplace debate that's been simmering since the first major onslaught of Covid-19, media outlets around the globe are chronicling story after story after story pitting employees against employers.
The friction? More and more companies are requiring their people return to shared, physical office spaces in an end to years of pandemic-fueled work-from-home policies. Scores of those affected by the new rules aren't happy. One recent survey found that 66% of respondents were already working in an office full-time. That same Owl Labs poll of 2,000 U.S.-based workers, published in September, discovered only 22% wanted to be in an office.
Another new survey found that 90% of businesses plan to implement return-to-office policies by the end of 2024. That Resume Builder study also found more than 50% of the 1,000 business leaders polled said they currently track or will track attendance; 72% said return-to-office improves revenue; and 28% said their companies will threaten to fire employees who don't comply.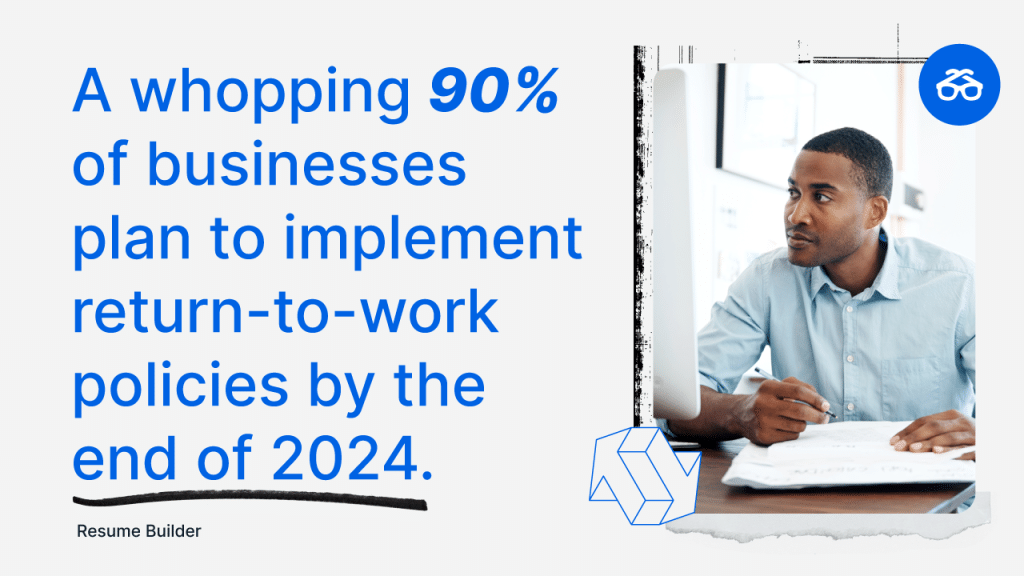 In response to return-to-office mandates, "some workers are choosing to quit," noted a recent and blunt Washington Post report. "Workers say their reasons for quitting include everything from family to commuting expenses to being required to relocate. And many workers worry that people like those with disabilities or who are primary caregivers may be left behind due to their inability to successfully work from the office."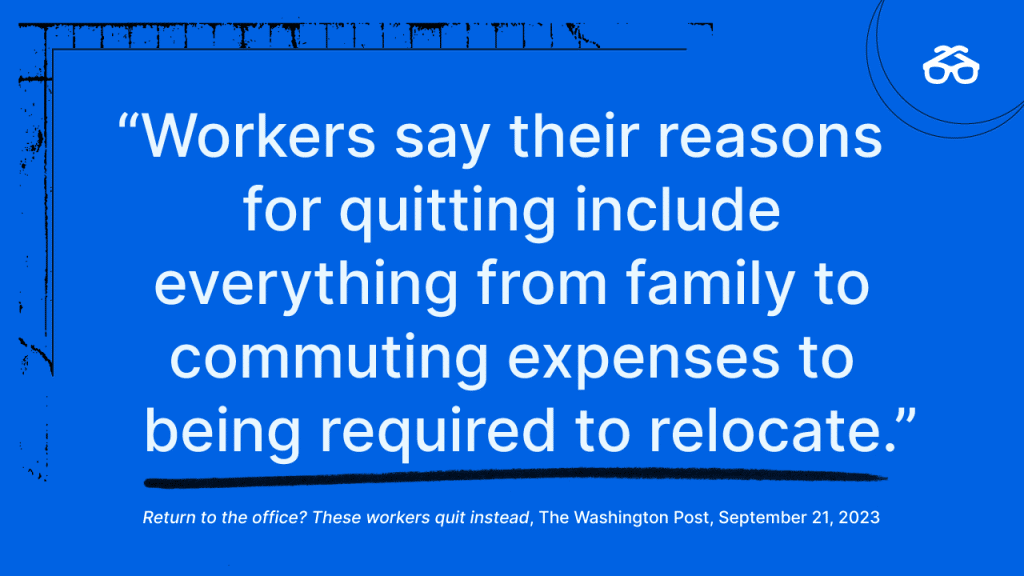 L&D in the crossfire?
All this displeasure is enough to discourage learning and people teams, groups typically stacked with professionals ardently focused on boosting morale, building culture, enhancing employee engagement, and polishing employer brands.
But take heart, L&D pros! The tumultuous changes roiling today's workplace climate don't have to be a downer. In fact, they present a unique opportunity for your learning initiatives to shine.
Why? Simply put, L&D has something to offer all workers—whether they be remote, office-based, hybrid, or otherwise. L&D by virtue of the enrichment it provides can play a big part in turning any disgruntled employee's frown upside down.
Let's take a closer look at how:
1. Understand your employees.
Positioning L&D to pacify discontent and help drive employee satisfaction requires a couple things. The first is a good understanding of how your people feel about their current situation at your organization and how those attitudes are affecting their day-to-day activities. The second is a strategy for engaging your people in positive ways that boost their morale and productivity.
"The central challenge for organizations is to move as many workers as possible away from the highly dissatisfied group. . . and toward greater engagement and commitment," according to new research by McKinsey & Company. "Such a strategy would give workers the opportunity to develop their skills, reducing dissatisfaction and attrition rates and bringing clear financial and organizational benefits over the long term."
Indeed, McKinsey found "employee disengagement and attrition could cost a median-size S&P 500 company between $228 million and $355 million a year in lost productivity. Over five years, that's at least $1.1 billion in lost value per company."
To help business leaders understand employee attitudes toward the workplace, McKinsey identified six employee types or "archetypes" ranked across a spectrum of satisfaction, engagement, performance, and well-being. At one end are highly dissatisfied and actively disengaged Quitters (an estimated 10% of the workforce) followed by Disruptors (11%), the Mildly Disengaged (32%), Double Dippers (5%), the Reliable and Committed (38%), and Thriving Stars (4%).
To add a bit more context, the Disruptors are likely to demoralize others, the Mildly Disengaged are doing the bare minimum, the Double Dippers have another job or side hustle, the Reliable and Committed are going above and beyond, and the Thriving Stars are creating value while elevating others.
While these archetypes might not perfectly align to your workforce, my hope is they provide a helpful—and timely—framework you can use to start thinking about and understanding the attitudes underpinning the current contributions (or lack thereof) of your people.
If it makes sense to draw your own categories, go for it. The important thing is to build a current snapshot of employee attitudes—and desires—relevant to your organization. In turn, you can use this information to help build engaging L&D programs designed to more fully meet the needs of your employees and company.
Employee surveys are a great way to check in with your people and get feedback that leads to ideas on how you can make L&D programs more responsive. In addition to providing you with a wealth of useful data, surveys can demonstrate you're interested in what your people are interested in, which can make them feel valued. When you implement employee ideas, you can tell your team your strategy was directly influenced by feedback. That can help boost morale and increase engagement in future surveys as well as your learning programs.
2. Give your people on-the-job development they crave.
If your goal is to make malcontents happier and more productive, give them opportunities to learn and grow. It doesn't matter where or when they work.
When it comes to the office politics of your company's office policies, you and your L&D team can strive to be agnostic.
Professional development is in demand. Research overwhelmingly corroborates the importance of professional development to today's workers. Indeed, an October 2021 study of technology industry professionals found 91% of respondents wanted more training opportunities from their employers. At the same time, 75% said their employers prioritized attracting new talent over investing in current talent.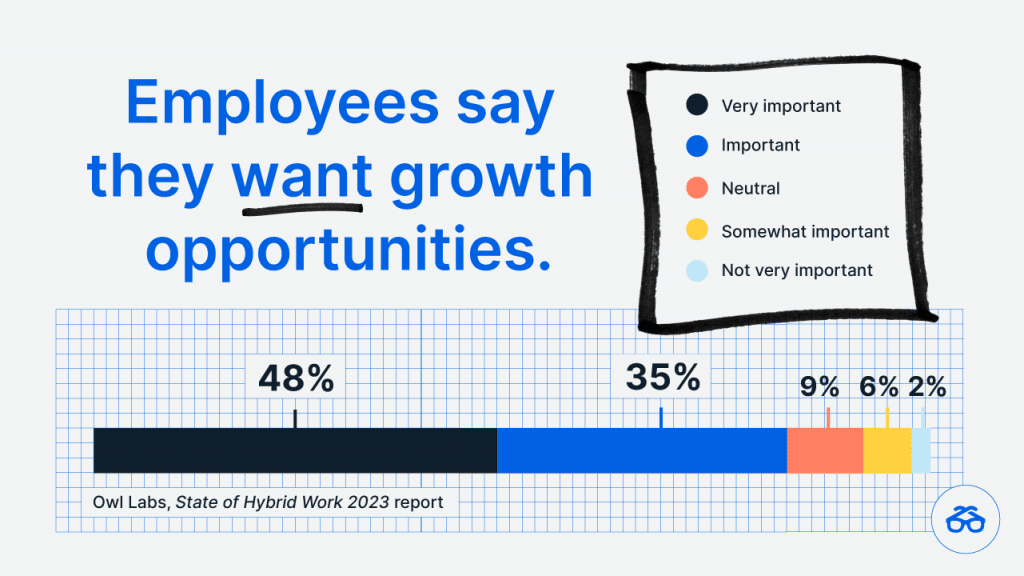 The 2022 LinkedIn Workplace Learning Report found employees who feel their skills aren't being used in their current job are 10 times more likely to be looking for a new job than those who feel the opposite.
All these statistics point to the importance of building and honoring employee skill sets. Enter on-the-job learning, which can take many forms including:
One-on-one instruction, in which a lead or supervisor guides an employee through new skills in a supportive and risk-free environment.
Virtual training, in webinars or through online instruction.
Group classes, in which employees watch, listen ,and collaborate in group training and learning.
Coaching or mentoring, in which a coach or mentor works with an employee to identify goals, answers questions, provides advice, and offers support to overcome career roadblocks.
Interdepartmental collaborative projects, in which an employee works with people from different departments or teams on the same project to learn new skills.
3. Continually optimize your L&D programs.
A few best practices can help you successfully integrate and improve on-the-job skill building:
Customize career development plans. Map these to where employees are and where they want to be in, say, one, five or 10 years. Advantages of such plans include:
Employees understand what skills they need to develop in order to achieve results at each career milestone.
Employees see when you're invested in their growth, which can keep them engaged at your company.
Clear benchmarks help employees and managers stay accountable for skill development.
Because each plan is custom tailored, people can lean into job responsibilities and roles that align with their passions and strengths.
Involve employees in the training style. People are more receptive to training when they have a role in selecting the learning style. Some employees are hands-on learners. Others prefer learning by hearing. Others enjoy group sessions that facilitate discussion and collaboration.
Ask employees for suggestions about learning modules they're interested in or give them an option as to how they would like to learn while OTJ. They might be aware of educational materials that align with the skills they need to learn. Selecting them can make the training more effective.
Promote L&D opportunities to everyone. Some employees may not be aware of their strengths or know about a certain job they'd be interested in unless you make them aware of it. You can spread more knowledge across your company by:
Providing all employees with access to digital learning materials.
Holding informative lunch-and-learns open to all.
Hosting guest speakers who talk about topics relevant to your business and industry.
Measure and track progress. When you introduce a new opportunity, decide how you'll track and measure results. As with any business strategy, consider your goal, which key performance indicators to focus on (and when and how to measure them) and the next steps you'll take when you review them/ And don't forget about your trusty employee survey. With each new edition, you can get feedback that leads to even ideas on how your programs can improve.
Remember, positivity can be contagious.
If you're in a position to positively affect your company's office policies—whatever they might be—that's great. Consider raising your hand or lending your voice to the process.
If you're not in such a position, don't despair. As you roll with the changes, focus on what your corner of the company can do to make things better for your people, whether they're working at an office, at home, or doing a bit of both.
Ready to find out more?
Let's talk more about your specific learning needs. Got questions? Want a demo? Contact a Degreed representative today.