Degreed Product Insider is a monthly peek under the hood to make sure you're getting the most out of your Degreed experience.
Designed in Degreed's earliest days, Pathways are a core tool for curating learning experiences. Users love the feature, so much so that over half of all content consumed on the Degreed platform comes from Pathways. Because the internet can get pretty confusing — especially when it comes to finding the best learning content — we built Pathways to curate content of any kind, from any source, and deliver it in a digestible format. This gives organizations the power to create structured, guided learning experiences around the skills their people need most.

As an agile organization, we make regular design updates to our product. Prioritizing where we focus comes from your feedback, learning from our own data, and more recently, bringing in the best of Pathgather. That's why we're so excited to announce a new and improved Pathway experience for you and your workers.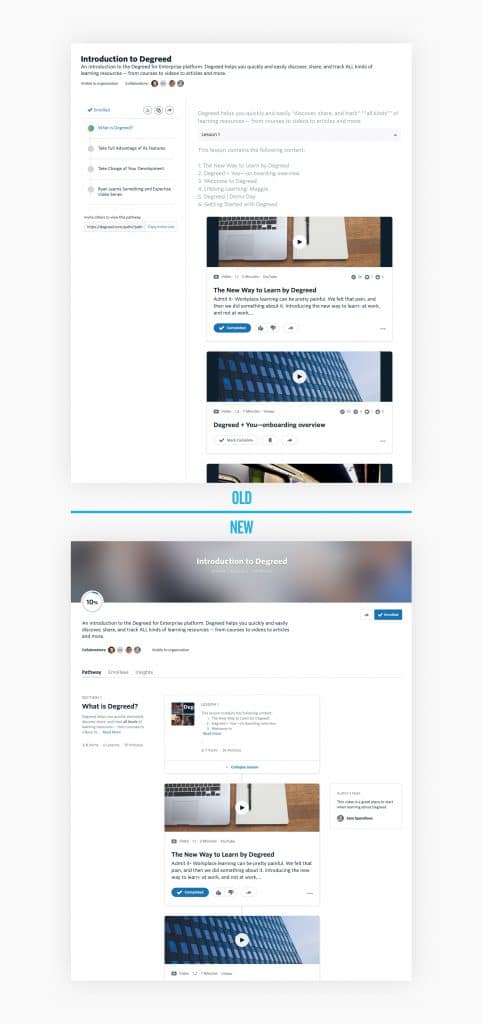 Why You'll Like the Pathway Redesign

Based on usage metrics and anecdotal client feedback, learners and admins alike tell us Pathways have significant value in the learning ecosystem. Workers get a streamlined learning experience to build up a skill that matters to them, while admins can finally curate resources and get the data they need to be smarter. Now that's a win-win.

Additionally, our data shows user-curated content is on the rise. The geeks from our Data Science team tell us this is happening on Degreed too. The number of Pathways created weekly is exploding, so much so that a record-breaking 1,500 new Pathways were created just last week. We get it, it's important to be able to share knowledge and skills as quickly and simply as possible.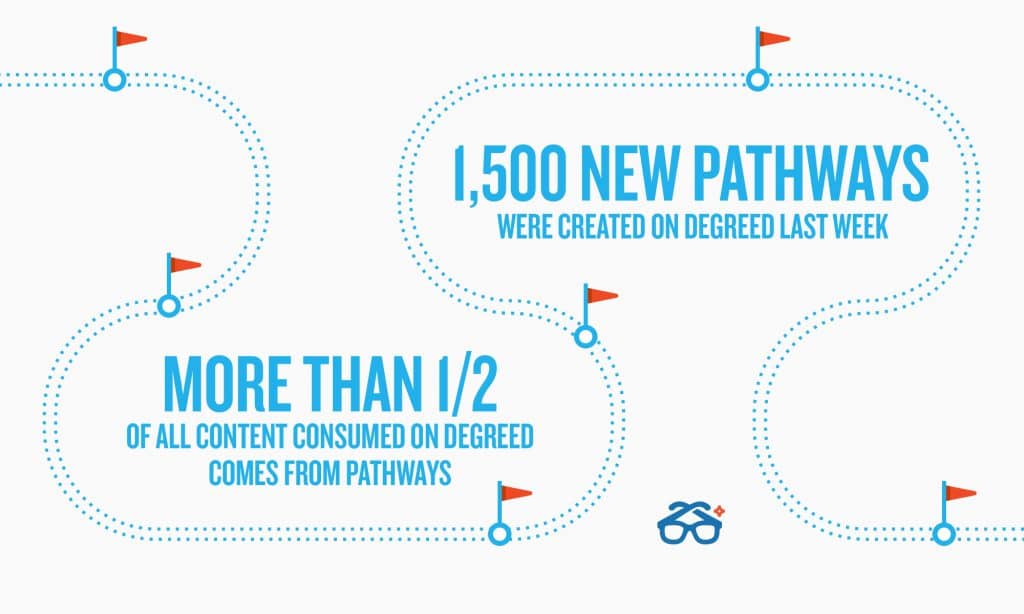 So Here's What We're Doing About it:

A Fresh Look and Feel

You'll now see a cleaner Pathway design that's both easier to navigate and aligned to other changes we've made across the platform.

New, clearly-named tabs — similar to the current design for Groups — show the Pathway, Discussions, Enrollees, and Insights. We've also included new Pathway progress indicators and estimated completion times to show people where they're at and what they've accomplished in each section and lesson. All in all, everything you need is just a click away.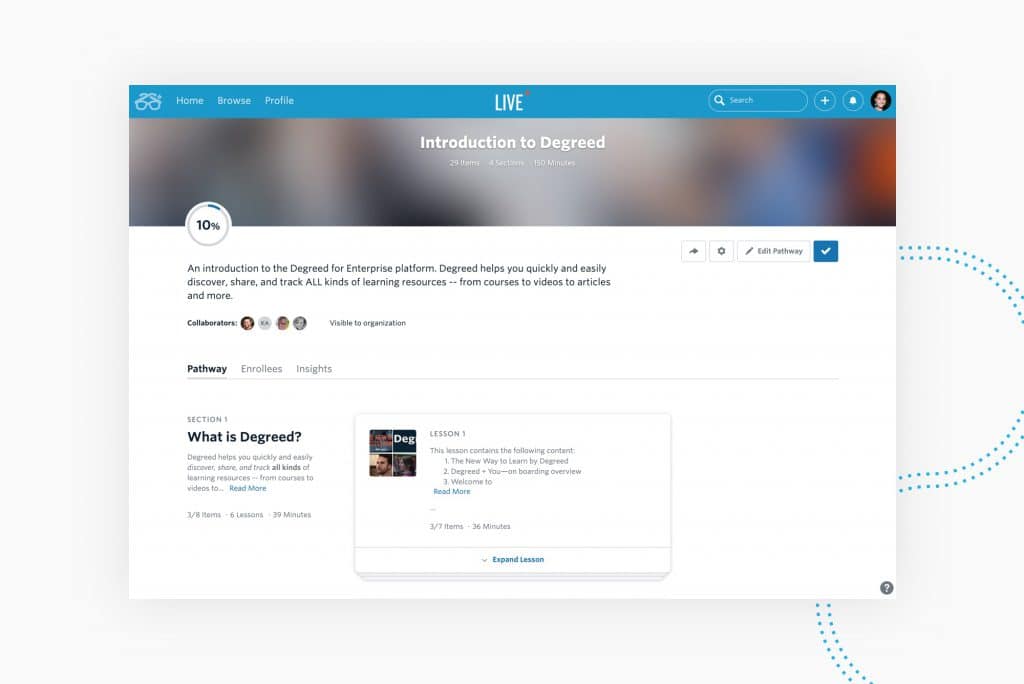 New Curation Superpowers
One of the main requirements of being an L&D professional is being a master curator. We want to make it as easy as possible for you to do your job. Hence why we're investing in richer curation capabilities across the platform.

In the redesigned Pathways, we've made it easier for authors to curate and manage learning. We've added rich text editing and the ability to add images to lessons and sections. Authors can now quickly switch back and forth between editing and viewing Pathways, making building lessons and sections simpler than ever before.

You can also add helpful author notes to tell learners why a piece of content is particularly useful for them to check out.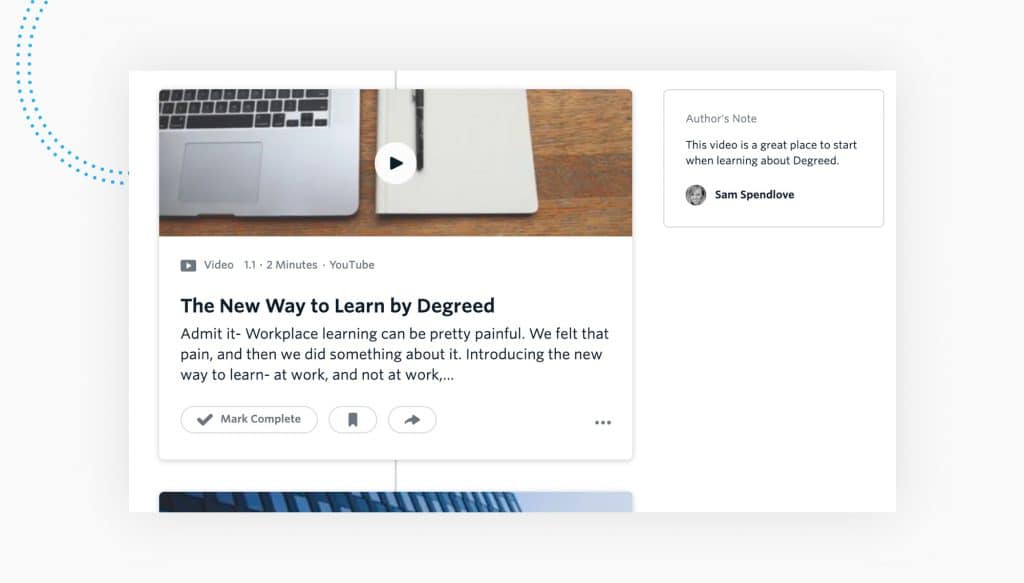 Pathway Insights

We both know that having eyes on what's happening within your Pathway is a top priority — especially once it's in the hands of learners. To that, we say "worry no more," because we've made it even easier to see who's enrolled and how your content is performing.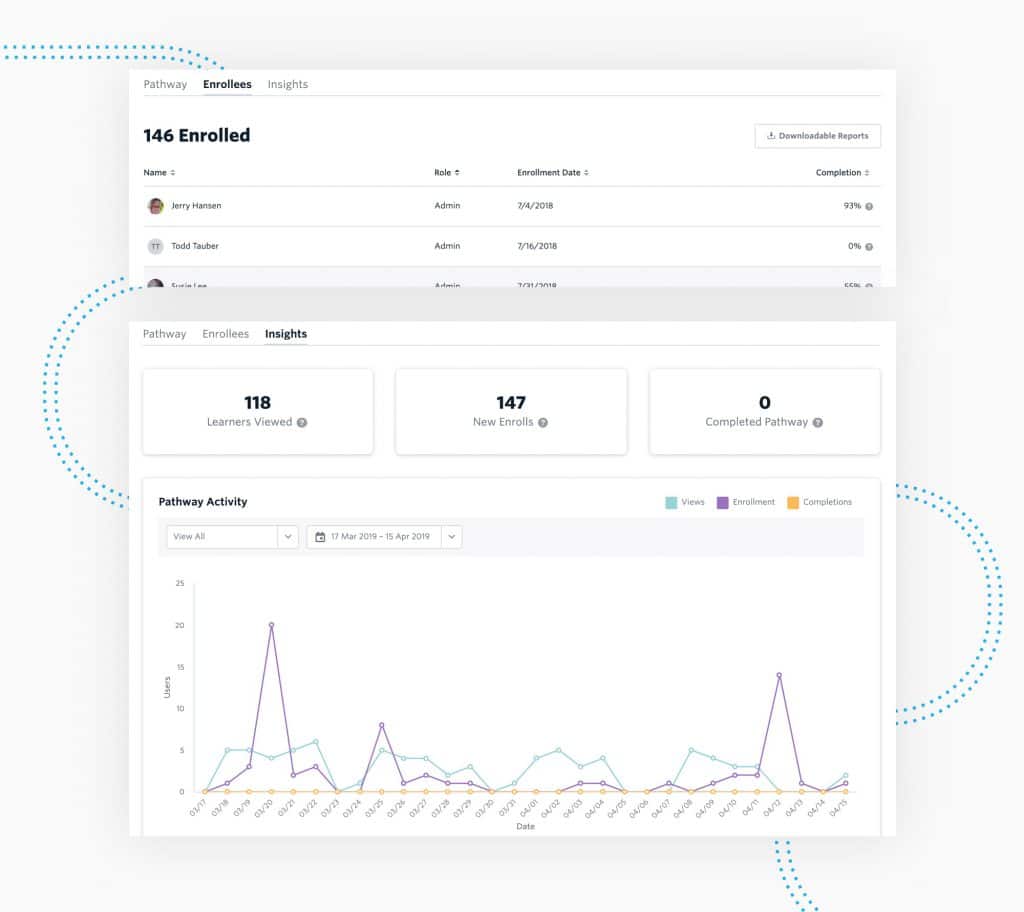 Promote Your Pathways with Trackable Links

Last, but certainly not least, we've added a new way to actively promote your Pathways. Now you can easily generate unique, trackable links that can then be used with:
Email tools (Outlook, Gmail, HubSpot, MailChimp)
Enterprise social networks (Yammer and SAP Jam)
Messaging and collaboration platforms (Slack, Workplace by Facebook, Microsoft Teams)
These links can be used to run email and social media campaigns that target anyone in your organization, giving you more power and data to promote your most valuable learning experiences.

With these new upgrades, we think you'll be able to create, modify, and curate better than ever before. We're especially excited about the new tracking capabilities, which should help your organization get a better idea of consumption metrics so you can continuously iterate and create the best learning experiences possible!